Heading into Week 3 of the 2023 NFL season, there has been a lot of talk about the potential impact of Tropical Storm Ophelia on the games. The NFL made no plans to move any of their Week 3 games that were in the path of the storm, so let's examine the potential fantasy football impact of the Week 3 NFL weather report.
All times listed are Eastern Time zone. Forecasts for Week 3 are supplied by reports from the National Weather Service.
The weather forecast is correct as of 9:15 a.m. ET and will be updated as needed.
Looking to make a trade in your fantasy league? Having trouble deciding who to start and who to sit? Check out PFN's Free Fantasy Football Trade Analyzer and Start/Sit Optimizer to help you make the right decision!
Week 3 NFL Weather Report Fantasy Impact
Indianapolis Colts at Baltimore Ravens | Sunday, 1 p.m.
Expected Temperature: High-60s
Showers: 80% chance, reducing as the game progresses
Wind: 7 mph northeasterly, with slight gusts
This is one of the games that is likely to be fairly heavily impacted by Tropical Storm Ophelia. Let's start with the good news. Current forecasts have the worst of the storm passing Saturday night into the early hours of Sunday morning. That should take with it the majority of the winds by the time kickoff arrives.
MORE: Week 3 Fantasy Football Cheat Sheet
Currently, we are looking at a forecast of 8 mph easterly winds with minor gusts. In terms of fantasy football, that is fantastic news because wind and snow are our two main points of concern when it comes to offensive output. There is an 80% chance of rain at kickoff, and those showers could stay throughout.
The rain may mean we see some issues with ball security and the odd dropped ball, but any fears that this game would be a disaster for passing games should now have passed. There isn't a huge amount of reliable pass catchers in this one, but both Mark Andrews and Michael Pittman Jr. should be good options to start this week.
Buffalo Bills at Washington Commanders | Sunday, 1 p.m.
Expected Temperature: Mid-60s
Showers: 44% chance, reducing slightly as the game progresses
Wind: 5 mph northerly, with slight gusts
It is a similar story as with the Baltimore Ravens game here. The worst of the storm is expected to pass in the early hours of Sunday morning. By kickoff, the weather should be reasonably placid, barring the rain. If you provisionally took your Buffalo Bills or Washington Commanders pass catchers out of your lineup earlier this week, it seems like you should be good to get them back in.
New England Patriots at New York Jets | Sunday, 1 p.m.
Expected Temperature: Mid-60s
Showers: 78% chance, increasing as the game goes on
Wind: 13 mph northeasterly, with gusts up to 24 mph
This game being a little further up the East Coast means there is a slightly different story in terms of the weather. Tropical Storm Ophelia will not have completely cleared the area by the time this game is due to kick off at 1 p.m. ET.
The positive news is that the worst of the storm will have passed, so it won't be disastrous conditions. However, with wind gusts potentially reaching 23 mph and a high chance of rain throughout, we could see both teams leaning heavily on the run game.
That could be really good news if you have Breece Hall, Dalvon Cook, or Rhamondre Stevenson on your rosters. An additional positive is that there is not a bevy of fantasy-relevant pass catchers in this game. The main option is Garrett Wilson, and it will be really hard to do anything other than start him. However, don't be surprised if this is a game that we see limited passing in.
Tennesee Titans at Cleveland Browns | Sunday, 1 p.m.
Expected Temperature: High-60s
Showers: <10% chance
Wind: 15 mph northeasterly
This game seems reasonably calm in terms of the current forecast. There is a very small chance of rain, and the wind at 16 mph is higher than you would like, but nothing to worry about. The good news is that it should be reasonably consistent at that speed, so both passing games should be able to compensate for the consistent weather.
New Orleans Saints at Green Bay Packers | Sunday, 1 p.m.
Expected Temperature: High-60/low-70s
Showers: <5% chance at kickoff, but increasing during the game
Wind: 11 mph southeasterly, with gusts up to 18 mph
This is yet another game where the weather should not have too much impact on the offensive output. The odd gust of wind may have an impact, but otherwise, this should be a clear and nice Wisconsin day. There should be no major reason for concern here.
Houston Texans at Jacksonville Jaguars | Sunday, 1 p.m.
Expected Temperature: High-80s
Showers: <5% chance
Wind: 6 mph southwesterly
You could not ask for nicer football weather than what's currently forecast at TIAA Bank Field. All elements of the offense should be able to operate at full efficiency in this one.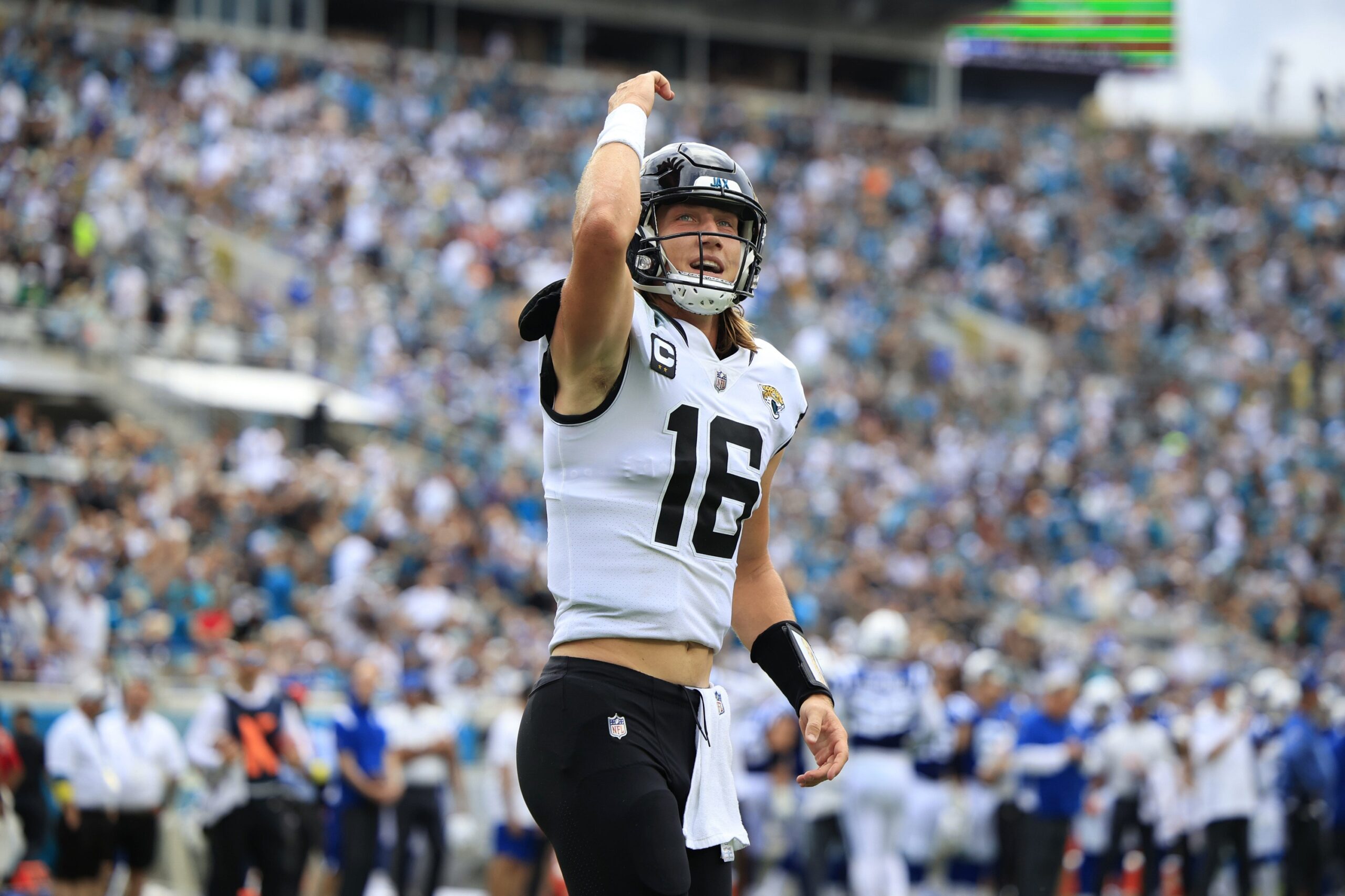 With Zay Jones out, it could be a game where we see both Calvin Ridley and Christian Kirk having monster games as the Jacksonville Jaguars look to bounce back against the Houston Texans.
Denver Broncos at Miami Dolphins | Sunday, 1 p.m.
Expected Temperature: Mid-90s
Showers: 40-45% chance – Chance of Thunderstorms
Wind: 9 mph easterly
This game is one with a chance of thunderstorms throughout. In fact, the current forecasts have a chance of thunderstorms at any point throughout the next 48 hours. The expectation is that these storms will be isolated, so other than maybe causing a delay, it shouldn't be a major issue.
The rain is the biggest potential impact here, but it shouldn't hamper the offensive output. The biggest issue, whenever there is rain, is usually around the ball security rather than the offensive output. Don't be surprised if we see some fumbles or dropped catches in the rain this week, but those are hard to project from a fantasy perspective.
Carolina Panthers at Seattle Seahawks | Sunday, 4:05 p.m.
Expected Temperature: Mid-60s
Showers: 23% chance, rising as the game goes on
Wind: 1 mph southerly, rising to around 5 mph
This is a similar story in terms of the main impact weather-wise being on ball security. There is forecast to be some rain in this one, and the end of the game could see heavy rain. However, it will not be accompanied by any form of strong winds, so the overall offensive output should not be impacted too heavily.
Chicago Bears at Kansas City Chiefs | Sunday, 4:25 p.m.
Expected Temperature: Mid-70s
Showers: <5% chance
Wind: 8 mph northwesterly
It looks like there is more beautiful football weather at Arrowhead Stadium. All fantasy options should be a normal go here, and hopefully, Justin Fields and the Chicago Bears can make this one tense and exciting.
Philadelphia Eagles at Tampa Bay Buccaneers | Sunday, 7:15 p.m.
Expected Temperature: Low-90s
Showers: 60% chance at kickoff, decreasing through the game
Wind: 5 mph southeasterly
This could be another game where we see rain this week. At this stage, the forecast is a long one, so things could change.
MORE: Fantasy Football Updated Rest-of-Season Rankings Week 3
However, with the low winds, there is no reason to worry about any of the pass catchers in this game. With some big names like Mike Evans, Chris Godwin, A.J. Brown, and DeVonta Smith playing, that will be a relief to fantasy managers.
Los Angeles Rams at Cincinnati Bengals | Monday, 8:15 p.m.
Expected Temperature: Low-70s
Showers: <10% chance
Wind: 6 mph easterly
It looks like we should have no weather concerns for this game in Cincinnati. That will be a huge relief for anyone with Ja'Marr Chase and Tee Higgins on their roster. If it wasn't bad enough having to worry about the status of Joe Burrow, adding in the weather would have provided a serious headache.
Games Played in Stadiums With a Retractable Roof
Atlanta Falcons at Detroit Lions | Sunday, 1 p.m.
Los Angeles Chargers at Minnesota Vikings | Sunday, 1 p.m.
Dallas Cowboys at Arizona Cardinals | Sunday, 4:25 p.m.
Pittsburgh Steelers at Las Vegas Raiders | Sunday, 8:20 p.m.
Listen to the PFN Fantasy Podcast
Listen to the PFN Fantasy Podcast! Click the embedded player below to listen, or you can find the PFN Fantasy Podcast on iTunes, Spotify, and all major podcast platforms.  Be sure to subscribe and leave us a five-star review! Rather watch instead? Check out the PFN Fantasy Podcast on our Fantasy YouTube channel.