Making lineup decisions can be the most frustrating or most rewarding part of fantasy football. Here to help you make those decisions are our positional start 'em and sit 'em picks.
Fantasy decisions will only get more difficult from here on out, so let's take a look at our Week 4 start/sit plays for the QB and TE positions.
Looking to make a trade in your fantasy league? Check out PFN's Free Fantasy Football Trade Analyzer to help you make the right decision!
Which QBs & TEs Should You Start in Fantasy This Week?
Joe Burrow, QB, Cincinnati Bengals (at TEN)
This is the week – it has to be. Joe Burrow has been the single worst pick fantasy managers could've made at the quarterback position through the first three weeks of the season. Typically going in the fourth or fifth round, Burrow is the QB30.
MORE: Other Positional Week 4 Start/Sits — RB | WR
We can blame the calf injury all we want, but the fact remains that Burrow has not produced. This week, he has to.
We can't ask for a better spot for Burrow to snap out of his funk than against the Tennessee Titans' "pass funnel" defense. You cannot run on the Titans, but you can throw on them. They even made Cleveland Browns QB Deshaun Watson look like a competent NFL passer last week.
Burrow has to utilize his elite WR duo of Ja'Marr Chase and Tee Higgins this week. In an era where teams are throwing downfield less and less, the Titans face a downfield throw on 18.7% of pass attempts. Burrow has to take shots, and he has to connect.
If you have Burrow and are lamenting your fate, now is not the time to abandon the ship. Start him this week. If he flounders again, then it's time to hit the panic button. I don't think he will.
Evan Engram, TE, Jacksonville Jaguars (vs. ATL)
This isn't a home game for the Jacksonville Jaguars. They will be playing across the pond in London for the first overseas game of the season. Where they're playing, though, isn't as important as who.
The Atlanta Falcons have been awful against the tight end this season. It's only been three weeks, so the sample size is small, but a whopping 29% of their total receiving yards allowed have gone to tight ends.
MORE: Week 4 Fantasy Cheat Sheet
Jacksonville QB Trevor Lawrence has not played well, but he has been targeting Engram plenty. The tight end has 21 targets through three games and is averaging a respectable 57 yards per game.
Given the Falcons' struggles against tight ends, and this being a classic get-right spot for the Jaguars offense, I think Engram scores this week. If a tight end scores, he's (usually) a TE1.
Which QBs and TEs Should You Sit in Fantasy This Week?
Deshaun Watson, QB, Cleveland Browns (vs. BAL)
Through three weeks, Watson hasn't looked anything like the old Watson yet. He's been fine, but certainly not like a guy who has an elite QB1 upside.
Last week was Watson's best game of the season. He threw for 289 yards and two touchdowns, scoring 21.2 fantasy points. It was also against the Titans, who we covered above.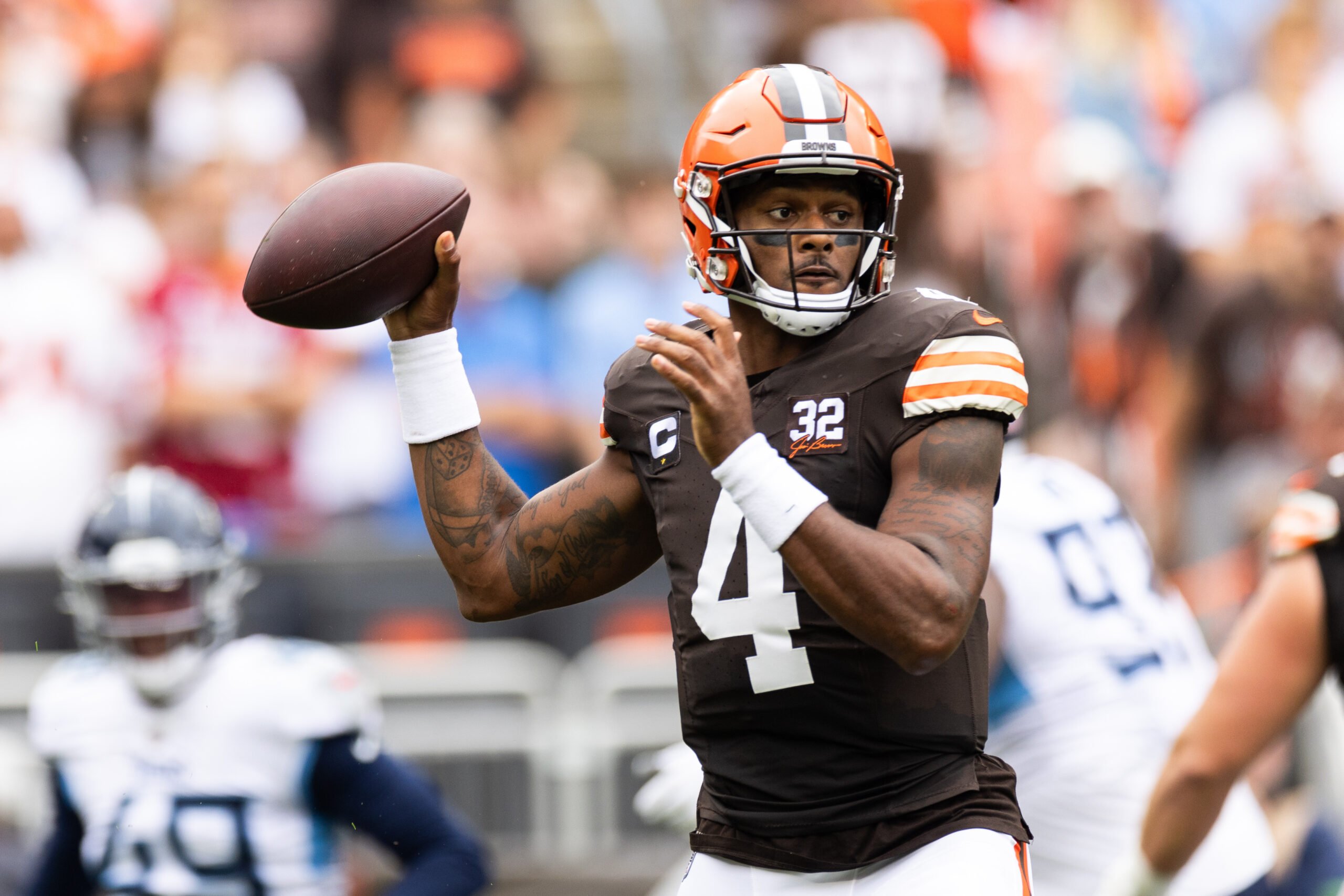 This week's home matchup against the Baltimore Ravens isn't the toughest one in the world, but after the Ravens lost at home to Indianapolis Colts' backup QB Gardner Minshew, I am expecting a fired-up performance from them.
I don't think Watson is good enough to overcome an extra-motivated Ravens defense. The Ravens have allowed the ninth-fewest fantasy points to quarterbacks this season. Look for them to stymie Watson in Week 4. If you have an alternative to put in your lineup, do it.
Zach Ertz, TE, Arizona Cardinals (at SF)
The Zach Ertz renaissance has come to a screeching halt. After seeing 18 targets over his first two games, Ertz saw just two against the Dallas Cowboys. While Dallas was the best defense the Arizona Cardinals have played, it wasn't just the usage; it was the playing time.
The veteran tight end has now seen his snap share decrease each of the past two weeks. It was down to 59% last week.
We know Ertz can't move anymore. He catches the ball and falls. His only hope for fantasy value is volume, which appears to be going away.
This week, the Cardinals have a dreadful matchup against an elite San Francisco 49ers defense, as mentioned above. Just 9.1% of their receiving yards allowed have gone to tight ends. And it's not like they've played terrible tight ends.
They've faced Pittsburgh Steelers TE Pat Freiermuth, Los Angeles Rams TE Tyler Higbee, and New York Giants TE Darren Waller. The three combined for 35 receiving yards, so it'll be safe to sit Ertz.
Trending Searches for QB and TE Start/Sit
Did you know that we have a Start/Sit Optimizer here at Pro Football Network?! It's completely free to use, allowing you to enter up to six players to find the best option to plug into your starting lineup!
It also allows us to see the most popular trending searches, which we've jotted down here to help provide some clarity.
Should You Start Burrow or Trevor Lawrence?
For each of the first three weeks, the answer to this question has been decisively Trevor Lawrence. But it's not as if Lawrence has been impressive. He's only the QB20. The reason this hasn't been close is because Burrow is the QB30.
Of course, what each of these players did over the first three weeks doesn't help you in Week 4. So, who is more likely to rebound this week?
The matchup for Lawrence is a good one. And I'm pretty big on narratives. The Jaguars just got embarrassed at home by the Houston Texans. You just know that's not sitting well with them. I'm expecting a reinvigorated Jaguars team this week that is looking to make a statement in London.
Burrow has been a disaster. But he gets the perfect opponent this week in the Titans pass funnel defense. Joe Mixon is going to have nowhere to run, forcing the Cincinnati Bengals to rely more on Burrow. He should be able to succeed this week against a weak Titans secondary.
The start/sit optimizer has this ever so slightly in favor of Lawrence. I agree. This is a true toss-up. I have them one spot apart in my Week 4 rankings.
I think both bounce back this week, but I'm more confident in the way Lawrence has been playing. His issues have been less about him and more that Calvin Ridley looks like a guy who isn't all that interested in playing football. In contrast, Burrow's issues are his own. For that reason, I lean to Lawrence this week.
Should You Start Ertz or Kyle Pitts?
The gap in talent between these two players is a chasm. Kyle Pitts is so vastly superior that it's a shame this is even a question we have to ask. Yet, here we are.
Through three weeks, Ertz is the one with more fantasy points. But he also comes with no weekly upside. He is purely a volume-based floor play. Ertz's volume is trending downward.
MORE: Week 4 Fantasy TE Rankings
Pitts is coming off his best game of the year, and the Falcons could finally be in a spot where they have to throw to keep up with what should be an inspired Jacksonville offensive performance.
The start/sit optimizer has this reasonably close but favors Pitts. I agree. As much as Pitts has disappointed, he remains the start over Ertz.
Listen to the PFN Fantasy Podcast
Listen to the PFN Fantasy Podcast! Click the embedded player below to listen, or you can find the PFN Fantasy Podcast on iTunes, Spotify, and all major podcast platforms.  Be sure to subscribe and leave us a five-star review! Rather watch instead? Check out the PFN Fantasy Podcast on our Fantasy YouTube channel.