We are still in the early stages of the 2023 NFL season, which means fantasy football values are still being formulated. The WR position is particularly intriguing, as we get an idea of how these players are going to be used by their respective teams.
Unraveling all that we saw in Week 2 and translating into Week 3 WR trade targets is where fantasy managers can differentiate themselves. To help you get your head around it all, here are our thoughts on some WRs to buy low or sell high on entering Week 3.
Having trouble deciding who to start and who to sit? Check out PFN's FREE Start/Sit Optimizer to help you make the right decision!
Which WRs Should You Trade for in Fantasy Football?
Jordan Addison, Minnesota Vikings
To be fair, I'm not sure how "low" Addison's value is, but it's not as if he has really been producing. He's scored two long touchdowns, which is great, but he's still seeing a target share below 15%. He is also playing behind K.J. Osborn in two-receiver sets.
The Vikings drafted Addison in the first round. He is clearly a vastly superior talent to Osborn, so I don't know why coaches play these games with "veteran deference." They drafted Addison for a reason — because he gives them a better WR2 opposite Justin Jefferson.
Eventually, the flip will come. When it does, Addison should see his volume increase and be less reliant on touchdowns to produce weekly. If he is still being valued as a low WR3, see if you can swing a trade.
Jerry Jeudy, Denver Broncos
It was a quiet season debut for Jerry Jeudy — he caught just three of five targets for 25 yards. It was his first game back from a strained hamstring, and the Broncos may have been taking it easy.
More Trade Targets: QB/TE | RB 
Jeudy is still the projected WR1 for this team, so better days are undoubtedly ahead. If you can buy him at a WR3 price, it's probably worth it.
Which WRs Should You Trade Away in Fantasy Football?
Christian Kirk, Jacksonville Jaguars
It was a massive bounce-back performance for Christian Kirk in Week 2. He caught 11 of 14 targets for 110 yards.
Last week, Kirk played behind Zay Jones. The latter was banged up in this game and missed time. In addition, the Chiefs primarily play man coverage, which Kirk excels against.
He's still the WR3 behind Jones and doesn't play much in two-receiver sets. It is possible that Kirk just had his best game of the season.
Kirk isn't as bad as he was in Week 1, but he's not as good as he was in Week 2. The answer, of course, lies somewhere in the middle.
If you can get a price closer to Week 2 Kirk, it might be wise to take it.
DJ Moore, Chicago Bears
Fellow PFN Fantasy Analyst Derek Tate will hate me for this one. Moore is really good at football. Unfortunately, Justin Fields is not consistent enough as a passer for him to be a regular fantasy threat.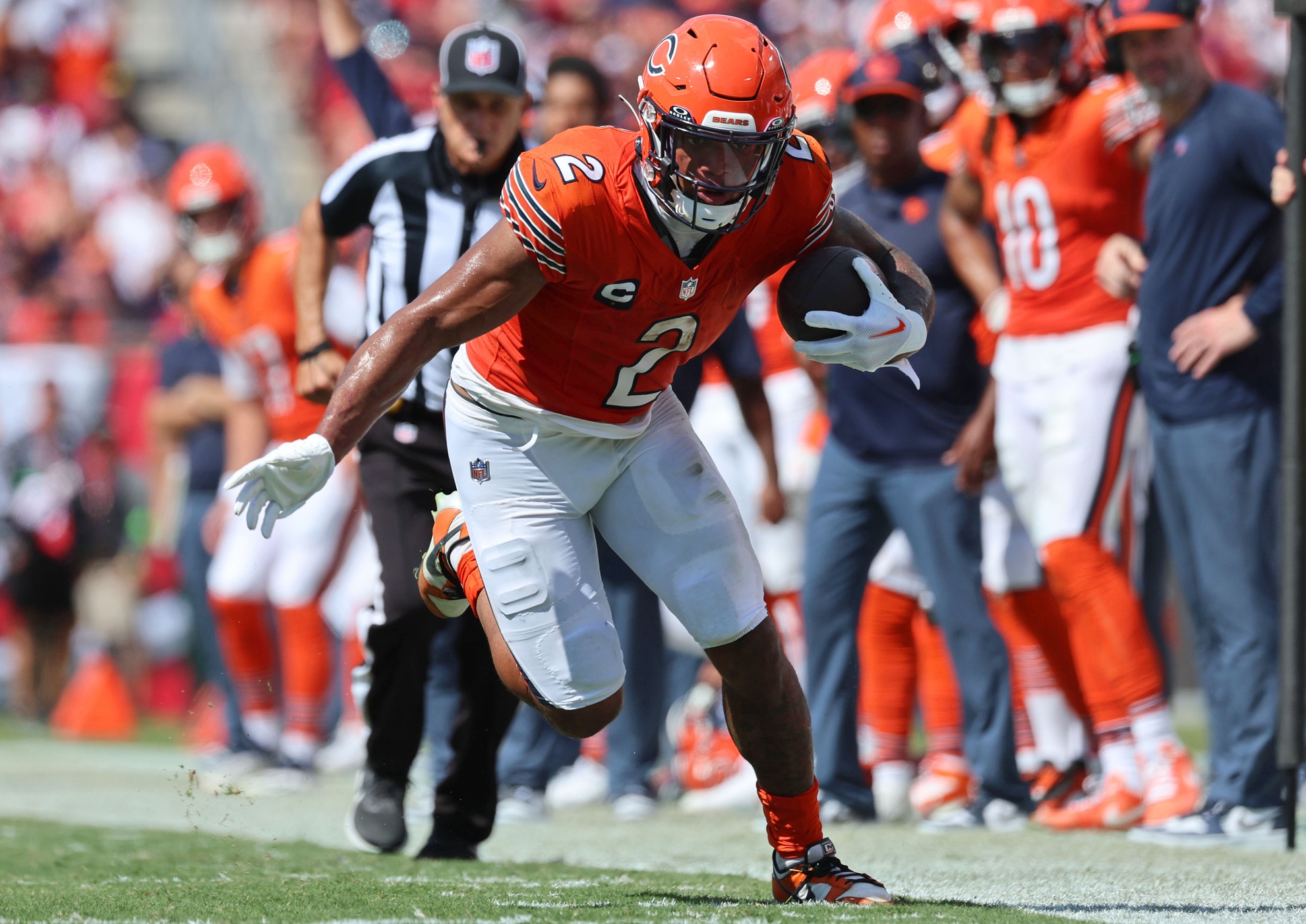 Moore caught six of seven targets for 104 yards. Those who drafted him in the fourth round are likely excited that they may actually get an unlocked Moore. I genuinely hope I am wrong, and this is the start of what ends up being Moore's best season. I just can't see it happening.
Fields threw another two interceptions on Sunday. He's now barely eclipsed 200 yards in each of his first two starts. Chicago has three tough defenses coming up: the Chiefs, the Broncos, and the Commanders. If you can sell Moore at a WR2 valuation, it's worth exploring.
Trending WR Fantasy Football Trades
Are you considering making a trade in your fantasy football league? Our PFN Trade Analyzer allows you to find the best trades to make in seconds! It also allows us to see trending searches. We've compiled a few of the most popular below.
Should You Trade Garrett Wilson for Puka Nacua?
My kneejerk reaction to this is, "What are you crazy?" But is it that crazy of a proposition? Garrett Wilson is stuck with Zach Wilson for the rest of the season. Had it not been for two incredible feats of individual skill, he might've been staring down the barrel of 4-30 and 1-15 stat lines over his first two games. Meanwhile, Nacua just saw 20 targets in a single game.
MORE: Early Week 3 Waiver Wire Pickups
The concern fantasy managers have regarding Nacua is what happens to him when Cooper Kupp returns. It's a fair concern, but are we sure Kupp is returning in Week 5? Are we also sure he's going to stay healthy?
I'm not suggesting Nacua can maintain his production with Kupp — he obviously can't. But this notion that he will go from WR1 to unstartable is probably false, if it even exists at all.
If you told me Kupp was sure to miss the rest of the season and Matthew Stafford was going to stay healthy, I really might take Nacua. However, Wilson is just too talented to completely fail. He won't be a WR1, but I am not ready to bail on him just yet.
Should You Trade Christian Kirk for Gabe Davis?
Kirk bounced back from an awful Week 1 to post elite WR1 numbers in Week 2. Davis had a similar turnaround to do the same.
Kirk is the more talented player, and it's not particularly close. Davis is in the better offensive situation as the Buffalo Bills' WR2, whereas Kirk is the Jacksonville Jaguars' WR3 and playing mostly in three-receiver sets.
Neither player is going to be overly consistent on a weekly basis, but I've seen enough from Kirk to know he's a talented receiver. I've also seen enough from Davis to know that he is not. Therefore, despite Kirk being further down the depth chart, I'm willing to bet on talent and stick with Kirk in this one.
Listen to the PFN Fantasy Podcast
Listen to the PFN Fantasy Podcast! Click the embedded player below to listen, or you can find the PFN Fantasy Podcast on iTunes, Spotify, and all major podcast platforms.  Be sure to subscribe and leave us a five-star review! Rather watch instead? Check out the PFN Fantasy Podcast on our Fantasy YouTube channel.