It's been a rough start to the season for most of the early-round QBs. While they haven't completely busted both weeks — except Joe Burrow — they certainly don't look like they justify their ADPs. Is this the fantasy world reverting back to the late-round QB strategy, or is positive regression coming for the elites?
At the TE position, it's a wasteland across the board. Kansas City Chiefs playmaker Travis Kelce and Baltimore Raven Mark Andrews returned, but the Vikings' T.J. Hockenson was really the only difference-maker at the position. The frustration with TEs has fantasy football managers anxious to make changes.
Below, you'll find the QB and TE trade targets that could be the subject of a value overreaction heading into Week 3.
Having trouble deciding who to start and who to sit? Check out PFN's FREE Start/Sit Optimizer to help you make the right decision!
Which QBs and TEs Should You Trade for in Fantasy Football?
Trevor Lawrence, QB, Jacksonville Jaguars
It's difficult to find quarterbacks to buy low. There are only 12 starting each week, and the ones that aren't playing well likely aren't for a reason. I'm not encouraged by what I've seen from Trevor Lawrence over the first two weeks.
With that said, Lawrence wasn't that great last year. This is a matter of betting on talent and gambling that he can turn it around.
He's averaging just 14 fantasy points per game through two weeks. I doubt it's enough for his fantasy managers to give up, but with Houston and Atlanta in the next two weeks, now is the time to buy low on Lawrence if you want him. He will either smash these next two weeks, or you won't want him anymore.
Luke Musgrave, TE, Green Bay Packers
This really might be the year of the rookie tight end. Last week, I had Sam LaPorta of the Detroit Lions on this list. He is looking like someone who is going to be startable weekly. This week, we're going with the Packers' rookie.
Musgrave played nearly 90% of the snaps in Week 2 — his 24 routes run were the most on the team.
He has yet to really do anything with all his playing time, but Musgrave is on the field and running routes. It remains to be seen what the situation will look like when Christian Watson inevitably returns — likely next week — but Musgrave looks like someone worth buying before all the playing time turns into fantasy points.
Which QBs and TEs Should You Trade Away in Fantasy Football?
Jalen Hurts, QB, Philadelphia Eagles
I am concerned with Hurts. He had a great fantasy performance on Thursday night because he got two freebie touchdowns from the 1-yard line. Outside of his long touchdown to DeVonta Smith, though, he hasn't looked good at all.
Hurts has yet to throw for 200 yards in a game. He's also not running nearly as much, with just 37 and 35 yards in his first two contests. The former Alabama and Oklahoma starter didn't see a wide-open A.J. Brown multiple times against the Vikings, which led to some heated conversations between the two on the sidelines.
Make no mistake about it, Hurts will be a QB1 this year. In fact, he will probably be in the top five, but he was my preseason overall QB1. He sure doesn't look deserving of that title right now. If you can sell him as an elite QB1 and get back Miami Dolphins QB Tua Tagovailoa, plus a viable WR2 or high RB2 — that's a deal worth considering.
T.J. Hockenson, TE, Minnesota Vikings
I am including Hockenson here, but it's not exactly a strong sell. The reality is it's difficult to call any TE a sell-high candidate because it's such a weak position in fantasy football.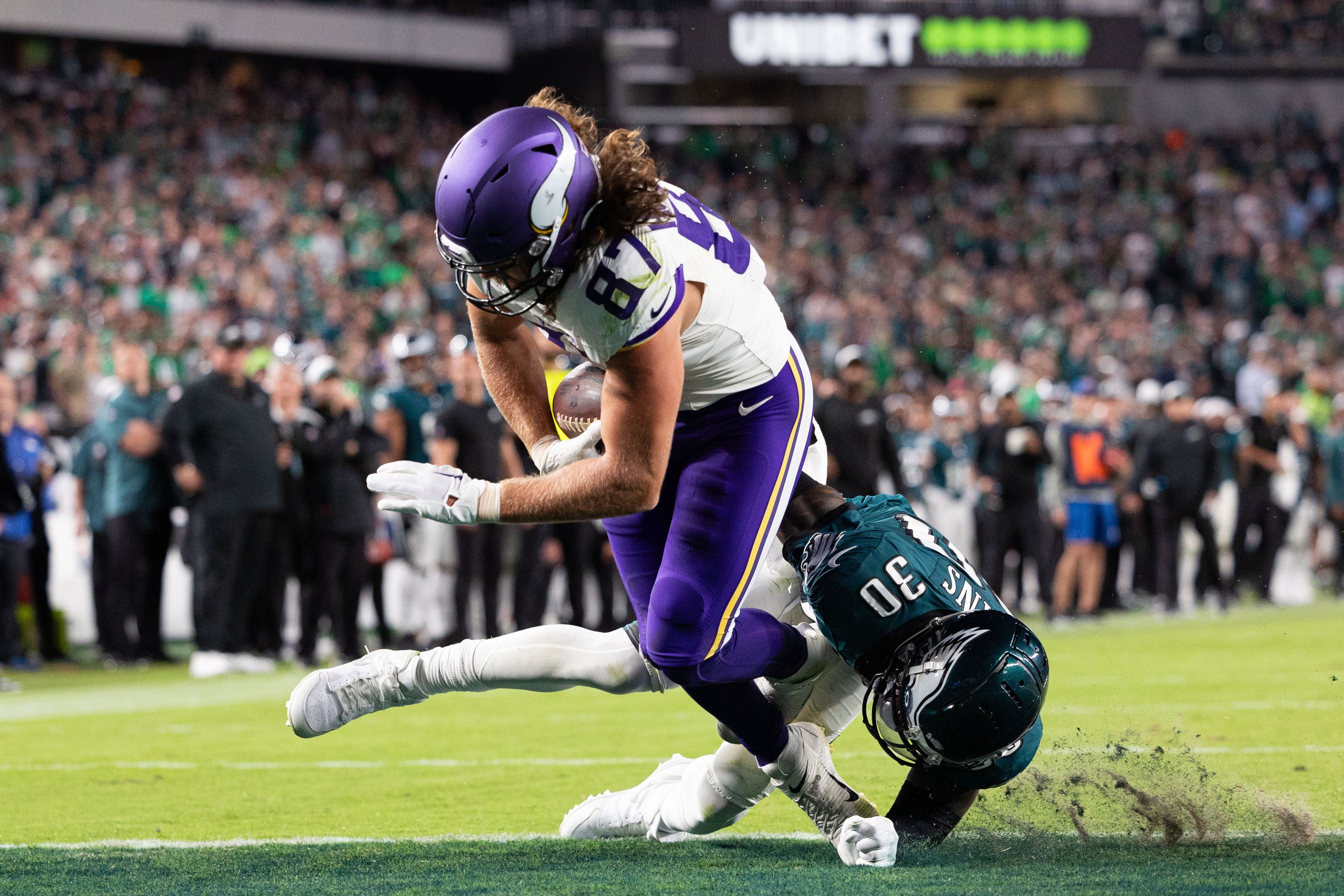 Hockenson was the TE1 in Week 2 — he caught seven passes for 66 yards and two touchdowns. He's obviously not going to do this every week. I suspect he will be mostly inefficient and touchdown-dependent. If you can get elite TE1 value for him, it's probably worth moving him, but it's far from a strong sell.
Trending QB and TE Fantasy Football Trades
Are you considering making a trade in your fantasy football league? Our PFN Trade Analyzer allows you to find the best trades to make in seconds! It also allows us to see trending searches. We've compiled a few of the most popular below.
Should You Trade Kirk Cousins for Justin Fields?
Heading into the 2023 season, I was down on Justin Fields. I believed the Chicago Bears when they said they didn't want him to run as much. That meant Fields would have to take a huge step forward as a passer — one I didn't believe he was capable of doing. Through two weeks, that looks to be true.
MORE: Early Week 3 Waiver Wire Pickups
It certainly doesn't help that the Bears' offensive scheme is not creating open receivers. However, it's not likely to change.
With that said, we know what Kirk Cousins is. Last week, he popped off for 28 fantasy points. He's going to do that. But at the end of the day, Cousins will likely finish where he always does — as a low QB1.
For better or worse, Fields has the potential to be a top-five fantasy QB. We know that because we've seen it. Cousins can't do that. So, for that reason, I will roll the dice on Fields' rushing prowess increasing as the passing game continues to falter, which will raise his fantasy value back into the top six.
Should You Trade Hunter Henry for Kyle Pitts?
Tight end questions are always difficult because the answer to most of them is that it doesn't matter. Henry's usage so far has been excellent. He scored 16.6 and 17.2 fantasy points in each of his first two games. Even without the touchdowns in each, it would be encouraging.
So, do you ship him off for Kyle Pitts? I want to say yes. Pitts is an incredible athlete who we believe has elite TE1 upside if he's used properly. The problem is that he wasn't used properly last season, and after two weeks, we have no reason to believe this season will be any different.
I struggle to see what will change for the guy, who has just four receptions in the first two weeks.
While Henry has posted WR1 numbers for two weeks, Pitts has yet to even reach double-digit fantasy points on the season. If I have Pitts, I'm probably not about to trade him away for Henry. But if I had Henry, I don't think I could justify selling him for Pitts. This is a situation of just sticking with the guy you have.
Listen to the PFN Fantasy Podcast
Listen to the PFN Fantasy Podcast! Click the embedded player below to listen, or you can find the PFN Fantasy Podcast on iTunes, Spotify, and all major podcast platforms.  Be sure to subscribe and leave us a five-star review! Rather watch instead? Check out the PFN Fantasy Podcast on our Fantasy YouTube channel.