Roster management is the single most crucial in-season task for fantasy football managers. Knowing which players to let go is just as important as adding the right guys. Which players find themselves on our Week 4 fantasy football cut list?
Looking to make a trade in your fantasy league? Having trouble deciding who to start and who to sit? Check out PFN's Free Fantasy Football Trade Analyzer and Start/Sit Optimizer to help you make the right decision!
Who Should You Cut in Fantasy Football in Week 4?
We now have three weeks of data on these players. As a result, we are starting to get a much better gauge of who they are. This is when the cut list starts to feature names that you probably wouldn't have imagined outright cutting when the season starts.
Derek Carr, QB, New Orleans Saints (34% Rostered)
It was surprising to see Derek Carr this heavily rostered. Through three weeks, Carr is averaging about 11 fantasy points per game. That's not going to get it done.
Carr threw for just 103 yards against the Green Bay Packers before an injury forced him out of the game. Even if Carr is OK, the New Orleans Saints have some rough opponents coming up, specifically the Tampa Bay Buccaneers and New England Patriots the next two weeks. You're never going to feel good about starting Carr.
Dalvin Cook, RB, New York Jets (86% Rostered)
It is astounding that more fantasy managers didn't drop Dalvin Cook after his 0.2 fantasy points in Week 2. I understand it, though. It's still very early in the season.
Nevertheless, after Week 1, it was abundantly clear to me that Cook has nothing left. He's done. Then, he went and ran the ball four times for seven yards in Week 2, and followed that up with eight carries for 18 yards in Week 3.
MORE: Week 4 RB Waiver Wire Targets
To be fair, Breece Hall hasn't been much better. But at least Hall has obvious juice when he runs. Cook can only get what is blocked. He can't make defenders miss, and he can't generate any explosive plays.
Part of the allure of Cook was having a 40% role in a very good offense. That went out the window with Aaron Rodgers' Achilles tear. Fantasy managers do not need the 40% guy in a Zach Wilson offense. You can cut Cook.
Antonio Gibson, RB, Washington Commanders (59% Rostered)
Through three games, Antonio Gibson has a whopping seven carries for 35 yards. He was benched for fumbling in Week 1, and he fumbled again this week. Gibson has a fumbling problem, and coaches don't like fumbling.
On top of that, Brian Robinson Jr. looks like a different man and is the clear lead back. He's running hard and well.
Even in a game where the Washington Commanders faced extreme negative game script and Gibson out-snapped Robinson, he couldn't command more than six opportunities. It's never going to be Gibson. He can safely be cut.
AJ Dillon, RB, Green Bay Packers (84% Rostered)
The appeal of AJ Dillon over the past two years has been twofold. First, he has standalone value as the 1B and goal-line back alongside Aaron Jones. Second, he has RB1 upside if Jones gets hurt.
Well, Jones got hurt, and Dillon started each of the past two games. What did he accomplish? A whole lot of nothing.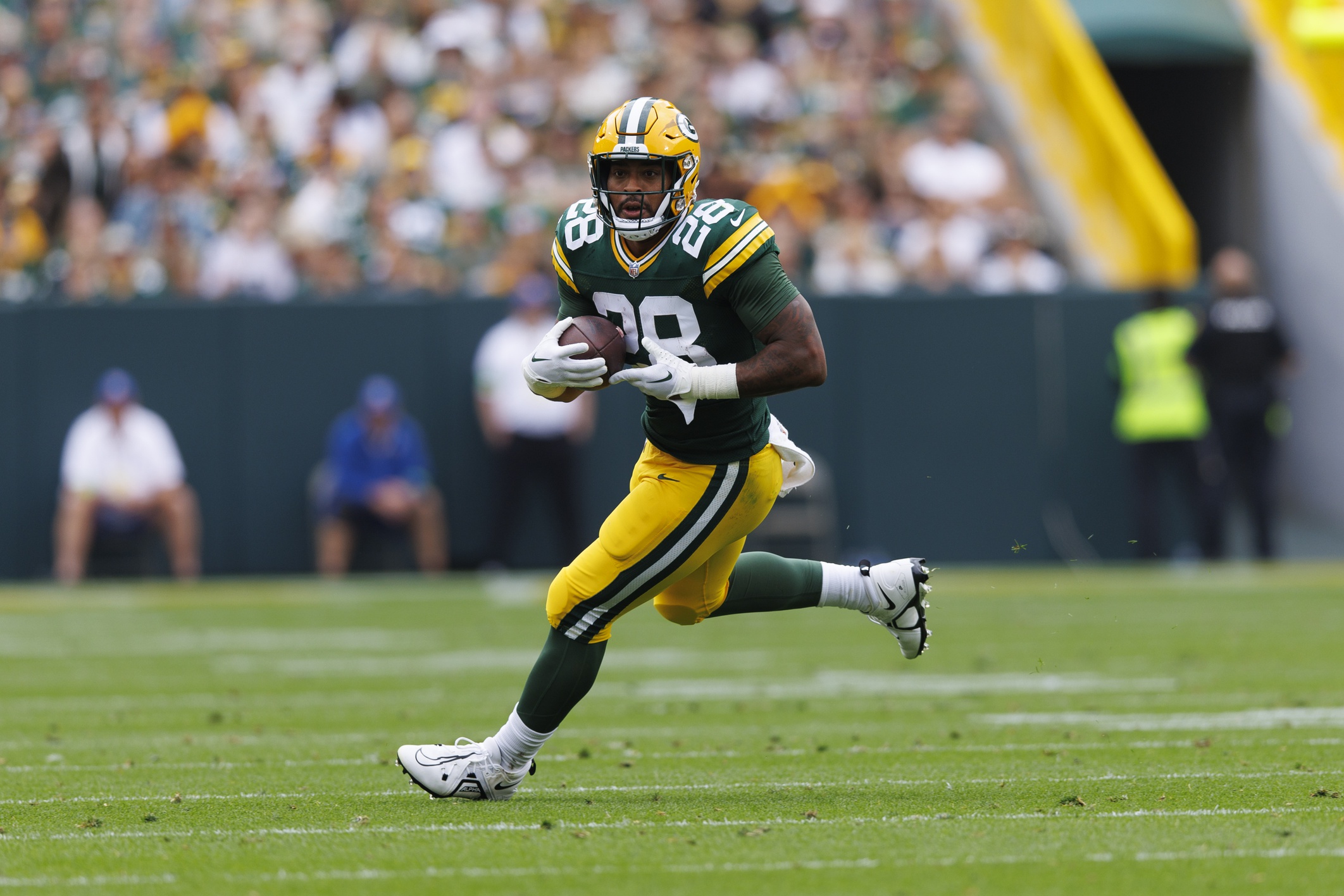 This week, Dillon lost his stranglehold on the lead-back role sans Jones. He only played 10 more snaps than Patrick Taylor, and he ran two fewer routes.
Dillon just looks like a different player. I just talked about the difference between last year's Robinson and this year's. That's Dillon … except the opposite.
If Dillon can't produce without Jones, there's no hope and no reason to continue rostering him.
Joshua Kelley, RB, Los Angeles Chargers (73% Rostered)
If you spent a decent amount of FAAB to acquire Joshua Kelley ahead of Week 2 following Austin Ekeler's injury, I don't blame you. I did the same in spots. After Kelley struggled in Week 2, we wrote it off as being due to the Tennessee Titans' elite run defense. Also understandable.
Well, in Week 3, Kelley had no excuse. The Minnesota Vikings do not have a good run defense. But you couldn't tell from watching Kelley's attempt at being an NFL running back.
Kelley ran the ball 11 times for 12 yards and caught his lone target for five yards. Similar to Dillon, this is supposed to be when he shines.
Ekeler is out. Kelley has played about 75% of the snaps. Yet, he's unable to produce. If Kelley cannot shine with this snap share and these conditions, there will never be a time. Let him go.
Skyy Moore, WR, Kansas City Chiefs (54% Rostered)
I guess I need to keep putting Skyy Moore on the cut list until his rostership drops to lower levels. What more do we need to see … or … not see from Moore?
While he did lead all Kansas City Chiefs WRs in snaps, he still was out there for just 64% of them. There is no WR1 in Kansas City. They just rotate everyone because no one has earned more volume.
Moore is averaging 4.3 targets per game. He's just one of four to five guys that rotate in and out of the game. I would argue Moore is the least talented of that group, too. It's never going to happen for him.
Rashod Bateman, WR, Baltimore Ravens (47% Rostered)
Fantasy managers have already been dropping Rashod Bateman after his low usage over the first two weeks. I expect the exodus to continue following Week 3.
Even without Odell Beckham Jr. in the lineup, Bateman's role did not increase. Zay Flowers is the clear WR1, but Bateman should be better as the WR2 in a game without Beckham. Instead, he caught one of three targets for six yards.
MORE: 2023 Dynasty WR Rankings
Bateman was out-snapped by Nelson Agholor. I'm not sure what Bateman did to fall out of favor with the Baltimore Ravens, but it's clearly happened. He does not possess any fantasy value.
JuJu Smith-Schuster, WR, New England Patriots (57% Rostered)
This is JuJu Smith-Schuster's second straight week on the cut list. Once again, Smith-Schuster ran fewer routes than both DeVante Parker and Kendrick Bourne. He even ran fewer routes than Hunter Henry and Rhamondre Stevenson.
Smith-Schuster had talent at one point. Unfortunately, injuries have taken their toll, and he just can't play at the level he could earlier in his career. There's nothing for fantasy here.
Most Tight Ends
Seriously. That's how bad tight end is this season. If you don't have one of six or so tight ends and you want to make a change at the position, go for it. I'm not sure what you will find that excites you, but there are currently only about six tight ends that, if dropped, are near locks to be picked up.
Listen to the PFN Fantasy Podcast
Listen to the PFN Fantasy Podcast! Click the embedded player below to listen, or you can find the PFN Fantasy Podcast on iTunes, Spotify, and all major podcast platforms.  Be sure to subscribe and leave us a five-star review! Rather watch instead? Check out the PFN Fantasy Podcast on our Fantasy YouTube channel.