The Alabama Crimson Tide have a cyclical tradition of producing quality offensive line prospects, and next up is G Emil Ekiyor in the 2023 NFL Draft. While Ekiyor might not be the first-round prospect we've been accustomed to seeing from Tuscaloosa, he assuredly has a future at the NFL level and could be a valuable piece on the offensive front.
Emil Ekiyor NFL Draft Profile
Position: Guard
School: Alabama
Current Year: Redshirt Senior
Height/Weight: 6'2 1/2″, 314 pounds
Length: 33 7/8″
Hand: 9 1/2″
Ekiyor is just the latest in Alabama's dominant talent pipeline on the offensive line. The Crimson Tide have been churning out high-level OL prospects for over a decade under Nick Saban. Ekiyor, along with offensive tackle Tyler Steen, represents the team's 2023 NFL Draft class.
Ekiyor kicked off his collegiate career with visible NFL aspirations. The Alabama G left high school as a four-star recruit and a top 75 player in the country. Running a 5.18 40-yard dash at well over 300 pounds, he tantalized teams with his potential. Out of Indianapolis, Ekiyor had dozens of offers from high-level Power Five programs. But the chance to join the ranks at Alabama was unlike any other.
MORE: FREE Mock Draft Simulator With Trades
It took a couple of years for Ekiyor to get his career off the ground with the Crimson Tide. But eventually, he solidified his place as the team's starting right guard. Ekiyor started 28 straight contests at the position heading into 2022 and again locked down the right side during the 2022 campaign.
Now, Ekiyor has entered the 2023 NFL Draft as a fifth-year senior with three years of starting experience against the best of the best. Naturally, given his Alabama pedigree, he's one of the more recognizable names in the 2023 guard class, but where does he rank amongst his peers?
Emil Ekiyor Scouting Report
Ekiyor's Positives
At 6'2″ and around 314 pounds, Ekiyor is a shorter lineman, but he has an incredibly strong, dense frame with great proportional length. While he's not an elite athlete, he does have solid short-area explosiveness. He covers ground quickly off the snap. It's evident in many situations, especially when he has to roam left as a puller. He's shown he can quickly get outside the 1-technique and seal him off.
With his linear burst, Ekiyor can surge into defenders and drive open gaps. He also has enough mobility to get out in space and track down linebackers, clearing open lanes. The Alabama G shows good initial lateral burst when entering reps as a puller, and he has decent range as a pulling blocker. Moreover, Ekiyor has shown he can redirect momentum and wall off rushers with his wide frame.
In addition to a serviceable athletic floor, Ekiyor has great power capacity with his frame density and length. The Alabama G can quickly load up and pummel defenders with full rotation. Similarly, his hands are heavy and carry good knock-back power with each strike. Ekiyor is able to draw power up from his strong base and uses it to shock opponents at contact.
Ekiyor is powerful, but his strength is an even more impressive part of his game. The Alabama G has the grip strength to recover positioning and leverage after losing a step initially. Not only that, but he can also latch onto the torso and maintain grip even as defenders attempt rip and swim moves. And with his core strength, he's shown he can quickly gather and stymie power rushes.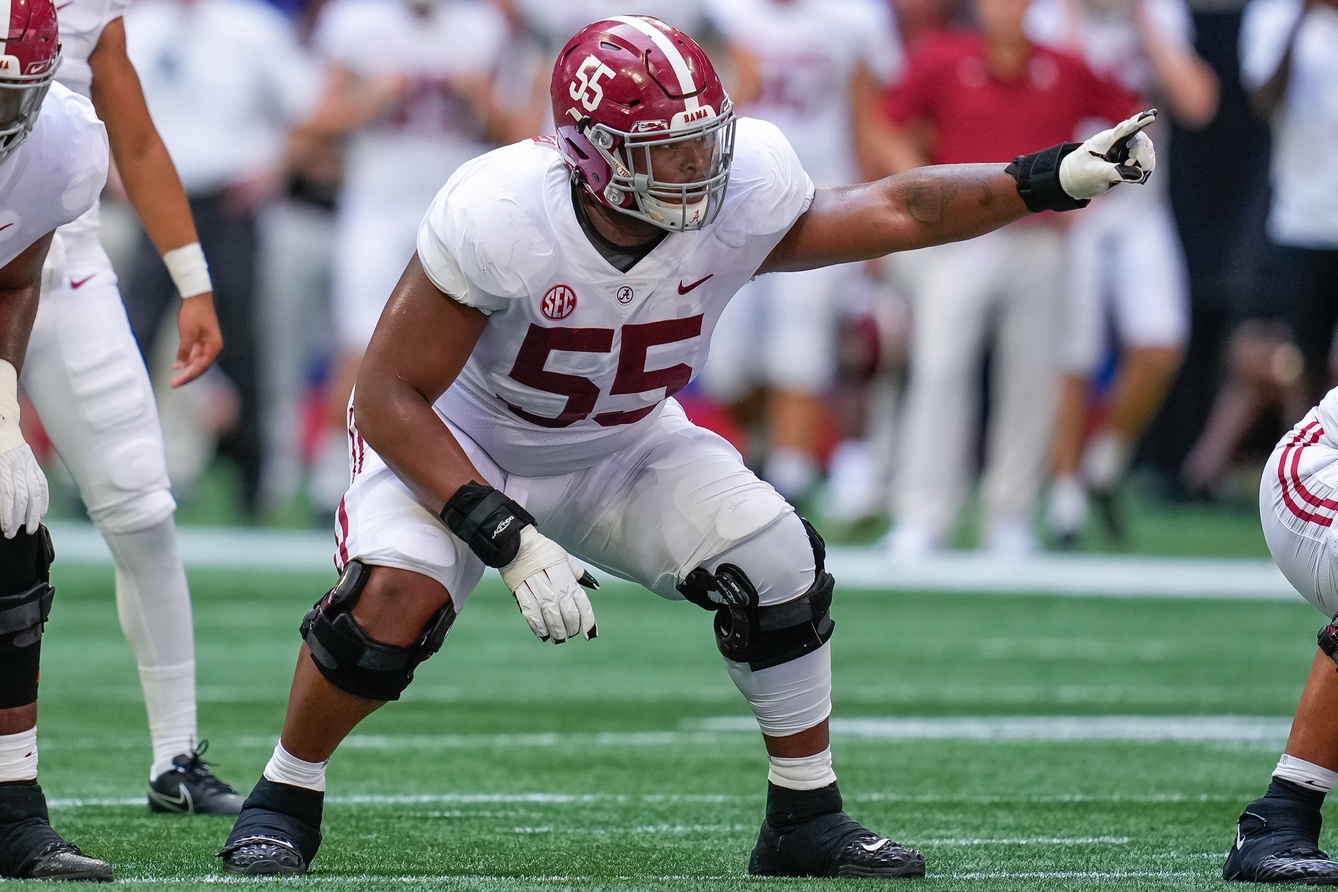 Ekiyor has great natural leverage, which he can exploit with his proportional length. This is particularly noticeable when watching his hands work. Ekiyor can fully extend inside his opponent's torso to generate displacement. Additionally, he can suddenly extend and latch with neutralizing effects.
The Alabama G actively targets the torso and shoulders with his length to disable opposing strikes and establish a lever. He keeps his hands tight and inside the torso more often than not, minimizing available surface area to exploit. He's also shown he can use sequential violent extensions to gather opponents and quickly reload and re-exert.
Ekiyor's hands are amped-up and energetic off the snap, and the Alabama G shows bright flashes of hand-fighting in close quarters. His footwork, however, is an equal part of his operational prowess. Ekiyor has good synergy, as he's able to quickly swipe hands and re-extend while recollecting his base. In pass protection, he has urgent feet and has shown he can both stay in phase and vary his cadence based on spacing. Ekiyor keeps a wide base, leverages that base to match defenders, and can absorb power.
MORE: 2023 NFL Draft Big Board
Going further, Ekiyor has an active help mentality in pass protection. He processes blitzes and stunts very well and can quickly pivot focus to delayed rushers. Additionally, Ekiyor has shown he can stack blocks when moving to the second level. He's a mean blocker who shoots off the line into contact and always gives 100% to the whistle. As a pulling blocker, he hunts out contact and will punish defenders who sacrifice leverage.
Finally, while Ekiyor's flexibility is a weaker part of his game, the Alabama G is not a liability there. He's shown he can levy blocks inside gaps, uncork his hips, and drive open lanes in the run game.
Ekiyor's Areas for Improvement
While Ekiyor has good linear explosiveness, his lateral mobility is a question mark, especially in pass protection. The Alabama G can be stiff on transitions. He can also be late to recover and make up ground after redirecting, and his hips appear stiff at times when anchored. Ekiyor sometimes struggles to flip his hips and carry defenders outside the pocket. His average flexibility also prevents him from maintaining anchors amidst resistance at times.
Ekiyor also lacks elite raw power and elite neutralizing strength. He doesn't consistently generate ample displacement, and he needs to use his hands and leg drive more effectively as conduits for power. Moreover, he sometimes struggles to fully absorb power and can be worked backward in his stance. He can also be wrenched off-balance on moving blocks.
Even with natural leverage, Ekiyor must bend his knees more consistently and maintain a stable center of gravity. He sometimes comes off the snap too tall and can be toppled by power. He'll also occasionally place his hands too wide, allowing defenders to take control of reps. Ekiyor's hands sometimes lack precision and coordination, and the Alabama G can be over-reliant on two-hand extensions. At times, he can be late to load up and extend as well.
Elsewhere, Ekiyor can better leverage his footwork. He sometimes oversets outside off the snap and allows defenders space inside. He's also prone to lurches, as he'll periodically extend before achieving proper positioning.
Current Draft Projection for Alabama G Emil Ekiyor
Ekiyor grades out as a mid-Day 3 prospect in the 2023 NFL Draft. His extensive experience as a starter at Alabama serves him well. Additionally, his unique physical profile affords him some projected versatility between guard and center. Those qualities alone make him an ideal backup, and he has a degree of measured upside as well.
Ekiyor is a reasonably explosive linear athlete with great natural leverage, frame density, and grown-man strength in the trenches. He also flashes great power capacity, and he can further unlock it as he continues to improve at channeling that power. Not only that, but Ekiyor has great awareness in pass protection and aggressiveness as a run blocker.
However, while Ekiyor is a sturdily-built lineman with a great power profile and solid linear burst, he's not as free-flowing laterally and can be stiff in recovery. He's not incredibly rangy or agile in space, and his lack of hip flexibility can also be limiting when attempting to torque defenders through rotations.
MORE: When Is the 2023 NFL Draft?
Ekiyor does have a stable floor with his footwork and hand usage. He's shown he can absorb power with a wide base and use successive extensions to exert power and latch. That said, his ceiling is capped by his non-elite physical traits, and he's not immune to occasional mishaps with strike imprecision, lurches, and losses of balance.
In summary, Ekiyor is an above-average but unspectacular athlete whose ceiling is capped as an above-average starter. But ultimately, Ekiyor's combination of natural leverage and proportional length makes him a position-flexible prospect on the interior, with the tools and temperament to become a valuable sixth offensive lineman with guard and center capabilities.
Listen to the PFN Scouting Podcast
List to the PFN Scouting Podcast! Click the embedded player below to listen, or you can find the PFN Scouting Podcast on iTunes, Spotify, and all major podcast platforms.  Be sure to subscribe and leave us a five-star review! Rather watch instead? Check out the PFN Scouting Podcast on our Scouting YouTube channel.