Are you thinking about joining a dynasty fantasy football league for the first time in 2023? Dynasty leagues kick off with the initial startup draft. This draft is immensely important, and there are a few different ways you can attack it. Let's discuss the different types of startup draft strategies and how each impacts your ability to be a successful dynasty manager.
Did you get a trade offer in your dynasty or redraft league? Not sure what to do? Make championship-winning decisions with PFN's FREE Fantasy Football Trade Analyzer and Calculator!
Dynasty Startup Draft Strategies
There are several different strategies you can implement when drafting your initial dynasty roster. In addition to the overarching approaches, there are specific roster construction strategies within that.
Fantasy football has advanced so much over the years. I couldn't hope to cover every conceivable strategy in just one article. So, we're going to start with the basics. Consider this article more for the novice dynasty manager. This will be a more general overview of dynasty startup draft strategies.
Punting Year 1
One of the benefits (or drawbacks, depending on your perspective) of dynasty leagues is you are not going to be contending for a championship every year. Of course, the ultimate goal is to put together a juggernaut roster that can dominate for several years. But eventually, every team is going to have to go through a rebuild or, at the very least, hard times.
Rather than chase a title in a league's first season with everyone on a level playing field, many fantasy managers opt to punt the first year in an effort to create an imbalance in their favor going into Year 2 and beyond.
The idea behind this strategy is by focusing entirely on the future, you can draft a team that may not look great in Year 1 but will have players that ascend in value ahead of Year 2. If you get things correct, you can set yourself up to dominate for a very long time.
How To Effectively Punt Year 1
The general theory may seem simple — build for the future. As always, there's a bit more to it.
In the initial startup draft, now more than ever, your focus should be on wide receivers. Not only are the shelf lives of running back shorter than wide receivers, but the bulk of RB1 seasons come from backs in their first four years in the league. If you're punting Year 1, you're already giving up 25% of that window. So just don't bother.
Using historical players as an example, if you were able to land Julio Jones or A.J. Green back in 2011, you got a decade of elite production. By way of comparison, if you hit on Le'Veon Bell in 2013, you got one of the best RBs in fantasy football history, but only for about five seasons.
In fact, if you go back and look at every running back drafted in 2010 or later, you won't find a single one that was highly effective for more than six seasons. Of course, six years is a long time. But with wide receivers, you can get a decade of production. Most importantly, you can get 6-8 prime years. Running backs often only have 3-5 prime years.
If you can establish a core of strong wide receivers by drafting young players, you can set yourself up to dominate for years and years. Just imagine how you would feel right now if you had a WR corp consisting of A.J. Brown, Justin Jefferson, and Garrett Wilson.
It is also far easier to get instant-impact rookie running backs than wide receivers. Just about every year, we see running backs emerge that are available on the waiver wire or via a cheap trade.
Rookie RBs are also far easier to project than rookie WRs. Draft rookie and sophomore wide receivers in your initial startup. Then, once you're ready to compete for a championship in Years 2 and 3, focus on running backs in your rookie drafts.
Now, don't take this to mean ignore RB completely. You still need to draft running backs in your initial startup. It's the type of running back you draft that is key.
You want young players and inexpensive backups. These players don't cost much because they're buried behind an established starter, but they have plausible upside if the starter were to get hurt. Ideally, these are also RBs with a conceivable chance to start the following season.
A good example of this would be if, at any point over the past three years, you drafted Tony Pollard or Alexander Mattison. Going further back, you would draft someone like Austin Ekeler. Those are obviously examples of the strategy working out, which is not going to be the case very often. But it's how you should approach the position. You can take big swings with minimal draft capital.
Using the same historical examples I mentioned above, the ideal plan would be to secure a locked-in WR1 like Jones or Green and then draft an RB like Bell the next season or two.
As always, this is easier said than done. You've got 11 other managers with their own strategies that they're trying to implement. It's important to be able to adapt and possibly adjust your strategy on the fly based on how your draft is going. This is a skill you will cultivate and learn as you progress in your dynasty campaign.
Drafting To Win Now
It may not be possible to compete every year in a dynasty league (in fact, it almost certainly isn't), but in an ideal world, you would like to. We would all like to win every year if it were possible (although that would probably result in your league folding). Such is the nature of dynasty to prevent that.
If I join a new dynasty league, I may very well draft to win right away. It's an underrated strategy because of how devalued older players can be.
Dynasty managers love the idea of drafting young players who emerge into studs. In the previous section, we went over how advantageous this can be and how appealing it is. But nothing is certain.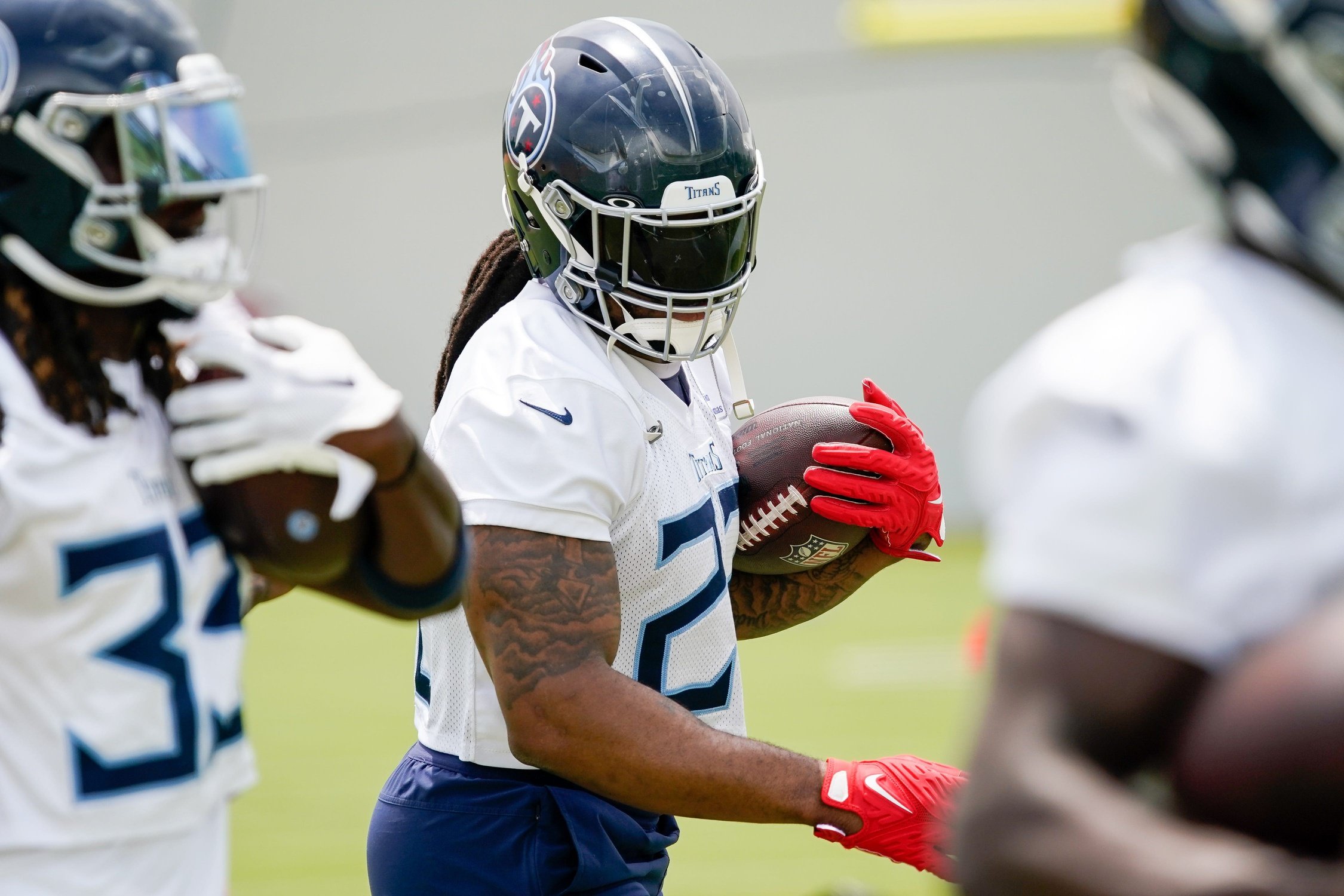 While nothing is certain with veteran players, there is certainly a much higher degree of certainty surrounding guys who have been good for years and are still in their prime when compared to rookies and sophomores. No one is hoping Christian McCaffrey will pan out this year — we know he's elite.
Oftentimes, these players have much more left in the tank than their dynasty ADPs would suggest, allowing fantasy managers to field competitive teams for more than just a year or two.
How To Effectively Draft a Win-Now Team in a Dynasty Startup
When I first wrote this article, I would scoff at the notion of drafting a dynasty startup like a redraft league. Now, I would embrace it.
In redraft, assuming all things are equal, everyone has a 1/12 chance of winning each individual season. As soon as the initial startup draft is over, the yearly odds will never be 1/12 again. Every year, there will be haves and have-nots. It's how dynasty leagues are designed. The goal in dynasty leagues is to stack your roster over the years such that your odds are far greater than 1/12 entering a season.
In Year 1, you won't be able to assemble a juggernaut because you don't have the advantage of multiple years of finding undervalued players, making trades, pickups, etc. However, that doesn't mean there aren't scenarios where it's worth trying to win immediately.
Ultimately, as much as I hate losing, it is crucial to understand what dynasty fantasy football is. It's not a one-year game. So, drafting solely for the upcoming season is a great way to be miserable 3-4 years down the line. I still likely wouldn't go into a startup planning on taking mostly older players and attempting to win now. But I'd be far more willing to make that call on the fly.
It's easier to shift in an auction than it is in a snake draft. If you notice your league-mates heavily favoring rookies and young players, leaving talented veterans available far later than they should be, you can gobble up all the value. And I wholeheartedly endorse it.
If everyone else is overvaluing young players, that's going to push down the cost of veterans. If you find yourself missing out on the young players you were targeting, that might be your sign to call an audible and try to win in Season 1.
In my experience, dynasty managers tend to place too much value on age. Now, to be clear, I am not insinuating that does not matter. It's the degree to which dynasty managers emphasize age that creates opportunities for everyone else.
If you are permanently online like I am, you will inevitably see every take on every player. A very common position to have in dynasty is that a player is at his peak value, so you should sell him. This typically happens with wide receivers around ages 26-28 because fantasy managers can become obsessed with getting younger.
Using 2023 as an example, what is likely to be more valuable? Three more years of an elite 29-year-old Tyreek Hill or a decade of 22-year-old Drake London? I firmly believe three years of Hill is better.
Sure, London will undoubtedly provide you with more years of fantasy production, but there's no guarantee he ever has a season even as good as Hill's worst. We know Hill is still elite, and we have no reason to think that will change in the next three years. We think London can be elite, but we can't be sure.
In the simplest form, is eight years of 13-15 ppg more valuable than three years of 18-20 ppg? For me, the answer is unequivocally "no."
Leverage dynasty managers' infatuation with youth against them. Draft a team of undervalued veterans, and you may be able to dominate for a couple of years before you have to blow it up.
Established players, more specifically wide receivers in their mid-to-late 20s, may still have half a decade's worth of production left in them. Yet, these players are often overlooked because several managers are laser-focused on youth. If you can load up your roster with multiple older — but still good — players, you can dominate in Year 1 while everyone else waits for their young players to break out.
The Hybrid Approach
As with anything, when there are two polar opposite approaches to something, there is inevitably a middle ground. The hybrid approach seeks to take the best parts of punting Year 1 and winning now to set your team up for current and future success.
Another term to describe this approach is the productive struggle. It's akin to a team several years into a dynasty league going through a competitive rebuild.
In a competitive rebuild, you're making moves primarily geared toward the future, but you're not completely giving up on winning in the current season. The focus is definitely weighted toward long-term success, but you know your team already has good enough pieces to make the playoffs. And as any experienced fantasy manager knows, if you make the playoffs, anything can happen.
This enables you to pivot to making moves benefiting you in the short term if you see things breaking right for you to potentially win now.
How To Effectively Implement the Hybrid Approach in a Dynasty Startup
If you want to go with a hybrid approach in your dynasty startup, the priority should still be on young players. However, unlike in a pure punt Year 1 strategy, you are willing to take older players if the value presents itself.
When trying to exclusively win now, you're looking to put together the most stacked roster possible for the current season.
When punting Year 1, you don't care at all about the value of older players. You're exclusively focused on young guys that can emerge into superstars.
When implementing a hybrid approach, you're taking players from both groups. You always want young players that can increase in value. And also, it's not like the only players who are already good are older — there are plenty of very young players who are also very good current assets.
The key here is going to be younger veterans. These are guys we know are already good, but are also already in the middle of their prime. Think guys ages 25-27. At the same time, you're also not ruling out older players. These are guys ages 28-30 who are clearly close to the end, but still have anywhere from 2-5 years left.
By drafting a combination of veteran players you can rely on and younger players that are still getting better, you're essentially delaying having to make a call in which direction you want to go in until the season progresses.
If your older players disappoint, you can begin to sell for the future. But if your young guys pan out quicker than expected, perhaps you have the tools to make that title push now.
The real genius of this strategy is that you can stay competitive while neither mortgaging the future to win now nor giving up on the present to build for the future.
In fantasy football, anyone who makes the playoffs has a chance. You just need to get hot for three weeks. With your hybrid roster, you probably won't be the favorite if you make the playoffs, but your team will have enough firepower to get lucky against a superior roster. There's no better feeling than winning while compiling a stacked roster for the future.
More Specific Draft Strategies
The strategies outlined above are more general in the sense that they determine how you plan to approach competing in a dynasty league. When actually drafting the players on your roster, there are more specific strategies to implement.
You've probably heard of this before in redraft, but they also apply to dynasty. Zero RB, Hero RB, Robust RB, Zero WR, stars and scrubs (if you're in an auction), etc.
You can apply any one of these specific draft strategies to the more general team-building philosophy you're going for. There are many different ways to win in fantasy football. Stay tuned for future articles at PFN discussing various draft strategies in more detail.
Listen to the PFN Fantasy Podcast
Listen to the PFN Fantasy Podcast! Click the embedded player below to listen, or you can find the PFN Fantasy Podcast on iTunes, Spotify, and all major podcast platforms.  Be sure to subscribe and leave us a five-star review! Rather watch instead? Check out the PFN Fantasy Podcast on our Fantasy YouTube channel.