Could this be a spot where fantasy football matchups are decided? There are star players on both sidelines, but there are also a few players on the starting fringes who deserve a deep dive!
Looking to make a trade in your fantasy league? Having trouble deciding who to start and who to sit? Check out PFN's Free Fantasy Football Trade Analyzer and Start/Sit Optimizer to help you make the right decision!
Atlanta Falcons at Detroit Lions
Spread: Lions -3
Total: 46.5
Falcons implied points: 21.8
Lions implied points: 24.8
Desmond Ridder
Ridder let his hair down a bit in Week 2 by completing more passes (19) than he attempted in the Week 1 win (18) The aggression looked good on him, as he finished with 276 cumulative yards, a pass touchdown, and a rushing touchdown.
As good as last week for the second-year QB, he's still a below-average QB2 in Superflex formats. He has the talent around him to produce numbers like this on occasion, but head coach Arthur Smith isn't in the business of routinely giving him 42 opportunities (passes and rushes), and that means games like this are the exception – not the norm.
Jared Goff
With the Lions averaging 32.9 PPG at home since the beginning of last season, Goff needs to be penciled into starting lineups whenever playing in front of a supportive crowd.
He has thrown multiple touchdown passes in six straight home games, a streak he easily extended last week against the Seahawks by completing 28 of his 35 attempts for 323 yards and three touchdowns.
MORE: Fantasy News Tracker
Green Bay signal-caller Jordan Love only completed 14 passes against these Falcons last week, but three of those resulted in touchdowns. Goff distributed the ball around in the loss last week by targeting four different players with at least six targets, showing the willingness to take what the defense gives him.
I have Goff in the Joe Burrow/Kirk Cousins pocket passer tier this week, which results in a fringe top-10 ranking. Personally, I feel good about starting him over Dak Prescott and Geno Smith in this advantageous spot at home.
Bijan Robinson
It's rare for a rookie to come in and assume a rock-solid role, but that's exactly what we have here. Last week against the Packers, Robinson accounted for just 42.2% of the Falcons' carries, a rate that would be concerning if he was on any other team. But he's not. He's on Atlanta, and in this system, that meant 19 carries!
Robinson is as good as advertised and is a top-five option at the position for me. I love his rushing floor, and the fact that he's earned 11 targets (10 catches) on this conservative offense is nothing short of amazing. He's the RB1 in dynasty formats.
Tyler Allgeier
Due to him having 34 touches through two weeks, fantasy managers are flirting with the idea of Allgeier being a Flex option. I'm still not there. I understand that the touch count is encouraging, but Robinson figures to be the first option in scoring situations, and that caps Allgeier's weekly projectable upside.
He didn't see a single target in Week 2, something I expect to happen more often than not based on how Atlanta's offense is structured. Without a versatile role or a path to valuable touches, Allgeier's ceiling isn't high enough for me to recommend him as a Flex play. He's on the outside looking in at my top-30 running backs in Week 3.
David Montgomery
The former Bear had been an absolute workhorse (37 carries) for his new employer prior to suffering a quad injury that will take "a couple of weeks" to heal. At under four yards per carry and with just one target, Montgomery had yet to show much in the way of upside. But the sheer volume made him a nice start in both instances.
Montgomery's a clear hold while he recovers. However, the role he has enjoyed thus far might not be his for long.
Not only is there the threat of Jahmyr Gibbs taking advantage of this opportunity, but there's also the schedule. If Montgomery were to miss the next three weeks, he comes back for road games in Tampa Bay and Baltimore. If you have Montgomery, he's a big reason you've had success, but it might not be until November before we feel good about him again.
Highest Target Shares among RBs:
22.0% Bijan Robinson
18.1% Josh Jacobs
17.5% Tony Pollard
16.4% Saquon Barkley
15.7% Jahmyr Gibbs

Bijan and Gibbs are STARS already

— Alex Caruso (@AlexCaruso) September 21, 2023
Jahmyr Gibbs
We're getting close to a Gibbs breakout, but an underwhelming seven carries (17 yards) gives you one more week to potentially buy low. All signs point to the Lions wanting to explore what the rookie can do, and with Montgomery now sidelined, the door is wide open.
Yes, Montgomery was the featured guy prior to his injury, but look a little closer. Gibbs had a pair of touches on Detroit's first five offensive plays and led the team in targets (nine). Detroit seems to be handling him with kid gloves, and I get it, but that luxury is one they no longer have.
Gibbs is a top-15 back for me this week. The Lions average 32.9 ppg at home since the beginning of last season, and he should be a big part of the fun this weekend!
Craig Reynolds
Reynolds was the one getting immediate work over Gibbs following the Montgomery injury last week, and he's worth a stash in deeper leagues for the potential of him becoming a first-and-second down back for Detroit.
Consider me skeptical. I think it's more likely than not that Detroit had a plan for Gibbs last week, and Reynolds' usage was more a way of staying true to that plan than anything.
Reynolds made his NFL debut in 2019, and his next touchdown will be his first. He'll get some work, but plugging him into the Montgomery role and keeping Gibbs at his current usage rate would be coaching malpractice. I don't think the Lions make that mistake, and I'm suggesting you don't. Reynolds is nothing more than speculative roster depth for me.
Drake London
Crazy, isn't it? The Falcons let Ridder drop back a few times, and London produced 15.7 fantasy points. What a world!
The super sophomore accounted for 31.6% of Atlanta's catches against the Packers and caught six of seven targets (Ridder on all other throws: 52% complete).
MORE: Fantasy Football Week 3 WR Rankings
I think there's a decent chance Atlanta's game script looks similar this week as they stay in the NFC North. However, there's obvious risk in this team going back to the 18-pass plan from Week 1.
When you combine the risk of Week 1 with the reward of Week 2, London is a fringe top-30 receiver for me this week. That makes him an average Flex play and one that I prefer over Allgeier when it comes to fringy Falcons in this spot.
Amon-Ra St. Brown
Cramping sidelined The Sun God for parts of the Week 2 loss against the Seahawks, and yet, he still went over 100 yards. The Lions are looking for creative ways to get him the rock (misdirection flip play on fourth down), making him an alpha receiver in our game.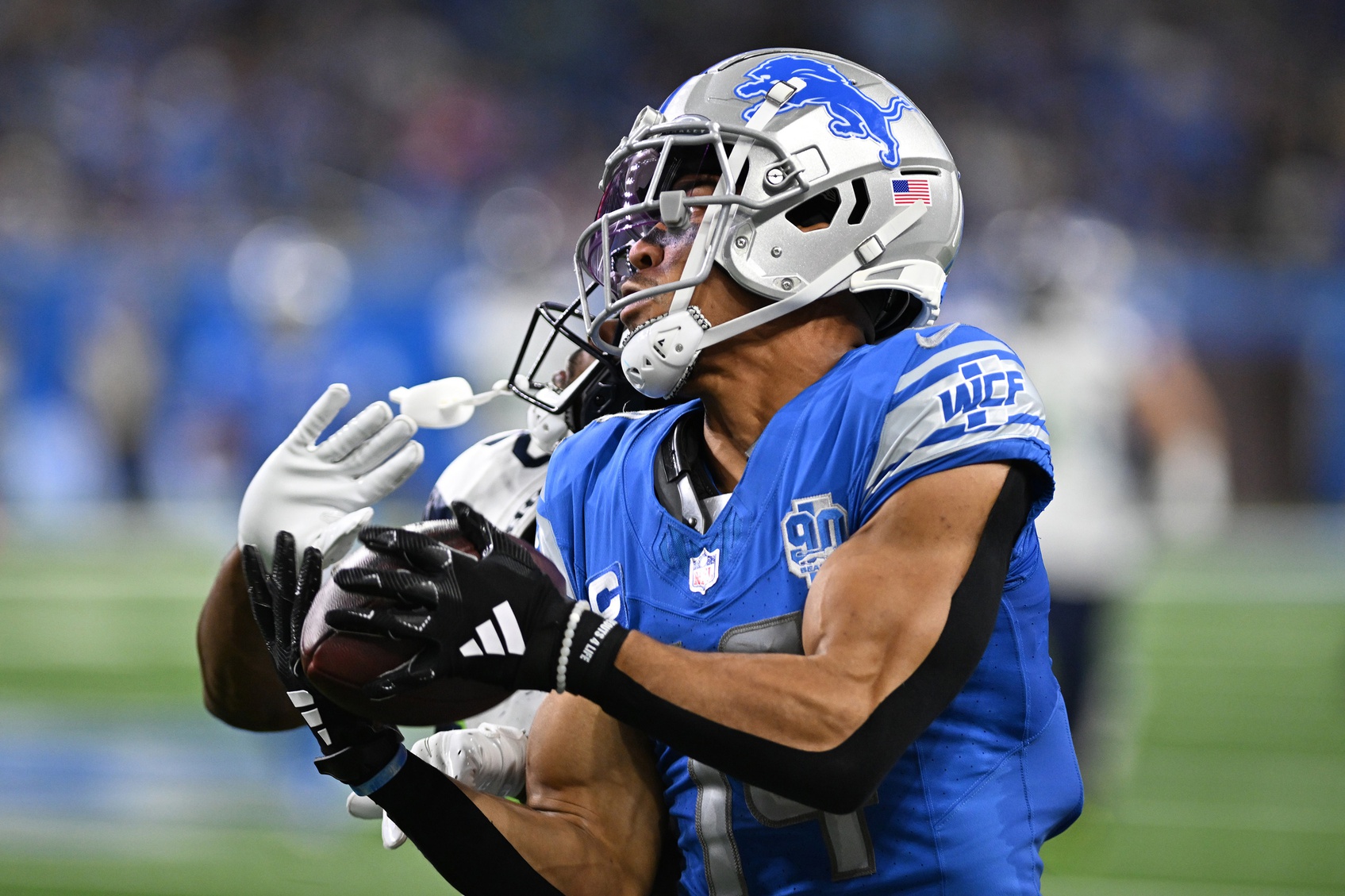 The Falcons' defense was gashed by Jordan Love last week, a game in which the Packers were without their top two offensive weapons. St. Brown is locked in as a top-10 receiver every week, and he has "best fantasy receiver for the week" potential when the Lions play at home in a favorable spot like this.
Josh Reynolds
Reynolds was an afterthought this summer, but he's reached double-digit half-PPR fantasy points in each of the first two weeks this season and is working his way onto rosters.
Against the Seahawks last week, he turned six targets into 66 yards and a pair of scores, one of which came on the first drive, with Goff clearly happy to look his way from the jump.
I'm still skeptical that Reynolds can be counted on. I have him as the fourth-most feared Lion in the passing game (St. Brown, Gibbs, and Sam LaPorta), and he's outside of my top 40 receivers this week.
Kyle Pitts
Old man Zach Ertz had eight targets and 56 yards in Week 2, a stat line that nearly mirrors what Pitts has produced for the season (eight targets for 59 yards). You don't need me to tell you the story here: High pedigree player with per-catch upside playing in an offense that refuses to maximize what he does well.
MORE: Week 3 Fantasy Cheat Sheet
Pitts is the cashmere sweater in the famous "Red Dot" episode of Seinfeld. He's an expensive product with a single flaw that makes him undesirable. Like the sweater in that episode, Pitts has the potential to be a short-term fix with a big week here and there. But the Red Dot that is this grounded offense is always going to be seen upon further examination.
Pitts is a fringe top-15 tight end for me this week and more a part of the TE streamers conversation than someone who needs to be a weekly starter.
Sam LaPorta
While Pitts is a presumed starter turning streamer, Detroit's rookie is going in the reverse direction. LaPorta has a pair of five-catch games to open his career with just one of his targets hitting the ground, a level of efficiency that puts his PPR floor at a usable level.
Of course, the fact that the strong volume has resulted in just 102 yards is not ideal. The per-catch upside is very limited, and that means the floor is a low one if the efficiency dries up. Detroit does need a secondary pass catcher next to St. Brown, and with that in mind, I'm comfortable in labeling LaPorta a top-12 option at the position.
Who Should You Start in Week 3?
Should You Start Jared Goff or Dak Prescott?
The appeal for Prescott is the efficient Week 2 and the advantageous matchup this week, but what is the true upside? It felt like he played about as well as we could have last week, and he finished as QB17. The Lions play-calling puts Goff in a position to benefit from volume, and that's the last thing the Cowboys want to do for Prescott.
Should You Start Kyle Pitts or Dalton Kincaid?
The Bills have abandoned their three-receiver sets in favor of a second tight end, while the Falcons have more or less just abandoned their entire pass game. Neither is a top-10 play for me this week, but I'd rather take a chance on the offense that is going to complete more passes than I project the Falcons to throw.
Listen to the PFN Fantasy Podcast
Listen to the PFN Fantasy Podcast! Click the embedded player below to listen, or you can find the PFN Fantasy Podcast on iTunes, Spotify, and all major podcast platforms.  Be sure to subscribe and leave us a five-star review! Rather watch instead? Check out the PFN Fantasy Podcast on our Fantasy YouTube channel.