The New York Jets already acquired one Green Bay Packers legend earlier this year when they traded a package of draft picks for future Hall of Famer Aaron Rodgers. Could they strike twice in the same offseason? Potentially, as recent rumors have linked the Jets to Packers left tackle David Bakhtiari.
Does a Bakhtiari trade make sense for New York or Green Bay? What would a trade package look like? And who would take over as the Packers' left tackle?
Let's answer every question related to a potential Bakhtiari-to-Gang Green swap.
Are the Jets Interested in Trading for Packers OT David Bakhtiari?
The Jets have at least discussed the idea of acquiring Bakhtiari "in passing," according to Armando Salguero of Outkick.
To no one's surprise, Rodgers may be the individual driving Bakhtiari speculation. Per Salguero, Rodgers has "privately mentioned Bakhtiari as a possible Jets addition," and he's spoken about the concept of a trade to Bakhtiari himself.
New York has certainly had no qualms about adding Bakhtiari's former teammates and coaches to its roster this offseason. The Jets brought in ex-Packers receivers Allen Lazard and Randall Cobb, hired former Green Bay offensive coordinator Nathaniel Hackett in the same role, and considered signing longtime Packers tight end Marcedes Lewis.
Bakhtiari was thought to be Rodgers' closest friend on Green Bay's roster. After Rodgers was traded, Bakhtiari posted an Instagram tribute to the quarterback, noting "friendship is a lifetime" and calling Rodgers "instrumental" in his life.
Meanwhile, Salguero isn't the only person to broach the topic of a Rodgers/Bakhtiari reunion in New York. Former Packers quarterback Kurt Benkert, who played with Rodgers and Bakhtiari in Green Bay, discussed the idea on "Up and Adams."
um @AaronRodgers12.. don't respond or acknowledge this at all if this magical reunion is a thing that's happening. @DavidBakhtiari @UpAndAdamsShow @KurtBenkert pic.twitter.com/Bm7kwQE1sN

— Kay Adams (@heykayadams) August 15, 2023
Asked by host Kay Adams which Packers player Rodgers would miss the most, Benkert didn't hesitate.
"David Bakhtiari," Benkert said. "I'm going to put a really hot take on this. I think there's a chance there's a reunion one day. Maybe this year, maybe next, I could see one more piece of the puzzle ending up in New York. I think if anyone ends there, it's going to be David."
Do the Jets Need an Offensive Tackle?
Yes. As we wrote on Tuesday, the Jets are set at nearly every position on the field except for offensive tackle.
Duane Brown is supposed to be New York's starting left tackle, but he's still on the physically unable to perform (PUP) list. Head coach Robert Saleh has consistently suggested Brown is close to returning, but he's been nowhere to be found.
Mekhi Becton, who's missed most of the past two seasons with injuries, played seven snaps against the Cleveland Browns in the Hall of Fame Game before departing. Against the Carolina Panthers, he was able to stay in for 28 plays at left tackle but allowed two pressures, including a sack.
Free agent addition Billy Turner, who spent time with Hackett in Green Bay and Denver, played LT against Carolina but is also competing for time at right tackle with Max Mitchell.
You don't have to agree with our assessment of New York's offensive tackle depth chart. Just ask Saleh, who called out the club's offensive line on Tuesday night's episode of Hard Knocks.
"Offense, it was our first f—— opportunity to change the stink that's been in this organization a very long time on the offense side of the ball," Saleh said.
"You can have a Hall of Fame quarterback. You can have two $10+ million receivers. You can have a reigning Offensive Rookie of the Year. You can have all kinds of skill in the running back room.
"None of it f—— matters until the big boys up front change who the f— we are."
Didn't the Jets Already Trade a Bunch of Picks for Aaron Rodgers?
Yes. In order to land Rodgers in April, the Packers gave up first (No. 13), second (No. 42), and sixth-round (No. 207) picks in 2023 and a conditional second-rounder in 2024 in exchange for Rodgers, a 2023 first (No. 15), and a 2023 fifth (No. 170).
That conditional 2024 selection will become a first-round pick if Rodgers plays at least 65% of New York's offensive snaps this season.
Because the Jets' first and second-round picks in 2024 are tied to Rodgers trade conditions, neither choice is eligible to be traded until the season ends and Rodgers' snap rate is finalized.
"The Jets should go out and make a trade for offensive line help IMMEDIATELY and David Bakhtiari would be the perfect place to start."

– Mike Greenberg

— GBP Daily – Rob Westerman lll (@GBPdaily) August 11, 2023
It's nearly impossible to imagine the Packers trading Bakhtiari — who remains one of the NFL's best offensive tackles despite repeated injury issues — without receiving a first or second-round selection.
As such, the Jets might have to dip into their 2025 draft picks to make a trade worth Green Bay's while. But that shouldn't be a problem for a New York organization with everything riding on the next two seasons with Rodgers under center.
Wouldn't Trading Bakhtiari Hurt Green Bay's Salary Cap?
Yes, and the financial ramifications of a Bakhtiari trade are the most concerning aspect of a potential move, at least from Green Bay's perspective.
If the Packers trade Bakhtiari this year, they'd take on dead money charges of more than $19 million in each of the next two seasons. In March, Green Bay converted $5.5 million of Bakhtiari's base salary and his $9.5 million roster bonus into a signing bonus, allowing the club to spread that money over the next two seasons.
Trading Bakhtiari would still allow the Packers to realize a bit of salary cap savings. If they deal Bakhtiari, Green Bay would create just over $2 million in cap room this season.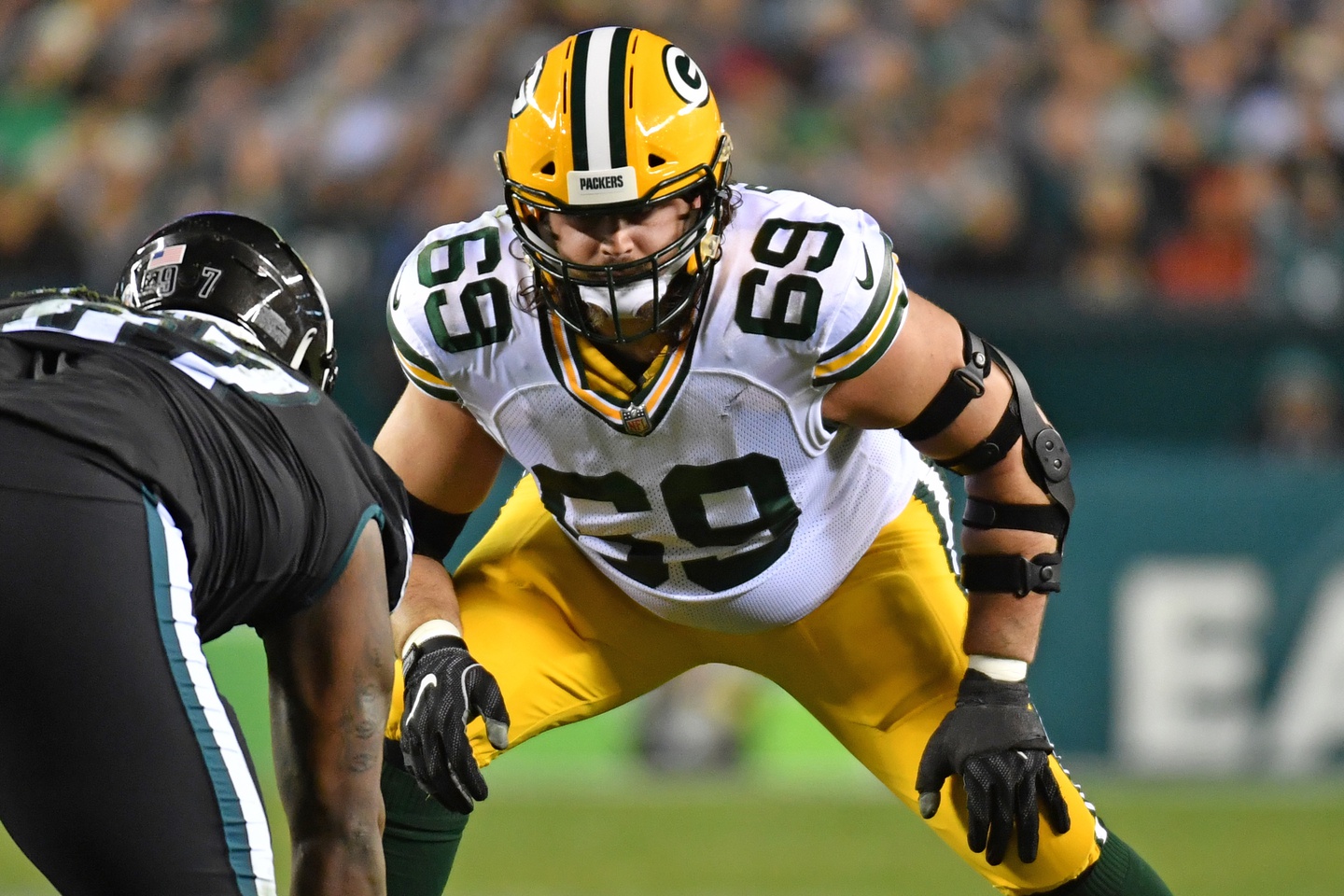 Absorbing nearly $40 million in dead money over the next two years could present a problem for Green Bay.
But the Packers were one of the least active teams during free agency and rank 31st in active cash spending this season, so they might view 2023 as a reset season. In that case, Green Bay could be willing to take on substantial dead money if trading Bakhtiari could net them attractive draft capital.
The Packers don't currently have the cap space to account for Bakhtiari's dead money figure in 2023. If they moved him, Green Bay would have to restructure another contract on its books to create some breathing room.
Can the Jets Afford Bakhtiari?
Rodgers reworked his contract upon joining the Jets and ultimately accepted a three-year, $112.5 million deal ($75 million guaranteed) that represented a steep discount in the current quarterback climate.
Rodgers' new pact contains multiple void years, allowing New York to prorate his signing bonus money through 2029. As a result, his cap charge for the upcoming season is just $8.9 million.
The Jets used that savings to sign former Minnesota Vikings running back Dalvin Cook to a one-year deal earlier this week, but they still have funds available.
According to Over the Cap, New York still has more than $16 million in available cap space. However, that figure doesn't account for Cook's deal (believed to carry a $7 million base salary and an $8.6 million max value).
Even if the Jets only have $10 million in cap space, that's more than enough to account for Bakhtiari. Because the Packers already restructured his contract this offseason, Bakhtiari's base salary is at the league minimum for a veteran with his service time ($1.2 million).
The Jets would also be responsible for $600,000 in per-game roster bonuses. New York would then essentially hold a $20.8 million option on Bakhtiari in 2024.
Who Would Play Left Tackle for the Packers?
Moving on from a two-time first-team All-Pro like Bakhtiari would obviously be difficult. But if the Packers believe they can get enough value to trade the 31-year-old, the club has enough offensive line depth to make it through 2023.
It's not as if Green Bay hasn't had to get by without Bakhtiari in the recent past. He only played in 12 games from 2021-22 after suffering a torn ACL near the end of the 2020 campaign, forcing the Packers to find other options on the blindside.
Yosh Nijman would become the most likely candidate to take over for Bakhtiari at left tackle. Nijman made 12 starts and played 589 snaps on the left side in place of Bakhtiari in 2021 and handled part-time duty at LT in 2022. He's historically been outstanding at left tackle but has struggled when Green Bay has moved him to RT.