Detroit Lions head coach Dan Campbell has come up with a creative way to bring a little more team spirit to the sidelines this upcoming season. Thankfully, the NFL put the kibosh on what is one of his more outlandish suggestions.
Dan Campbell Wants a Big A** Cat
A lion, more specifically. On the sidelines. During games. Campbell must be channeling his inner Dallas from his time with the Cowboys. Netflix's "Tiger King" was filmed in Oklahoma, not far from the Texas border and the city of Dallas.
HC Dan Campbell wanted a live lion on the sideline for practices 😳

Imagine 😅

(via @PardonMyTake) pic.twitter.com/VTt0uvNRw8

— B/R Gridiron (@brgridiron) August 1, 2023
In a "Joe Exotic" themed idea, Campbell wants a pet lion to join him on game days. On the Pardon My Take Podcast, Dan was quoted as saying:
"I don't think we're going to be able to do it, but I would love to literally just have a pet lion. Just a legit pet lion on a chain, a big-a** chain, and he really is my pet."
The Lions were supportive. The team would be foolish not to offer Campbell a big cat as a pet, considering everything he has done for the team. However, the NFL wasn't partial to the idea. According to Campbell on the podcast, "[team ownership] had no problem with it, but the league apparently frowns on those types of things."
You don't say. It's unclear how a lion could be domesticated enough to hang out on the sidelines on a chain. The idea of making wild animals pets has historically not gone well.
Campbell Thinks Losing an Arm Is 'Even Better'
Campbell put fears that no one even had to rest. He promises that the lion would be fed well, petted, and manicured. Besides the obvious concern over the animal's welfare, the idea seems incredibly dangerous.
Campbell wasn't particularly worried about that aspect, saying, "I might end up losing an arm because of it, but that would be even better because it would validate what, this is a freaking, this is a creature now! This is an animal. This thing, this is from the wild!''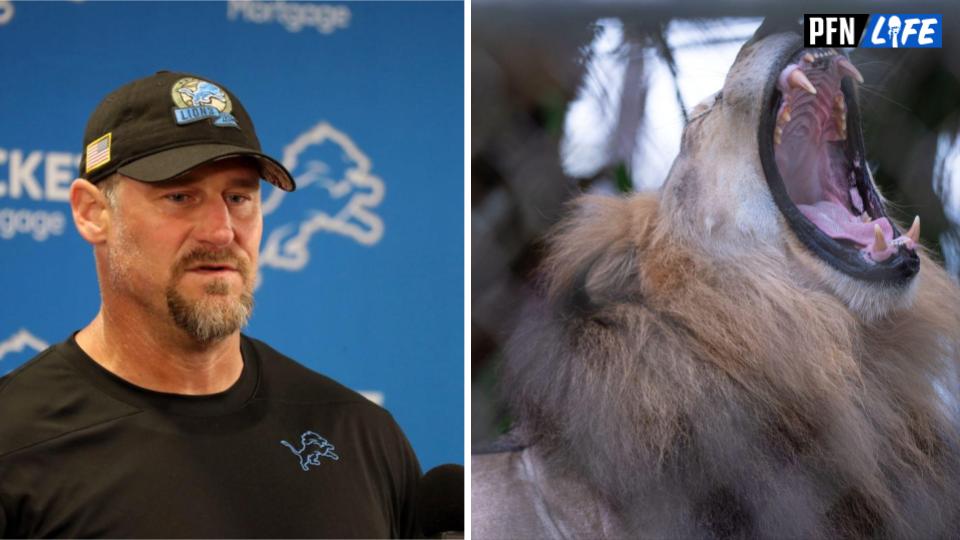 Campbell will go down in history as the one person who would be excited about losing an arm to a lion. It feels like the always-energetic head coach could even turn a situation like that into inspiration for his team. But Campbell might not be so enthusiastic about his "pet" when he is in the jaws of the big cat.
300 people have lost a limb or more to big cats since 1990 in the United States, and none of them were enthusiastic about it, Coach Campbell. Tigers are typically the culprits when it comes to big cat attacks, so maybe, just maybe, the head coach would leave each game with all of his body parts.
The "No Fun League" Strikes Again
The NFL has always been careful with live animal mascots. They only allow boring, safer animals like the Seahawk that hangs out in Seattle and the horse that graces the Denver Broncos field.
The NHL tried to utilize a live mascot, "Penguin Pete," on the ice in Pittsburg. Unfortunately, he was under the ice before he could make more than a few appearances.
College football has also tried the wild animal thing. The Memphis Tigers of the AAC have had three live tiger mascots attend games.
Since the passing of TOM the Third, Memphis has been informed that the tigers will no longer be allowed to come to game day…and those big cats were in air-conditioned, sound-proof trailers.
Sorry, Coach Campbell, but it sounds like this idea might just be a little too far-fetched for the NFL. But if you get a lion to wear a leash, let us know!