The trade rumors regarding Dalvin Cook have been running wild in recent weeks, fueled by speculation that the Minnesota Vikings are ready to move on from their star running back. Many teams have been touted as potential suitors. Both the Dolphins and Bills have been heavily linked to the four-time Pro-Bowler, but could we be overlooking a potential landing spot in the Kansas City Chiefs?
Could the Kansas City Chiefs Target Dalvin Cook?
The rumors that the Vikings are willing to move on from Cook ramped up when Jeremy Fowler from ESPN reported on SportsCenter that a source had informed him that "the Vikings have been willing to listen to trade offers," and that Minnesota wanted him "to go to a place were he can play and be happy, whether that is via a trade or release."
It makes sense when you consider that, for the Vikings, Cook's cap hit is a huge sticking point for them moving into 2023. Releasing him after June 1 would save just over $32.8 million over the remaining three years of his extension.
For the Chiefs, if Cook was to be cut, he would be a significant upgrade, and his salary would likely be more team-friendly. Kansas City doesn't currently have much cap space remaining — only $1.8 million according to Over The Cap — but we've seen players take pay cuts for the chance to play with Patrick Mahomes and a shot at a Super Bowl ring.
MORE: 2024 FREE NFL Mock Draft Simulator (With Trades)
The Chiefs also have contracts with established veterans that are able to be restructured. Something Kansas City could look to do if one of the top running backs in the NFL was to become available.
Cook is one of the most productive backs in the NFL and would signal an upgrade for the Chiefs. For however good Isiah Pacheco was in his rookie year, he doesn't have the star power, impact, or lure of Cook's quality.
Of course, for some teams taking on a 27-year-old RB with a prior ACL tear will be an issue. But, for Kansas City, Cook could make the difference in their search for back-to-back Super Bowl wins. He has the talent to take the Chiefs' running back corps to the next level.
The Chiefs' Rushing Attack
In 2022, the Chiefs were ranked 20th in average rushing yards per game with 115.9 and 20th in total rushing yards with 1,970. The rushing attack was spearheaded by Pacheco, who had an unexpectedly brilliant rookie season. The seventh-round pick in the 2022 NFL Draft led the team with 830 yards in the regular season.
But Pacheco has undergone multiple surgeries this offseason on both a broken hand and a torn labrum. Speaking at rookie minicamp in Kansas City, head coach Andy Reid couldn't give an answer to Pacheco's recovery timeline.
"He's making progress. We'll just have to see how he does with it," Reid told the media. "I just can't give a timeline on it, but he is doing well." Reid went on to say that Pacheco can't currently get hit as he continues his recovery.
Outside of Pacheco, the rest of the RB room in Kansas City is Clyde Edwards-Helaire, Jerick McKinnon, La'Mical Perine, and Deneric Prince. None are on long-term or expensive contracts.
What Cook Could Bring to the Chiefs' Offense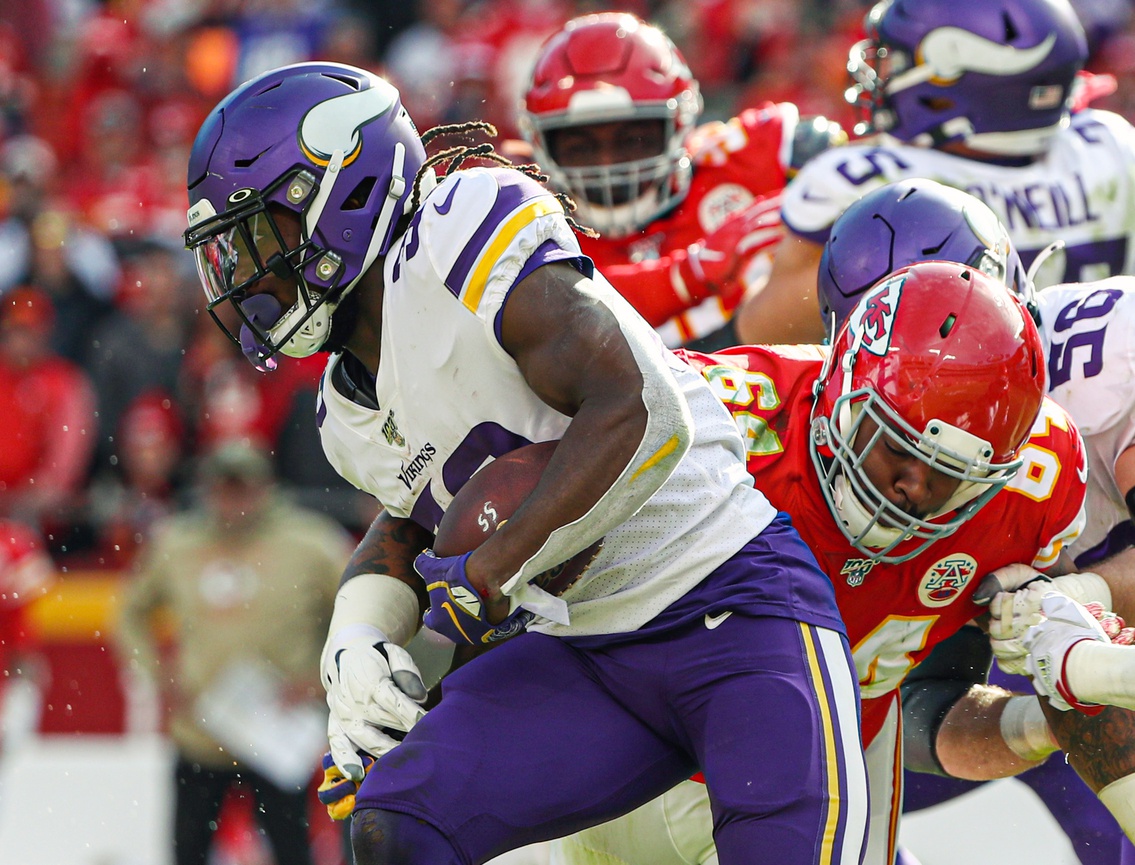 There is little doubt that Cook is still an exceptional talent and would add more firepower to an already deadly Chiefs offense. Adding the former second-rounder into this explosive offense would provide extra star power in Kansas City's pursuit of another Lombardi Trophy.
For the Vikings in 2022, Cook rushed for 1,173 yards and eight touchdowns while also gaining an extra 295 yards and two scores receiving. Cook has also reached the Pro Bowl in each of the last four seasons.
MORE: What Will Derrick Henry's Next Contract Look Like?
Outside of Pacheco, the Chiefs' rushing personnel isn't overly scary for opposing defenses. Cook would change that, and with the running back room set up the way it is, he wouldn't need to be run into the ground. He and Pacheco could develop a lethal 1-2 punch. With complementing skill sets, the Chiefs would have a devastating running game to fall back on with both players.
Cook would enter Kansas City as the RB1 and a true three-down back that would continue to take pressure and attention off of Mahomes and the passing game. The added threat that Cook possesses will open up more opportunities for the passing attack and would provide Andy Reid with some special opportunities for play design.
Adding a star veteran RB like Cook would be a savvy investment for the Chiefs, as they aim to run the ball more, take attention away from the passing game, and protect Mahomes.