Every time a big-name player is released, the rumor mill starts swirling about who will sign him. On Friday, June 9, the Minnesota Vikings released running back Dalvin Cook. There have been reports for months about Cook possibly being traded, but no one would bite. Now, several of those teams are rumored to be interested in Cook. But where do sportsbooks think he'll go? Let's take a look at the betting odds on Cook's next team and find out.
Betting Odds on Dalvin Cook's Next Team
Not every state offers lines on things like where a player will play in the upcoming season. New York does not allow wagering on outcomes that are not determined on the field. Awards such as MVP or OPOY cannot be bet on.
Other states can bet just about anything. That includes where Cook will take his next regular-season snap.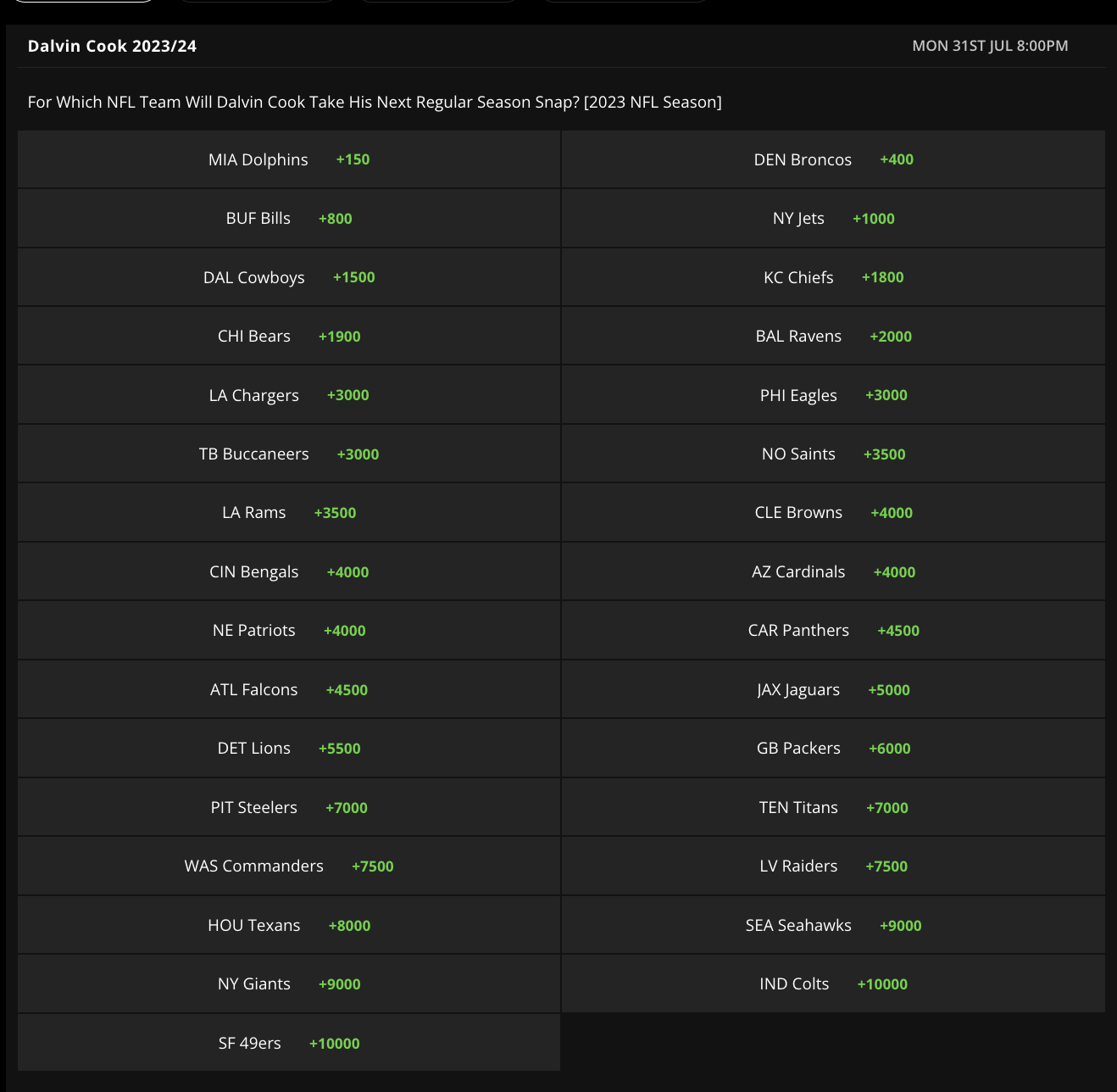 The Miami Dolphins Lead the Pack
Cook has been linked to the Miami Dolphins for several months now. They are his hometown team and lack a clear lead running back. Miami has an offensive-minded head coach who would know exactly how to deploy Cook. It makes sense.
At +150, the Dolphins are the overwhelming favorite to land Cook, relative to the odds on the other teams. But as The Miami Herald's Daniel Oyefusi astutely points out, pursuing Cook "would mark a drastic change for a team that hasn't allocated significant resources to the position in recent years."
MORE: Why Dalvin Cook to the Miami Dolphins Seems To Be a Long Shot
Oyefusi added, "The selection of Achane was the highest pick the Dolphins have used on a running back since Kenyan Drake in 2016. Last offseason, Miami signed Chase Edmonds to a two-year deal that averaged a little more than $6 million. That was the largest deal in terms of average annual value the Dolphins have given to a back since Reggie Bush and Jordan Howard got deals averaging $4.875 million in 2011 and 2020, respectively."
The Denver Broncos Are Firmly Second
Given the devaluing of the RB position and so many teams content with who they have, it's not surprising to see the Dolphins with the shortest odds at +150. What is a bit surprising is the gap between the Denver Broncos' odds and the rest of the NFL.
Denver sits at +400 to land Cook. That's 250 behind the Dolphins but a whopping 400 ahead of the next team on the list, the Buffalo Bills. The odds are sending a pretty clear message that Cook is very likely to land with either Miami or Denver.
MORE: Betting Odds Calculator | Parlay Calculator
According to Adam Schefter, as reported by Zac Stevens, the Broncos are expected to have an interest in Cook despite already having their franchise running back in Javonte Williams. Denver also signed Samaje Perine to a two-year, $7.5 million contract. If the Broncos do sign Cook, it would likely be a one-year deal and would heavily suggest Williams won't be healthy to start the 2023 season.
Trey Wingo summed up the situation Cook finds himself in quite well. "Dalvin now faces the problem of so many running backs, no matter how productive they are: they are victims of their own position. The question becomes, who can entice him to play somewhere where the money won't be there, but the opportunity to win might be? And seeing what Sean Payton is doing in Denver, having just signed Frank Clark after a successful studio city. It sure feels like Dalvin Cook becoming a Bronco makes a lot of sense."
Although the Broncos were one of the worst teams in the NFL last season, they're still very much a win-now team. It makes sense that they wouldn't want to go into the season with Perine atop the depth chart and very little behind him.
Is It Worth Betting on Cook's Next Team?
There's no sense in denying the odds. Sportsbooks know what they're doing. Miami and Denver are the two teams most likely to sign Cook. But if I'm placing a wager, the first thing I would do is cross those two out. The odds just aren't worth it.
The two lines that really jump off the screen in terms of value are the Dallas Cowboys at +1500 and the Los Angeles Chargers at +3000.
MORE: Should the Dallas Cowboys Consider Signing Dalvin Cook?
After cutting Ezekiel Elliott, Dallas is perilously thin behind Tony Pollard, with just 2022 UDFA Malik Davis and a bunch of guys who should never be active on game day.
The Cowboys haven't ruled out bringing Elliott back on a lesser deal. And it stands to reason that they'd still prefer Zeke to Cook if the two cost similar amounts. But Cook is better than Zeke and would provide the team with a capable thunder to Pollard's lightning.
But if there's one singular bet worth making, it's the Chargers. Los Angeles has been searching for a Melvin Gordon replacement since they let him go. Unable to find one, it's been Austin Ekeler handling all the work he can get — and then some. The Chargers would undoubtedly like to lessen Ekeler's usage, especially as he enters his age-28 season.
Currently, the Chargers' RB2 is Joshua Kelley. Behind him are Isaiah Spiller and Larry Rountree III. None of these guys would give the team any reason not to sign Cook.
There hasn't been much smoke surrounding the Chargers adding a running back, but we sometimes see these things come out of nowhere. At +3000, they present the best value on the board if you're inclined to take a shot on this market.