MIAMI GARDENS, Fla. — The Minnesota Vikings finally acknowledged the inevitable Thursday, signaling that their long-expected decision to cut Dalvin Cook is imminent.
Cook will have a number of suitors — the Miami Dolphins among them.
A little over an hour after the "Cook is gone" news broke, Dolphins coach Mike McDaniel was asked about the possibility of Cook playing for his hometown team.
Miami Dolphins Coach Mike McDaniel on Dalvin Cook
McDaniel's response:
"March 3rd, 1983. The day I was born. We take a closer look at that date, and that, in fact, was not yesterday. So, people that are on, people are rumored to be tall, short. … You're not gonna get this guy. Year 2. What I am excited about is talking about the most important thing, which is the third day of veteran minicamp, and we've got a lot of guys that are good players that have the opportunity to get better.
"Answer your question? Unless you're trying to run me out of town …"
MORE: Dalvin Cook Landing Spots — Cowboys and Broncos Headline Best Fits
This is all a long way of saying that McDaniel is too smart to subject his team to another potential tampering punishment — which is smart because the league stripped the Dolphins of their 2023 first-round pick for illegally tampering with Tom Brady.
But McDaniel's answer was certainly not a denial of the numerous reports linking Cook to Miami via free agency.
The possibility of that marriage exists. But it's not particularly likely.
Why Dalvin Cook and the Miami Dolphins Are an Unlikely Fit
Two things to remember amid the avalanche of speculation over the coming days:
1. The Dolphins could have acquired Cook at any point in the last three months via trade and given up next to nothing to acquire him.
2. After trade talks prior to the draft went nowhere, they used one of their two quality draft picks — 84th overall — on running back Devon Achane.
What does this mean?
The Dolphins weren't interested in paying Cook his $10.4 million salary before adding a key player to that position group.
Why would they be interested in paying him that — or anything close to that — now?
They have a solid, if not sexy, running back room, with Achane joining Raheem Mostert, Jeff Wilson, Myles Gaskin, and Salvon Ahmed.
MORE: 2023 NFL Salary Cap Space by Team
"It's developed into a really cool group," McDaniel said Thursday. "Very pumped to sign Raheem and Jeff back in the offseason. The Washington boys have been outstanding as usual, just getting better all the time, with S.A. and Myles.
"And then, we have a couple of rookies that have done a good job seeing rookies, which means learning from mistakes. So overall, very happy with the way they practiced, very happy with their competitive camaraderie. They are all trying to be the best, but they're not doing it in spite of each other. They recognize that each one of them can help each other get better. It's been a cool camp."
Certainly, Cook would be the class of that group. But at what cost?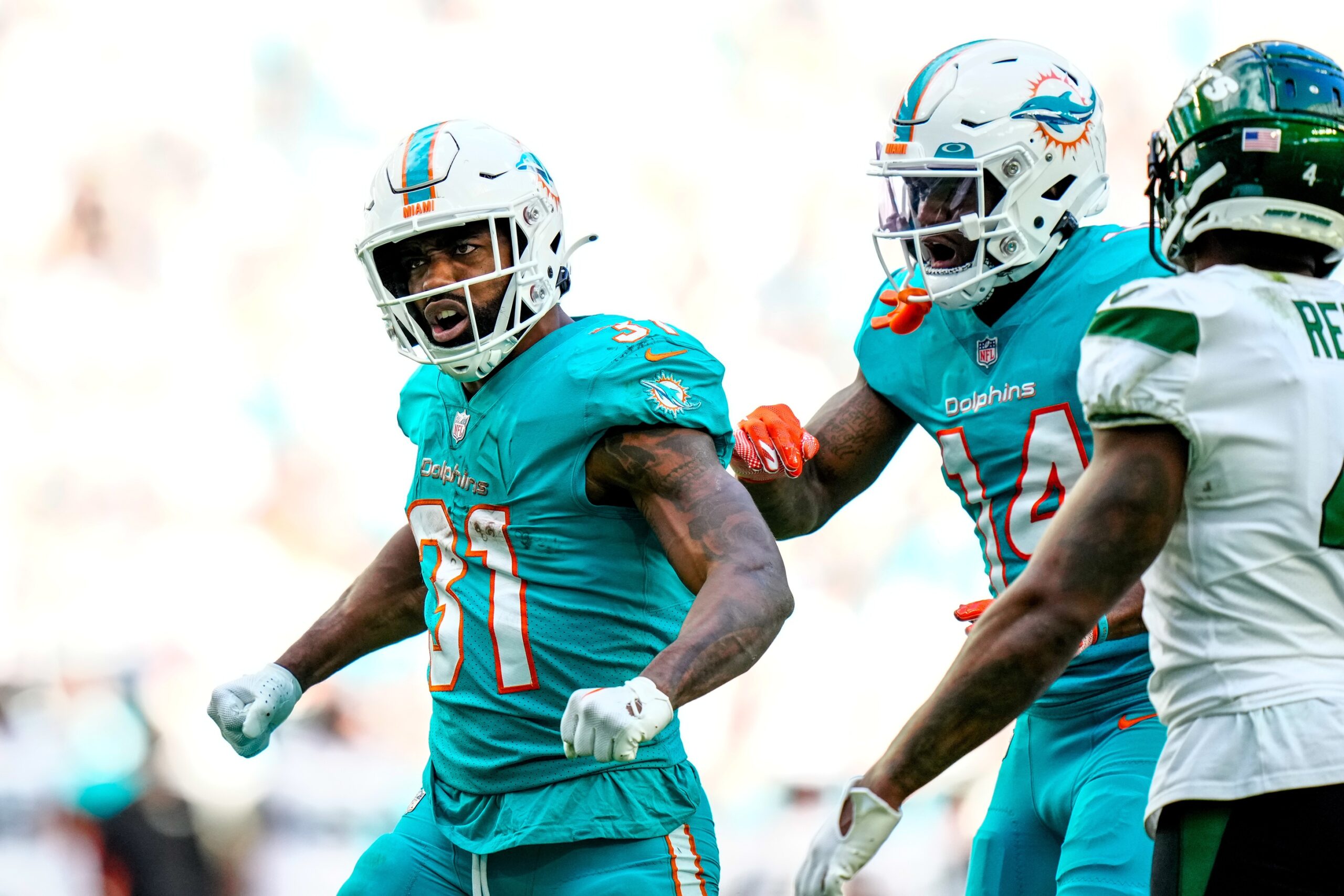 Miami Dolphins' RB Philosophy
The Jets, Broncos, and several other teams are reportedly interested in Cook, so the idea that the Dolphins will get him at a discount is farfetched.
And one more data point: Chris Grier doesn't pay running backs — either his own or other team's. He'd much rather let others overpay and then take someone far, far cheaper in the draft.
The team has been more than willing to part with significant capital to land premier players at premier positions (wide receiver, pass rusher, offensive tackle, and cornerback in the last 18 months). But beyond that, they've tried to make it work on the cheap.
While it's fair to point out that Grier broke tendency in taking Achane in Round 3 — the first running back the Dolphins selected in the first two days since Kenyan Drake in 2016.
But thinking he'll do so again and set the market for a free agent running back? That would be a real shocker.
"I think that sometimes in the effort to have a philosophy, you can pigeonhole yourself into a formula that I don't think any formula is the same," McDaniel said.
MORE: Miami Dolphins 2023 Schedule
"So what I'm attempting to say is that it's case-by-case, but that's intentional. With Chris and I talking, we think that you can fall in the traps. It's not 'OK, always this, always that.' It's, 'Is this worth the cost?' if you're going to trade away an asset, how attainable is that asset? 'Oh, this is the only time you'll have the opportunity to have a player of this caliber unless you're a top 10 pick.' Well, that's a reason.
"Or, you know what, there's a linking of it," he continued. "So for me to say, 'OK, philosophy is this: You trade away assets, or you devote assets, which is what a contract is because we're in a salary cap, those things are dependent on, 'All right. Well, how, how much of a risk is this, this investment?' And 'Oh, this is worth it? We'll build around that.'
"Having an open-mindedness, I think that's one of the things that allowed us to get some really good players through transactions of trade in the past two years. Though that was not necessarily a philosophy of searching, but when the opportunity presented itself, it made a lot of sense, considering it's all about the collective of the team and what you can offset. I see it as an ever-changing equation."
Listen to the PFN Dolphins Podcast
Listen to the PFN Dolphins Podcast! Click the embedded player below to listen, or you can find the PFN Dolphins Podcast on iTunes, Spotify, and all major podcast platforms.  Be sure to subscribe and leave us a five-star review! Rather watch instead? Check out the PFN Dolphins Podcast on our NFL YouTube channel.