The Dallas Cowboys will head to the desert to take on the Arizona Cardinals this Sunday. The Cowboys have set the bar high for themselves after their first two games of the season. What are some key stats to watch out for during Week 3?
Dak Prescott's 100th Career Start
Quarterback Dak Prescott will play and start in his 100th career game on Sunday. He's the only quarterback in NFL history with at least 150 touchdown passes and 25 rushing touchdowns in his first 100 career games, per Cowboys PR.
On Thursday, Prescott said it was a blessing to be in the position he's at.
"I haven't achieved what I want, the ultimate goal, simple as that, and that's the Super Bowl. Any personal goals are not anything I've really set out or wrote down for me to go and get. I think those things come when you take care of what you're supposed to take care of. Be the player that you need to be.
"But, yeah, not quite to where I want to be at all. Hopefully, it doesn't take 100 more starts. Got some at-bats this year, and we're going at it full steam," said Prescott.
Heading into Week 3, Dak leads the NFL with a passer rating of 82.8 in 72 plays. Ahead of Sunday's game, he has 398 passing yards, two touchdowns, and no interceptions.
Dallas Cowboys vs. Arizona Cardinals Game Preview
The Cowboys lead the Cardinals in their all-time series history 56-34-1. But Dallas is now facing adversity in figuring out their season without Trevon Diggs, so how will things look going forward?
The Cowboys' defense will have to make significant adjustments without Diggs since he's irreplaceable. He was on track to possibly having his best season, making the loss even more gutting for the team.
MORE: NFL Defense Rankings 2023
However, the defense will rely on guys like Jourdan Lewis, who is still ramping up toward a fuller workload after his return from a Lisfranc injury, and DaRon Bland, who is projected to make an even more substantial season-year jump.
The Cowboys' offense continues to show glimmers of hope under the West Coast offense. Prescott is playing at a quick tempo, with the offensive line calling more in the presnap, allowing Prescott to play his best. Going into the game, the only question is if the starting offensive line will play with Zack Martin and Tyler Biadasz being listed as questionable.
Cowboys-Cardinals Stats From Inside Edge
Here are some of the biggest stats to watch out for on Sunday, courtesy of Inside Edge:
Cowboys RBs have 24 rushing touchdowns since the 2022 season — second most in the NFL.
The Cardinals have allowed 24 rushing TDs since the 2022 season — tied for fourth most in the NFL.
Analysis:
Although Dallas' running back room looks much different than last year, it's evolving into a secret weapon for the Cowboys.
They have used Tony Pollard, Rico Dowdle, Deuce Vaughn, KaVontae Turpin, and Hunter Luepke in the run game. Of course, Vaughn, Turpin, and Luepke all have special packages designed for them, which adds versatility to the offense for opposing defenses.
However, the Cowboys need to score in the red zone this week after kicker Brandon Aubrey scored 16 points last week after the offense failed to capitalize inside the 20.
Prescott has completed 64.1% of his passes in the red zone since the 2022 season — third best of qualified quarterbacks.
The Cardinals have allowed a completion rate of 63.3% when defending in the red zone since the 2022 season — third worst in the NFL.
Analysis:
Prescott has been playing at a high level this season, getting the ball out quickly when driving the offense downfield. However, with the lack of touchdowns last week, it will be interesting to see how Dallas adjusts against Arizona to score in the red zone.
It's still a big question about who the Cowboys' "red zone" guy will be this season without Ezekiel Elliott. All eyes should look at the tight ends, especially Jake Ferguson, who can have significant yards after catch.
Pollard has averaged 8.2 yards after the catch since the 2022 season — tied for 10th best of qualified running backs.
The Cardinals have allowed 6.0 yards after catch since the 2022 season — worst in the NFL.
Analysis:
Last week, Pollard totaled 25 rushing attempts for 72 yards, averaging 2.9 yards per carry — well below his typical yards-per-carry average. However, the ball distribution between all the running backs and his average could look different this season.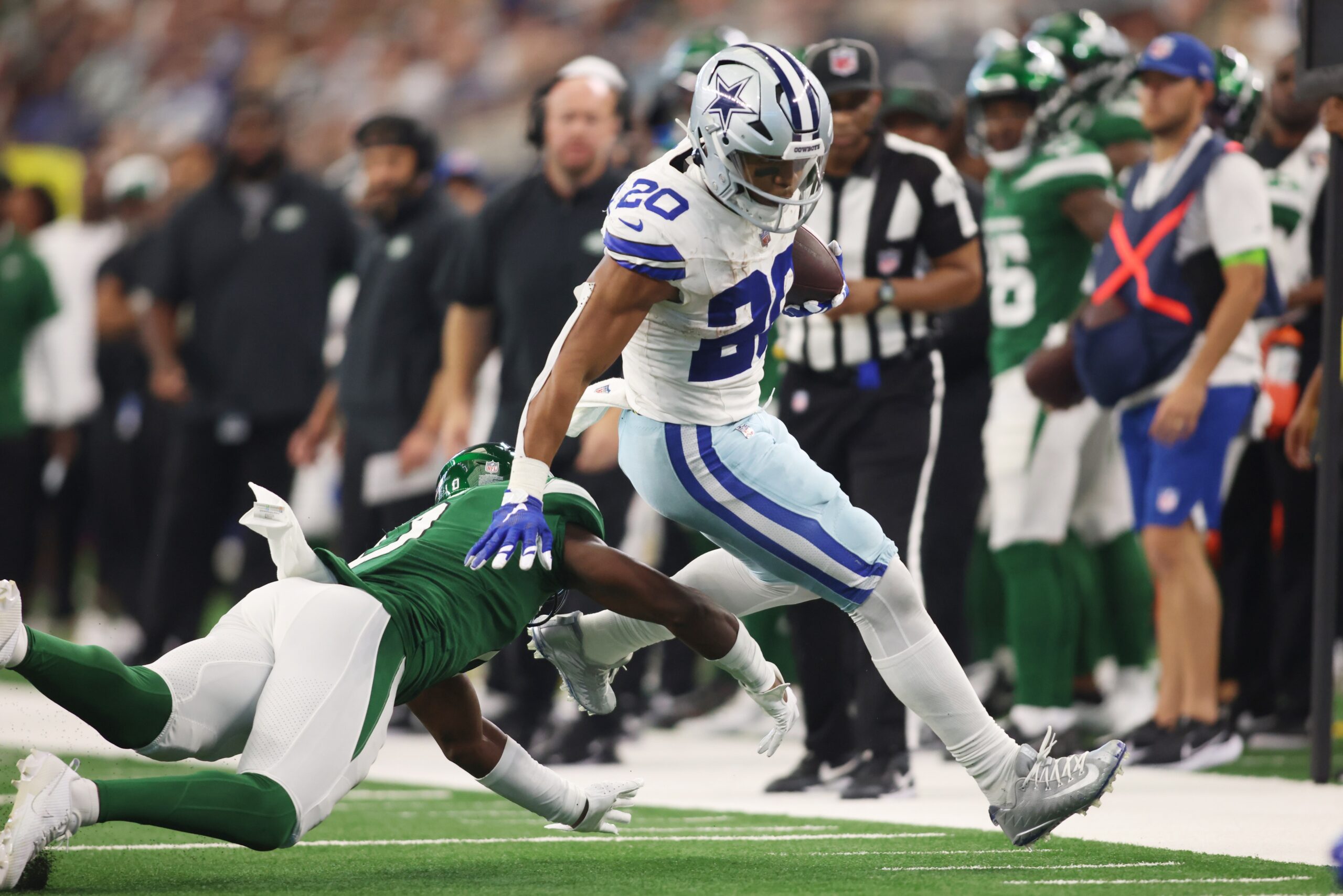 With 30 touches at Arizona, Pollard would be the first Cowboys RB to record 30 touches in back-to-back games since Elliott in 2018, per Cowboys PR.
The Cardinals are 2-9 (.182) when throwing at least one interception since the 2022 season — tied for fifth worst in the NFL.
The Cowboys have intercepted 21 passes since the 2022 season — tied for second most in the NFL.
Analysis:
With Diggs out for the season, things will inevitably look different for the defense. Still, there are ball hawks within the Cowboys' secondary. Through two games, Dallas has five interceptions — one of which was from Diggs.
Last year, Bland, who is expected to take a more prominent role now, led the team with five interceptions. Malik Hooker and Diggs were behind him with three each.
It's also worth noting that Stephon Gilmore is now in the mix. Head coach Mike McCarthy said as long as Gilmore continues to "be himself," he'll continue positively impacting the defensive backs.
CeeDee Lamb has nine receiving touchdowns since the 2022 season — tied for seventh most of qualified wide receivers.
The Cardinals have allowed 32 receiving touchdowns since the 2022 season — tied for second most in the NFL.
Analysis:
Lamb is having his best start to a season yet, leading the team with 220 receiving yards and 15 receptions in the first two weeks. He's truly embraced the mindset of being the team's starting wide receiver.
MORE: PFN's Consensus Week 3 NFL Power Rankings 2023
Prescott and Lamb worked in the offseason to perfect their communication, which is paying off so far. Watching the chemistry between these two is on a new level we've yet to see before.
Although he might not be a considerable target in the red zone because of the coverage he will have on him, Lamb will be a threat in any matchup on the field.
He also gave McCarthy credit, saying, "I've definitely learned to just go out there and be myself, play my game and let the game come to me. Mike [McCarthy] has done a great job of helping me with that."
Lamb will continue to be a threat to the Cardinals' defense this week, especially if they don't complete tackles, which was an issue for them in Week 2 against the Giants.
Listen to the PFN Cowboys Podcast
Listen to the PFN Cowboys Podcast! Click the embedded player below to listen, or you can find the PFN Cowboys Podcast on iTunes, Spotify, and all major podcast platforms.  Be sure to subscribe and leave us a five-star review! Rather watch instead? Check out the PFN Cowboys Podcast on our NFL YouTube channel.