In 2007, Tom Brady and Randy Moss lit the NFL world on fire through the air. Nearly a decade and a half later, the New England Patriots could look to pair another receiver, once considered the best in the NFL, with their pocket passer. But will DeAndre Hopkins go for it?
The Patriots aren't the most entertaining franchise in the NFL, but the most entertaining outcome for Hopkins would be to end up in New England. And it could very well save the jobs of Mac Jones and Bill Belichick. At the moment, Hopkins only has two visits scheduled known to the public.
Bill Belichick Must Rectify His 2022 Mistakes
There are talks that Belichick is still upset with Jones after how he handled himself last season. But he has nobody but himself to be upset with. Belichick gave Jones a garden hose and told him to dig a hole last season by appointing Joe Judge and Matt Patricia as his QB coach and OC.
Even if Belichick is still upset with Jones, it doesn't much matter now. Bill O'Brien is in charge of the offense this season, and that's a very good thing for everyone involved. And Jones appears to have about as positive an attitude as one could have heading into a season after being benched for a fourth-round rookie at one point.
"Sometimes the most confident people come from a year where they might not have been their best. I feel like that's where I'm at," Jones said. "Really great people are formed through ups and downs. Some of the learning experiences I had last year will really help. There's a lot of things I can do better as a person, as a player."
Jones needed to play better last year, but Belichick is to blame for the team's offensive collapse. The jury on Josh McDaniels as a head coach is still very much out, but he's a very good offensive coordinator.
MORE: Mac Jones Ranks Last Amongst AFC East QBs in 2023
Adding O'Brien was the first step. Jones comes from Alabama, and O'Brien spent his last few seasons as the Crimson Tide's offensive coordinator.
"I feel like everyone's on the same page," Jones said about O'Brien. "We've just got to continue to do it. It's a marathon, not a sprint. We know that, and he's obviously had great experience in the NFL and at Alabama, where I was at, so there's a lot of good stuff that we've talked about. I'm just looking forward to working with him."
Adding Hopkins could be the next step. But there's just one slight problem with that… and it's exactly what makes this potential relationship so fascinating.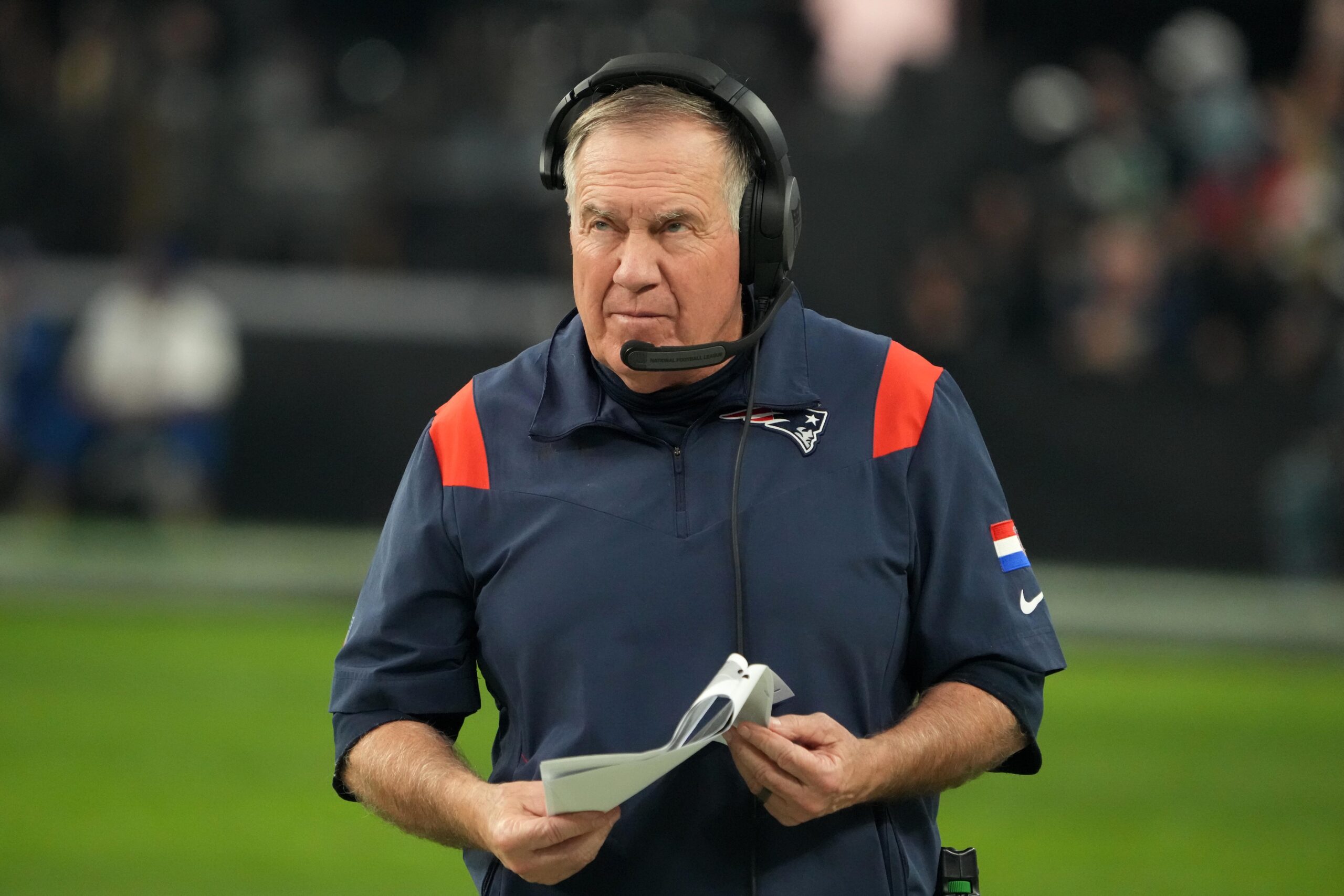 DeAndre Hopkins and Bill O'Brien Know Each Other
That's putting it lightly.
"There was no relationship," Hopkins told Greg Bishop in 2020. "Make sure you put that in there. There's not a lot to speak about."
Michael Irvin was on Get Up in March 2020 and had some interesting things to say regarding the relationship between Hopkins and O'Brien.
"(O'Brien) got into talking about DeAndre Hopkins," Irvin says. "DeAndre Hopkins has a few kids from different women, and he said, he told DeAndre he doesn't like that he has his 'baby mamas' around sometimes. And from that, I think the relationship just went bad."
O'Brien, like many Belichick disciples, tried instilling the "Patriot Way" in Houston. That meant somehow strong-arming his way into personnel control alongside coaching the team. To this day, Belichick is the only one who's been able to accomplish anything playing both cards.
In 2020, the coach/GM traded Hopkins (in his prime) and a fourth-round pick for a 2020 second-round pick and a 2021 fourth-round pick. O'Brien was fired after starting the season 0-4.
When he was fired, Hopkins chose not to dance on his coaching grave. He was professional about the situation. And if time truly does heal, it's been over three years since the Texans' fiasco occurred.
For Hopkins, the Patriots make sense when looking at his comments from the I AM ATHLETE podcast.
"For me, that's it: great management, a QB who loves the game, and a great defense," Hopkins told the hosts.
Belichick Needs a Good Season
Belichick is 71. Somehow, Pete Carroll is actually older, although he looks at least a decade his junior. Romeo Crennel is the oldest head coach in NFL history at 73. But age is only one part of the equation.
More importantly, the league's most accomplished coach when it comes to the postseason is 30 regular-season wins away from matching Don Shula's record of 328 wins.
In other words, Belichick needs to end his coaching career at an age older than Crennel, and possibly as the oldest coach ever, depending on what the ageless wonder in Seattle has to say about it.
MORE: NFL Head Coach Wins Leaders
But to get this done by age 74, the Patriots would have to average 10+ wins over a three-year period in a highly contested AFC, with a disadvantage at QB, no matter how well Jones plays with O'Brien calling the shots.
It's a tall task. But adding someone to the outside who catches everything and has already produced at an insane level in O'Brien's offense could act as a shot of adrenaline to an offense fighting for a heartbeat.