College football's Week 5 slate brought many events that will affect the 2024 NFL Draft. Between a rash of injuries, big performances, and surprising results, top prospects in the country are making moves.
Where do top quarterbacks like Caleb Williams, Michael Penix Jr., and playmakers like Brock Bowers stand after Week 5?
NFL Draft Prospects in College Football Top 25
We're using the post-Week 5 top 25 rankings created by College Football Network.
1) Washington Huskies
It might be considered a hot take to have Washington No. 1, but it's hard to argue against if we erase preseason expectations. Washington has been dominant thanks to a veteran roster and a stellar offense that revolves around quarterback Michael Penix Jr.
Washington's 31-24 win against Arizona wasn't nearly as decisive as we'd seen in their first four wins. However, the Huskies' top prospects still enjoyed good performances.
Penix led a different-looking attack, forcing him to take checkdowns throughout the evening instead of the big, explosive downfield throws that had defined the unit through the first month. But he did well to stay efficient and keep the offense moving, completing 30 of 40 attempts for 363 yards.
It was a quieter game for playmakers Rome Odunze and Ja'Lynn Polk as they took on more possession-type roles. They combined for 10 catches but only 105 yards. Arizona deserves credit for that effort.
The Huskies' defense had a set of standout performances. Late-round safety prospect Dominique Hampton continues to see his stock rise as a big-bodied, physical defender. He racked up 12 tackles and was a constant presence.
The other standout was edge-rusher Bralen Trice. He had a tough assignment as he was against stud Arizona left tackle Jordan Morgan. Both had great moments, but Trice walked away with a sack and tackle for loss in this one.
2) Michigan Wolverines
Nebraska may have seemed like a more legitimate foe for Michigan, but the Wolverines quickly established that the Huskers' third-ranked run defense was no match for their trench talent. Michigan dominated this game on the ground, producing 249 yards and three scores on 49 carries. But it wasn't a sexy game for Michigan's rushing duo of Blake Corum and Donovan Edwards.
Despite playing behind a great line, Corum and Edwards have taken slight hits in our 2024 running back rankings due to their lack of explosiveness (Corum) and overall production (Edwards). Instead, it's been a better year for quarterback J.J. McCarthy and wide receiver Roman Wilson.
McCarthy didn't have to do much, throwing only 16 passes, but he continues to be efficient and reliable while displaying a big-time skill set. Wilson was the main benefactor and continues establishing himself as a possible Day 2 pick. He caught four passes for 58 yards and two touchdowns, showing off good speed and hands.
3) Texas Longhorns
Kansas was supposed to challenge this loaded Texas team somewhat, but a late scratch for QB Jalon Daniels ruined the fun before it began. Texas' impressive defense clamped down on running back Devin Neal and suffocated Kansas' passing game. The Longhorns have at least eight players who should be drafted from this defense, and they were swarming all game long.
It was also an explosive game for the Longhorns' offense. Running back Jonathon Brooks is peaking at the right time, establishing himself as a real threat to declare in 2024 and be a Day 2 pick. He racked up 218 yards and two scores on 21 carries.
Quinn Ewers was also solid for the majority of the game. He finished with 325 yards, picking apart Kansas' secondary as AD Mitchell and Xavier Worthy remained open. Ewers had a bad interception over the middle of the field but overcame his mistake by falling back into rhythm and taking what Kansas gave him.
Ewers, Mitchell, and Worthy could each become first-round picks.
4) Georgia Bulldogs
Georgia continues to be unimpressive, needing to outscore Auburn in the final frame of Saturday's matchup to finish off a close win. It was a solid game for the team's top prospects, though.
Tight end Brock Bowers might be the best overall player in the 2024 class. He was unstoppable this week, producing a career-best 157 yards on eight catches. His 40-yard touchdown secured the win for Georgia.
His speed, fluidity, route running, and post-catch ability at 6'4″ and 240 pounds are rare. He's a fantastic prospect who might see his value limited only because of the position he plays.
MORE: Brock Bowers Is the Best Player in the 2024 NFL Draft, But Kyle Pitts Suggests He Shouldn't Be Drafted High
It was good to see Ladd McConkey get on the field for his first action of the year despite being questionable with a back injury. He's a likely Day 3 talent if he declares next year, but McConkey is a good possession threat in this offense. He finished with four receptions for 38 yards.
The Bulldogs' defense stepped up, and it was the names we wanted to see perform well. Linebacker Smael Mondon Jr. had a breakout performance, totaling 11 tackles, one sack, and two tackles for loss. Defensive back Javon Bullard and tackle Nazir Stackhouse were also everywhere, combining for 15 tackles.
5) Florida State Seminoles
The Seminoles had a bye week in Week 5.
6) Penn State Nittany Lions
Penn State took care of business in the second half against Northwestern, but it wasn't an especially notable day for any of their prospects.
7) Ohio State Buckeyes
The Buckeyes had a bye week in Week 5.
8) Oregon Ducks
As expected, Oregon was untested against a lowly Stanford team. Quarterback Bo Nix had only five incompletions compared to four touchdowns. Running back Bucky Irving finished with 111 total yards and a touchdown. Wide receiver Troy Franklin dominated with 117 yards and two scores.
It was also great to see Oregon's defense swarming. Defensive back Evan Williams has seen his stock jump over the last two weeks, and he had a big day with seven tackles and a sack. Defensive end Jordan Burch also put his impressive skill set together, finishing with two tackles for loss and totaling six tackles.
9) USC Trojans
It was a blast to watch two future NFL QBs in Caleb Williams and Shedeur Sanders explode for a combined 771 yards, 10 touchdowns, and two interceptions. Sure, Williams had a reckless underthrow that ended in his first pick of the season. Still, he was again magnificent, showing a true mastery of college football that will lead to him being the runaway No. 1 pick in a loaded QB class.
The USC playmaking corps had themselves an afternoon alongside Williams. Running back MarShawn Lloyd continues to show off freakish athleticism and speed, notably creating a 27-yard touchdown where he reversed field and outran defenders with great straight-line speed.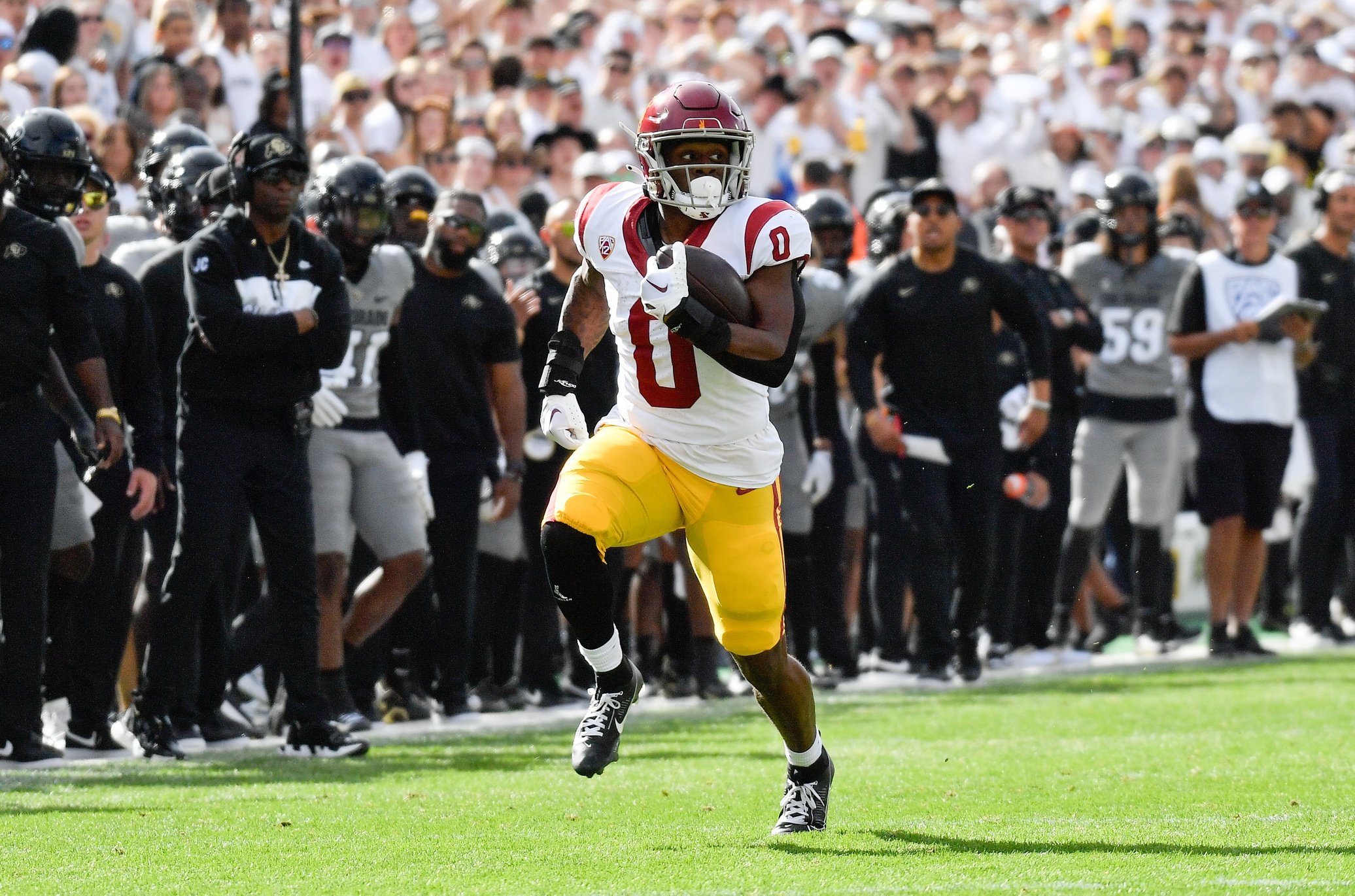 Wide receivers Tahj Washington, Brenden Rice, Dorian Singer, and Mario Williams each logged a touchdown and should all be drafted when it's their time. Washington and Williams are opposite types of slot targets, with Washington offering more of a vertical threat and Williams better at winning in short areas.
Rice continues to climb in his senior season. His tall 6'3″ frame, impressive speed, and ability to line up all over should lead to a complementary role in the NFL.
10) Notre Dame Fighting Irish
Notre Dame narrowly escaped against Duke, scoring the go-ahead touchdown with a shocking 30-yard run by Audric Estimé with only 31 seconds left in the game. Estimé had a quiet game until this, as defenses have figured out he's the driving force of the unit. He's a potential early Day 3, late Day 2 talent who is difficult to bring down by any single defender.
Duke loaded the box and dared Sam Hartman to make plays, but he's struggled in the last two weeks and has dropped in a deep class of passers who can offer better skill sets.
11) Oklahoma Sooners
Oklahoma romped through Iowa State, 50-20, despite scoring only 10 points in the second half. Defensive back Billy Bowman Jr. continues to make plays, as he logged another interception in this one. Otherwise, this showing was more about Dillon Gabriel, who finished with 403 total yards and five scores, one of his best games since joining the team.
12) North Carolina Tar Heels
The Tar Heels had a bye week in Week 5.
13) James Madison Dukes
All hail the undefeated Dukes, who don't have an obvious NFL Draft prospect, but this team is tremendously fun to watch.
14) Alabama Crimson Tide
Alabama won handily against Mississippi State with Jalen Milroe back under center. But with a lack of high-end prospects to focus on, it was easy to see right tackle JC Latham stand out against an aggressive Bulldogs defensive line. His power and natural movement ability stand out, even against top competition.
15) Kentucky Wildcats
Kentucky shocked the world by blowing out Florida, but running back Ray Davis stole the show even further. With his 26 carries for 280 yards and three scores, the senior rusher threatened to break the SEC record for yards in a game. He fell short, but it was a banner day for Davis and left tackle Marques Cox, a viable 2024 draft prospect.
16) Washington State Cougars
The Cougars had a bye week in Week 5.
17) Miami (FL) Hurricanes
The Hurricanes had a bye week in Week 5.
18) Duke Blue Devils
Duke nearly upset Notre Dame until allowing a late drive that ended in a touchdown. All eyes were on quarterback Riley Leonard, who played relatively well with some timely passes and runs despite being on an undermanned offense. Unfortunately, Leonard suffered a lower body injury on the game's final drive, and his future status is unknown.
19) Oregon State Beavers
I wouldn't want to deal with Oregon State's offensive line. The unit largely manhandled a talented and impressive Utah offensive line, leading to a massive home win on Friday night. Tackles Joshua Gray and Taliese Fuaga are both great talents, with Fuaga especially looking like a possible second-round pick.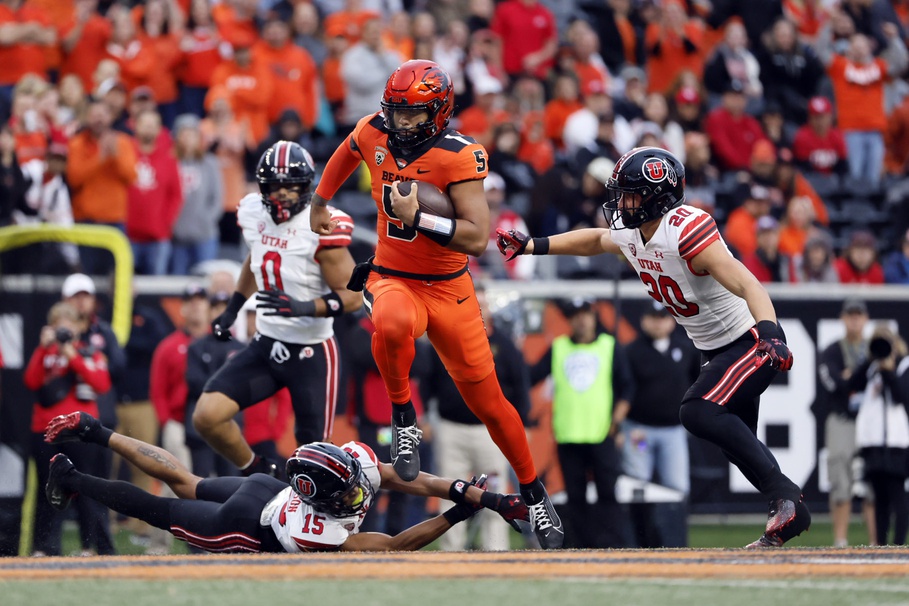 Oregon State quarterback DJ Uiagalelei hasn't really taken the next step as a prospect, unfortunately. He's been a good presence for the Beavers' offense overall, but he's still not showing the consistency operationally and mechanically we'd hoped to see out of the senior.
20) Utah Utes
It's hard to blame Utah for losing on the road without quarterback Cameron Rising. Rising is still working to return from a torn ACL suffered in January, but it's fair to wonder if the Utes even bring him back this season.
Meanwhile, running back Ja'Quinden Jackson also missed the contest due to a bum ankle, further limiting the Utes' offense.
MORE: Top RBs in the 2024 NFL Draft
Utah's defense did its best to compensate for the offense's issues. They totaled 13 tackles for loss, which is an ode to how talented the unit is because Oregon State's OL is excellent. Defensive linemen Sione Vaki, Jonah Elliss, and Junior Tafuna stood out the most.
21) Fresno State Bulldogs
Wide receiver Jaelen Gill, a Boston College and Ohio State transfer who wanted to attend Fresno State to play in Jeff Tedford's offense, delivered a breakout performance. He finished with 126 yards against the Wolf Pack.
Gill may not have the burning speed Jalen Moreno-Cropper possessed when he wore No. 5 for FS and was caught from behind multiple times. However, Gill is a space attacker after the catch who showed strong vision in his YAC attempts. He was most effective in attacking angles against Nevada, proven by his lone touchdown of the night.
22) Air Force Falcons
Air Force moved to 5-0 with their 49-10 demolishing of San Diego State. There are two primary prospects on Air Force, safeties Trey Taylor and Camby Goff. But Goff is out for the season with an Achilles injury, and Taylor had a quiet game with only three tackles.
23) Missouri Tigers
Missouri's offense went bananas against Vandy, with quarterback Brady Cook finishing with 395 yards and four touchdowns. Just a junior, Cook hasn't been on our radar much as a prospect, but he's starting to get more attention, thanks to his teammates.
MORE: 2024 NFL Draft Prospect Watchlist
2025 likely first-round talent Luther Burden III was again fantastic, finishing with 11 catches for 140 yards and two touchdowns. Theo Wease Jr., a former top recruit at Oklahoma, also had a great performance with 10 catches for 118 yards and a touchdown. Wease is fighting to land a spot at an all-star game and be considered for a Day 3 pick.
24) Louisville Cardinals
Winning a close 13-10 offensive struggle against NC State may not have been the plan, but Louisville reached 5-0 thanks to a 13-point second half. Their best defensive prospect had a nice outing, with defensive lineman Ashton Gillotte finishing with six tackles and one sack. The 6'3″, 270-pounder can play inside or outside, showing active and effective hand usage against blockers.
25) Maryland Terrapins
Maryland goes to Ohio State next weekend, making a top-25 showdown a must-watch on the calendar. This week, Maryland took care of business. Quarterback Taulia Tagovailoa did his best impression of his brother Tua, throwing for 352 yards and five touchdowns against Indiana.
Tagovailoa is an explosive vertical passer. He has surprising consistency for someone so aggressive. He has a stronger arm than Tua, but his accuracy and decision-making will come and go throughout games.
This week, the other big winner for Maryland was 6'2″, 185-pound junior receiver Tai Felton. The speedster racked up 134 yards and three touchdowns on seven receptions. A relative unknown until this season, Felton is someone to watch as competition ramps up, thanks to his speed.
Listen to the PFN Scouting Podcast
Listen to the PFN Scouting Podcast! Click the embedded player below to listen, or you can find the PFN Scouting Podcast on iTunes, Spotify, and all major podcast platforms.  Be sure to subscribe and leave us a five-star review! Rather watch instead? Check out the PFN Scouting Podcast on our Scouting YouTube channel.