Sticking with the two-day rotation for Cincinnati Bengals quarterbacks Jake Browning and Trevor Siemian to take first-team reps while Joe Burrow recovers from a calf strain, Sunday was Browning's turn. But there was a swap midway through the practice.
During an unscripted drive-the-field drill, Browning and the first team went three-and-out of the first series and didn't fare much better on the second one. Siemian, relying heavily on rookie running back Chase Brown and rookie wide receiver Andrei Iosivas, put together a 10-play drive on the second team's second possession.
Later in practice, when the Bengals went back to that drill, Siemian went with the first team and had the offense in first-and-goal at the 4-yard line before an offensive pass interference penalty backed them up and a fourth-and-goal play came up short.
What Was the Most Interesting Part of Day 9 of Bengals Camp?
What was interesting about the fourth-and-goal play — and so many others during the practice — is that the Bengals were using Tee Higgins in the slot quite a bit.
"The next step for me is to be able to play any position on the field," Higgins said. "That's what we're gonna have to do — move me around a little bit. I've been doing really well in those different positions. That's what I want to be able to improve on this year, just being able to bounce around different spots."
But by putting the 6-foot-4 Higgins in the slot, the defense had to use 5-foot-9 corner Mike Hilton on him, and Higgins caught a couple of big passes in that matchup. One was a slot fade for a big gain.
"That was fun. I love doing that," he said with a grin.
Higgins also grabbed a 3rd-and-8 completion in the red zone during the drive-the-field series, with Siemian running the offense. On the next play, Siemian went to Ja'Marr Chase in the end zone, but the touchdown was nullified due to offensive pass interference against Cam Taylor-Britt.
Asked if he pushed off, Chase said, "The coach told me I bench-pressed him. So I guess I did, yeah."
Chase — who also doubled down on his comments to the NFL Network about not wanting Burrow to rush back for the season opener — punted the ball across the field after the TD was negated.
Siemian went back to Higgins on the next play and scrambled to the 5-yard line on third down, setting up fourth-and-goal. With Higgins in the slot, Siemian threw a slant to him, but Hilton got credit for the tackle at the 1-yard line.
Coach La'el Collins
Despite being just seven months removed from ACL surgery and possibly a couple more away from being cleared to play, tackle La'el Collins has been a constant presence at practice. The early portion of each day is spent rehabbing and strengthening the knee on a side field, but the bulk of his time is spent hanging out with the offensive linemen and doing much more than just watching.
"He's in the meetings, he's dialed in, he likes to help coach some of these younger guys off to the side," offensive line coach Frank Pollack said. "He knows what I'm looking for and what we're teaching. So that's great to see. He's locked in mentally."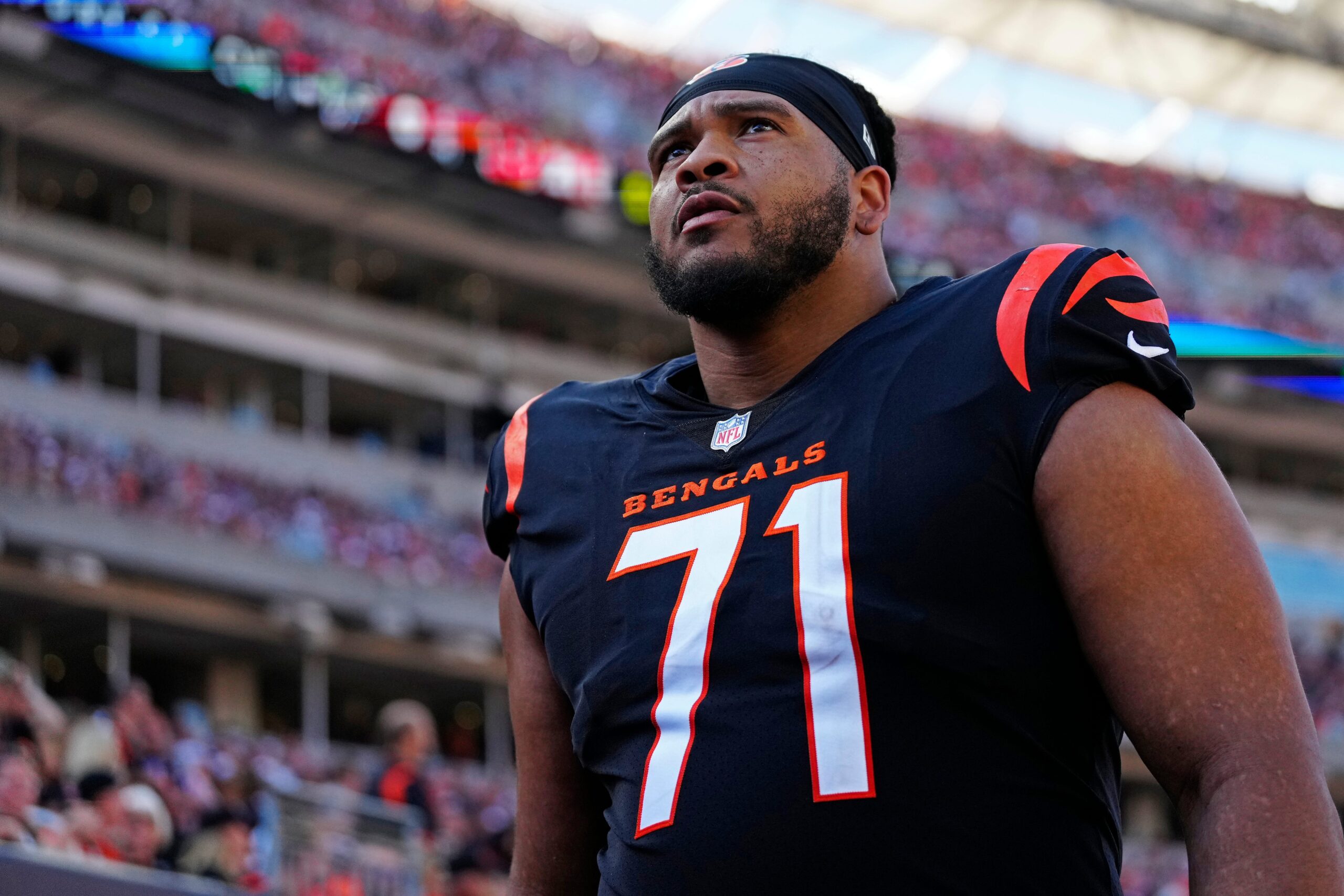 Collins said it's just being a pro and something he learned early in his career at Dallas, where he first started working with Pollack.
"I came into the league my rookie year, and I was fortunate enough to be in a room with a lot of veteran leadership, from Doug Free to Travis Frederick, Ron Leary, Tyron Smith, all those guys. They were great pros, and they went about it the right way and taught me how to be a pro."
"So I'm just passing along what I was taught, technique, scheme, anything I can try to help with, I try to give those guys and just teach them little things that I've learned through my time playing," Collins added.
Close Call
Sunday drew one of the biggest crowds yet for training camp, and a number of fans were sitting inside the ropes to keep walkways clear. It almost turned into a worst-case scenario during a passing drill when a contested sideline throw sent safety Nick Scott and tight end Nick Bowers hard into the crowd.
Before running back to the field, Scott talked to some of the youngsters he had just trucked to make sure they were OK when one of them joked that the least he could do was sign an autograph. Scott obliged, signing several before rejoining the drill.
A sideline pass took players into the big crowd. Nick Scott signed some autographs before returning to practice. pic.twitter.com/uN2FxruVUd

— Jay Morrison (@ByJayMorrison) August 6, 2023
Head coach Zac Taylor came over a little later and asked if everyone was OK, then he stayed and signed for several minutes.
Odds and Ends
An unauthorized drone flew over one of the practice fields early in practice. It climbed, dipped, and hovered for about five minutes until security was able to track down the pilot. Earlier this spring, two men plead guilty to flying a drone into then-Paul Brown Stadium during the 2021 Wild Card playoff Game between the Bengals and Raiders.
Starting right guard Alex Cappa left practice with what Pollack called a "little strain" and "no big deal." Max Scharping and Trey Hill took turns splitting Cappa's reps.
Siemian had a Paul O'Neill moment when he lost his grip on the ball as he was scrambling out of the pocket and then kicked the ball out of frustration.
Rookie third-round pick Jordan Battle was back to work Sunday after sitting out a few practices with what Taylor called "tightness."
Cornerback Chidobe Awuzie took another step toward returning to team drills by running with receivers in their routes. It was a passing drill against air, with no defenders on the field except for Awuzie, who simply tracked the receivers and did not make a play on any passes.
Rookie second-round pick D.J. Turner intercepted a Browning pass intended for Mac Hippenhammer during receiver-defensive back one-on-ones.
Jeff Gunter, the team's 2022 seventh-round pick, had a sack.
DJ Ivey, this year's seventh-round pick, continued to stack flash plays, closing fast on a 3rd-and-8 screen pass to Kwamie Lassiter to force fourth down.
Listen to the PFN Bengals Podcast
Listen to the PFN Bengals Podcast! Click the embedded player below to listen, or you can find the PFN Bengals Podcast on iTunes, Spotify, and all major podcast platforms.  Be sure to subscribe and leave us a five-star review! Rather watch instead? Check out the PFN Bengals Podcast on our NFL YouTube channel.