The Cincinnati Bengals' defense was so dominant Wednesday during the joint practice against the Green Bay Packers offense that the players weren't even falling back on the old locker room cliché, "I'll have to watch the film."
"It wasn't like we just dominated every play, but I felt like we had a really, really good day," said defensive tackle DJ Reader, who had one sack and another pressure that caused Packers quarterback Justin Love to step up into the path of Trey Hendrickson.
"We had a great day," Reader continued. "We played real, real good today."
"We did a lot of good things. We had really great work," B.J. Hill added.
Why Was the Bengals' Defense So Good Against the Packers?
"We take a lot of pride in our room, so we expect to go out there and dominate like that against everybody we play," defensive lineman Cam Sample said.
The domination up front no doubt led to a pair of fights with the Packers and some harsh words from Reader.
Nickel cornerback Mike Hilton, who said the team watched some Packers film from last year in anticipation of the joint practice, intercepted a Love pass at the goal line. It was a red-zone drill with the Green Bay offense at the 2-yard line. Love called an audible, threw a quick screen left for Romeo Doubs, and Hilton jumped in front and raced up the sideline with the ball.
"They had a wide trips bunch, and (Love) liked the numbers. It was 3 on 1 pretty much," Hilton said. "I saw the check and let my instincts take over, and I just made the play."
It was one of the plays head coach Zac Taylor had in mind when he described his defense as "veteran-y" and intelligent during his pre-practice news conference.
"I think probably the underrated portion of our defense is how smart they are," Taylor said. "They can make adjustments at the drop of the hat because they've played together for so many years. They're all so smart. It's really frustrating as a play caller on offense, sometimes when you practice against the same team over and over and over.
"Not only are they talented, and not only do they have great chemistry together, and they understand what (defensive coordinator Lou Anarumo) and the position coaches want from them, but they're all really smart."
Some of the least experienced players were making an impact Wednesday as well, with rookie corner DJ Turner and second-year safety Tycen Anderson also getting their hands on balls that they nearly picked off.
Turner had another impressive day that earned him some shared reps with Sidney Jones IV with the first-team defense. One of Turner's most impressive plays might have been one in which he gave up a touchdown.
After biting on a double move by Doubs, Turner's recovery speed got him back in position to make a play on the Love pass. But the ball slid past the rookie's arm and Doubs caught it and took it the distance.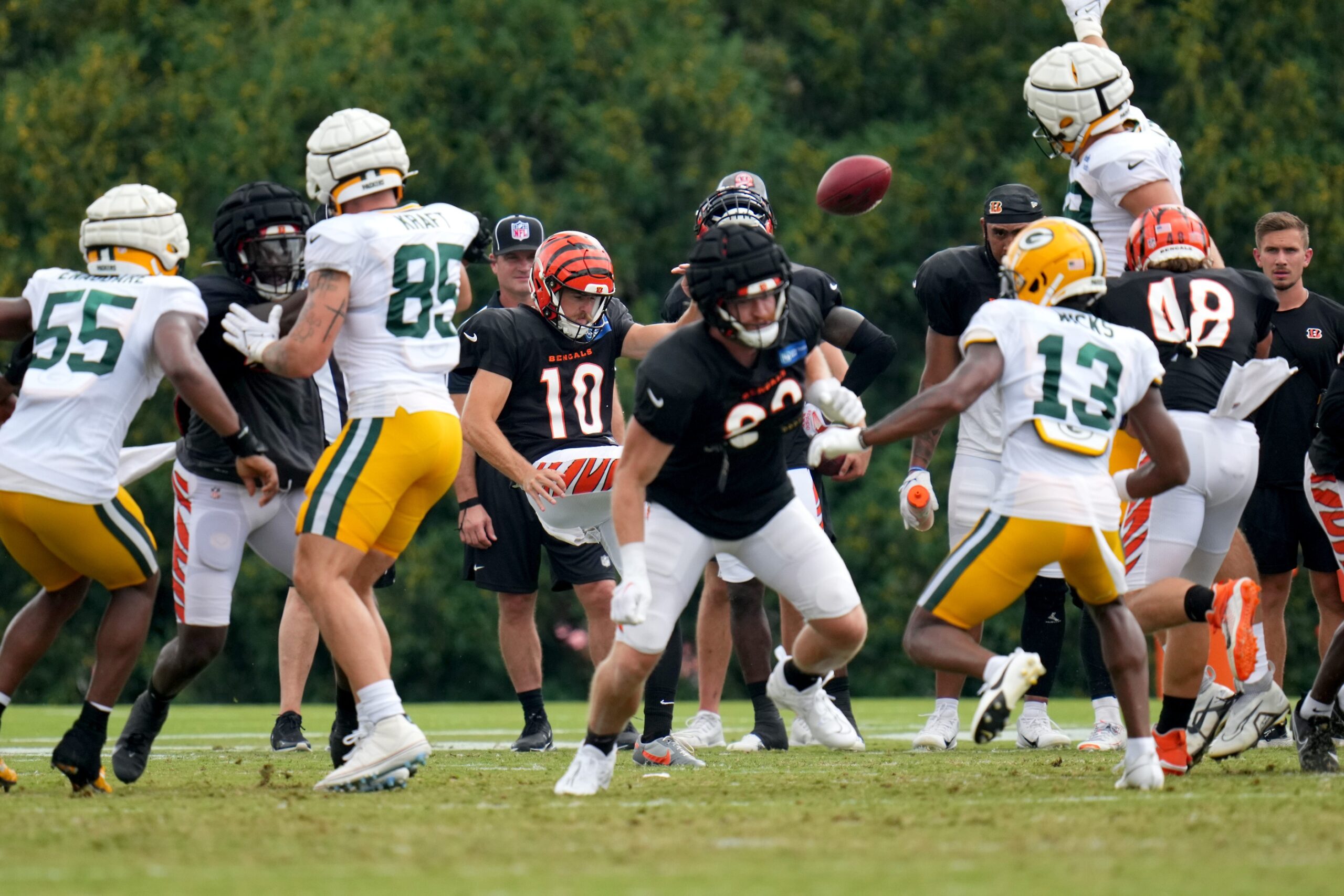 The practice was heavy on 11-on-11 work, so rookie first-round Myles Murphy got his most reps with the first-team defense and had his best practice yet. Murphy had a sack of Green Bay backup quarterback and Cincinnati native Sean Clifford during one period. Later in the practice, he recorded another one when Clifford dropped a shotgun snap and Murphy was nearly on top of him by the time he picked it up, resulting in the play being blown dead.
On the next snap, Murphy held the edge and made a run stop for no gain.
"That was my first real competition against another team, so yeah, that was pretty exciting honestly," Murphy said. "I felt more in rhythm. When they called the play, I knew exactly what it was. It felt a lot smoother."
Hendrickson had two sacks and a third was iffy. There also was an uncalled holding penalty that prevented a possible fourth.
Defensive tackle Josh Tupou also had a sack.
It wasn't the hottest day of camp, but it by far was the most humid. And the heavy workload had the players spent by the time it was over.
"Today was all about pushing yourself fatigue-wise. I'm about as exhausted as I've been in a while," defensive end Sam Hubbard said. "It was a good workload for the 1s to get that 60, 70 plays. It's a different speed. You can't replicate that game-like feel.
"Second year of being in a joint practice, I'm becoming more and more of a fan of them because I feel like I'm really getting ready for a game with that work rather than just six plays in a preseason game.
"I think we really pushed ourselves from the starters to the young guys and got the work we need to get done, done," he added.
Cincy's Offense Less Productive
The Bengals' offense could commiserate with the Packers' offense — both units had difficulty moving the ball and sustaining success.
Wide receiver Tee Higgins did not take part in any team drills, and quarterbacks Trevor Siemian and Jake Browning alternated reps with the first team.
"We tried to give them as even of reps as possible," offensive coordinator Brian Callahan said. "Obviously it was a heavy 1s practice, so if there were 10 reps with the 1s in a period, we tried to get Trevor and Jake each five reps, however that shook out. We tried to keep it as even as we could in the course of practice so it kind of flip-flopped back and forth."
As for the results?
"Some good, some bad," said Callahan, who called the offensive plays, as he's done taking over for Taylor in some preseason games in the past.
"It's fun. It's great," he said. "I've done this in the preseason before usually when we're split up with teams just so Zac can manage the rest of it. It just allows us to be more efficient with our time. It's always fun. I always enjoy the opportunity. Zac lets me call preseason games, I've done before and I'll do some this year, it's good experience."
Taylor said earlier in the day most of the starters will not play Friday night against the Packers, so many of them, such as left tackle Orlando Brown Jr., viewed the joint practice as their first game reps since last season.
"It was pretty clean and very competitive," Brown said. "A lot of fun, too. I view this as my first game as a Bengal, and I really enjoyed it. I think overall up front we did a pretty good job."
Odds and Ends
Bengals quarterback Joe Burrow was present at practice for the first time since injuring his calf July 27.
Linebacker Logan Wilson did not dress for practice.
Offensive lineman D'Ante Smith had three pancake blocks in a row in one-on-one pass rush drills against Green Bay defensive linemen.
Rookie wide receiver Charlie Jones took part in team drills for the first time since missing two practices with a left shoulder injury he suffered Aug. 3.
Former Bengals defensive lineman Tim Krumrie was at the practice, and Orlando Brown Jr. stopped to chat with him on his way into the locker room. "That was my first time meeting him, but obviously I know who he is. We were just f—king around, talking about wrestling techniques mostly."
Listen to the PFN Bengals Podcast on our NFL YouTube channel!
Listen to the PFN Bengals Podcast
Listen to the PFN Bengals Podcast! Click the embedded player below to listen, or you can find the PFN Bengals Podcast on iTunes, Spotify, and all major podcast platforms.  Be sure to subscribe and leave us a five-star review! Rather watch instead? Check out the PFN Bengals Podcast on our NFL YouTube channel.