The Cincinnati Bengals open training camp in a couple of days, and I can smell the mock turtle soup.
You guys have lots of questions regarding what to expect during camp practices … and well into the regular season. So thank you to everyone who followed my move to Pro Football Network and submitted questions for my debut Bengals mailbag on this platform. For those of you who sent in questions but don't see them below, keep them coming. There will be a lot more mailbags as the season goes along.
Some questions have been edited for clarity and/or brevity.
Let's see what's on your minds.
Latest Bengals News and Rumors Mailbag
How do the Bengals get better in the red zone? Is this just one of the quirks? – @SoManyShirts
No matter what stat or metric you want to look at, there is always room for improvement. But red zone is pretty far down the list for the Bengals to fix. After finishing 17th with a 59.6 red zone touchdown percentage in 2021, the Bengals improved to fifth (64.9) last season.
At one point, they reeled off 17 consecutive touchdowns on red zone possessions (excluding kneel-downs). That stretch came on the heels of the failed shovel pass and Philly Special plays on the goal line at Baltimore in Week 5. But from Week 6 on, the Bengals converted 68.3 percent of their red zone trips into touchdowns – fourth best in the league.
Joe Burrow threw 23 touchdowns and one interception in the red zone while ranking third in EPA per attempt among quarterbacks with at least 50 dropbacks.
One area where the team lagged in the red zone was EPA per rush, ranking 21st (0.02). But again, that Week 5 game in Baltimore was an important marker. After that, Cincinnati operated almost exclusively from the shotgun regardless of field position. And from Week 6 on, the Bengals ran just 96 plays under center. Only Baltimore (75), Arizona (75), and Philadelphia (73) had fewer.
During that Week 6-18 span, the Bengals ranked 13th in EPA per rush in the red zone and 10th when they ran out of shotgun in the red zone.
Factor in an improved line, a bigger tight end target in Irv Smith Jr., and a shiftier weapon such as rookie receiver Charlie Jones, and it's hard to think the Bengals won't be living around the top five (or higher) in red zone touchdown percentage again this year.
Do the Bengals have the pieces in place to get back to having more explosive plays? If not, what needs to happen? – @brianramstetter
They definitely have the pieces. What needs to happen is Burrow needs to continue to complete underneath passes at a sizzling rate, and the run game needs to become more of a threat to force defenses out of the two-high shells.
And even that might not be enough, as it could be a classic case of poison picking where opposing defensive coordinators would rather let the Bengals attack lighter boxes than watch Ja'Marr Chase and Tee Higgins beat them over the top.
But explosive plays don't have to involve passes with a lot of air yards. Chase, Higgins, and Tyler Boyd all are capable of making a defender miss and getting upfield for a 25-yard gain or more.
Who wins the Backup 3T position? – @JakeAKAJ24
The coaches are high on Zach Carter's development, and it doesn't feel like coach speak or spin.
Carter was in a tough spot last year after the Bengals took him in the third round. He didn't play inside a lot at the University of Florida, so he was learning a new position with new techniques and doing so while being severely undersized.
Carter bulked up this offseason and looks ready to not just be B.J. Hill's backup, but possibly his running mate.
Hill was much more effective in 2021 when he was splitting snaps (44 percent) with Larry Ogunjobi. Hill played well last year, but the 79-percent snap share took its toll the deeper the Bengals got into the season.
I've been a Trayveon Williams fan since the Bengals drafted him. He seemed to have a good 2022 on special teams. Will they use him more in the offense in 2023? – @MDPitmanJournal
The fact that Williams, a sixth-round draft pick, has a total of just 47 carries and eight receptions in his four seasons and is still around is an indication that the Bengals coaches are fans of his as well. He clearly surpassed Chris Evans on the depth chart last season, but how much run he gets on offense will depend on how he performs in training camp against fifth-round draft pick Chase Brown.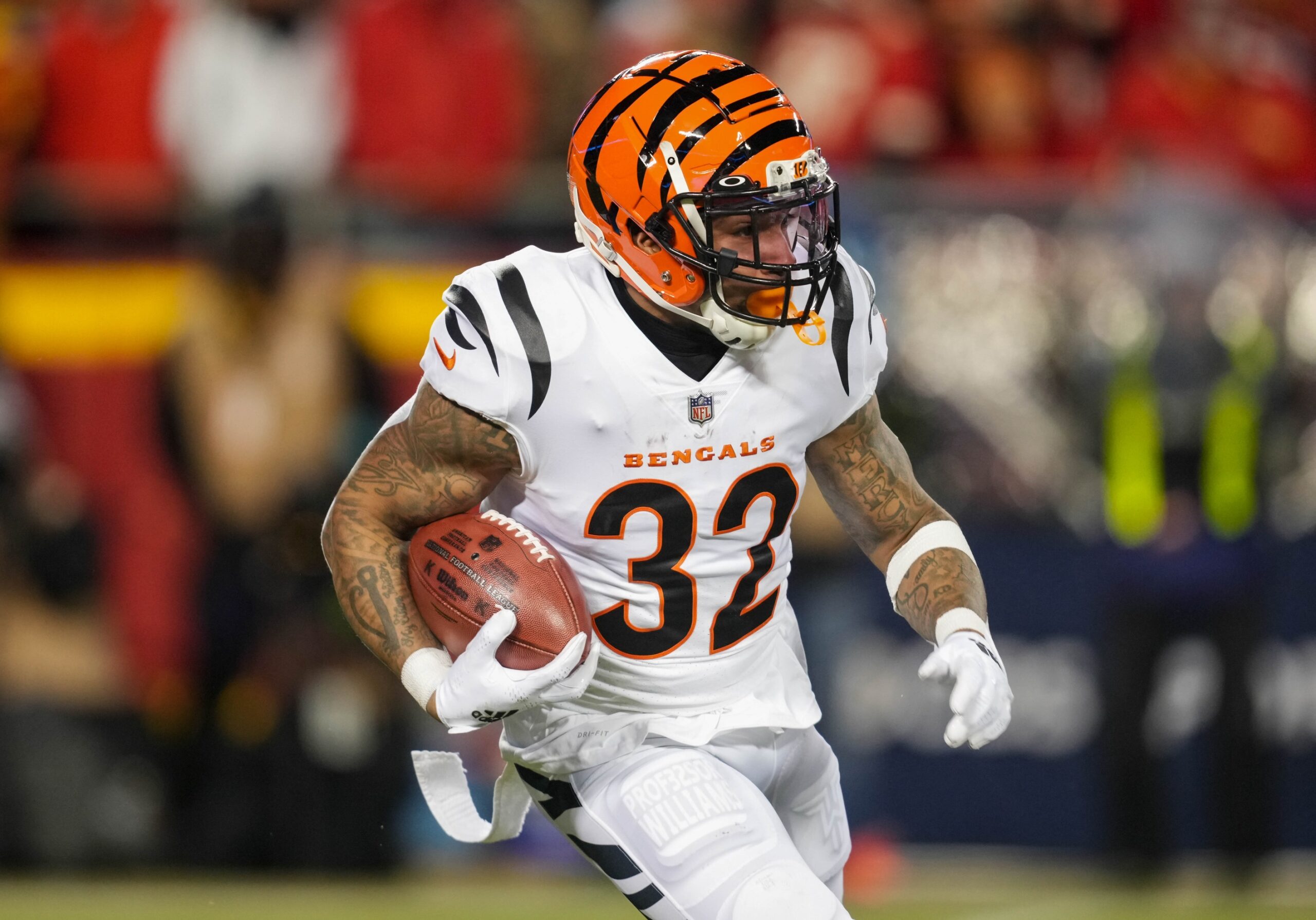 And that will go beyond what he does with the ball in his hands. We haven't seen much of Williams in a pass-blocking role, but if he steps in and shows he can do that better than Brown, then I think you'll see Williams in the Samaje Perine role.
True or False? Burrow No. 1 in touchdown passes? Cincinnati top three in scoring offense? Cam Taylor-Britt leads the team in interceptions? Ja'Marr Chase and Tee Higgins both have 10 or more TD catches? Myles Murphy and Joseph Ossai have 10 sacks between them? Irv Smith Jr. more TD catches than [Hayden] Hurst? – @richardbbaptist
Wow, Richard. You're making me relive some junior high pop quiz anxiety. But I like the questions, and when it's time to actually grade my answers, no one will remember this (unless I go 6-0, in which case I'll be sure to bring it to everyone's attention).
Burrow: False – Not that he can't top last year's career-high of 35, but it's taken at least 40 to lead the league in each of the last three seasons and four of the last five.
Top 3 Scoring Offense: False – As good as the offense has been over the last two years, it still finished eighth in 2022 and tied for seventh in 2021.
Cam Taylor-Britt: False – I'm gonna go with Dax Hill.
Chase/Higgins TD Catches: False – As good as they are, it's a rare feat and would be just the third time in franchise history after A.J. Green (11) and Marvin Jones (10) in 2013, and Tyler Eifert (13) and Green (10) in 2015.
Muphy/Ossai Sacks: False – But it will be close. I'll say 8.5.
Smith/Hurst TD Catches: Depends – Not sure if you mean 2022 Hurst (who only had two) or 2023 Hurst with the Panthers. If the former, then true. If the latter, I'll say false.
Do you see the Bengals' pass rush being stronger this year? – @ImNostraThomas
Yes, and for a couple of reasons. First, they ranked 29th in sacks last year (30), which was dead last among playoff teams, so the proverbial "nowhere to go but up" effect is in play. They also were 17th in pressures (129), which ranked 11th among playoff participants, so there's room to grow there as well.
But the bigger reason to expect it is the personnel. You're taking Trey Hendrickson and Sam Hubbard's production and adding a first-round pick in Murphy to the mix, plus the aforementioned predicted improvement from Carter.
And Joseph Ossai showed a lot of improvement in his debut season, including staging arguably his best performance of the year in the AFC Championship Game (the late plenty aside). Cam Sample also is trending upward.
With the success of the show Quarterback on Netflix, do you think Joe Burrow would be chosen for the next season? – @Ty_Tystake
I'd be stunned. He's incredibly private and not really in need of an image bump. I just can't see him 1) welcoming a film crew into his house/personal life and 2) wasting time sitting down for interviews when he could be watching film or – at the other end of the spectrum – relaxing and freeing his mind from all things football.
Which player, obscure to Bengals fans now, will become a household name this training camp (i.e. Auden Tate, Damion Willis, Darius Hodge)? – @obscure_bengals
Did you change your Twitter handle just to ask this question? I think Andrei Iosivas is the perfect underdog candidate. I predict he is going to turn some heads and quickly become a fan favorite.
Do Jonah Williams and Jackson Carman split time as the starting RT? Who works as LT2 in camp, given they want Jonah to focus on RT? – @Plymire98
No, I expect to see Williams take the bulk of the first-team reps as he tries to get comfortable switching sides. And I think we'll see Carman taking reps at both RT2 and LT2, with him being the leading candidate to be the swing tackle until La'el Collins is healthy.
Who is your sleeper pick to make the roster, and why is it Devonnsha Maxwell? – @Ryandosparks
I appreciate the question, but given that the Bengals did little more than calisthenics during the offseason program, I'm going to wait until I've seen a week or two of practices to make UDFA sleeper picks.
Not counting the preseason, Paycor Stadium will play host to three straight games involving the Bengals and Ravens dating back to last season. How often has that happened? – @GormleyPxP
It's never happened in NFL history. There have been five instances where the Bengals played two in a row by facing the same team in one season's home finale and the following season's home opener. And then there was 1990 when they played the Oilers in a home Wild Card game and then again in the Week 2 home opener in 1991.
That one actually almost met your criteria of three in a row, as the Bengals also played host to the Oilers in a Week 16 home game, but Week 17 also was at home against the Browns. So it was three against the Oilers in a span of four home games.
This is more of an "Ask Jay Anything" question, but I'd like to know your game day itinerary. Do you go down to the field before getting to the press box? How much writing do you do at halftime? Is it a race to the elevators prior to the final whistle so you can make the postgame [press conference]? – @Ben_Grant
I typically get to the stadium three hours before kickoff (more for weekday primetime games where you might encounter rush hour traffic). I do not go on the field before the game unless my friends from FOX19, Joe Danneman and Jeremy Rauch, ask me to do a segment on their pregame show.
I no longer write at halftime, as I haven't been required to have an at-the-gun story in quite some time. The 2017 season was my last at a newspaper where deadlines were a way of life. Even then, there isn't much time at halftime. It's only 12 minutes long, and there is food to be consumed.
Postgame is always an adventure with the elevators and then, once on the ground floor, actually getting to the locker rooms due to the often poorly marked paths and poorly informed workers. You learn the routine and even some tricks at the stadiums you go to most.
But then there are the ones like the Superdome, where the Bengals only play once every eight years. I highly encourage everyone to listen to my former colleague at The Athletic, Paul Dehner Jr., recounting the harrowing yet hilarious tale of a group of Bengals scribes trying to find their way down after the big comeback win last October. It starts at the 58:10 mark of this video.
How good is the Arby's burger? – @YouthOfWhoDey
This is a tough one to answer. When the burger first came out, I was floored by how good it was. The meat, the toppings, the fresh bun, all of it was unexpectedly spectacular. However, the consistency is lacking. After my first two great experiences with the Wagyu burger, my next involved one that was well done and charred – not medium rare as advertised.
I thought it might have just been that specific Arby's location, so I gave it another try at a different store, and it was as great as the first. But the one after that again was overcooked and probably sitting around waiting for someone like me to order it. I didn't even finish it, and I haven't had one since.
Listen to the PFN Bengals Podcast
Listen to the PFN Bengals Podcast! Click the embedded player below to listen, or you can find the PFN Bengals Podcast on iTunes, Spotify, and all major podcast platforms.  Be sure to subscribe and leave us a five-star review! Rather watch instead? Check out the PFN Bengals Podcast on our NFL YouTube channel.