Week 3 of the college football season kicks off on Friday night. The Big 12 Conference lacks any real headlining games, but there are prospects throughout the Big 12 with an opportunity to rise the 2024 NFL Draft boards.
We're highlighting seven players in this CFB Week 3 Big 12 preview. Each player is already on the PFN Scouting Team's radar and has room to improve their outlook.
Big 12 Players To Watch in Week 3
Tawee Walker, RB, Oklahoma
One of the surprise emerging candidates thus far in the 2023 season is Oklahoma running back Walker the 5'9″, 215-pound junior has quickly taken the starting job in Norman and run with it.
Despite carrying the ball only 18 times for 62 yards in 2022, Walker has already reached out to a team-leading 161 yards and two touchdowns through two games. That includes his 21-carry, 117-yard performance against SMU last week. Walker has the opportunity to stand out in the Big 12 as there's not an obvious set of stars at his position across the conference.
MORE: FREE Mock Draft Simulator With Trades
Walker is a powerful inside runner who plays to his size. He's excelled on the inside zone runs where he doesn't have to make sharp lateral cuts but rather plant his foot and get upfield, especially when running off tackle.
He doesn't have the physical profile of being a higher-round pick. But that doesn't mean that he won't find a role at the next level as someone who can contribute as a pass catcher and be solid on short-yardage situations while taking advantage of lighter boxes, especially when playing next to a dual-threat quarterback.
Kedon Slovis, QB, BYU
It's too early to say that Slovis is a real NFL prospect who can expect to be drafted. Considering his journeyman status throughout his career and the dwindling production over the years since his standout freshman season, Slovis is looking to be a good player for BYU this season.
But he has like competent across two games. With the NFL looking for new backups, more than ever, Slovis has shown the ability to throw quick, accurate passes and provide some help to the offense as a rusher. No one will confuse him for being a potential NFL starter, but Slovis may be able to walk onto the field as a rookie and at least be playable in an emergency.
BYU faces Arkansas on the road this week. While KJ Jefferson will certainly get more attention from the Razorbacks, Slovis needs to go out and not look overwhelmed against better competition to impress us. He could be fighting his way into the conversation as a late-round pick or priority-free agent.
Emani Bailey, RB, TCU
Speaking of running backs suddenly coming out of nowhere to become potential NFL Draft prospects, TCU Horned Frogs running back Bailey has leapfrogged former five-star transfer Trey Sanders as the team's leading running back. While Sanders has a great comeback story, Bailey has been the better player.
At only 5'9″ and 207 pounds, Bailey's speed and explosiveness as a rusher have paid off through two games. His season debut against Colorado was most notable, as he pulled off a 74-yard run to help drive his stats. He finished that game with 14 carries in 164 yards.
Although his efficiency dipped significantly last week against Nicholls State, we are still looking to see if Bailey can continue his production against Houston this week. Houston has a strong and experienced defensive front if Bailey can get back to being more efficient and explosive, we'll be looking for the junior throughout the rest of the season.
Nelson Ceaser, EDGE, Houston
In that same TCU versus Houston matchup, there's no question that the Cougars have a couple of legitimate prospects themselves. No one has increased their stock on this team more than pass rusher Ceaser.
Ceaser had impressive stats in 2022, as he notched 36 tackles, four sacks, an interception, and a forced fumble. But he's already within reach of several of those numbers this season through two games, posting 11 tackles and three sacks. The film matches the raw statistical production.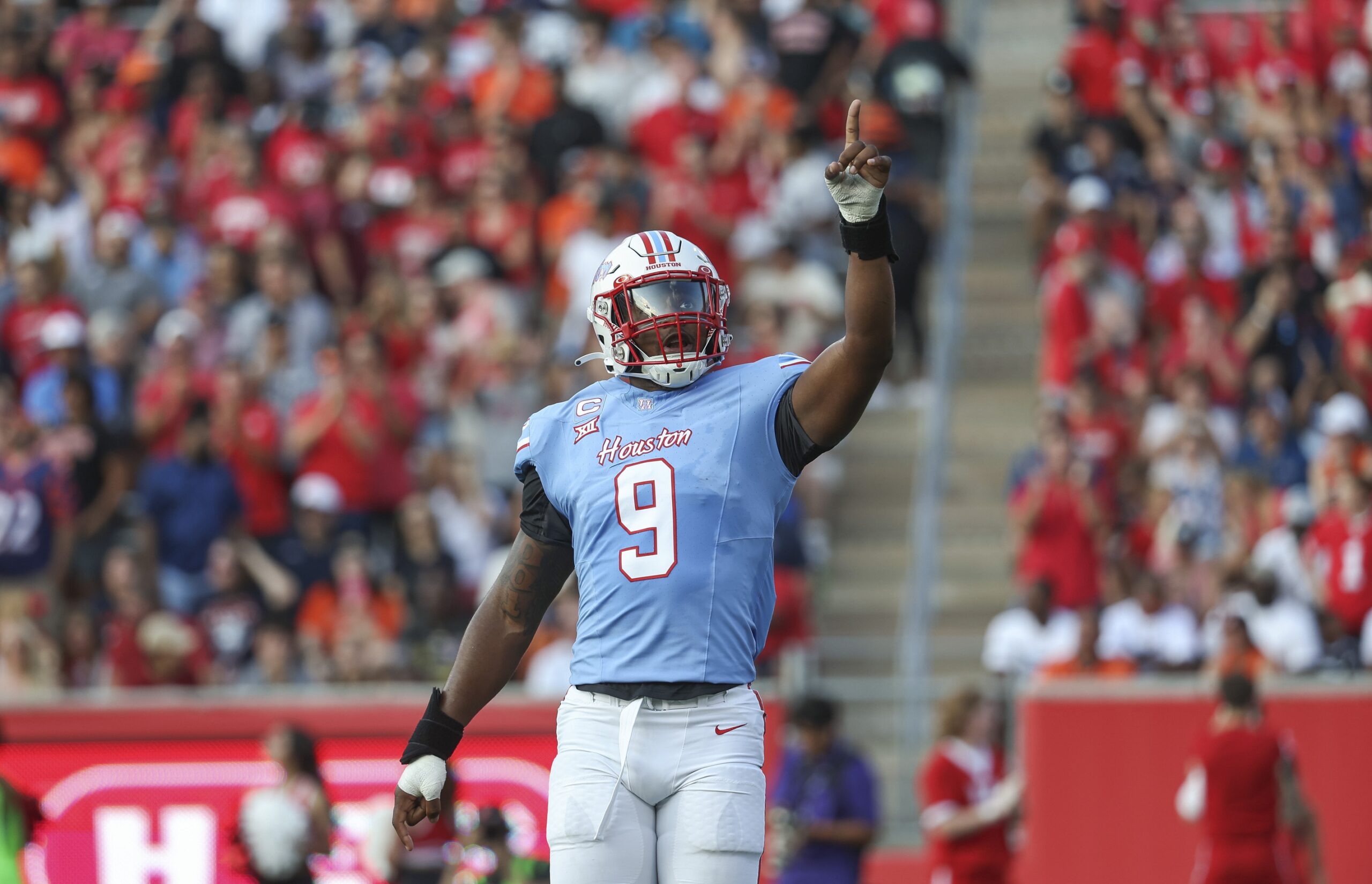 Ceaser struggled last year with building a game plan to beat his Blocker throughout the game. He was too reliant on being an energy player and active on stunts and misdirections. This year has been different, as he's used his strength and links more appropriately to take advantage of his speed when one-on-one.
The NFL always looks for active and athletic bodies to add to their talent rotation. Ceaser has good size at 6'3″ and 250 pounds, but he played lighter last year than what we've seen this season. His effort in the run game has improved, and his overall field for the game has increased. This type of linear development you hope to see from a senior.
Ceaser may have a limited ceiling to be drafted on day three based on his size limitations, but a surprising combined performance is not out of the question. Facing TCU this week, he'll go against powerful tackle prospect Brandon Coleman, which is an awesome opportunity for Ceaser to show his development as a player.
Decorian Patterson, CB, UCF
There hasn't been a more disappointing prospect thus far this season than UCF cornerback Patterson. It's not that Patterson hasn't played well; it's that Patterson hasn't played much. This was always the risk as the cornerback transferred from Middle Tennessee State to UCF this summer.
Patterson was electric in 2022, leading the nation in interceptions and raising our big board to be a potential first-round pick. It seemed like he had everything we wanted to see on film, showing off a strong, thick build that allowed him to carry receivers upfield and both man and zone coverages.
His playmaking was apparent, too, nabbing seven interceptions and rarely fighting himself out of position for the ball.
Understandably, UCF would give incoming players from last year's roster more playing time in week one. However, more recently, Patterson found himself in a rotation again, creating some speculation that he hasn't won the job.
As unfathomable as it may seem based on his performance last year and overall traits, Patterson has been a major fall, or in our most recent big board update.
We must see Patterson on the field early and often sooner. Facing Villanova this week, UCF is in very little danger of losing, even without quarterback John Rhys Plumlee. Still, this Knights team should be getting their best overall players on the field, and Patterson was arguably one of the very best players in the Big 12 entering the season.
Our stance on that may have to change if he doesn't start in Week 3.
Will Howard, QB, Kansas State
The Wildcats have several intriguing players on the roster on both sides of the ball. An individual who has continued to grab our attention since last year is quarterback Howard. Howard is completing a career-high percentage of his passes at 67.2% through two games.
MORE: Big 12 QB Rankings 2023
It's not been all easy sledding for Howard thus far, though. He's thrown two interceptions and has not been in total control of the office as we would hope from a senior quarterback. He has been creating big plays downfield, notably linking up with RJ Garcia II and Jadon Jackson for several big plays.
Facing off against Missouri this week will be a great challenge for the Wildcats. Both teams have NFL talent that can be expected to hear their name called on day two of next year's NFL Draft. If Howard plays well, you can expect him to push closer to our top-10 quarterbacks ranking for the 2024 class.
Listen to the PFN Scouting Podcast
Listen to the PFN Scouting Podcast! Click the embedded player below to listen, or you can find the PFN Scouting Podcast on iTunes, Spotify, and all major podcast platforms.  Be sure to subscribe and leave us a five-star review! Rather watch instead? Check out the PFN Scouting Podcast on our Scouting YouTube channel.