He's not even recognized as the best positional prospect on his own team, but perhaps Tennessee WR Cedric Tillman deserves more respect as a 2023 NFL Draft prospect. A 2022 season marred by injuries has sent Tillman back under the radar, but he has the tools to make a difference for an NFL team.
Cedric Tillman NFL Draft Profile
Position: Wide Receiver
School: Tennessee
Current Year: Redshirt Senior
Height/Weight: 6'3″, 213 pounds
Length: 32 3/4″
Hand: 10″
Football has always been a family affair for Tillman. His father, Cedric Cornell Tillman, played in the NFL in the 1990s. He was drafted in the 11th round of the 1992 NFL Draft by the Denver Broncos. Against the odds, Tillman Sr. carved out a respectable four-year career. Already, the younger Tillman is following that same path — but with his eyes on even greater heights.
Like his father, Tillman was overlooked at first. Despite racking up 37 catches for 774 yards and seven touchdowns as a senior at football factory Bishop Gorman in Nevada, Tillman was a low three-star recruit in the 2018 class. He received few offers and ultimately signed with Tennessee.
Tillman redshirted as a freshman with the Volunteers. And across his first three seasons at Tennessee, he caught just eight total passes for 124 yards and two touchdowns. Tillman was expected to take on a greater role in 2021 after the departure of Josh Palmer, but no one anticipated the degree to which he would emerge.
MORE: 100% Free Mock Draft Simulator
Tillman quickly became the favorite target of new QB Hendon Hooker, and across 12 games in 2021, he amassed 64 catches for 1,081 yards and 12 touchdowns. He ended the year on an absolute tear, picking up 41 catches for 787 yards and nine scores in the final six games.
Unfortunately for Tillman, a lingering ankle injury limited him to just six total games in 2022. Rarely was he fully healthy, and that injury prevented him from sustaining his momentum from 2021. Nevertheless, Tillman put up a respectable 37-417-3 stat line in that six-game window.
Even so, Tillman's lesser production in his final season has rendered him a relative afterthought in the 2023 WR class. But as more people look at Tillman's 2021 tape and his highlights in 2022, the Tennessee WR is making his way back up the board.
Cedric Tillman Scouting Report
Despite the lacking production in 2022, Tillman provided plenty of reason for optimism when he was on the field. In a class that's in dire straits when it comes to size, Tillman is a receiver prospect who fits the X mold perfectly.
Positives
At 6'3″, 213 pounds, Tillman has a strong, dense, and well-proportioned frame with great length. He also has solid functional athleticism for his size. The Tennessee WR brings great explosive capacity out of his stance, both vertically and laterally. He has the foot quickness to accelerate fairly well with runways. Especially in space, he opens up his strides and explodes upfield.
Going further, Tillman has good lateral quickness for his size. He can generate displacement with fast initial footwork. He's not elite in this area yet, but Tillman noticeably improved his efficiency of motion as 2021 went on. Over time, he appeared lighter on his feet and more agile, and this carried over into 2022 when he was healthy.
Moreover, Tillman shows off definite twitch for his size when cutting his stems. He can generate sudden lateral movement and flashes the ability to float out of transitions and sink his hips suddenly on direction changes. While he could channel it more often, Tillman has solid explosiveness and agility, and his weight transfers are predominantly smooth.
Tillman's NFL Combine performance helped confirm the athleticism that's visible on tape. Tillman tested with exceptional explosiveness numbers at his size, recording a 37″ vertical and a 10'8″ broad jump. He also ran a 4.54 40-yard dash with a superb 1.53 10-yard split. His 40-yard speed is good, and with his long-strider athleticism, his 60-yard speed is even better.
Tillman has the size and athleticism to be a legitimate boundary weapon in the NFL, but an even more compelling part of his game is his hand strength and catching instincts. Tillman is very independent and composed in contested situations, and his ability at the catch point can easily translate to the next level.
Tillman can contort while tightly covered and still make accurate adjustments for passes. The Tennessee WR is very smooth rising to adjust for passes when coming back to the ball. He can make high-difficulty adjustments in stride and consistently gets his hands in the right place. Even more impressive, Tillman's leverage adjustments are very quick, sometimes with little time to react. He has great hand/eye coordination and naturally flows to the ball to corral imprecise passes.
Downfield, Tillman has great ball-tracking ability and has shown to use diamond technique and catch the ball away from his frame. The Tennessee WR's length allows him to extend far beyond his frame to secure throws, minimizing risk of disruption. Furthermore, he has the hand strength to haul in passes in tight spaces, even with the threat of immediate contact. Together, Tillman's size, high-level hand strength, and instincts result in persisting reliability at the catch point.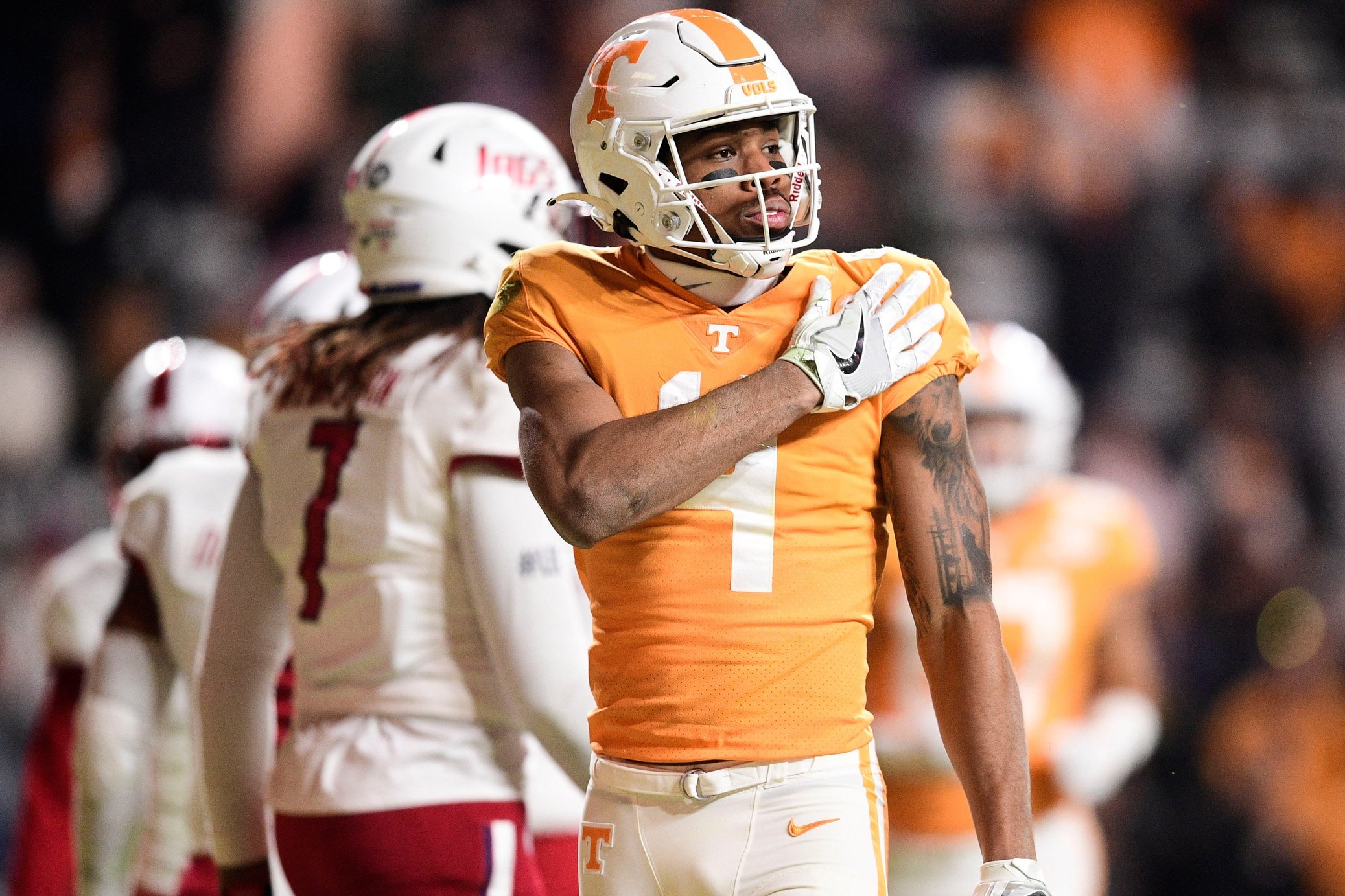 While Tillman is a big-bodied receiver with natural instincts, his elite physicality is what truly makes him a force to be reckoned with. Tillman has an extremely physical edge and can scrape off DBs to compound separation. His long, strong frame allows him to outmuscle defenders, and he proactively fights jams, excelling at keeping himself clean. Tillman uses his length extremely well when imposing physicality and carving out space.
Going further, Tillman effectively supplements footwork on releases with one- and two-handed swipes and jabs. He uses swipes to attain desired leverage, whether inside or outside. On releases, he stays square with defenders and maintains synergy between his footwork and hand usage. Tillman can also tempo his releases to manipulate defenders, a skill he's steadily improved at employing.
If you're looking for a weakness in Tillman's profile, you won't find it with his route running. The Tennessee WR has surprising stopping ability for his size. He can stab a halt-step and quickly snap around on deep hitches and comebacks, while also bringing urgent energy on breaks.
MORE: 2023 NFL Draft Big Board
Tillman's able to press upfield with throttle control, then whisk his head back around. Overall, for his size, he's a very nuanced separator, with the foot speed, hip sink, spatial awareness, and attention to detail to win against NFL CBs 1-on-1.
After the catch, Tillman has an aggressive demeanor. He'll shoot his hands and fight to stay on his feet with stiff arms. His dense frame can absorb initial contact to a degree. He can also keep his legs churning through arm tackles, then quickly recollect his feet and accelerate upfield. Tillman isn't fazed by opposing physicality and consistently finishes forward in RAC situations. He's also able to reset his feet ahead of short passes to maximize RAC yards.
Finally, Tillman brings utility as a blocker as well. The Tennessee WR's size affords him great natural ability as a blocker. He squares up defenders and fully extends to exert power. Moreover, he has the desired urgency and demeanor in the blocking phase. Tillman can channel force through blocks, but also understands leverage and drive DBs downfield. More often than not, he's an assignment-sound blocker who can sustain blocks through plays.
Areas for Improvement
Tillman's profile is surprisingly well-rounded, given his relative lack of buzz in the 2023 NFL Draft WR class. Even so, there are flaws and areas of improvement to note. While he's a great athlete for his size, Tillman doesn't quite have elite initial burst or long speed. His speed, while exceptional in the open field, is more of the build-up variety, and he works most effectively with a runway.
Tillman's route-running projection is strong, but he's still imperfect coming from Tennessee's offense. Tillman occasionally plays too tall as a route runner and still has room to be a bit more consistent sinking his hips with efficiency. When he plays too upright, he hinders his ability to effectively sink his hips and manipulate space. Naturally, Tillman still has room to expand his route tree, although he does have the foot speed and physicality to hold his own against press.
There are times when Tillman times his extensions a bit too early at the catch point. He can let the ball roll off his hands and into his torso. While he's a reliable contested threat, he's not quite as consistent with defenders inside his frame. There are times downfield when he'll give up positioning and fail to attack the ball, giving defenders opportunities underneath.
Finally, as a run blocker, Tillman doesn't always generate power efficiently, which can impact his ability to maintain lanes for ball carriers.
Current Draft Projection for Tennessee WR Cedric Tillman
Tillman is incredibly high on my board at the WR position. For me, he's a top-five WR prospect in the 2023 NFL Draft and worthy of top-50 consideration. He's also ranked higher than his teammate Jalin Hyatt. With his testing, production, and size unique to the class, Tillman could go early Round 2, and he'd be a phenomenal value pick farther down the board.
Often with larger receivers, there's a concern that they don't have the requisite athleticism or route-running prowess to be more than contested-catch threats at the NFL level. That's not the case with Tillman. His catching instincts are a big part of his game, but the Tennessee WR also has great functional athleticism and foot speed at 6'3″, 213 pounds.
Tillman is an explosive, streamlined athlete with great throttle control and solid hip flexibility, and he's shown to use his traits to separate 1-on-1. He uses space well, presses upfield into stems, and uses his combined nuance and relentless physicality to peel off of defensive backs. When the ball comes his way, he's incredibly proficient at making adjustments and brings physicality after the catch as well.
MORE: NFL Draft Order
With his size, hand strength, and hyper-aggressive style, Tillman can be a handful for defenders on the boundary. But factor in his athletic profile and route-running ability, and he has the tools to be a true complete alpha X-receiver on the boundary. Stylistically, he brings shades of Michael Pittman Jr. — a Colts second-round pick in 2020, who eclipsed the 1,000-yard mark in 2021.
Tillman's late breakout could cause hesitance for some, as could his injury history. And while he's a great route runner, he still has room to keep improving there. But regardless, as long as Tillman can stay healthy and hover near 100%, he has the tools to be an impact starter on the boundary in the NFL.
Tony Pauline's Scouting Report for Cedric Tillman
Strengths: Dominant, game-controlling receiver with outstanding measurables. Fluid releasing off the line of scrimmage, displays outstanding route discipline, and quickly gets in and out of breaks. Uses his frame to shield away defenders, gets vertical, and exposes himself to the big hit in order to come away with the reception. Possesses outstanding eye/hand coordination, tracks the pass in the air, and consistently comes away with the contested grab.
Effectively times receptions, consistently extends his hands, and makes the reception away from his frame. Comes back to the ball to make himself an available target, competes hard, and gives effort even if he's not involved in the action. Adjusts backward and grabs the fastball from the air. Attracts a lot of coverage attention from opponents. Gives effort blocking downfield and gets results.
Weaknesses: Really plays to one speed and isn't a true deep threat. Lacks a burst in his game.
Overall: Tillman is an aggressive wideout who plays strong, tough football. He's a stout receiver and will be exceptional running short and intermediate routes at the next level. Tillman is a second-round prospect who should produce right out of the gate in the NFL.
Listen to the PFN Scouting Podcast
List to the PFN Scouting Podcast! Click the embedded player below to listen, or you can find the PFN Scouting Podcast on iTunes, Spotify, and all major podcast platforms.  Be sure to subscribe and leave us a five-star review! Rather watch instead? Check out the PFN Scouting Podcast on our Scouting YouTube channel.