Carson Wentz helped send out the signal on Sunday during Mother's Day: He's still preparing for the upcoming 2023 season — even though he's not on any NFL roster.
The free agent quarterback is in Los Angeles, per ESPN NFL Insider Jeremy Fowler, training for whatever is next — including Wentz willing to accept a backup role. And it leads to asking: Who should be next to take in the former top-five draft pick and Super Bowl winner?
One Team Officially Ruled Out, Who's Rolling With Carson Wentz Over a Rookie?
We can first rule out a possible reunion with Frank Reich.
With Reich in place in Charlotte, the Carolina Panthers would've been hailed a fit for Wentz given his past ties to the new head coach while with the Philadelphia Eagles (Reich was the offensive coordinator during their 2017 Super Bowl-winning season).
MORE: 2024 FREE NFL Mock Draft Simulator With Trades
Reich, however, not only has opted to go with Andy Dalton as the veteran presence at his newest coaching stop, he's given Dalton the QB1 reins for minicamp after the team drafted Bryce Young first overall.
So Reich is a scratch. But what about another possible reunion for Wentz down south?
Reuniting With Super Bowl-Winning Head Coach
This is where Doug Pederson comes into the fold.
Wentz was establishing himself as a 2017 Pro Bowler with Pederson as his head coach before the devastating knee injury. With Pederson in his corner, Wentz delivered three of his 20+ touchdown campaigns.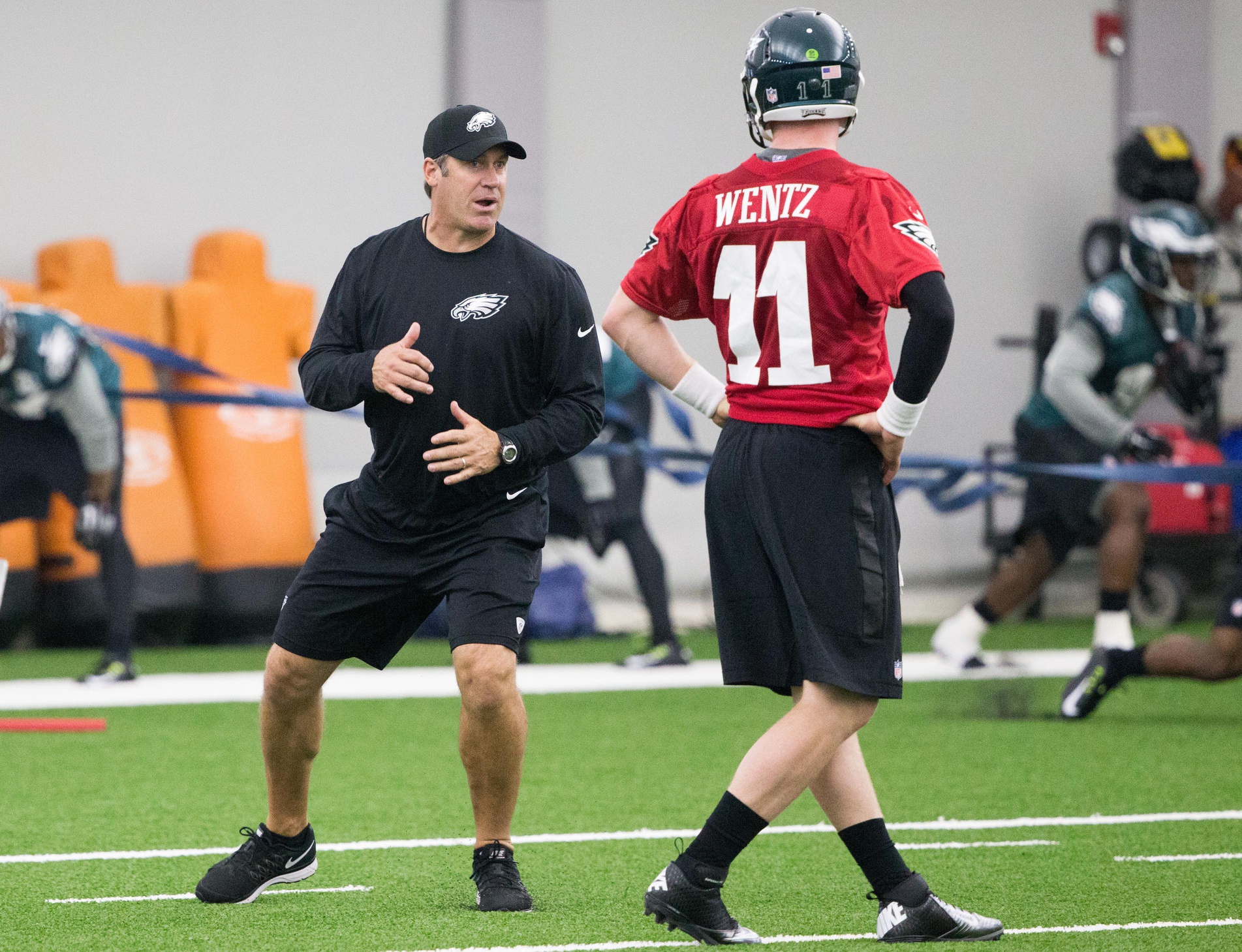 Times, though, would be different if the two were to relink with one another. Pederson has his franchise passer, Trevor Lawrence, in place. But outside of Lawrence, is veteran backup C.J. Beathard and CFL star Nathan Rourke.
Perhaps Wentz can come in and challenge for the backup spot behind Lawrence. Wentz's presence could even come in handy if the dual-threat Lawrence were to go down and would allow Pederson to turn to a passer who's been successful in his offense before.
Wentz's Other Landing Spots
If not Jacksonville, there are some other places that could make sense to add Wentz, who is now heading toward his fourth NFL destination.
Chicago Bears
Justin Fields is facing a critical third NFL season. The 2021 first-rounder has proven to be electric as a runner following his 1,143-yard campaign in 2022. But he's 5-20 as a starter, and with the number of designed runs for Fields, it could become a prelude to injury.
For a Bears team that made some aggressive offseason moves, adding Wentz to solidify the QB spot can help top things off.
Minnesota Vikings
It's beginning to look like Kirk Cousins is on the sunset tour of his NFL career. While the Vikings addressed getting a QB in the NFL Draft, they settled for Jaren Hall in the fifth round.
MORE: What Is the Ceiling for the Vikings' Offense With Justin Jefferson and Jordan Addison?
Wentz would be in an offense with shift and motion schemes and rollouts — basically what he's already used to. But the thought of pairing up with offensive whiz Kevin O'Connell has to be enticing for Wentz.
New England Patriots
Meanwhile, Mac Jones may be facing an early sunset on his Pats tenure. Also part of Fields' draft class, Jones is facing a make-or-break third season, with fans seemingly divided on him or Bailey Zappe. However, Bill Belichick may opt to play it safe and add a veteran like Wentz to this QB room.
Atlanta Falcons
Desmond Ridder is going from third-rounder to QB1 for the Atlanta Falcons. But is he really the answer? And how settled are the Falcons really behind center?
Here, Wentz would not only join Ridder but former Commanders teammate, Taylor Heinicke. Out of all the possible destinations, Atlanta may offer Wentz's best — and perhaps final — hope of supplanting himself as the starter.