The Carolina Panthers' schedule of weekly opponents is finally here. The Panthers were so close to stealing the division from the Tampa Bay Buccaneers after a disastrous start last year. Entering 2023-2024 with a new franchise quarterback, the Panthers hope to take the next step forward.
After a trade with the Chicago Bears, Carolina held the No. 1 overall pick of the 2023 NFL Draft. They then drafted a player hoping he can develop into one of the best NFL QBs. What impact will that have on their success in 2023?
Here is a look at how Carolina's 2023 season could play out now that the official Panthers schedule has been released.
Carolina Panthers Schedule
Week 1: at Falcons
FOX | 1 p.m. ET (Sunday, Sep. 10)
Week 2: vs Saints (MNF)
ESPN | 7:15 p.m. ET (Monday, Sep. 18)
Week 3: at Seahawks
CBS | 4:05 p.m. ET (Sunday, Sep. 24)
Week 4: vs Vikings
FOX | 1 p.m. ET (Sunday, Oct. 1)
Week 5: at Lions
FOX | 1 p.m. ET (Sunday, Oct. 8)
Week 6: at Dolphins 
CBS | 1 p.m. ET (Sunday, Oct. 15)
Week 7: BYE
Week 8: vs Texans
FOX | 1 p.m. ET (Sunday, Oct. 29)
Week 9: vs Colts
CBS | 4:05 p.m. ET (Sunday, Nov. 5)
Week 10: at Bears (TNF)
Prime Video | 8:15 p.m. (Thursday, Nov. 9)
Week 11: vs Cowboys
FOX | 1 p.m. ET (Sunday, Nov. 19)
Week 12: at Titans
FOX | 1 p.m. ET (Sunday, Nov. 26)
Week 13: at Buccaneers
CBS | 1 p.m. ET (Sunday, Dec. 3)
Week 14: at Saints
FOX | 1 p.m. ET (Sunday, Dec. 10)
Week 15: vs Falcons
TBD
Week 16: vs Packers
FOX | 1 p.m. ET (Sunday, Dec 24)
Week 17: at Jaguars
CBS | 1 p.m. ET (Sunday, Dec. 31)
Week 18: vs Buccaneers
TBD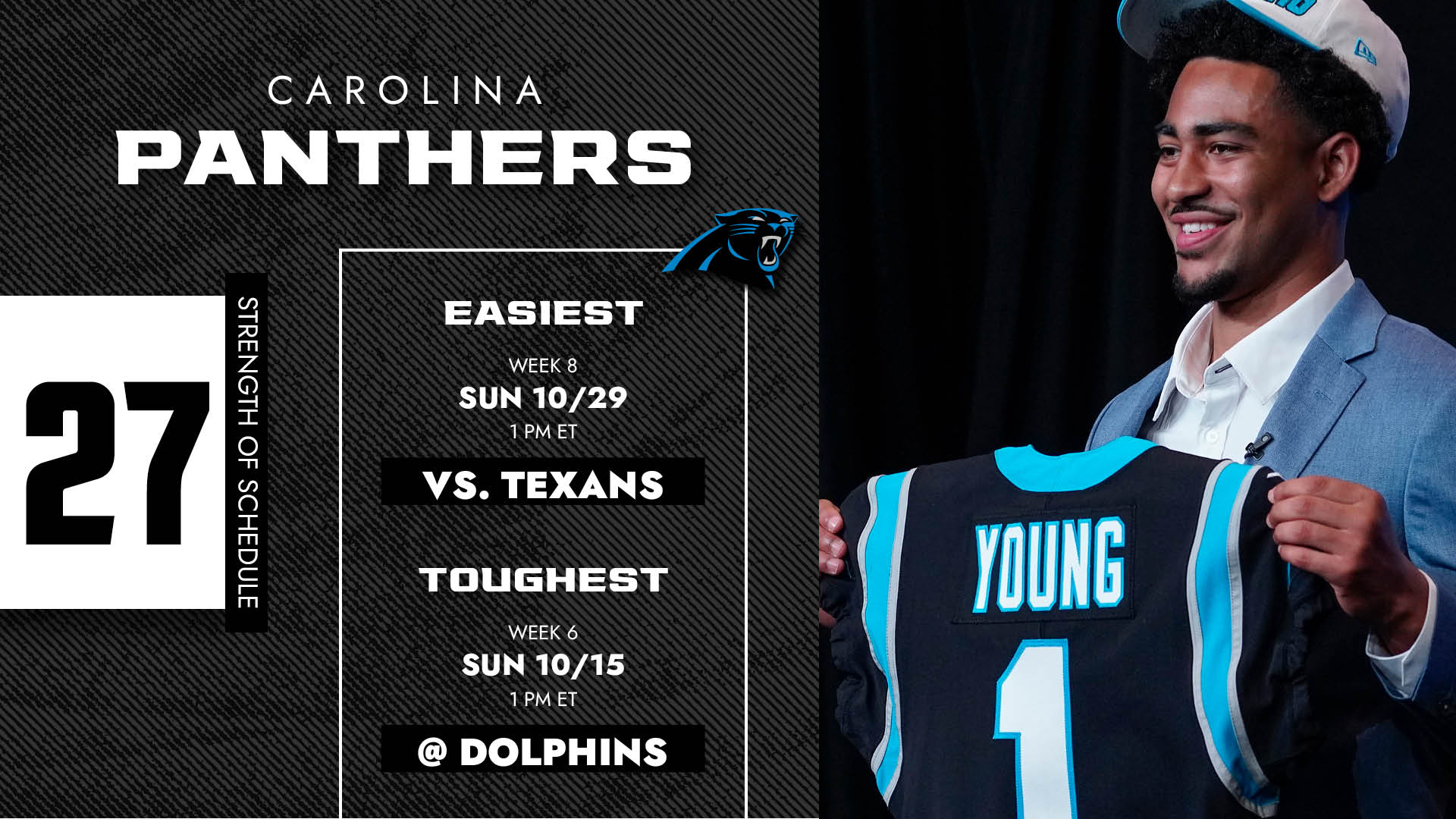 Carolina Panthers Strength of Schedule
The NFC South is by far the worst division in football. The former defending champion Tampa Bay Buccaneers made the postseason with a losing record. As such, the Panthers should have an easier 2023 schedule.
MORE: FREE Mock Draft Simulator With Trades
Based on last year's records, Carolina has the third-easiest road to January in the NFL, facing opponents who have combined for the 30th-ranked strength of schedule.
Carolina Panthers Record Prediction
Carolina picked first overall in the 2023 NFL Draft. Bryce Young was the choice. The Panthers are hoping he can provide stability at the quarterback position like they haven't had since Cam Newton, which feels like forever ago at this point.
Young lacks NFL size but is seen by many in the league to be a "football savant" and "genius." The Panthers are hoping the latter makes up for the former.
MORE: Rankings All 8 NFL Divisions Entering 2023 Season
If the Panthers got the pick right, they have the rushing attack and defense to be very competitive. The passing game was the obvious weak link on the team, and it took another hit when the team parted with DJ Moore in order to get the No. 1 selection. They did add Adam Thielen, who is a great safety valve for a young QB but has had injury issues as of late.
Carolina also added Jonathan Mingo in the draft at wide receiver, someone they're hoping can develop alongside Young and lead a new generation of playmakers. The Panthers also have DJ Chark and Laviska Shenault, who round out a serviceable receiving corps, but it's not one that's keeping defensive coordinators up at night.
Projected record: 8-9