Can Iowa State EDGE Will McDonald IV and Wisconsin center Joe Tippmann continue the trend of the New York Jets hitting home runs with premium draft capital?
Although the Jets' 2022 NFL Draft might not match the New Orleans Saints' 2017 draft, Joe Douglas and New York's scouting department absolutely knocked it out of the park. The league threw them a hanging curveball, allowing them to compile two top-10 picks and four picks inside the top 40. Douglas hit it into McCovey Cove like he was Barry Bonds circa 2001.
Jermaine Johnson didn't play a ton a season ago, but he should have a better feel for the NFL game heading into Year 2, and the Jets' secondary should help facilitate success attacking opposing quarterbacks. That secondary includes Sauce Gardner, the Defensive Rookie of the Year. Garrett Wilson won it on the offensive side, and Breece Hall was the betting favorite to win the award in mid-October before his injury.
Can Will McDonald IV Keep the Momentum Going?
McDonald was underappreciated as a prospect. Although he didn't produce eye-popping speed or size metrics at the NFL Combine, he did show off what made him a great prospect.
The three-cone drill might be the only metric that really matters for pass rushers, and McDonald's 6.85 is in the 98th percentile. He also posted a 99th-percentile broad jump for the position.
Most importantly, McDonald survived in Iowa State's defense well enough for the NFL, or at least the Jets, to select him in the first round. As a fifth-year senior, he had five sacks and 7.5 tackles for loss.
MORE: How Was the New York Jets' Roster Built?
But while the defender's production dipped in his final season, it was there previously. McDonald had double-digit-sack seasons in 2020 and 2021. That is the tape that proved he's a talented rusher. His 2022 tape, meanwhile, proved he's an incredible teammate.
McDonald played the 4i last year. That position at the NFL level and most of the college level is played by 270-plus-pound behemoths with 34-inch arms. They're gap-and-a-half run defenders mostly, although the best of the best can make a difference rushing the passer in certain schemes.
But Iowa State ran a true three-down front, and McDonald had to battle guards and tackles all day, every day. He did that at 240 pounds. And he survived!
That selflessness (and surprising ability) is why the Jets drafted him. McDonald is a football player in every sense, and Robert Saleh must absolutely love that as a defensive head coach.
How Does McDonald Fit?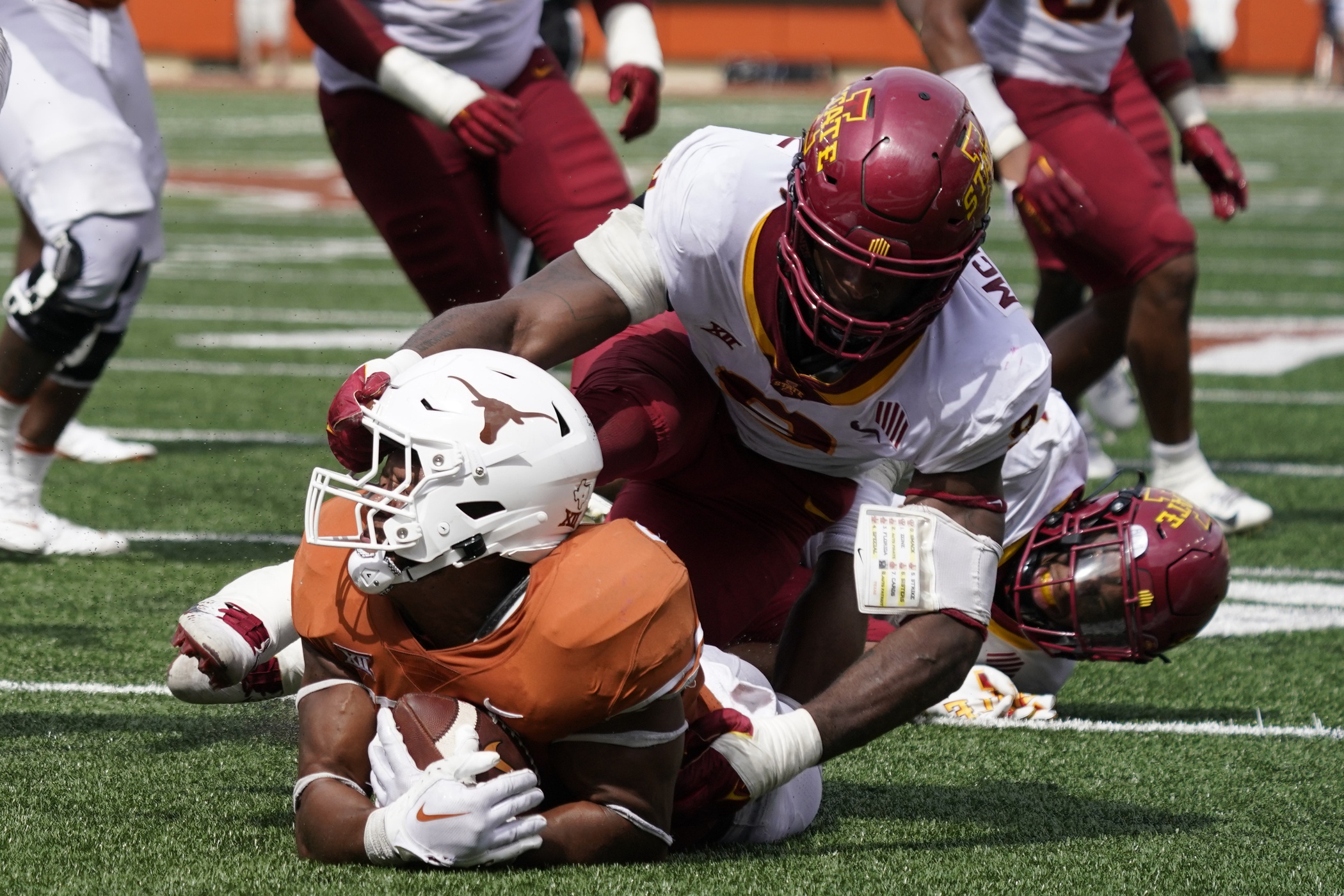 That's… interesting. McDonald is incredibly undersized as a true defensive end. His weight puts him just below the eighth percentile historically. And even though the game is evolving and pass rushers are becoming smaller and more explosive, Saleh's defense doesn't often field players of McDonald's mold.
John Franklin-Myers is massive. Carl Lawson is 265 pounds. Johnson was drafted at 254, which could have been an indication that the Jets were evolving. But Michael Clemons was drafted in Round 4 in 2022 and weighs 270 pounds. Bryce Huff, meanwhile, is listed at 255.
McDonald's 240 is a far cry from that.
But the league is changing. Quarterbacks are getting the ball out faster and faster by the week, and teams are using RPOs and play-action to sidestep pass rushes. So teams need to get to the QB as quickly as possible when they can.
McDonald has incredible bend and outstanding explosion. Even if he needs to improve on his strength to become a consistent three-down player over the next few seasons, McDonald's pass-rushing upside is worth it.
"Randy Gregory and Brian Burns," Saleh said after the pick. "Two guys we kind of think he compares to favorably."
Will Joe Tippmann Start Immediately?
"Joe's probably got the best mullet in the draft," Douglas told Jets' team reporter Ethan Greenberg. "[He's] one of the best centers in the draft as well. Being able to add a guy like him with his experience in the Big Ten, his athleticism, and you know he's only played center at Wisconsin, but with his size and athleticism, he could provide a lot of versatility to our offensive line."
MORE: 5 New York Jets Breakout Candidates Include Garrett Wilson, Breece Hall, and Joe Tippmann
But the second-round pick won't start anywhere but the middle of the offensive line. Alijah Vera-Tucker and Laken Tomlinson are outstanding blockers at the guard spots. But the Jets also brought back long-time center Connor McGovern for another season. Could the Wisconsin blocker usurp the veteran?
McGovern played over 1,100 offensive snaps for New York a season ago at center. The 30-year-old can still play at a starting caliber level.
If Tippmann ends up being the first-team center in September, it will be because he's going to be an immediate contributor on the offensive line and not because of his draft status. The Jets are trying to win a Super Bowl with Aaron Rodgers, and they won't experiment with Tippmann as a rookie unless he's ready.
However, there shouldn't be too much of a learning curve for the young center. He played in an outside zone-heavy rushing attack at Wisconsin, and that's exactly what Nathaniel Hackett will be implementing at a higher rate in 2023 if his history is any indication.
The Jets potentially did it again. There's a decent chance that both of their top 50 picks in 2023 will produce immediately at the NFL level.