In his fourth NFL season, Dalton Schultz is having a career year. However, while the advanced metrics agree that the Dallas Cowboys TE's overall performance has been excellent, his recent numbers suggest that he has fallen off somewhat in the last few weeks.
Dalton Schultz is on pace for the best statistics of his career
Through 11 games into the 2021 season, Schultz is well on his way to having the best season of his career. The Cowboys TE has totaled 537 yards, which is less than 100 yards short of his career-high, and currently ranks sixth among the NFL's tight ends. Schultz has also already tied his season-best for touchdowns with 4.
More impressively, he has earned those numbers in an offense that includes several other elite receiving options, which means he needs to compete for targets.
Schultz's overall advanced metrics are excellent
In addition to his excellent box score statistics, the advanced metrics also suggest that Schultz is performing exceptionally well. As evidence, let's take a look at the Offensive Value Metric (OVM).
The OVM is a grading system created by the (Bx) Movement to evaluate players based on how much they contributed to the creation of their statistics, rather than the statistics themselves.
So far this season, Schultz has earned a grade of 37.54. That ranks seventh in the NFL among qualifying tight ends. It also represents a notable improvement over his grade from last season (31.6).
He wasn't targeted enough to earn a grade in either of his first two years, so if he maintains his current grade, it would be the best of his career. Unfortunately for Schultz, his grade has been trending downwards in the last several weeks.
Dalton Schultz's recent games give cause for concern
Although Schultz has been excellent overall, taking a closer look at his advanced metrics reveals a worrying trend. To explain, let's take a look at his weekly grades, which you can see in the chart below, marked by the black dots. For comparison, the yellow line represents the average season-long OVM grade for tight ends so far in 2021.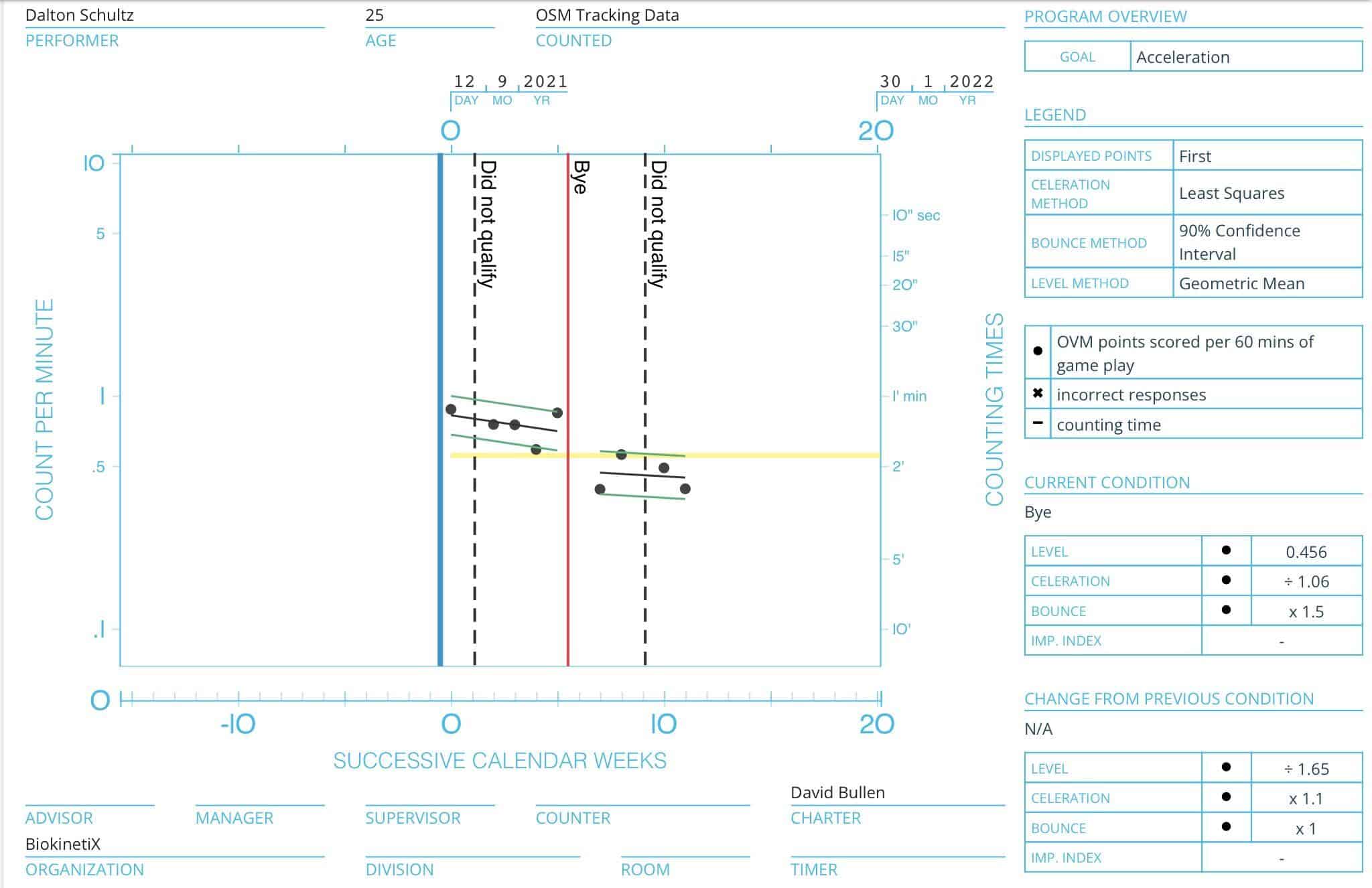 In his first six games, Schultz didn't earn a grade below 35 points. In fact, he actually earned two grades above 50 points, at 52.43 and 50.61. Those are two of the top 10 best grades earned by any tight end so far this season.
However, Schultz has struggled more in recent weeks, earning his four worst grades of the season in Weeks 8, 9, 11, and 12 (he wasn't targeted enough to qualify in Week 10).
While his Week 9 grade of 33.52 is still somewhat respectable, his other three grades are all below 30 points. Those aren't terrible performances, but they are a far cry from the stellar grades he earned earlier in the season.
Explaining the advanced metrics
In order to explain Schultz's recent decline, we need to examine the advanced metrics involved in calculating his grades. As you might expect, his numbers have fallen in several areas.
Through the first seven weeks of the season, Schultz's catch percentage was never lower than 75% when he was targeted more than 5 times. In Weeks 9 and 11, the Cowboys TE still had good percentages (80% and 75%). However, he had other problems in those weeks.
In Week 9, his average yards after the catch was 4.2 yards, which was 3 yards lower than the NFL's projections suggest that it should have been — Schultz's worst differential of the season. And in Week 11, he created a season-low 2.1 yards of separation despite being given a season-high 6.7 yards of cushion.
In Weeks 8 and 12, on the other hand, Schultz caught just 28.57% and 42.86% of his targets, respectively. And these aren't small sample sizes; he was targeted 7 times in both games. That isn't good enough. Even if his other metrics were spectacular, Schultz still wouldn't have earned particularly high grades.
The Cowboys are floundering
It would be overstating matters to say that Schultz has been terrible in recent weeks. In reality, he has simply been mediocre. But the Cowboys might need greatness from their TE if they want to succeed this season.
In theory, getting into the playoffs shouldn't be too difficult. Five of Dallas' remaining six games are against teams with losing records, although they do play the Washington Football Team twice, who are riding a three-game winning streak.
Meanwhile, the Cowboys haven't done much to inspire confidence recently, losing three of their last four games. Even if they meet expectations and make the playoffs, they will then match up against the best teams in an extremely top-heavy NFC. If they want to succeed, they will need to play better across the board, and Schultz will have to be a part of that.