In a constantly evolving quarterback arena that is calling out for someone to emerge out of nowhere and elevate themselves into the national spotlight, Cameron Ward is something of an enigma.
A once FCS star who tore apart the program records at his former spot, Ward's transfer to Washington State opened up the opportunity to assert himself on the 2023 NFL Draft class.
Extremely talented while being unnervingly unpredictable, can Ward impose himself upon the upper echelons of the NFL draft quarterback prospects?
Cameron Ward NFL Draft Profile
Position: Quarterback
School: Washington State
Current Year: Junior
Height/Weight: 6'2″, 220 pounds
Everything is bigger in Texas, especially as it relates to football. Expectations are higher, the level of competition is greater, and those Friday Night Lights shine a little brighter.
Except they failed to shine so brightly on a talented dual-threat QB out of West Columbia, Texas, whose Columbia High School Wing-T offense limited opportunities to showcase what would later turn out to be a sensational arm talent.
As a result of his high school scheme, Ward barely scraped past 1,000 passing yards in both his junior and senior seasons for Columbia. Despite first-team All-District acknowledgment and an exciting athletic profile honed on the basketball court (Ward was a two-time All-District Offensive MVP), he was unranked by major recruiting sites and held just one college football scholarship offer from the University of the Incarnate Word.
While outside expectation was that he'd spend a year as a backup, Ward set his sights on the Cardinals' starting job as a true freshman. Although the global pandemic pushed the FCS to a shortened spring season, Ward forced himself into starting consideration and ultimately set program records while earning the Jerry Rice Award as the top freshman in the FCS on the back of 2,260 passing yards and 24 touchdowns in just six games.
MORE: FREE Mock Draft Simulator With Trades
Ward's first full season in the FCS was phenomenal. The sophomore QB led Incarnate Word to a best-ever 10-3 finish, with a trip to the second round of the FCS Playoffs. Completing 65.1% of his passes, Ward threw for 4,648 passing yards and 47 touchdowns. With 11 games of 300+ yards, the Cardinals quarterback was named the Southland Offensive Player of the Year and earned second-team FCS All-American accolades.
The exit of Incarnate Word staff, the coaches that had believed in him and recruited him, saw Ward enter the transfer portal in December 2021. In a vast change of fortune from his original recruitment, he was the portal's prized QB possession, attracting attention from the top programs in the nation.
With his former head coach heading to Pullman, Ward committed to Washington State, leaving Incarnate Word as the program record holder for career passing touchdowns (71) and passing yardage (6,908).
At the time of writing, Ward is six games deep into his Washington State career. His tape is littered with the electric and exciting plays that made him a productive and promising NFL draft prospect. He's completed 67.1% of his passes and thrown for 1,612 yards with an average of 7.3 yards per attempt while compiling a 15:7 touchdown to interception ratio.
Ward is undeniably a "must-watch" college football quarterback, but does he have what it takes to break into the top group of quarterbacks in the 2023 NFL Draft?
Cameron Ward Scouting Report
Ironically, given Ward's high school struggles to gain recognition due to the system, Washington State quarterbacks have historically failed to make an early-round impression in the NFL draft for the exact same reason.
Ryan Leaf's NFL career capitulation probably doesn't help outside perception, either. However, we're not into scouting helmets, we're into scouting players. So, let's take a look at how Ward shapes up ahead of the 2023 NFL Draft, starting with the strengths that the enigmatic former FCS quarterback brings to the table.
Ward's Strengths
While more diminutive quarterbacks finding success in the NFL lessens the cast-iron importance of size as a requisite at the position, there's still a faction that places a premium on a benchmark measurement for the position.
Straight off the bat, Ward has a tick in his box as a 2023 NFL Draft prospect. At 6'2″ and 220 pounds, he's built to withstand the rigors of the professional game. Although he spent some time in the medical tent against Cal, Ward hasn't missed any game time during his career as a result of injury.
While boasting the size to be durable and possessing the height to be able to see the field clearly, Ward has uncommon athletic capability for his size. Don't get me wrong, he's not going to dust anyone off in the 40-yard dash, but for a player with his frame, the Washington State QB moves extremely well. He can scramble off-tackle, extending plays with his legs off-script but also being able to manipulate defenses on designed QB runs.
Athleticism isn't just speed, and this manifests itself in Ward in the form of incredible change-of-direction ability. He's springy and nimble on his toes, and this enables him to maneuver in and out of the pocket at a high level. Ward has a matrix-like ability to avoid contact as the pocket collapses around him, leaving defensive players flapping at the thin air that the Washington State QB used to inhabit.
Ward combines this athleticism with an impressive awareness in the pocket. He doesn't simply take off scrambling for his life. He's able to hang in the pocket when he needs to but knows when it's time to vacate.
This can be a difficult skill for dual-threat QBs to master, as they routinely rely on their legs rather than waiting for the play to unfold. In this regard, Ward is impressively developed. He also flashes excellent ability to step up in the pocket to deliver a downfield strike. Again, this isn't always apparent for some college QBs.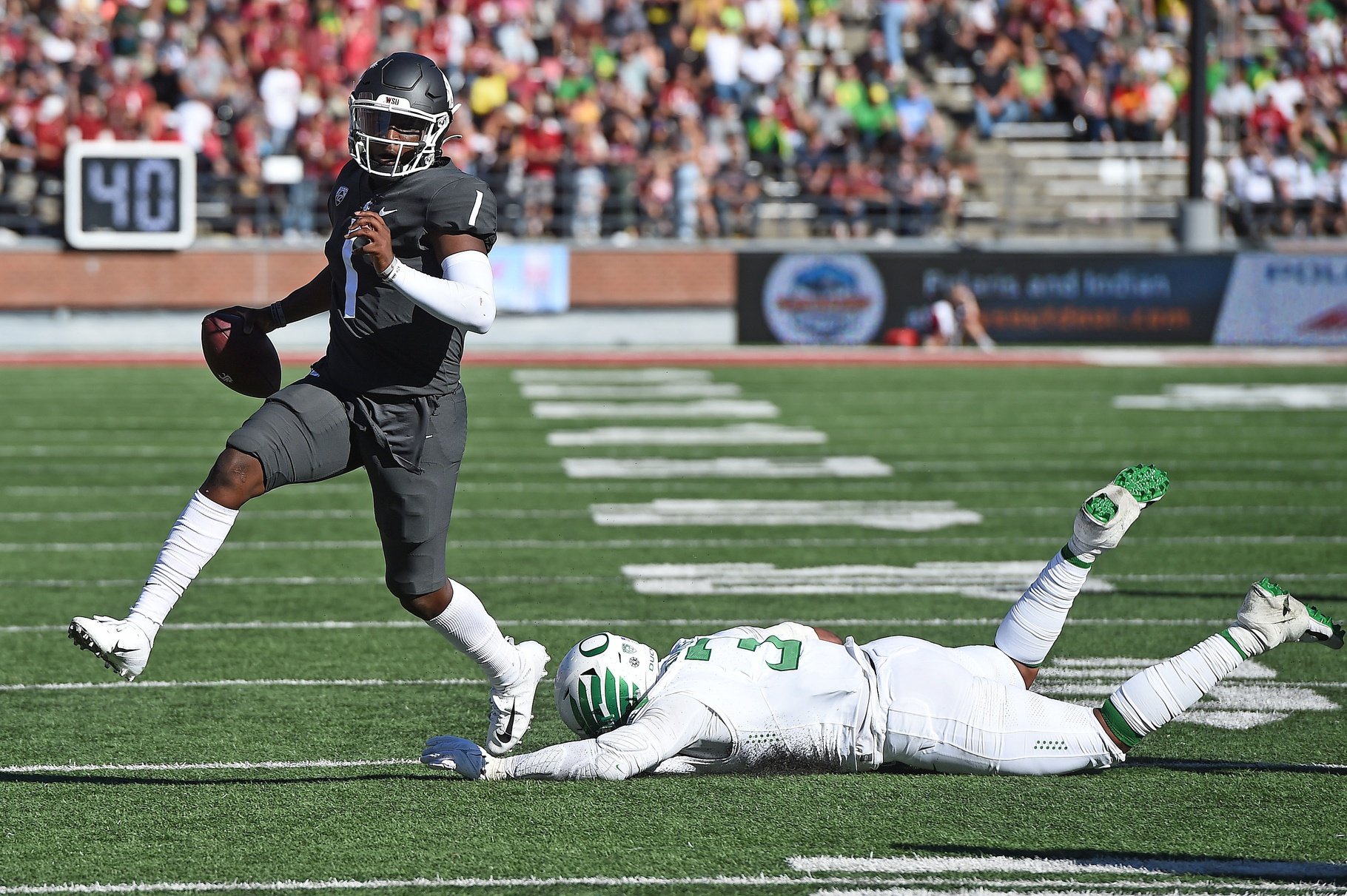 While his ability as a mobile quarterback is exciting, Ward's scouting report becomes really enticing when you consider what he can do with the ball in his hands. The Washington State QB has top-tier physical tools as a passer that leave you drooling with anticipation of what he could bring to the NFL level when he gets there. From an arm-talent perspective, few quarterbacks can accomplish some of the things Ward can.
Arm talent isn't purely predicated on arm strength. It's a component of it, but not in its entirety. Ward does possess plenty of arm strength, and that was evident in his ability to push the ball downfield during the games studied.
Yet, what's more alluring is his ability to generate easy velocity from his arm. A mere flick of the wrist sends the ball shooting out of Ward's grip like a bullet train speeding out of a Japanese train station. Ward also has a quick release time, as showcased this season in WSU's short passing game.
With this ludicrous velocity generation, Ward is able to zip the ball into tight windows in the short and intermediate ranges with ease. He's also able to make the difficult throws from the far hash to outside the numbers.
Meanwhile, he can throw from multiple arm angles, conjuring up comparisons to modern-day miracle workers like Patrick Mahomes in this particular aspect of his game. The Washington State QB is ambidextrous for good measure, throwing a perfect pass against Cal with his left hand despite being right-handed.
MORE: 2023 NFL Draft Big Board
For a player whose mobility and off-script creativity are undeniable elements of his game, the ability to throw on the run is a necessary part of his evaluation. Ward routinely keeps his eyes downfield when on the move, and there's no drop-off in his velocity or accuracy when throwing on the run versus pocket passing.
As we discovered last draft cycle, physical tools can be for naught without the mental traits to utilize them at the next level. While Ward will require some development in this area as we'll discuss momentarily, he's shown some promising signs of development in this area during his first six games for Washington State.
Ward has proven he can read and diagnose coverages pre-snap and knows how to attack the coverage based on what he's read. There were several examples of this in the Oregon game this season.
Ward's Areas of Improvement
As described in the introduction to Ward's 2023 NFL Draft scouting report, the Washington State quarterback is something of an enigma. He's an exciting and talented individual with high-level physical tools, and therefore, incredible upside. Nevertheless, there are multiple elements of improvement that we need to see before considering him in the upper echelons of the class.
Unpredictable and inconsistent aren't two words that you want to have attached to your scouting report. But every time the Washington State quarterback takes the snap, you know you're about to embark on a journey, and you're not 100% sure where that journey is going to take you. While it's exciting and entertaining, he'll need to be more consistent to be successful at the NFL level.
This inconsistency is made up of several factors. The first is technical. Ward isn't always consistent in how he deploys his lower body, often making a throw while his upper and lower body are out of sync.
He can be prone to throwing before he's properly set, and this has an impact on his accuracy. While he has impressive arm strength, Ward's deep-ball accuracy isn't always consistent, and this is likely a product of these lower-body mechanical issues. There were also multiple examples of him getting too deep in his dropback.
"For a quarterback, ball security is job security." These were Ward's own words after throwing an interception in Washington State's win over Cal. While his arm arrogance puts him in danger of interceptions while throwing into double coverage, this wasn't the main ball-security issue that leaped off the tape. When on the run, Ward doesn't routinely secure the ball, waving it around in his hand as he jukes and cuts his way downtown. It wasn't punished in the games studied, but it will be at the next level.
At this moment in time, Ward's decision-making can be best described as questionable. As mentioned above, he can be prone to making throws into double coverage that are just asking to be picked off.
Furthermore, despite showcasing pocket awareness and maneuverability, Ward can sometimes run into trouble behind the line of scrimmage with his decisions, as evidenced against USC. There were multiple "what were you thinking" throws in the games studied that we can file under questionable decision-making.
Current Draft Projection for Washington State QB Cameron Ward
Ward has been a constant presence in early mocks for the 2023 NFL Draft, and it's easy to see why. The physical tools are outstanding, with the arm talent and creative mobility extremely alluring.
The Washington State quarterback has also adapted extremely well to the significant uptick in "level of competition" since transferring from Incarnate Word to the Cougars, suggesting that he would be able to handle the next step with equal aplomb.
If Ward continues to showcase development against some of the areas of improvement detailed within this scouting report, it's not a ludicrous proposition to include him in the first-round conversation.
The physical tools are there. Additionally, there is a demand at the NFL level, and outside of the established frontrunners of the class, the supply of college quarterbacks is crying out for someone to separate themselves from the chasing pack as a legitimate first-round talent.
MORE: 2023 NFL Draft QB Class
However, if Ward doesn't develop in those areas during the next two months, a return to school could pay substantial dividends as it pertains to his NFL draft stock. He's young and doesn't turn 21 until the end of this college season.
There's time for him to develop the mental element of his game and still be considered in his prime for the NFL during the next cycle. We saw last season that NFL teams aren't necessarily willing to gamble on physical tools which, at this present moment in time, you'd be doing with Ward.
They are, with all that said, extremely exciting and entertaining physical tools that Ward brings as a potential 2023 NFL Draft prospect.
Listen to the PFN Scouting Podcast
Listen to the PFN Scouting Podcast! Click the embedded player below to listen, or you can find the PFN Scouting Podcast on iTunes, Spotify, and all major podcast platforms.  Be sure to subscribe and leave us a five-star review! Rather watch instead? Check out the PFN Scouting Podcast on our Scouting YouTube channel.