Alabama TE Cameron Latu profiles as one of many depth TE prospects in the 2023 NFL Draft. Does he have the tools to exceed his draft billing and become a legitimate contributor for an NFL team? Here's a look at Latu's composite profile and how he projects to the professional level.
Cameron Latu NFL Draft Profile
Position: Tight End
School: Alabama
Current Year: Redshirt Senior
Height/Weight: 6'4 3/8″, 242 pounds
Length: 32 3/8″
Hand: 9 1/2″
Latu actually started his career as an edge rusher — a very good one at that. He was a consensus four-star recruit coming out of Salt Lake City, Utah, in 2017. As a senior at Olympus High School, Latu put up 43 tackles, six sacks, and 11 tackles for loss.
Latu's performance put him on the radar of some of the top schools in the nation. Naturally, Alabama was in the thick of that conversation. Latu ultimately chose Alabama over a bevy of other Power Five schools and entered the team's deep EDGE rotation as a true freshman in 2018.
MORE: 100% FREE NFL Mock Draft Simulator
As talented as he was at EDGE, Latu barely played at the position for Alabama. His future instead lay on the other side of the ball. After redshirting the 2018 campaign, Latu transitioned to tight end. He was a depth TE through 2019 and 2020, with zero catches to his name. And as the 2022 NFL Draft cycle began, he was overshadowed by Jahleel Billingsley.
In 2021, however, when Billingsley underwhelmed, Latu answered the call and emerged as a true tight end threat. He caught 26 passes for 410 yards in a breakout season and broke the single-season record for touchdowns by an Alabama TE with eight.
In 2022, Latu reprised his role as the team's top tight end and again put up solid numbers. He finished the year with 30 catches, 377 yards, and four touchdowns. Two years after his unexpected breakout, he declared for the 2023 NFL Draft, where he remains an intriguing TE prospect in the middle rounds.
Cameron Latu Scouting Report
At times, the expectations placed on Billingsley ahead of the 2021 campaign blotted out the success that Latu had in his place. But it's past time to give Latu respect for capitalizing on his opportunity and analyze the impact he could have in the NFL.
Latu's Positives
Athletically, Latu has exciting ability for a tight end. He's a supremely explosive athlete who accelerates incredibly quickly when triggering on plays or blocks. He instantly gears up off the line and pressures defenders heading up to stems.
Beyond his linear explosiveness, Latu also shows off the ability to seamlessly employ curvilinear acceleration on rounded breaks to maintain speed through direction changes. Latu can rapidly explode out of breaks, and he sustains curvilinear acceleration with efficiency — much like an edge rusher using bend to breach the apex.
Latu didn't quite test as an elite athlete, but some elements of his testing reflected what's visible on tape. He ran a 4.78 40-yard dash at 6'4 3/8″ and 242 pounds, and his 10′ broad jump was near the 85th percentile.
Not only is Latu a natural athlete, he's also a natural receiving threat. The Alabama TE can make adjustments beyond his frame with little response time, using the diamond hand technique to secure passes. He also tracks the ball fairly well in the heat of the moment and corrals high passes with ease. Furthermore, Latu has smooth body control when the ball comes his way in contested situations.
Latu snares the ball with strong hands once it enters his reach, and he's a consistent hands catcher who actively seeks out the ball. The Alabama TE can secure passes over the middle of the field, even when threatened with immediate contact. There are lapses at times, but overall, Latu is a tough pass catcher who holds his own in contact situations.
Expanding on Latu's strengths, the Alabama TE also brings great promise as a route runner — promise which stems from his athletic gifts. Latu shows off a degree of lateral suddenness at stems and uses that amped-up energy to generate displacement. He's an excitingly twitchy athlete for his size who can stop with rare suddenness at stems, halting his momentum instantly after accelerating.
Latu is a flexible, high-energy prospect who can stack quick direction changes to manipulate leverage at stems. Beyond that, he has loose hips for a very natural hip sink and can sustain acceleration effectively through transitions. He's a smooth lateral mover who stacks cuts to get defenders off-balance and open space at stems. Latu's exciting mix of quickness and throttle control helps him immensely in this phase, as well as others.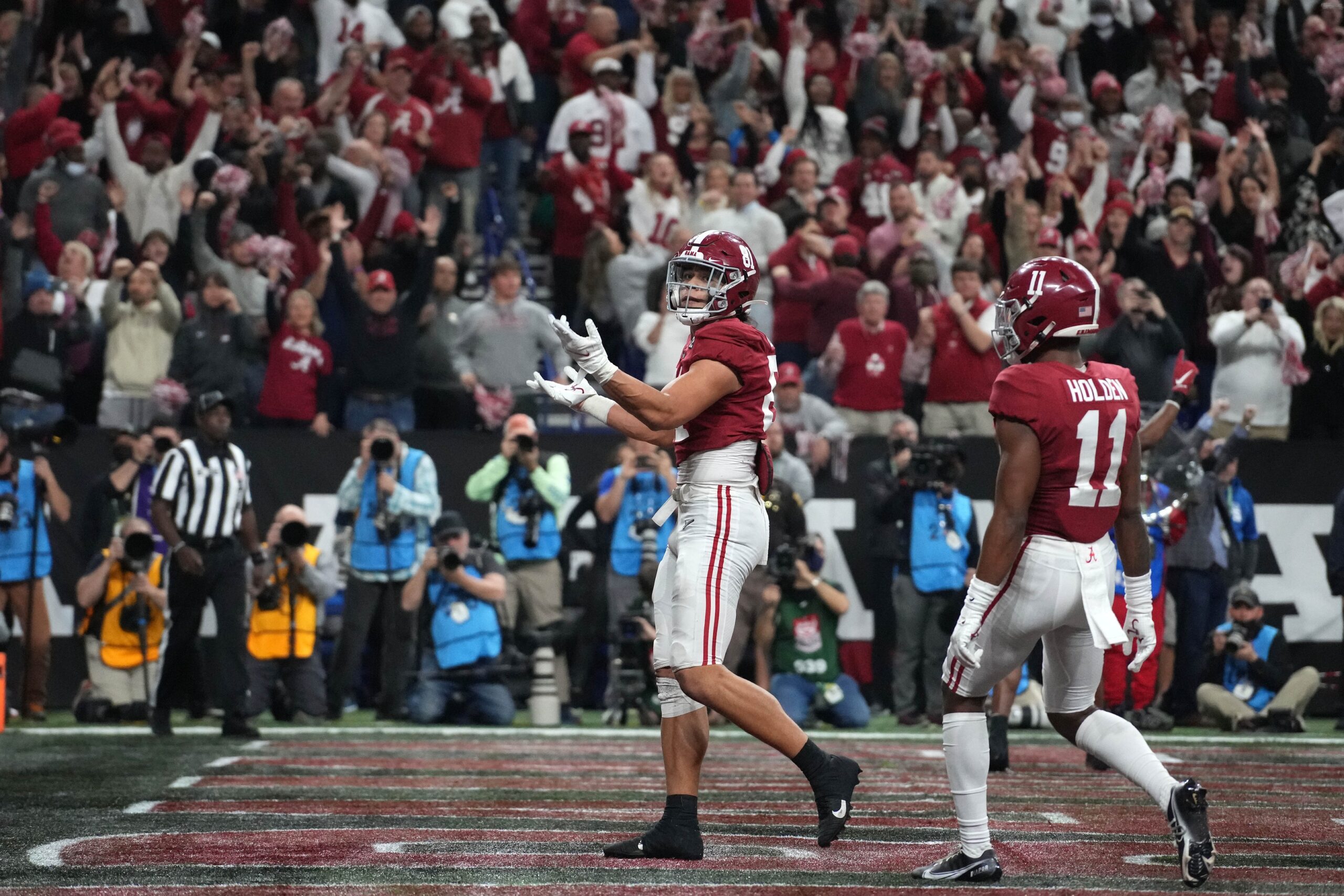 Expanding on his route running, Latu has impressive stopping ability and natural hip sink. He can quickly halt his momentum and dip his hips on breaks, pinching tight angles. Going further, he often actively presses upfield at stems and creates extra cushion by feigning vertical routes.
Latu uses his head to feign intent and doesn't tip off defenders by flipping around too early. At stems, he can scrape away defenders with brisk arm swipes, using targeted bouts of physicality to compound separation.
Latu's understanding of leverage as a route runner is also impressive. He can use attack angles to get DBs off-center at stems, then break inside. He knows how to leverage defenders to create space for himself.
Moreover, Latu employs efficient footwork at stems. He can plant and drive with impressive suddenness and burst. At the line, he uses quick jab steps to gain displacement and capitalizes with his explosive capacity. He also has the awareness to flow into open zones after executing his break.
MORE: 2023 Industry Consensus Big Board
Latu is still improving as a blocker, but he already brings good utility there as well. The Alabama TE is an urgent, combative blocker with a physical mentality. He carries burst into contact, which he uses to generate force. He also has active feet and hands in pass protection. Latu can square up rushers and latch in-phase, target opposing moves, and swiftly reset his hands to drive defenders back.
Latu absorbs and redirects blocks with his frame and change-of-direction ability. Additionally, he can use his corrective twitch to adjust his positioning when needed. While he doesn't have elite strength, Latu can rip down blockers with surprising upper-body torque and aggression. And much like his route running, he understands leverage as a lead blocker. He can use his explosiveness to get around formations and attain proper angles before engaging.
With his athletic profile, Latu has the versatility to line up in-line, at H-back, in the slot, or on the boundary. And in space, he can step through arm tackles with modest proficiency.
Latu's Areas for Improvement
Latu has a lean frame and is relatively underweight for his build. He also has below-average length and a middling wingspan. That middling wingspan naturally limits his catch radius. While he's not a liability there, it can impact Latu against longer, stronger defenders.
Going further, Latu could have better sideline awareness at times. He occasionally lets his feet loom out of bounds on boundary attempts. He also sometimes bobbles pass attempts and could improve his hand/eye coordination and ball tracking. While Latu has solid body control and hand technique, he can be prone to focus drops as a result of lapses.
As a route runner, Latu occasionally has his pads too high leading up to stems, which can limit his deceptive capacity. He can also be more consistent in channeling his explosiveness out of breaks. Moreover, Latu takes too many steps when decelerating at times. While he has good sink, his flexibility and declarative capacity both fall short of the elite mark.
As a blocker, Latu's lighter frame can be easier to direct. His hands can be too wide, which impacts his ability to control blocks, and allows defenders to get inside his torso. He lacks high-end play strength and can't always sustain blocks or positioning. In space, Latu sometimes overshoots angles as a pulling blocker. He could also take better angles when stacking blocks to the second level.
Current Draft Projection for Alabama TE Cameron Latu
Latu grades out as a mid-Day 3 prospect in the 2023 NFL Draft. He's not quite a Day 2 player in a strong TE group, but he absolutely contributes to the depth of the position in the latter rounds. The Alabama tight end has the tools to eventually become a solid TE2 and rotational weapon.
The first thing that stands out on Latu's tape is his athletic profile. He has solid baseline size, and he's a stellar athlete with great energy in his movement. His former EDGE background shows up in all the right ways. He's explosive, agile, and has the rare ability to employ curvilinear acceleration at breaks.
MORE: When Is the 2023 NFL Draft?
With his unique brand of athleticism and burst, Latu can be an asset on quick outs and post routes. He doesn't have the longest frame and can still become more consistent as a hands catcher. He also has room to improve his play strength, but his floor as a separator solidifies his appeal as a receiving threat. Latu's also a willing blocker, whose steely toughness permeates into all facets of his game.
With his multi-phase appeal, Latu provides immediate utility as a rotational TE. He can move around as a blocker and sustain a steady role as a receiver. Latu might not ever be an impact starter, but there's a place for him on a roster.
Listen to the PFN Scouting Podcast
List to the PFN Scouting Podcast! Click the embedded player below to listen, or you can find the PFN Scouting Podcast on iTunes, Spotify, and all major podcast platforms.  Be sure to subscribe and leave us a five-star review! Rather watch instead? Check out the PFN Scouting Podcast on our Scouting YouTube channel.