After quarterback, offensive tackle is in the running alongside wide receiver, edge rusher, and cornerback for the most important position in football. As such, the best offensive tackles in the NFL are among the league's most crucial players. Once teams find a franchise tackle, they're typically reticent to let them go, which is why there are rarely high-quality OTs on the free agent market.
Let's go around the league and rank the best offensive tackles in the NFL, beginning with a stalwart in San Francisco.
Check out our other top positional rankings here: QB | RB | WR | TE | G | DT | EDGE | LB | CB | S | K
Who's the Best Offensive Tackle in the NFL?
Although he's 34 years old and just wrapped up his 12th pro campaign, Trent Williams remains the best offensive tackle in the NFL. With 10 consecutive Pro Bowl berths under his belt, Williams is building a Hall of Fame résumé.
He was always an excellent player with Washington, but Williams has stepped up his game since getting traded to San Francisco in 2020. He earned a first-team All-Pro in each of the past two seasons.
Williams is still the most physically dominant left tackle in football, and his ability to wash out blockers allows the 49ers to deploy a creative run attack. The only downside with Williams is injuries, as he hasn't completed a full slate of games since 2013.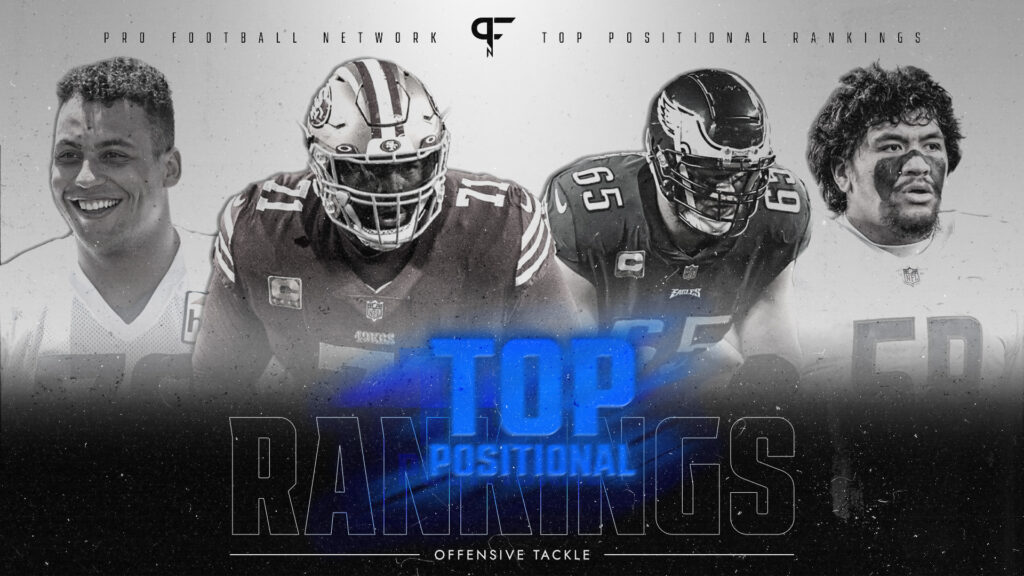 Offensive Tackle Rankings 2-10
2) Lane Johnson, Philadelphia Eagles
If Williams is the best offensive tackle in football, then Lane Johnson is right behind him. Johnson's allowed pressure numbers align with Williams', while the Eagles OT hasn't given up a sack since the 2020 season.
MORE: Best Guards in the NFL
Johnson's versatility was on full display last season. When Philadelphia wanted to go deep to A.J. Brown or DeVonta Smith, they could rely on Johnson to give Jalen Hurts plenty of time. And when the Eagles decided to go run-heavy, Johnson was an absolute mauler on the right side.
When Johnson was drafted in 2013, many assumed he'd eventually shift to the blindside. Instead, he's stuck at RT for his entire career, and he'll end his pro tenure as the best right tackle of his generation.
3) Tristan Wirfs, Tampa Bay Buccaneers
Although he was the fourth offensive tackle off the board in a 2020 draft that included Andrew Thomas, Jedrick Wills Jr., and Mekhi Becton, Tristan Wirfs has been the most productive player among that cohort. After an outstanding rookie season, he was named a first-team All-Pro in 2021.
Last season, Wirfs allowed only six pressures, the lowest total among offensive tackles with at least 500 snaps, per PFF. He's a magnificent athlete, evidenced by his explosive Combine numbers, and his powerful hand usage is essential to his acumen as a pass blocker.
An ankle injury cost Wirfs three games in 2022, while he also sat out Tampa Bay's meaningless regular-season finale. Still, voters thought enough of his performance to name him a second-team All-Pro.
4) Andrew Thomas, New York Giants
As teams evaluate rookie offensive linemen, they'd do well to reference the example of Andrew Thomas. Drafted fourth overall in 2020, Thomas struggled mightily in his first NFL season and allowed 10 sacks.
But at some point in his sophomore campaign, Thomas figured things out. He's taken great strides forward as a pass blocker thanks to improved footwork, largely locking down the left side of the Giants' line.
New York has a lot of work to do to augment the rest of their front five. Evan Neal looked rough in his rookie season, but if he can develop like Thomas, Big Blue will have elite options at tackle for the next decade.
5) Jordan Mailata, Philadelphia Eagles
If you've tuned into Sunday Night Football when the Eagles were on the schedule, you've probably heard Jordan Mailata announce his college as "Jeff Stoutland University."
It's a testament to Stoutland, Philadelphia's longtime offensive line coach, that Mailata is not only a competent starter but one of the best tackles in the NFL.
Mailata had never played a down of football before the Eagles selected him in the seventh round of the 2018 NFL Draft. After spending two years on injured reserve, the ex-Australian rugby player took over as a starter in 2020 and hasn't looked back.
A massive man at 6'8″, 365 pounds, Mailata still managed to run a 5.12 40-yard dash at his 2018 pro day. That athleticism is apparent on tape. Mailata suffocates defensive linemen in pass protection, but he's also magnificent in the run game, which is especially critical for a team that likes to rush as much as Philadelphia.
6) Ryan Ramczyk, New Orleans Saints
The final pick of the first round in the 2017 draft, Ryan Ramczyk has been the model of consistency in New Orleans. An All-Pro in three consecutive seasons from 2018-2020, Ramczyk had never missed a game until a knee injury cost him seven weeks last year.
Ramczyk is a better run blocker than pass blocker, and his game is built on technique, speed, and a quick first step. With longtime Saints left tackle Terron Armstead gone to Miami, Ramcyzk is by far the best offensive lineman on New Orleans' roster.
7) Rashawn Slater, Los Angeles Chargers
An offensive lineman will likely never win Offensive Rookie of the Year, but Rashawn Slater rightfully placed fourth in OROY voting in 2021 after posting 1,100+ snaps of elite play at tackle. Although he's one of the smaller tackles in the NFL at 6'3″, 315 pounds, Slater didn't let his size get in the way of production on the way to a second-team All-Pro berth.
Slater ruptured his biceps in Week 3 and ultimately missed the remainder of the season, despite reports that he might have been able to return for the Chargers' playoff game. As the calendar turns to 2023, Slater will aim to regroup and put up another dominant season in Los Angeles.
8) Laremy Tunsil, Houston Texans
After a down season in 2021, Laremy Tunsil rebounded with a stellar 2022 campaign. It will always be difficult for Tunsil to live up to the trade that sent him from Miami to Houston in exchange for two first-round picks, a second-rounder, and change, but he's undoubtedly an elite left tackle, especially as a pass blocker.
MORE: Offensive Line Free Agency Rankings 2023
Tunsil is still only 28 years old, but it's unclear if he's a long-term fit for the rebuilding Texans. He's under contract through 2023, and his cap charge will hit an astronomical $35.2 million next season. Houston will likely be forced to either extend or trade Tunsil before the start of next year.
9) Christian Darrisaw, Minnesota Vikings
Let's wrap up our top 10 with two 2021 first-round picks who took great leaps in their second NFL campaigns. We'll begin in Minnesota, where Christian Darrisaw has evolved to become the best Vikings left tackle in years and one of the top offensive linemen in the league.
Darrisaw was above average as a rookie, but he became elite last year. With improved consistency and confidence, the Virginia Tech alum stonewalled opposing pash rushers en route to allowing only 23 pressures on 612 pass-blocking snaps.
Darrisaw faced a tough route to a Pro Bowl berth with Williams, Wirfs, Johnson, and others ahead of him, but he looks to be a Pro Bowl and, potentially, All-Pro regular for seasons to come.
10) Penei Sewell, Detroit Lions
Like Darrisaw, Sewell didn't have a poor rookie season, but there was certainly room for growth heading into 2022. Sewell, the fifth overall pick in last year's draft, reportedly has an off-the-charts work ethic, and that's shown up in his development.
In his second NFL campaign, Sewell looked significantly stronger as a blocker. His footwork improved, and he did a better job at quickly reacting to opposing pass-rush moves. Detroit's offensive line was a driving force in their sustained success last year, and Sewell and left tackle Taylor Decker were the key factors in that effort.
Of course, we'd be remiss not to mention Sewell's game-sealing reception at the end of the Lions' Week 14 win over the Vikings. With soft hands and good lateral ability, Sewell could probably make it as a tight end if he ever gets bored at tackle.
Top Offensive Tackles Remaining
11) Tyron Smith, Dallas Cowboys
A future Hall of Famer, Tyron Smith is still effective when he's on the field — but that's been a rarity in recent seasons. He hasn't finished a complete slate since 2015. The Cowboys plan to return Smith as he enters the final year of his contract, meaning Dallas will have to decide how to configure an offensive line with multiple position-versatile cogs.
12) David Bakhtiari, Green Bay Packers
At his best, David Bakhtiari might still be the best pass-protecting offensive tackle in the NFL. But like Smith, he's been beset by constant injury issues, including a torn ACL that wiped out most of his 2021 campaign and limited him into 2022. Bakhtiari is due a $28.9 million cap figure in 2023, so he'll likely need to rework his contract to stay in Green Bay.
13) Terron Armstead, Miami Dolphins
A third straight elite veteran with injury problems, Terron Armstead missed four games in his debut season with the Dolphins but played at a Pro Bowl level when healthy. His strength and technique are obvious in pass protection, but he's a plus in the run game, too. Armstead is the best lineman along a Miami front five that's struggled for years.
14) Kolton Miller, Las Vegas Raiders
Initially viewed as a reach at 15th overall in the 2018 draft, Kolton Miller struggled over his first two seasons before beginning his ascent in 2020. He posted his best campaigns yet in 2021 and 2022, solidifying himself as an above-average left tackle. Miller is a veteran cog on a Raiders line that still needs to get younger.
14) Ronnie Stanley, Baltimore Ravens
An ankle injury wiped out most of Ronnie Stanley's 2020 and 2021 seasons and limited him to 11 games in 2022. While the Ravens have solid depth behind Stanley (including Patrick Mekari and Daniel Faalele), Stanley's repeated absences are felt in Baltimore. His abilities as a lockdown pass protector could become even more important if new Ravens OC Todd Monken takes a more pass-heavy approach than his predecessor.
15) Taylor Moton, Carolina Panthers
Taylor Moton is probably versatile enough to line up anywhere except for center, but he's spent almost every snap of his Panthers career at right tackle. After watching from the bench during his rookie season in 2017, Moton hasn't missed a play over the past five years. Carolina has invested in its offensive line in recent seasons, but Moton is still their best player up front.
16) Terence Steele, Dallas Cowboys
Terence Steele is a restricted free agent this offseason, but the Cowboys will likely secure him with a first-round tender. A former undrafted free agent, Steele has developed from an intriguing depth piece to become one of the NFL's better right tackles. He tore his ACL and MCL in Week 14, so it's unclear if he'll be ready for the start of the 2023 season.
17) Brian O'Neill, Minnesota Vikings
The sole bright spot along the Vikings' offensive line for years, Brian O'Neill finally has a qualified left tackle partner in Darrisaw. O'Neill has been on an ascent since being selected in the second round of the 2018 draft, showing development both as a run and pass blocker. A partially torn Achilles prematurely ended his 2022 campaign, but he's expected to be available in 2023.
18) Garett Bolles, Denver Broncos
Although Garett Bolles entered the league as an older prospect at 25, it took him a few years to get up to speed in Denver. He may have peaked in 2020 when he posted a dominant season and earned a second-team All-Pro nod. As he enters his 30s, it's fair to wonder how Bolles will recover from the broken leg he suffered in Week 5 and whether he's a long-term building block for the Broncos.
19) Jack Conklin, Cleveland Browns
After the Titans declined his fifth-year option for 2020, Jack Conklin joined the Browns and has already earned an elusive third NFL contract. Cleveland has built one of the top offensive lines in football, and OL coach Bill Callahan is among the best in the game. A two-time All-Pro, injuries have been the only thing holding back Conklin from acquiring more hardware.
20) Orlando Brown, Kansas City Chiefs
After playing right tackle for three seasons in Baltimore, Orlando Brown's desire to move to the blindside precipitated his 2021 trade to Kansas City.
MORE: Top 100 Free Agents in 2023 
He's been an effective, high-floor blocker for Patrick Mahomes and Co. over the past two seasons, and that's enough to garner $20 million on the open market. The Chiefs retained Brown via the franchise tag in 2022 and but opted not to do so this offseason.
21) Taylor Decker, Detroit Lions
Taylor Decker slogged through years of poor surrounding play in Detroit but will now help the Lions continue their turn toward competitiveness. A locker room leader and a tough player, Decker has battled through injuries but largely stayed on the field during his career. Neither Decker nor Sewell missed a single snap in 2022.
22) Morgan Moses, Baltimore Ravens
A stalwart in Washington for seven seasons, Morgan Moses spent 2021 with the Jets before joining the Ravens last year. The 32-year-old is the definition of reliable, and his run-blocking prowess has been a valuable addition to Baltimore's offense. Moses hasn't shown any signs of slowing down and should hold down the Ravens' right tackle job for another couple of seasons.
23) Dion Dawkins, Buffalo Bills
Dion Dawkins isn't an elite left tackle, but he's by far the Bills' best offensive lineman. Blocking for a quarterback that likes to move around like Josh Allen isn't an easy task, but Dawkins has been solid as Buffalo's blindside protector for the past six years. The Bills need to find Dawkins more help, especially along the interior.
24) Tyler Smith, Dallas Cowboys
An offensive lineman will never win Rookie of the Year, but Tyler Smith should have been in consideration in 2022. Flip-flopping between left tackle and left guard, Smith showed improvement as the season progressed, and the speed of the game seemed to slow down for him. Assuming Tyron Smith is back next season, Tyler Smith will likely settle in at guard.
25) Kaleb McGary, Atlanta Falcons
Kaleb McGary will be a fascinating free agent test case. The Falcons' right tackle displayed clear development last season, but he certainly benefitted from playing in an Atlanta offense that used more play action than any team in the NFL. Would McGary be as effective in a more traditional dropback offense? Only time will tell.
26) Braxton Jones, Chicago Bears
Finding a rookie left tackle who can offer above-average production is a rarity. Discovering that player in the fifth round of the draft is nearly unheard of. But Braxton Jones played every snap as the Bears' left tackle in 2022, finishing with the league's eighth-highest pass-block win rate. He might get even better if Chicago puts more talented pieces around him going forward.
27) Charles Leno, Washington Commanders
Before the Bears found Jones in the fifth round, they selected Charles Leno in the seventh round of the 2014 draft. There must be something in the water in Chicago because Leno was the Bears' starting left tackle for six seasons before being cut in 2020. A 17-game starter for the Commanders in each of the past two years, Leno has already earned an extension in Washington.
28) D.J. Humphries, Arizona Cardinals
Since being chosen in the first round of the 2016 draft, D.J. Humphries has developed from a project — former Cardinals head coach Bruce Arians nicknamed Humphries "knee deep" for a reason — into an above-average left tackle. He's missed time with injuries in three of seven seasons, and a back injury put him on injured reserve last November. But Humphries gives Arizona a high floor as the club seeks answers along the rest of its line.
29) Jake Matthews, Atlanta Falcons
The Falcons still have a lot of work to do as they rebuild their roster, but they haven't had to worry about left tackle, where Jake Matthews has played at least 90% of the offensive snaps each season since 2014. Matthews probably isn't elite, but that's OK — competency at offensive tackle goes a long way.
30) Tytus Howard, Houston Texans
Tytus Howard has spent most of his career at right tackle, but his versatility is impressive. In addition to playing more than 2,000 snaps at RT, he's also lined up at left guard (816 snaps), left tackle (245), and right guard (3). Under contract for one more season in Houston, Howard could be an underrated candidate for a hefty free agent deal in 2024.
31) Mike McGlinchey, San Francisco 49ers
Although Mike McGlinchey ranked fifth among tackles in run-block win rate last season, he still has work to do as a pass protector. Still, his draft pedigree (ninth overall in 2018), availability, and production in San Francisco's offense should ensure he becomes one of the highest-paid right tackles in the NFL this offseason.
32) Jamaree Salyer, Los Angeles Chargers
Called upon to start at left tackle following Rashawn Slater's season-ending injury in Week 3, Jamaree Salyer was incredibly impressive in his rookie campaign. The sixth-round pick committed only three penalties all year, the third-fewest among tackles with at least 500 snaps. With Slater back in 2023, Salyer projects the Chargers' long-term right tackle.