It's hard to remain as one of the league's best NFL players much past 30. The NFL game is for the athletic elite, and it's not easy to maintain that level of athleticism. However, the great Ricky Bobby once talked about the advances of modern medicine and what it could mean for him.
Well, the evolution of sports science, wellness, and personal training is allowing athletes to remain at their athletic peak for longer periods. Who are the best players over 30 in the league?
Best NFL Players Over 30
Note: Players must be over 30 when the season begins on Sept. 8 to be considered for the exercise. 
Many of the names are no-brainers. We'll spend some time on the more difficult internal dialogues among the team members.
Offense
Quarterback: Dak Prescott
Running Back: Raheem Mostert
Wide Receiver No. 1: Davante Adams
Wide Receiver No. 2: DeAndre Hopkins
Wide Receiver No. 3:  Cooper Kupp
Tight End: Travis Kelce
Left Tackle: Trent Williams
Left Guard: Joel Bitonio
Center: Jason Kelce
Right Guard: Zack Martin
Right Tackle: Lane Johnson
The offensive side of the over-30 team is pretty self-explanatory. There aren't even many arguments that could be made to the contrary.
The NFL is in a great place at QB. The best quarterbacks in the NFL are almost all under 27, with Patrick Mahomes somehow being the elder statesman of the group. Prescott had a "down" season in 2022 based on his league-leading INT number despite missing five games.
However, that is an anomaly for his career. His 3.8% INT rate was 2% higher than any season for him dating back to 2017. Aaron Rodgers was also under strong consideration here, but Prescott had a more productive campaign in 2022, even with the turnover outlier.
MORE: Dak Prescott – The NFC's Best Quarterback and a Top-5 NFL QB at His Best
There are no over-30 running backs that have a realistic chance to produce aside from Mostert.
The WR corps is a lot of fun. Adams is one of the league's premiere route runners. Hopkins catches anything and everything thrown his way, and Kupp is an unbelievable slot weapon when healthy.
The offensive line is quite obvious as well. The best left and right tackles and guards in the NFL are all over 30, and only Creed Humphrey makes the case for being better than Kelce at center.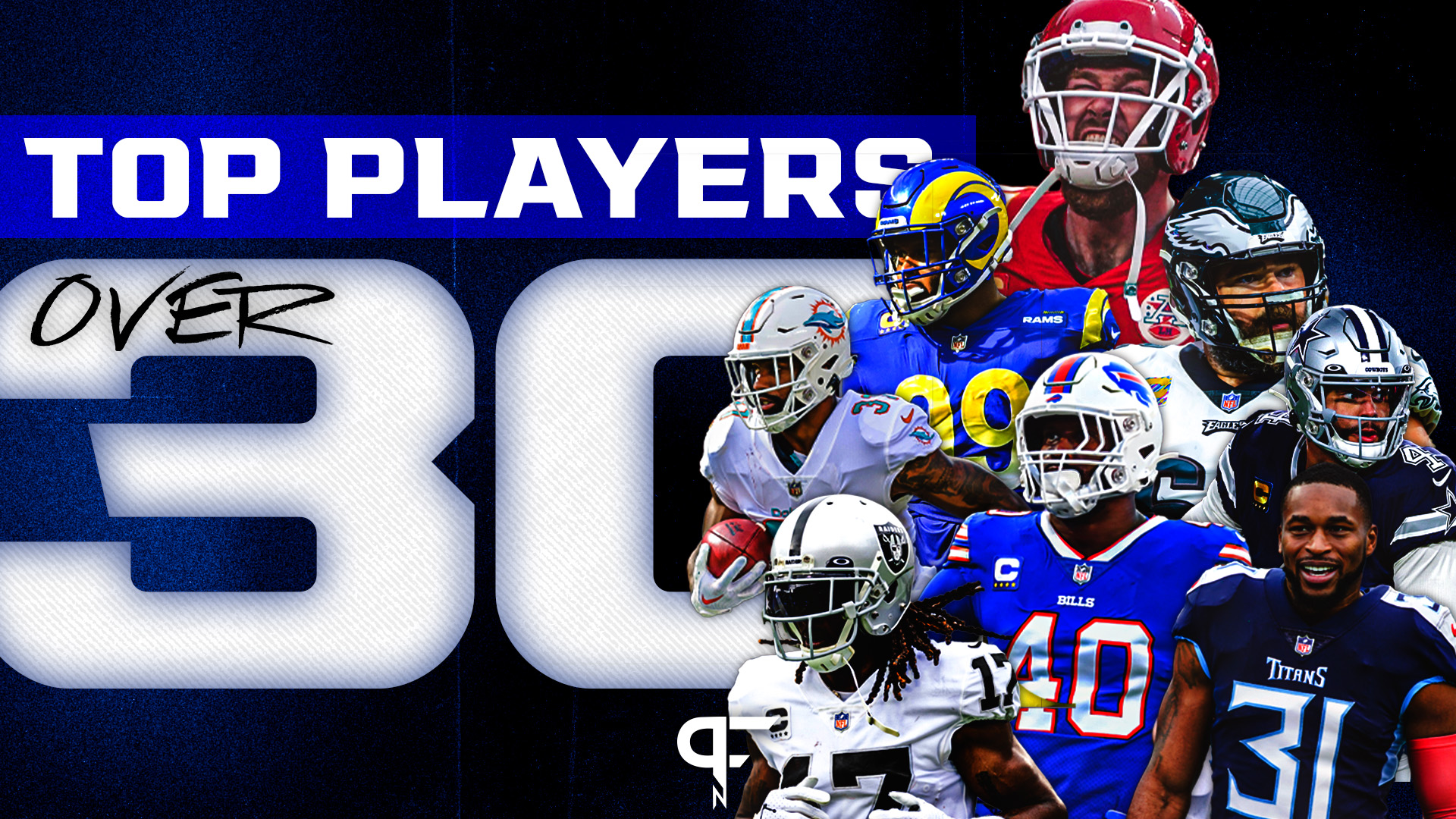 Defense
EDGE No. 1: Von Miller
EDGE No. 2: Za'Darius Smith
Defensive Tackle No. 1: Aaron Donald
Defensive Tackle No. 2: Cameron Heyward
Linebacker No. 1: Lavonte David
Linebacker No. 2: Demario Davis
Cornerback No. 1: Stephon Gilmore
Cornerback No. 2: Darius Slay
Defensive Back: Jimmie Ward
Safety No. 1: Kevin Byard
Safety No. 2: Jordan Poyer
Demarcus Lawrence was in the conversation over Smith because of Lawrence's outstanding run-defending prowess, but in the end, this is a passing league. Smith is far more dangerous getting to the passer.
Donald, Heyward, David, and Davis were all no-brainers as well. Yes, Bobby Wagner was named an All-Pro in 2022, but that only proves how good David and Davis are. Wagner found production last season as a pass rusher and run defender on a bad football team and had a resurgence in his career.
MORE: Best Cornerbacks in the NFL 2023
But David and Davis are still among the league's best at the position and offer a bit more as coverage defenders at this respective point in their careers.
Gilmore and Slay are defying age. The CB position is already impossible to play, given how NFL rules read. They have somehow maintained a ridiculous level of reactionary athleticism.
The defensive back designation was made for Ward, who has spent a ton of time as a safety on the back end and as a slot cornerback at a high level. And while it hurt to separate Micah Hyde and his teammate in Poyer, Byard turns 30 on Aug. 17, making the cutoff for this exercise.