The dominance of the modern passing game in the NFL forces teams to invest in cornerbacks and for fans to more closely pay attention to the back seven, making the question of who the best cornerbacks are in the NFL even more relevant than it has been in the past.
Cornerbacks drive modern NFL defenses, and without an elite one, it's impossible to lay claim to a high-level defense. Let's look at who the top cornerback in the NFL is and where the top NFL cornerbacks fall on the list after that.
Check out our other top positional rankings here: QB | RB | WR | TE | OT | G | DT | EDGE | LB | S | K
Who's the Best Cornerback in the NFL?
Denver Broncos CB Patrick Surtain II is the best cornerback in the NFL today. It's popular to throw Sauce Gardner onto the throne after what was, admittedly, an unbelievable rookie season. But wait just a doggone minute.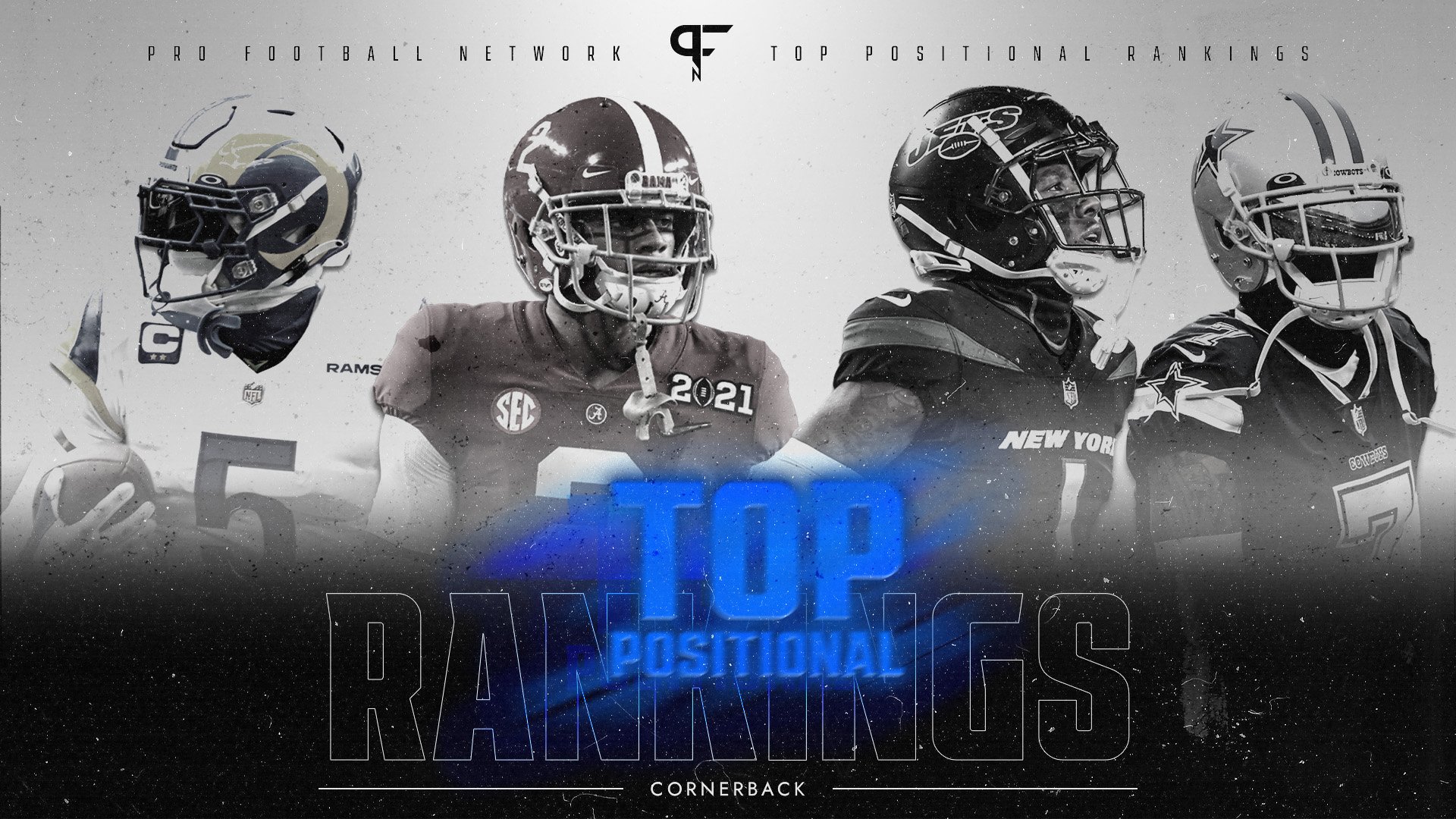 Surtain has proven over a two-year span that nobody in the game is playing as consistently. And although the No. 2 cornerback in the league is hot on his heels, he must come out and do it again in Year 2 to prove he's worthy of so much…. sauce.
Cornerback Rankings 2-10
2) Sauce Gardner, CB, New York Jets
One could make a valid argument that Gardner is already the best in the NFL. He had a season on par or better than Surtain a season ago, but playing cornerback at an elite level is about sustainability. Although the lanky lockdown cornerback almost certainly won't fall off the cliff, a few bad games in 2023 could drastically change the perception surrounding him.
3) Jalen Ramsey, Miami Dolphins
Jalen Ramsey has done a little bit of everything for the Rams over the past few seasons in adverse conditions. But there's not a more well-rounded CB in the NFL, even if he does get "beat" a bit more often in coverage these days. Nobody can blend coverage skills and the ability to defend the run like Ramsey. It's why some teams view him as a safety in the NFL Draft.
4) Jaire Alexander, Green Bay Packers
The ultimate cornerback. Nobody has a greater cornerback attitude in the modern NFL than Jaire Alexander. Surtain is quiet. Gardner is a Gen Z gamer. Alexander trolls opposing receivers like that's what he's paid to do. He's a gnat in coverage, and he annoys WRs the same way a gnat does humans.
"Man, ain't nobody, first of all, ain't nobody tough that I feel is tough, because if a receiver beat me it's probably something I did," Alexander said to the cameras during his NFL Top-100 interview.
5) Stephon Gilmore, Dallas Cowboys
Stephon Gilmore kicks off the first of the "you actually can teach an old dog new tricks" candidates. After injury-riddled seasons with the Patriots and Colts, Gilmore was back to his old self in good health with Indianapolis. Now with Dallas, he'll get to have fun in Dan Quinn's scheme with a healthy Dallas pass rush.
6) Darius Slay, Philadelphia Eagles
Darius Slay was cooked — until he wasn't. When he came to Philadelphia from Detroit in 2020, he was looking as lost as a millennial without a GPS signal in the car. But he had a career resurgence after turning 30 and only got better at 31. Slay's length and ball skills make him one of the most dangerous defenders to target in the NFL.
7) Trevon Diggs, Dallas Cowboys
Trevon Diggs is playing better at cornerback than he was last year when he earned All-Pro consideration and led the league in interceptions. He's playing more consistently and giving up fewer big plays in coverage. The only disappointing part about Diggs' season in 2022 was the missed opportunities to make plays on the ball.
8) James Bradberry, Philadelphia Eagles
James Bradberry is proof that playing cornerback in the NFL is very hard. He went from looking like a top-10 CB in 2020 to needing to find a job as a free agent after 2021. Although that was partially because of the salary cap ramifications, Bradberry clearly fell off.
MORE: NFL Top 100 Players of 2023
But Jonathan Gannon's defense in Philadelphia welcomed him. In turn, he made them incredibly happy with their decision.
9) L'Jarius Sneed, Kansas City Chiefs
L'Jarius Sneed doesn't get enough credit for the freedom he allows defensive coordinator Steve Spagnuolo on the back end. The uber-athlete plays outside, in the slot, and in the box, depending on the situation.
Last season, Sneed even got into the action on the defensive line as a blitzer. In three seasons, he's allowed 10 TDs while notching eight INTs and 14 passes defensed. Sneed's also been a run-defending menace since Day 1.
10) Marlon Humphrey, Baltimore Ravens
Marlon Humphrey has consistently been one of the great cornerbacks in the NFL despite the difficulty presented by playing in Wink Martindale's defense for almost the entire time. Asked to move mountains and play everywhere on the defensive side of the ball, Humphrey has been a playmaker since Day 1.
And then he showed what he could look like in a more modern coverage-based defense. Humphrey was far less volatile in Mike Macdonald's defense in 2022. His alignment versatility makes him a defensive weapon.
11) Denzel Ward, Cleveland Browns
Together, Denzel Ward and Alexander ushered in a new era of NFL CBs. One that was not beholden to arbitrary height standards. They proved tall enough to ride this ride.
Everything on the back end was a disaster for Cleveland a season ago. Jim Schwartz will take things back to the basics and allow an incredibly talented group to shine doing what they do best — cover men as closely as possible and cover space to disallow big plays.
12) Carlton Davis, Tampa Bay Buccaneers
Although Jamel Dean had a superior season compared to his teammate on the opposite side, Carlton Davis is the more physically gifted player with a more significant track record of success.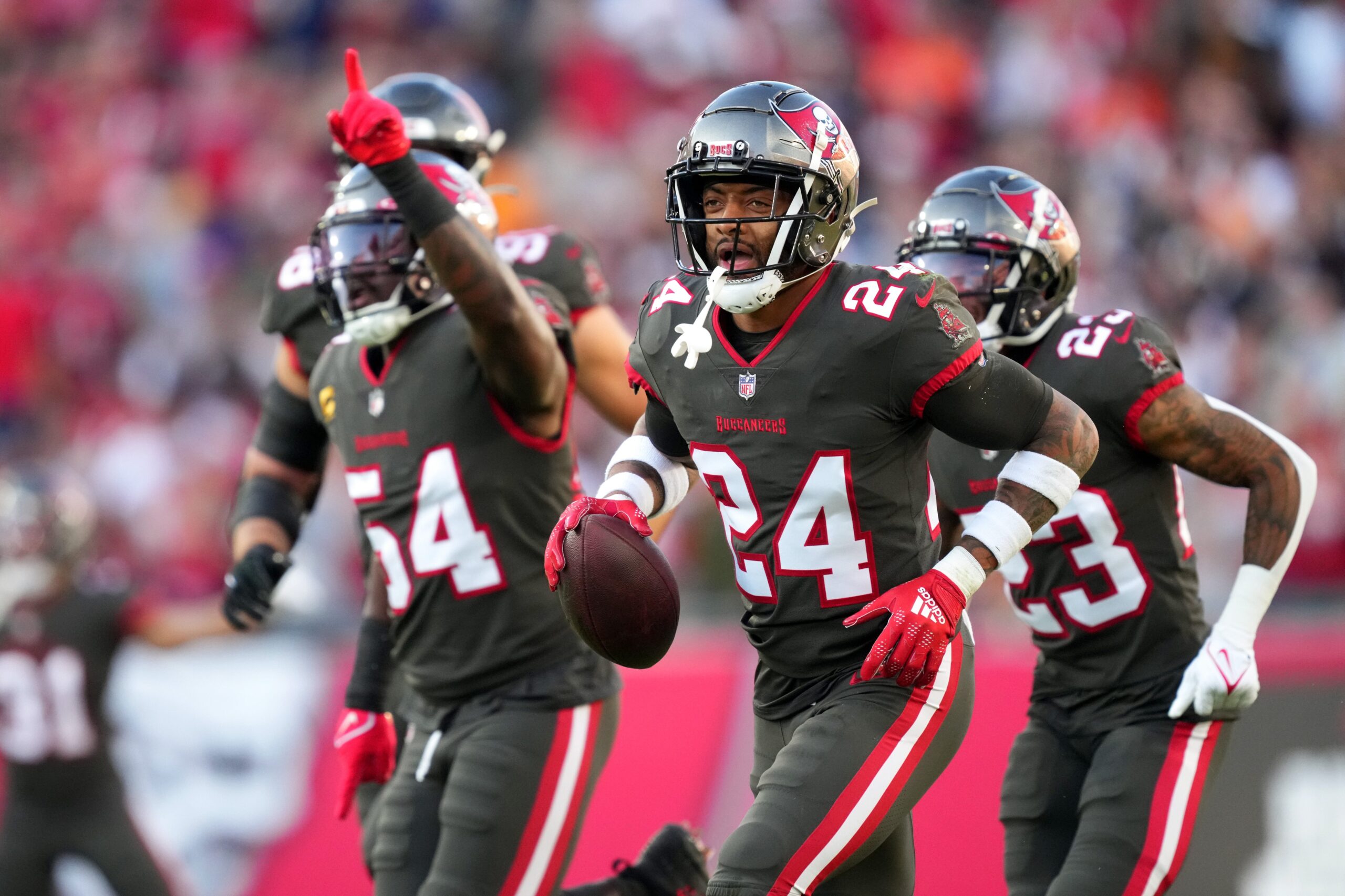 And although every contract discussion and season has different trends, the Buccaneers guaranteed Davis $30 million in his three-year deal compared to just $24 million in Dean's four-year deal.
13) Mike Hilton, Cincinnati Bengals
Speaking of slots, Mike Hilton is one of the best true slot performers in the NFL. With over 3,000 NFL snaps in the slot compared to only 100 on the outside, Hilton has been one of the league's specialists in this particularly tough arena.
Hilton's consistency both in Pittsburgh and Cincinnati has bordered on unbelievable. As a slot defender, a CB is more often responsible for a gap in the run game. Hilton takes pride in the ability to defend the run. But aside from his consistency, he seems to have a flair for the dramatic, making big plays in the biggest moments.
14) Charvarius Ward, San Francisco 49ers
It's not easy to climb a list like this as an undrafted free agent. Charvarius Ward began his career in Dallas but was traded to Kansas City that same August. He was thrust into action in Year 2 and took his lumps, but the long and explosive CB kept improving.
By the time San Francisco came calling when his rookie deal ended, Ward was ready to take another step. The 49ers have survived with a front-to-back-built defense. But adding a legitimate talent showed exactly how conducive that environment is to success.
15) Jamel Dean, Tampa Bay Buccaneers
Dean falls a tad lower on the list than his teammate for a few reasons. Although he was outstanding in 2022 and has been a solid contributor since his rookie year, his skill set is more scheme-dependent overall. The Buccaneers ran a league-high amount of Cover 3, and Dean's long frame, impressive long speed, and good eyes bode well in that role.
16) Tariq Woolen, Seattle Seahawks
Tariq Woolen was a menace in his rookie season. The addition of Devon Witherspoon could make it so that Woolen is targeted even more often in 2023, which could either be a good or bad thing for the young player. His six INTs were undeniably impressive, but so was the fact he allowed just a 55% completion rate against nearly 70 targets.
17) A.J. Terrell, Atlanta Falcons
A young phenom mired in an otherwise disappointing defense, A.J. Terrell might be the future of the Falcons. He's already turned in high-level performances in both years of his career. In 2021, he allowed just 200 total yards on the season. He, too, has been better in zone coverage with his eyes pointed at the quarterback, which might explain the dropoff in play in 2022, but he's still a fantastic player.
MORE: 2023 NFL Playoffs — Predictions, Sleepers, Longshots, and More
A.J. Terrell deserved all his flowers after 2021. He was flourishing as a Cover 3 and Cover 1 CB on a bad defense. But the position is incredibly volatile, and he found that out the hard way in 2022. But with a true center fielder in the building now and a DC with a master's degree in Dennis Allen's defense, we should see the old Terrell back in 2023.
18) D.J. Reed, New York Jets
Size doesn't matter in 99% of cases, and D.J. Reed is living proof of that. Reed's coverage intelligence has always been off the charts, and his natural fluidity allows him to transition from depth straight into the hip pocket of opposing receivers. The 5'8″ CB produced his best ball production ever in 2022 in Robert Saleh's defense.
19) Marshon Lattimore, New Orleans Saints
There have been a few low points for Marshon Lattimore over the last few seasons despite possessing some of the greatest physical gifts we've seen at the position in a while. But such is the life of a cornerback.
With a 9.99 Relative Athletic Score, Lattimore has consistently been able to meld ferocious athleticism with an uncanny ability to make incredible plays in coverage. His mental trigger in Cover 3 is unbelievable.
There's no delay in reaction to finding his new responsibility when his receiver drives underneath. He communicates and looks to delete the backside post or drive on a dig.
20) Jonathan Jones, New England Patriots
After spending years in the slot for New England, Jonathan Jones finally got his chance to move outside and test the waters as a 5'10" cornerback, and things went incredibly well for the 29-year-old. His size disadvantage against larger receivers did make it difficult for him to be consistent, but he's been otherwise a great corner.
21) Tre'Davious White, Buffalo Bills
Injuries have taken a bonafide top-10 CB away from us for the better part of the last two seasons. But we all saw what Tre'Davious White was capable of from 2017-2020.
White's still under 30, and he should finally be fully healthy again. The question is, can he get back to the level he was at, or have the injuries zapped the outstanding reactive athleticism that made him special?
22) Greg Newsome, Cleveland Browns
Because the position mimics the dangers of homemade explosive projects, it's important to simply look at the talent a player possesses as they enter an NFL season. If things continue to look ugly, we must drop them from the list.
With Martin Emerson taking over the outside CB duties opposite Ward, Greg Newsome slid into the slot in 2022. But Newsome's unbelievable reactive athleticism lends itself well to an interior role fraught with uncertainty over the direction an opponent may go.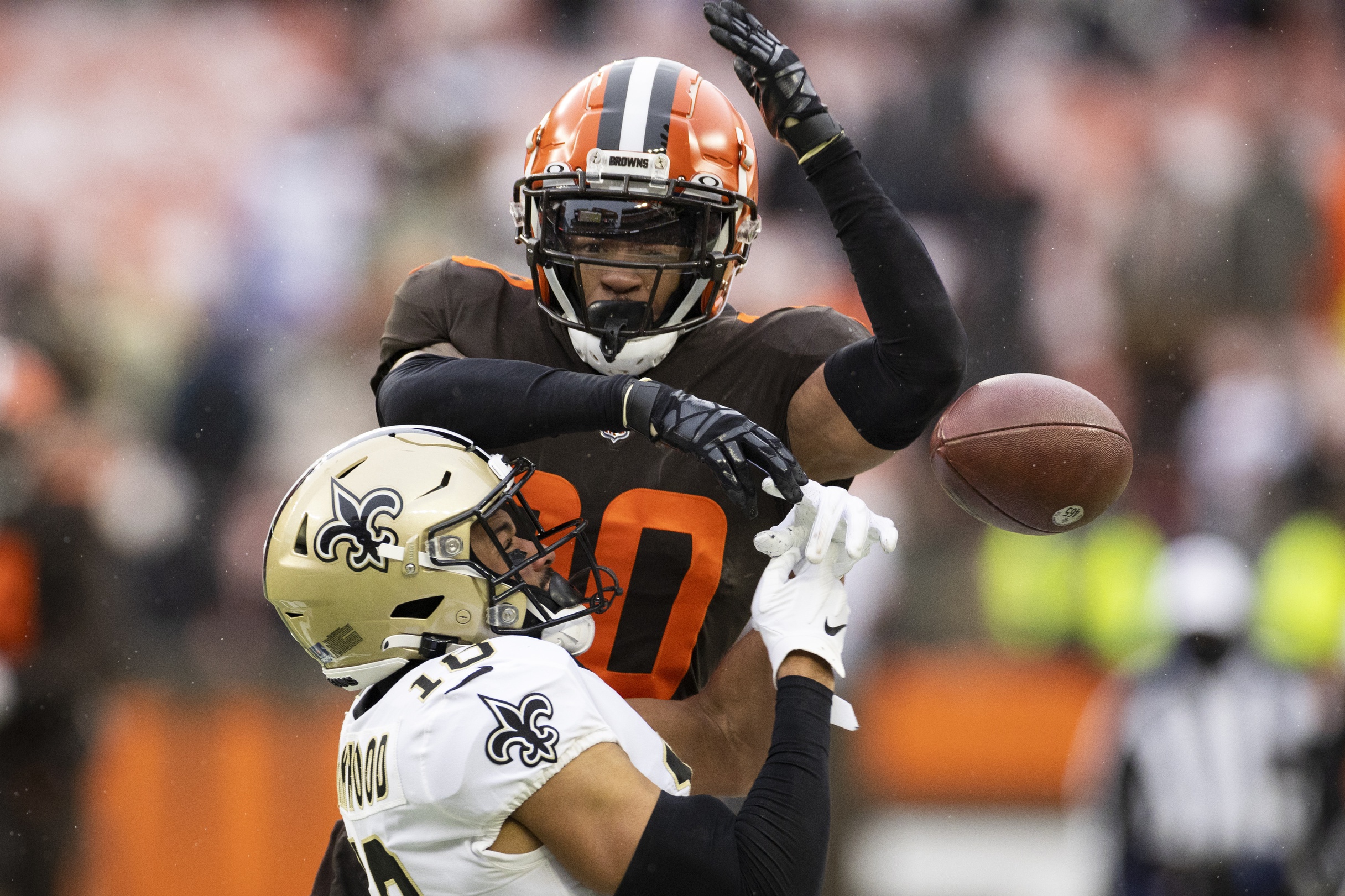 Despite playing in a league that has learned to abuse the slot, Newsome was targeted less often on a per-snap basis than Ward or Emerson. After initially refusing to play the slot again in February, the young CB changed his tune as April rolled around.
23) Jaycee Horn, Carolina Panthers
A torn Achilles tendon is often a proverbial death blow to NFL players. At a position so dependent on reactionary athleticism, it's particularly tough on cornerbacks. Horn returned from his injury to play over 800 awesome snaps in 2022. If he's able to maintain that level of play in 2023, the gifted corner will skyrocket up this list throughout the season.
24) Tyson Campbell, Jacksonville Jaguars
Draft analysts were pitted against one another with Georgia cornerbacks Tyson Campbell and Eric Stokes. After Stokes took an early advantage playing well as a rookie, those who preferred Campbell's upside were forced to sit back, relax, and remain patient. And that patience paid off.
After being picked on as a rookie, there weren't many outside cornerbacks who could boast a cleaner season than the second-year player. And the best news for Jaguars fans is that Campbell seemed to be improving on a weekly basis in 2022.
25) Cameron Sutton, Pittsburgh Steelers
It took years for Cameron Sutton to latch onto a starting role for the Pittsburgh Steelers, but he hasn't given it up since. A season ago, he allowed along a fraction over 50% of the 70+ targets thrown his way to be completed.
Now, the long-time Steeler will have a new environment in Detroit. And until Emmanuel Moseley returns, Sutton is the unquestioned No. 1 on the team.
26) Trent McDuffie, Kansas City Chiefs
While it's still too early to claim the Chiefs hit a home run on Trent McDuffie, it may not be too early to get the champagne ready. The rookie corner allowed fewer than 10 yards per reception as an outside cornerback while also maintaining a completion rate of under 60%.
But this shouldn't be a shock. The Washington Huskies somewhat famously have their defensive backs about as close to their ceiling as can be as they leave campus for the NFL Draft.
27) Martin Emerson, Cleveland Browns
It's easy to get lost in the Sauce shuffle. But seeing so many rookies find their way onto the list is wildly impressive. Martin Emerson was outstanding on the outside for the Browns as a rookie. He possesses prototypical CB size, and although he's not as explosive as most Day 1 players, his physicality and fluidity bode well on the outside.
28) Desmond King II, Pittsburgh Steelers
Desmond King spent his time in Houston proving to be one of the most gifted slot cornerbacks in the NFL while also being a problem for opposing special teams coaches. After sliding outside in 2021, it appeared he was destined to slide right back, but King bounced back in 2022, where he spent time both inside and outside.
Between Levi Wallace, Patrick Peterson, and Joey Porter Jr., King should be able to slide back to the inside where he's been most comfortable throughout his career.
29) Kader Kohou, Miami Dolphins
Undrafted rookie cornerbacks don't do what Kader Kohou did. After being called upon after what seemed like the entire Miami Dolphins secondary fell down flights of stairs, Kohou lit the world on fire.
MORE: The Noah Igbinoghene Trade Explained
Depending on the situation, the Texas A&M Commerce alumnus played inside and outside. But in Vic Fangio's defense, Kohou should find a home in Bryce Callahan's old role. And Callahan was one of the most impressive cornerbacks in the league with Fangio.
30) Darious Williams, Jacksonville Jaguars
After looking like a top-20 CB for a few seasons in Los Angeles playing on the outside, Darious Williams came back to earth a bit in Jacksonville. A move back inside was supposed to unlock the 5'9″ cornerback, but he was clearly more comfortable on the outside.
31) Xavien Howard, Miami Dolphins
No cornerback in the past decade has proven the see-sawing nature of the position quite like Xavien Howard. The aggressive outside cornerback has maintained outrageous ball production throughout his time in the league, but Howard's also allowed big play after big play in that time because of his gambling nature.
32) Taron Johnson, Buffalo Bills
Between having White on the outside and the best safety duo in the NFL, it should already be hard to throw the ball against Buffalo. Taron Johnson makes it nearly impossible, which makes it all the more frustrating for Bills fans that the team is still toying with the CB2 spot.
Although his production in 2022 was unimpressive compared to his earlier work, Johnson remains one of the league's premier slot players.