No one felt worse after Friday night's 13-13 tie against the Atlanta Falcons than Cincinnati Bengals rookie safety Jordan Battle, whose taunting penalty not only gave the hosts a new set of downs on their first scoring drive but resulted in a benching.
Battle's penalty came after Scotty Miller caught a pass in the end zone on 3rd-and-4 but was ruled out of bounds. Battle twice waved his finger in Miller's face while cornerback Jalen Davis, who was in coverage on the play, gave an emphatic "out of bounds" signal, which Battle repeated.
How Did Jordan Battle React to His 15-Yard Taunting Penalty?
Instead of facing 4th-and-4 and a 41-yard field-goal attempt, the Falcons had 1st-and-10 at the Cincinnati 11. And the Bengals coaches pulled Battle out of the game.
"I ain't never been a guy where people question his character, but obviously, getting that penalty for taunting, it can lead people to ask questions about how does this guy carry himself," Battle said. "I've never been that guy, and I never will be that guy."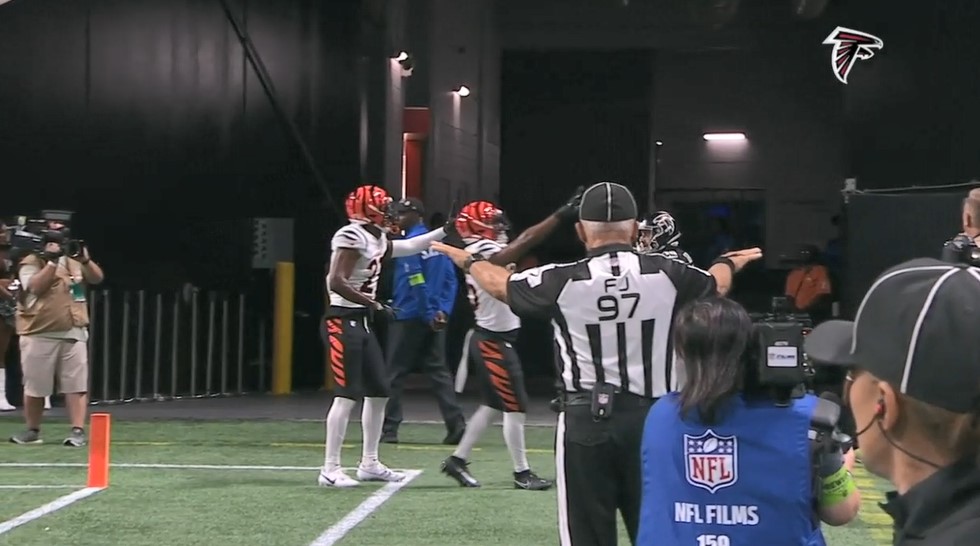 The third-round pick from Alabama said his initial reaction to the flag was surprise.
"Coming from college, they probably wouldn't call that," he said. "But now in the NFL, you've got to be a pro. Just go celebrate with your teammates. Like on that play right there, instead of going over there and getting in the other guy's face, I should have celebrated with J.D. I just need to understand that as a rookie."
Battle's secondary reaction was dismay after being pulled from the game.
"Yeah, I'll admit I was a little nervous. I'll admit, I was nervous," he said. "I wasn't sure how long I'd be out."
Battle's spot on the 53-man roster is secure, but it was an uneasy time on the sideline, even though the penalty ended up costing the Bengals little more than about 90 seconds on the clock.
The defense stopped the Falcons on their ensuing third down when Raymond Johnson III and Jeff Gunter combined for a sack of Taylor Heinicke on 3rd-and-8 from the 9-yard line, resulting in Younghoe Koo kicking a 36-yard field goal instead of a 41-yarder.
On the next series, Battle was back on the field, and he finished with 42 snaps (61 percent), third most among Cincinnati defensive players.
"I'm understanding the game more and more every week," he said. "Working on the communication is the biggest thing and just being able to play faster and more instinctually. Just keep improving in every aspect of the game, whether it's getting to the ball and showing great effort or covering one on one, whether it's a tight end, running back, or receiver.  Do everything to make my game more broad."
The Bengals have been using Battle to cover tight ends at times, and Friday night, he gave up his first reception, a 14-yarder to Parke Hesse on Atlanta's second play of the second half.
"I swatted with the wrong hand," Battle said. "It was more a technique thing. Something we can fix. It's good for me. I like to cover guys, and getting those reps are only going to make me better."
Rookies are supposed to make mistakes in the preseason. Learning from them and not repeating them is the key. Battle can't promise he won't give up another catch, of course, but he's confident there will not be another taunting penalty.
"Just apologize and move on," he said.
Listen to the PFN Bengals Podcast
Listen to the PFN Bengals Podcast! Click the embedded player below to listen, or you can find the PFN Bengals Podcast on iTunes, Spotify, and all major podcast platforms.  Be sure to subscribe and leave us a five-star review! Rather watch instead? Check out the PFN Bengals Podcast on our NFL YouTube channel.