Eleven-year veteran Michael Thomas has done a lot for the Cincinnati Bengals organization since the special-teams captain arrived in 2021. But what the coaches asked him to do Sunday was a first.
Cincinnati Bengals Practice Report | Day 15
With the Bengals down to five cornerbacks available to participate in 11-on-11 work in practice, Thomas, a 33-year-old safety, played outside cornerback.
"The last time I played true corner was like sophomore year in college," Thomas said of his days at Stanford.
"(Allan George) told me today in the first team period that we were down a couple guys, you might have to go in at corner, I said 'Yeah, it's gonna be a day,'" Thomas added.
Of the nine corners on the roster, Chidobe Awuzie, DJ Turner II, Sidney Jones IV, and Marvell Tell III were not available for team drills. Jones has been out for more than a week with an undisclosed injury, but Turner and Tell both played Friday night in the 13-13 tie at Atlanta. Tell did not dress for practice, but Turner took part in individual drills.
The Bengals coaches have been holding back Awuzie, who tore his ACL on Oct. 31. Each week, he's been doing more and more on the field, and Sunday marked the first time he participated in 7-on-7.
But with four of the nine not available for 11-on-11, Thomas stepped in and had a pass breakup against Stanley Morgan. Thomas also allowed a reception on the sideline that he might have intercepted or at least deflected in a game, but he was playing it safe, not trying to make contact with rookie Charlie Jones.
On his last rep of the day, rookie Andrei Iosivas got behind Thomas on a deep ball up the right sideline, and Trevor Siemian hit him for a big gain.
"Besides the last one to Yoshi — which I'm still mad at Trevor that he threw that; I knew I needed to play top down — I think I did good just understanding the defense, knowing where my help is, knowing where my leverage needs to be on any particular call," Thomas said.
"I can play defense, man. That's been the story of my career. Wherever the team needs me, I'm able to play."
Joe Mixon Mum on Court Case
Bengals running back Joe Mixon returned to practice for the first time since being found not guilty on an aggravated menacing charge, but he declined to speak with reporters during the open locker room period.
"I'll talk to y'all later," Mixon said.
Before walking away, he said he would not be taking questions from four specific media members because he said he deemed them to be disrespectful. The four outlets he signaled out were Pro Football Network, ESPN, the Cincinnati Enquirer, and Sports Illustrated.
Myles Murphy's Missed Opportunity
Rookie first-round pick Myles Murphy was happy to be back at practice Sunday, but he wasn't over the sorrow of not being able to play in his hometown of Atlanta on Friday due to an illness.
"It hurt pretty bad, honestly," he said. "I was really looking forward to that."
Murphy missed Wednesday's practice and did not travel for the game in Atlanta, where his dad has had season tickets for years.
"I still watched it on TV because it's enjoyable to see my brothers play," Murphy said. "But man, I wish I was out there."
He'll get another chance Saturday at Washington.
Tanner Hudson Returns
Tight end Tanner Hudson, who is fighting for one of the final roster spots, was back at practice Sunday after suffering a concussion in the first preseason game against Green Bay.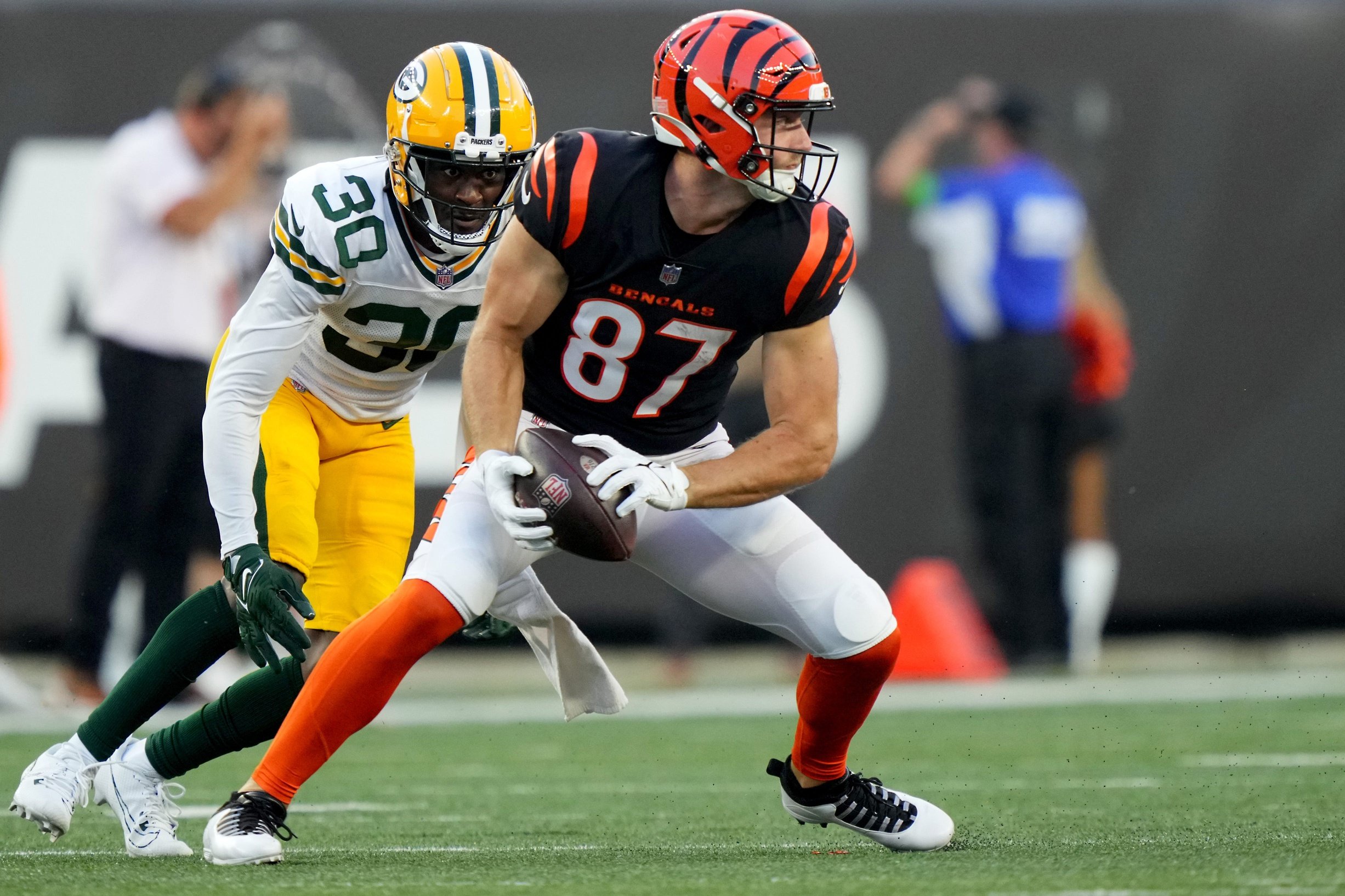 Hudson caught four passes on four targets for 29 yards before leaving the game in the second quarter. Hudson is battling Devin Asiasi for the No. 3 tight end spot on the 53-man roster behind starter Irv Smith Jr. and backup/blocking specialist Drew Sample.
Mitchell Wilcox, who was expected to be in the mix, remains on the physically unable to perform (PUP) list.
Odds and Ends
Defensive lineman Cam Sample was not at practice but was in the locker room afterward.
The 11-on-11 sessions were heavy on screens and shorter passes. Ja'Marr Chase dropped the first pass of the day, while Tee Higgins caught the second, resulting in cornerback Cam Taylor-Britt dropping and doing pushups after being in coverage on the reception.
After playing right tackle Friday night, Cody Ford was repping some at left tackle Sunday. Offensive line coach Frank Pollack said, "nothing has been settled yet" when it comes to the swing tackle.
Mike Hilton came up with yet another practice interception, this time victimizing Jake Browning on a pass intended for Tyler Boyd. "Playing for years with (Germaine) Pratt, we kind of have an understanding on certain routes that he's gonna be there for me so I can ball hawk. The opportunity came and I was able to make a play."
Listen to the PFN Bengals Podcast
Listen to the PFN Bengals Podcast! Click the embedded player below to listen, or you can find the PFN Bengals Podcast on iTunes, Spotify, and all major podcast platforms.  Be sure to subscribe and leave us a five-star review! Rather watch instead? Check out the PFN Bengals Podcast on our NFL YouTube channel.