The Baltimore Ravens have enjoyed sustained success ever since drafting Joe Flacco in 2008. They seamlessly transitioned from Flacco to Lamar Jackson, continuing their 15-year run of playoff contention. A healthy Jackson automatically makes the Ravens contenders, but will their schedule make things a bit easier on them in 2023?
Baltimore Ravens Schedule and Opponents
Now that the official NFL schedule release has come and gone, here's the Ravens' full regular-season schedule.
Preseason
Preseason Week 1: vs. Eagles
WBAL-TV | 7 p.m. ET (Friday, Aug. 11)
Preseason Week 2: at Commanders
ESPN | 8 p.m. ET (Monday, Aug.21)
Preseason Week 3: at Buccaneers
WBAL-TV | 7 p.m. ET (Friday, Aug.26)
Regular Season
Week 1: vs. Texans
CBS | 1 p.m. ET (Sunday, Sept. 10)
Week 2: at Bengals
CBS | 1 p.m. ET (Sunday, Sept. 17)
Week 3: vs. Colts
CBS | 1 p.m. ET (Sunday, Sept. 24)
Week 4: at Browns
CBS | 1 p.m. ET (Sunday, Oct. 1)
Week 5: at Steelers
CBS | 1 p.m. ET (Sunday, Oct. 8)
Week 6: vs. Titans (Tottenham Hotspur Stadium)
NFL Network | 9:30 a.m. ET (Sunday, Oct. 15)
Week 7: vs. Lions
FOX | 1 p.m. ET (Sunday, Oct. 22)
Week 8: at Cardinals
CBS | 4:25 p.m. ET (Sunday, Oct. 29)
Week 9: vs. Seahawks
CBS | 1 p.m. ET (Sunday, Nov. 5)
Week 10: vs. Browns
FOX | 1 p.m. ET (Sunday, Nov. 12)
Week 11: vs. Bengals (TNF)
Prime Video | 8:15 p.m. ET (Thursday, Nov. 16)
Week 12: at Chargers (SNF)
NBC | 8:20 p.m. ET (Sunday, Nov. 26)
Week 13: BYE
Week 14: vs. Rams
FOX | 1 p.m. ET (Sunday, Dec. 10)
Week 15: at Jaguars (SNF)
NBC | 8:20 p.m. ET (Sunday, Dec. 17)
Week 16: at 49ers (MNF)
ABC | 8:15 p.m. ET (Monday, Dec. 25)
Week 17: vs. Dolphins
CBS | 1 p.m. ET (Sunday, Dec. 31)
Week 18: vs. Steelers
TBD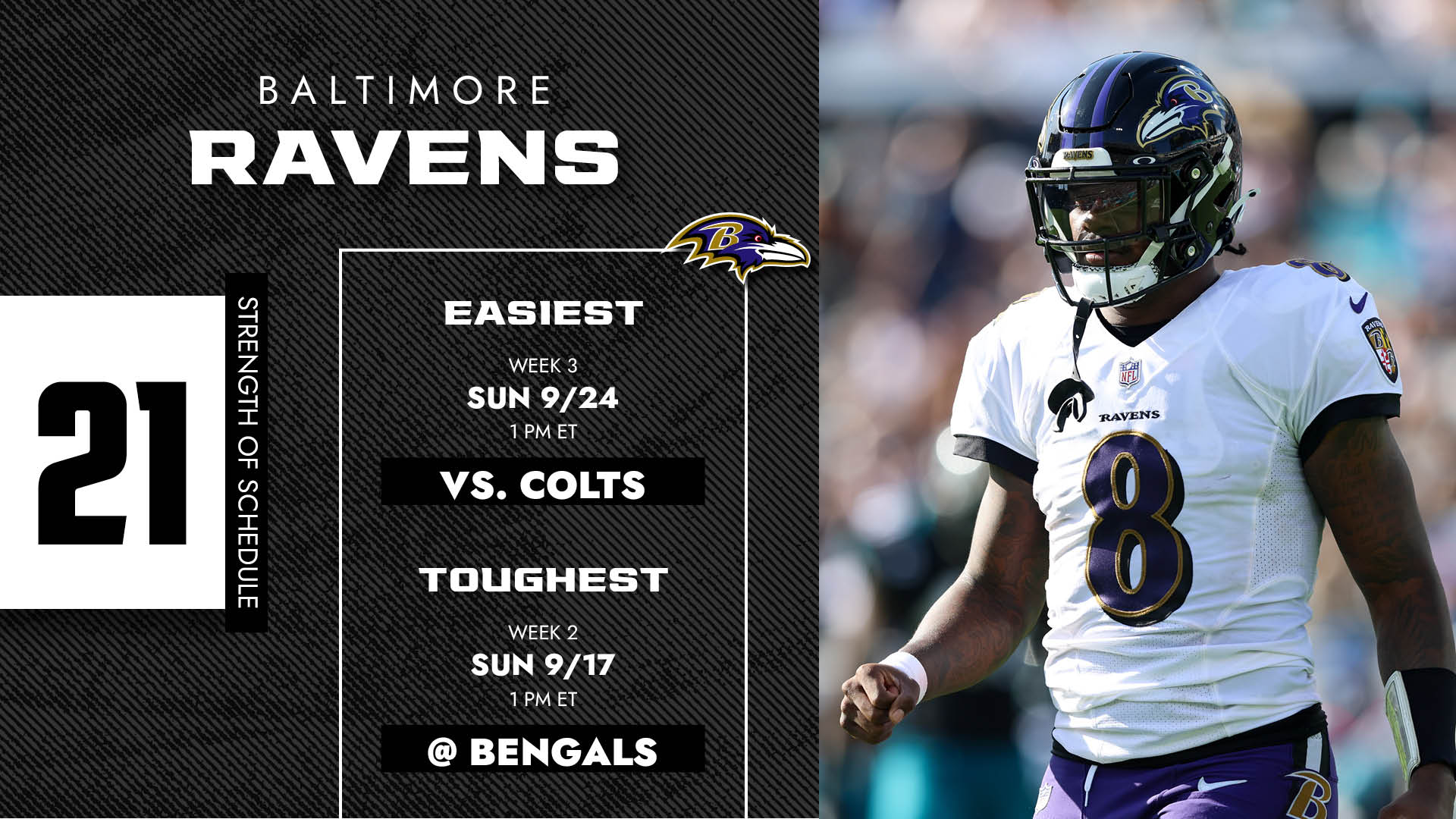 Baltimore Ravens Strength of Schedule
Projecting strength of schedules prior to the start of a season is always fools gold, no matter the formula you use. The very nature of the NFL creates tens of thousands of data points each week that go undetected to a third party, which could, in turn, impact any number of game outcomes. Some models, though, perform better than others and get us close to the expected mark. As always, though, expect the unexpected.
MORE: FREE NFL Mock Draft Simulator (With Trades)
According to Pro Football Network's Arif Hasan and the strength of schedule model he used, the Baltimore Ravens have the 12th easiest schedule in the entire NFL. He notes Jackson's return directly impacts four games and that he expects them to return to the postseason as a result.
Baltimore Ravens Record Prediction
Impressively, the Ravens have reached double-digit wins in four of their last five seasons. 2021 was their lone failure, and the entirety of the blame falls on the fact that Jackson missed the final month of the season.
Jackson is undoubtedly one of the 10 best quarterbacks in the NFL. As long as he's healthy, the Ravens are capable of overcoming a difficult slate of opponents.
As we know all too well, anything can happen in the NFL. That's why they play the games. With that said, there are only two games on the Ravens' schedule that look like guaranteed wins. Since the Ravens are good enough to beat anyone, the rest of their games could reasonably go either way.
The NFC West is one of the more challenging divisions to face. But the AFC South is one of the weakest divisions in football.
The Ravens' current Vegas win total is set at 9.5, with the over slightly juiced. It would be a major surprise if the Ravens won fewer than eight games. With their improved weapons bolstered by the additions of Odell Beckham Jr. and rookie first-rounder Zay Flowers, that should be considered their floor.
If Jackson is able to stay on the field, the Ravens should reasonably be able to hit that 10-win threshold once again, with a ceiling of 12 wins.
Projected Record: 9-8