Week 7 of college football action finds itself with a few marquee matchups, including some that will impact multiple prospects' NFL Draft hopes. For example, Oklahoma and Texas meet for the Red River Rivalry, which includes various NFL prospects vying against one another for a win and increased exposure.
With that said, this isn't exclusive to one-on-one or even individual versus a specific unit type matchup. But merely a sleeper could be facing a big-time team that a player could use to improve his draft stock. Thus, here are some matchups and players to watch this week.
Matchup to Watch: Texas A&M WR Quartney Davis vs. Alabama CB Trevon Diggs
I've had this one circled for a long, long time. Quartney Davis has been a top sleeper of mine for a while now. He has the route running chops to be a much better pro than college player. It's his quick footwork, especially, which allows him to snap off routes with ease. However, this is not a guy who only has route running ability; his capacity to extend plays after the catch and make contested grabs are exciting as well.
Below, Davis can be found at the top of the screen and lined up inside. He runs a simple curl/hook, but it's his acceleration and elusiveness after the catch that turns a routine route into a big play.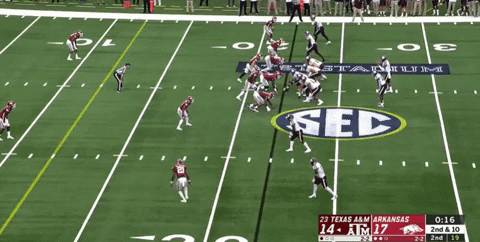 Not only does Davis do a great job of maintaining a strong center of gravity to spin off the initial tackle, but he also exhibits excellent burst along with enough speed to get around the edge for a touchdown.
There are a lot of things that go into making this next grab. However, the excellent leveraging at the catch point is vital. Davis' ability to fly up and high point the football all the while tucking it into his frame is impressive. He has the goods to survey the sideline and showcase excellent body control as well.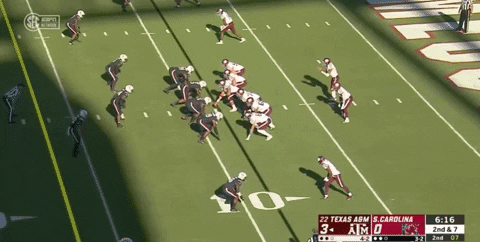 While Davis is a sleeper prospect to pay attention to, Trevon Diggs is the complete opposite. Pro Football Network's own Tony Pauline currently grades him as a second-round talent, and that is precisely where I have him as well. Diggs is a lengthy corner with great NFL tools who's been a playmaker this season for Alabama. This matchup may prove pivotal to each's NFL Draft stock.
When I talk about playmaking skills, this is what I mean. It is not every day that you find a cornerback with this degree of ball tracking skills.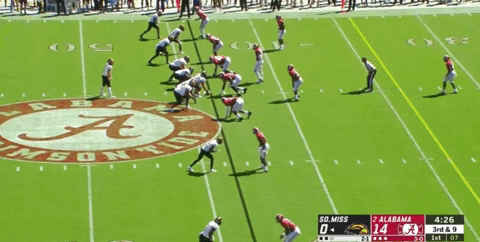 The ability to track the football over the shoulder is excellent to see. Diggs, as a former wide receiver, has ball skills in spades. He looks it right into the bucket while being aware of the sideline to return the takeaway. Impressive stuff.
Below, you'll see a classic trail technique from Diggs. He has legitimate 4.4 speed and uses that to his advantage. Remaining in the receiver's hip pocket on this deep ball, Diggs closes in and makes a great play at the catch point. The combination of length and speed will make him a coveted prospect.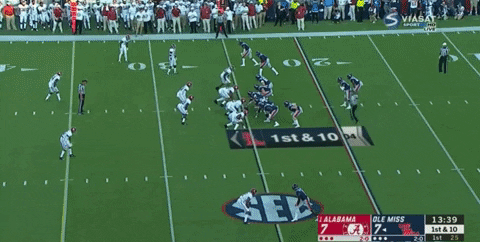 These two are going to have an incredibly fun matchup to watch on Saturday. Davis, the technician, and Diggs, the pure specimen, are going to go back and forth, and it should be an excellent game to evaluate both ahead of the 2020 NFL Draft.
Player to Watch: LSU QB Joe Burrow
This one is pretty simple. When you are an emerging quarterback prospect facing one of the nastiest defenses in the land, you'll garner attention. Especially when your eyes are set on the NFL Draft. Joe Burrow has been outstanding this season and has indeed grown in his ability to maneuver in the pocket and manipulate defenders.
But even more so, his accuracy has leaped. However, he is facing a wildly talented secondary and a group of feasting pass rushers in Florida.
In terms of accuracy, there is no better example of this than here against Texas. Burrow throws into a highly contested area near the boundary that would usually be a contested-catch. However, Burrow leads his receiver perfectly to the boundary and drops it right over his shoulder.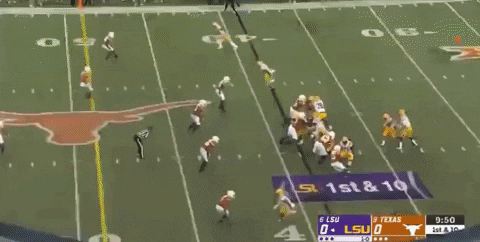 There is no way the defensive back could have made a play on this pass. Precise ball placement.
Burrow throws an insanely pretty ball. Everything in his release and mechanics looks smooth and natural–increasing his accuracy. The technical aspects of his mechanics are rather sound. This next clip is a back-shoulder throw targeting the receiver's leverage point, which allows only the receiver to make the catch.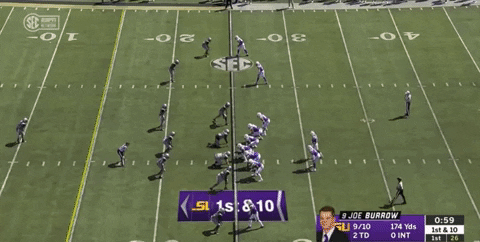 Good luck making a play on that if you are the cornerback. Burrow's placement is one of his big pluses.
The pocket presence that Burrow has showcased in spurts is equally encouraging. When he's felt pressure, he isn't bailing on the pocket unnecessarily. Perhaps even more promising is that when he is outside of the pocket, he continues to keep his eyes downfield while moving through his progressions.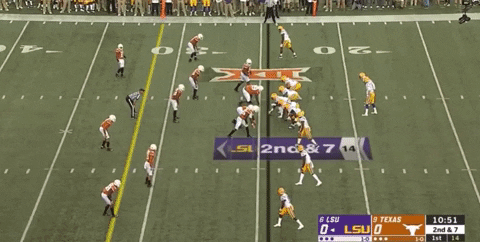 This week's measuring stick for Burrow will be the Florida defense. Should he rise to the occasion, he'll instantly enter into the first-round QB conversation.
Sleeper to Watch: Western Michigan TE Giovanni Ricci
It's a weak tight end class for this year's NFL Draft, to put it bluntly. However, Giovanni Ricci has been a bright spot in the MAC to the point where he now leads the NCAA in receiving yards and touchdowns for the position.
Ricci is a converted wide receiver with an excellent ability to stretch the field. Something we've not seen much of this season from college tight ends.
This play is just a great adjustment outside of his frame to a less than ideal ball. Ricci demonstrates that he can make seamless catches without using his body. He has the ball skills to reach behind his head and outside his frame, which could move him up NFL team's draft boards.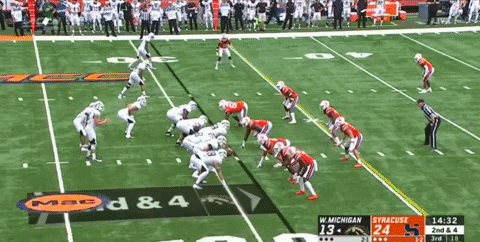 As a former wide receiver, Ricci is incredibly athletic and has some agility in his game to make things happen after the catch.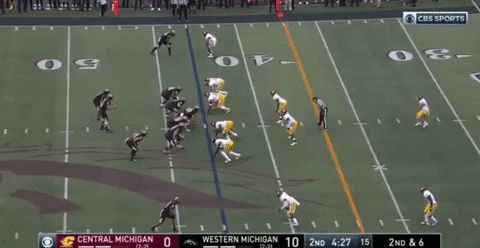 He's also solidly built, which aids him in breaking arm tackles. From there, he demonstrates an added element of run after the catch.
Ricci is a continuous watch each week. If he keeps it up, not only could he sneak himself into being drafted, but Ricci could garner legitimate buzz in NFL Draft circles.
Nick Farabaugh is a writer for Pro Football Network's Film Room. Be sure to check back every Saturday morning as Nick showcases up to date game day matchups and players to watch. You can follow him on Twitter @FarabaughFB