For months, it's been speculated that DeAndre Hopkins would not be wearing an Arizona Cardinal uniform by the time the 2023 NFL season started. On Friday, that came to fruition, but not in the form of a trade as many expected. The Cardinals informed everyone they released Hopkins. What are the best landing spots for the All-Pro receiver?
Arizona Cardinals Release DeAndre Hopkins
It sure looks like the tank is on for the Cardinals. With Kyler Murray likely missing at least half the season, the Cardinals' chances of competing this season are slim. As a result, Arizona was trying to find a trade for the 31-year-old receiver for months. Unable to find a partner, the Cardinals opted to outright release Hopkins.
As PFN Senior NFL Analyst Trey Wingo put it, "So this was really a smart move by the Cardinals and, quite frankly, a good move. They get a contract off the books from an old general manager, and DeAndre Hopkins now is able to go out and say to whoever wants him, 'hey, what can you do for me?'"
In speculating on trades, we need the other team to not only be a team that needs a wide receiver but have the resources to acquire him. Now, Hopkins is free to sign wherever he wants. The only real factor besides team need is whether they have the salary cap space. And, of course, Hopkins has to want to go there.
According to Hopkins on the I AM ATHLETE podcast, he is looking for three things in a new team. Hopkins wants a QB that loves the game and brings everyone on board with him, a great defense, and stable management.
Hopkins also listed the five quarterbacks he'd most like to play with: Josh Allen, Jalen Hurts, Patrick Mahomes, Lamar Jackson, and Justin Herbert. So, essentially five of the best quarterbacks in the NFL, minus Joe Burrow.
Of course, there's more to the equation than just what quarterbacks Hopkins wants to play with. What teams are most likely to sign Hopkins? Here are some top potential landing spots.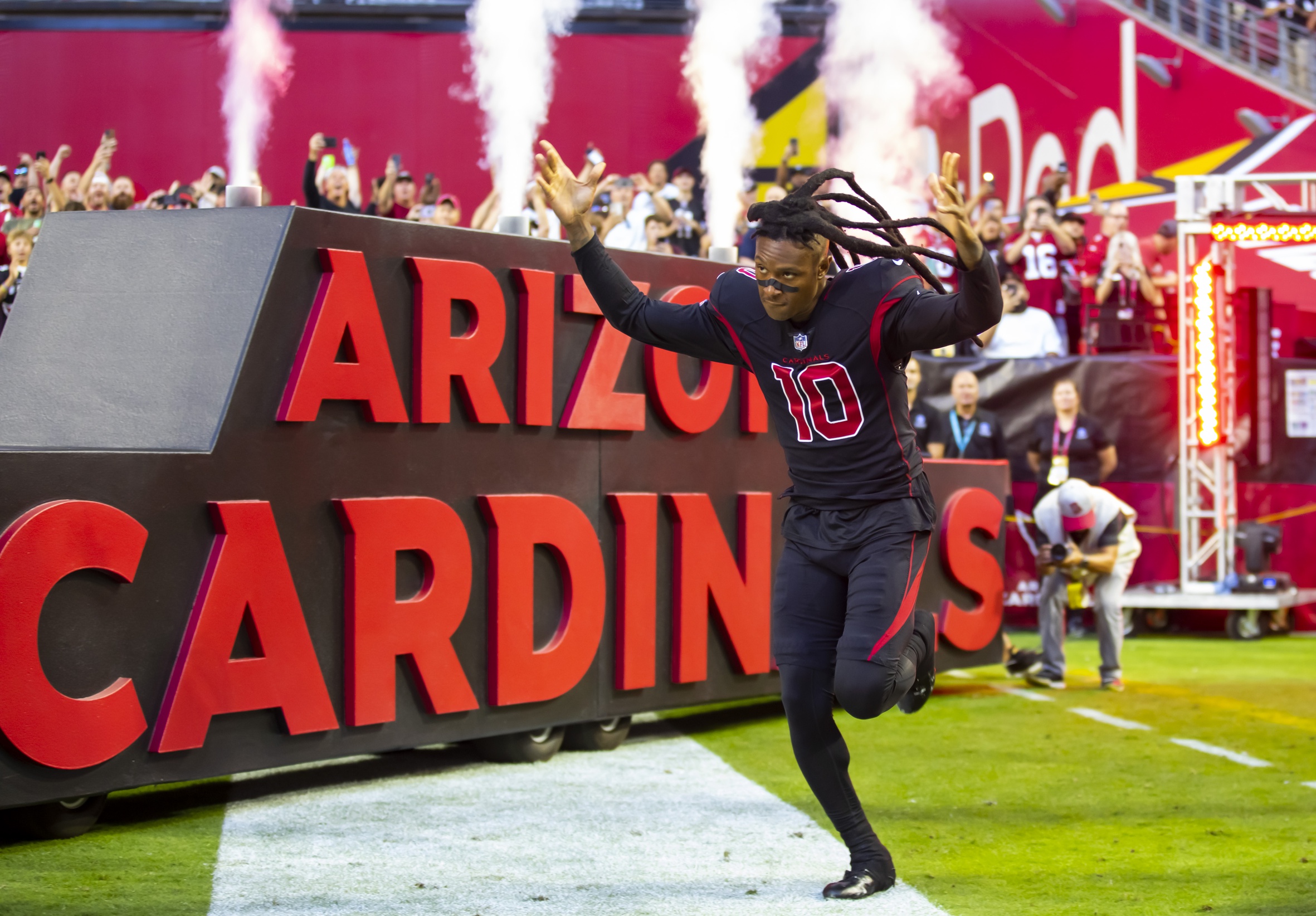 Kansas City Chiefs
It should come as no surprise that the Chiefs are the top landing spot option. Mahomes fits what Hopkins is looking for in a QB. While the Chiefs don't have the best defense, it's clear Hopkins wants to win.
Wingo said, "The Chiefs seem to make the most sense. Patrick Mahomes recently said, 'Look, I'm comfortable with the wide receiver room,' and I'm sure he is because he's Patrick Mahomes, who led the league in touchdown passes and passing yards without Tyreek Hill. But if you can pick up a DeAndre Hopkins and go get a chance to get another ring and bring in someone like that, you have to do it."
Well, the Chiefs just won the Super Bowl, and they did it without a true WR1. Hopkins would provide them with that. Finally, Chiefs GM Brett Veach has been in his role since 2017.
MORE: What a DeAndre Hopkins Contract Could Look Like 
Even at 31 years old, Hopkins still looks every bit like a top receiver in the NFL. He may not be as good as he was during his prime Texans days, but Hopkins is a massive upgrade on the likes of Kadarius Toney, Marquez Valdes-Scantling, and Justin Watson.
The biggest impediment will be the salary cap. The Chiefs currently have the fewest cap space available. However, we've seen crafty maneuvering of the cap before. In the interest of chasing another title, the Chiefs' front office can manipulate Hopkins' cap hit to make it work. The Chiefs should be considered the favorite to land Hopkins.
New England Patriots
The Patriots are second, but perhaps they should be third. It really comes down to how important money and chasing a Super Bowl are for Hopkins. He's undoubtedly not winning one with Mac Jones in New England, but the Patriots can afford to pay him more than the top teams.
They also have a quality defense, and Bill Belichick has been the GM for over two decades. The primary concern would be whether Hopkins views Jones as a quarterback who fits his criteria. Of course, we have no way of knowing that. If Hopkins does land in New England, it likely means he just went to the highest bidder.
Buffalo Bills
The Bills are in a similar boat as the Chiefs. They have the second-fewest cap space available, but they have an elite quarterback who Hopkins wants to play with, and they need a wide receiver.
The Chiefs have an elite top target in Travis Kelce, but not much behind him. The Bills have an elite WR1 in Stefon Diggs, but not much behind him. Hopkins would fit in perfectly as the WR2 opposite Diggs. They have an excellent defense, and GM Brandon Beane has been in his role since 2017, just like Veach.
Buffalo likely cannot afford to give Hopkins as much as New England, but they can offer him a chance to thrive with a top quarterback en route to a potential Super Bowl bid.
Baltimore Ravens
The Ravens don't really look like a realistic landing spot for Hopkins. They've already signed Odell Beckham Jr. and Nelson Agholor. They spent a first-round pick on WR Zay Flowers. While Hopkins is obviously a massive upgrade on all of them, it's just a lot of resources dedicated to one position.
With that said, Hopkins did list Jackson as a quarterback he'd like to play with. And while Hopkins' presence would likely render both Flowers and Beckham redundant assets, with Rashod Bateman as the WR2, he undoubtedly makes the team better. So, we can't rule it out.
MORE: Best Wide Receivers in the NFL in 2023
With a solid defense and GM Eric DeCosta having been with the team since 2012 as an assistant GM and becoming the GM in 2019, the Ravens have just about everything Hopkins is looking for in a new team. They also have about $12 million cap space — more than the Patriots.
Between the available funds, team situation, and the chance to challenge for a title, the Ravens are certainly in play to land Hopkins.