The Miami Dolphins exploded in head coach Mike McDaniel's first season with the team, finishing 9-8 with a Wild Card appearance. After their success, Miami was rewarded with the fifth-most difficult strength of schedule for the 2023 NFL season. Despite the challenges that lie ahead, we're diving into whether McDaniel can help the Dolphins become a top-five offense in 2023.
An Analytical Look at the Miami Dolphins' Offense
After lacking punch in 2021, Miami quickly revamped its offense by hiring McDaniel and trading for star receiver Tyreek Hill. McDaniel wisely implemented an offensive scheme that prioritized throws over the middle of the field to his two speedy receivers. The blend of Tua Tagovailoa's accuracy and quick release led to a historical season from Hill and Jaylen Waddle.
MORE: Miami Dolphins 2023 Season Preview
Tagovailoa led the NFL in air yards per completion by 1.3 yards, while maintaining the 10th-best on-target percentage in the league and ranking 16th in bad-throw percentage. He also led the NFL in QB rating and touchdown rate, proving to be a franchise star when healthy. Simply put, with Tagovailoa in the lineup, the Dolphins had an elite passing offense.
Having Hill produce a career season that could propel him into the Hall of Fame certainly helped. Despite missing Tagovailoa for 4+ games, Hill finished second in the NFL in receptions and yards, and had six games with at least 143 yards.
Miami finished with the seventh-best EPA per play, eighth-best EPA per drop back, and 13th-best rush EPA. They had the 11th-most points, sixth-most yards, and 13th-best scoring percentage despite having the fifth-worst starting field position.
Running back Raheem Mostert established himself as a plus starter after dueling with Jeff Wilson Jr. for the job. Mostert tied for 17th in yards before contact per carry and tied for ninth in yards after contact per attempt. He was so good down the stretch of the season that McDaniel admitted, "We didn't run enough."
Dolphins 2023 Offensive Outlook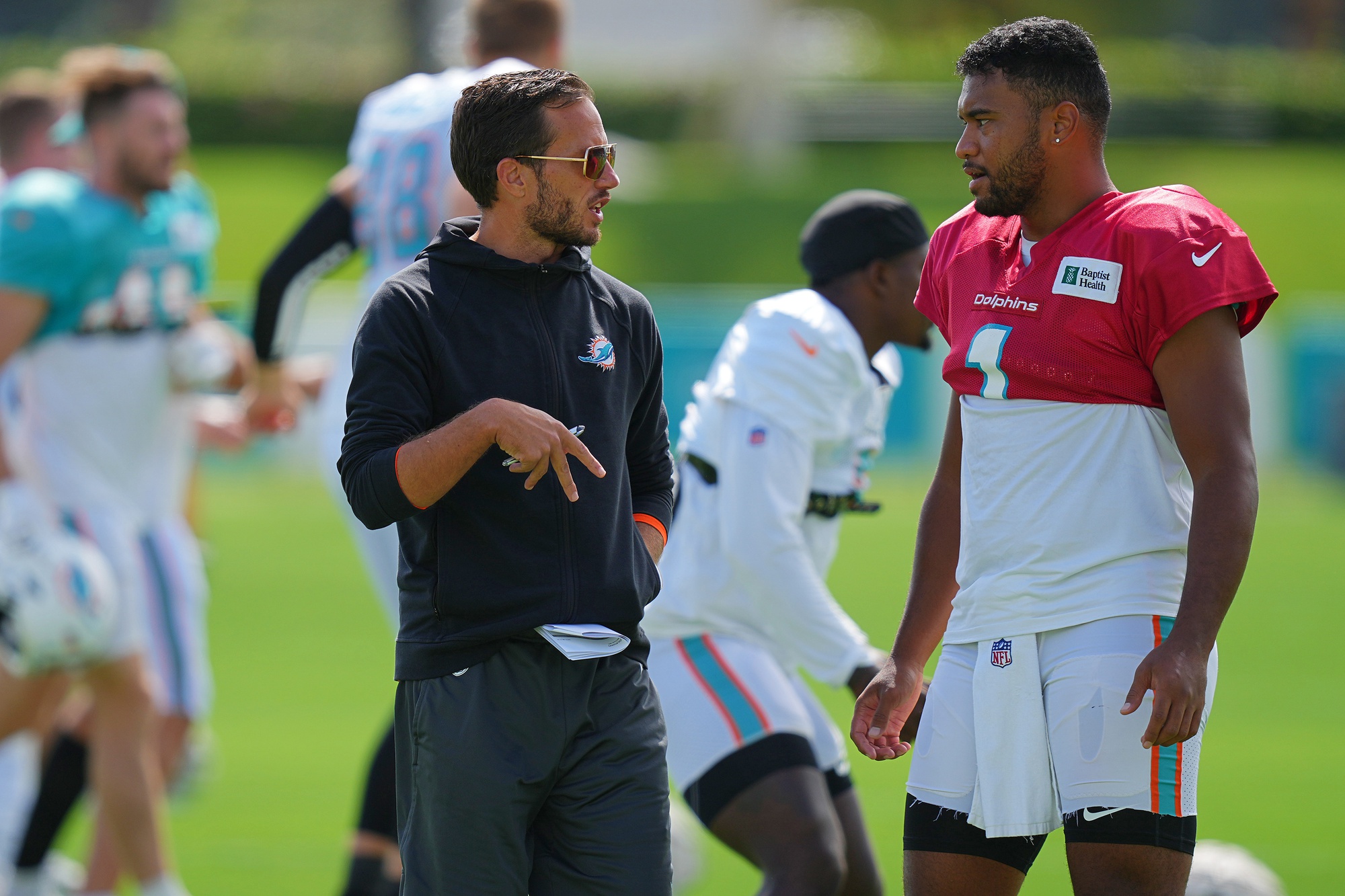 Expectations are justifiably high for the Dolphins' 2023 offense. PFN's own Arif Hasan placed the unit fifth in his offensive rankings entering 2023. The key to it all will be Tagovailoa's health and whether the offensive line is at all improved.
Tagovailoa said he's "very excited" to show he can stay healthy in 2023 after McDaniel said Tagovailoa spent the offseason learning jiu-jitsu to help him learn how to take hits. While offseason OTAs often bring sensational, optimistic headlines, there's no question Tagovailoa showed up to practice noticeably more bulked up.
With Hill and Waddle firmly entrenched as franchise pillars, the Dolphins have to show they can reproduce and sustain the high peaks of production they reached in 2022. Tagovailoa was phenomenal for much of his first season with McDaniel, but the team hit a rough patch starting in December. The final month of the year brought four losses as the offense bogged down, and Tagovailoa threw five interceptions.
MORE: Where Does Miami's Defense Rank in 2023?
Now that defensive coordinators have seen how good defenses have limited Miami's offense, expect there to be adjustments against the Dolphins in 2023. McDaniel will need to run the ball more as he promised, and the addition of 2023 third-round back Devon Achane can help. The line must also block better for Tagovailoa, and the passer has to avoid back-breaking turnovers.
The peak of Miami's unit is immense, but raising the floor of their play is also important. McDaniel and Tagovailoa chased big plays to their detriment in 2022, even after San Francisco and the Los Angeles Chargers found ways to limit their effectiveness. McDaniel has to be more flexible in season for the Dolphins to redefine their floor and ceiling.
Are the Dolphins a Top-5 Offense in 2023?
Becoming a top-five offense without a quarterback like Patrick Mahomes or Josh Allen is incredibly difficult. Tagovailoa isn't a rushing threat like they are, and he's not quite the playmaker either. Tua has the ability to be an elite passer, but there are still moments of inconsistency that can be debilitating to an offense.
Miami's road to being a top-five offense in 2023 is made more difficult because they face loaded defenses across the AFC East for six games. They also drew games against the Eagles, Cowboys, and the AFC West. But even if they may not be a dominant weekly producer against elite competition, the Dolphins can be a top-five offense in terms of talent and efficiency.
MORE: Miami Dolphins 2023 Schedule
However, because Miami still has to prove themselves more than some of their peers, they're not quite a top-five offense entering 2023. They're close, but until players like Tagovailoa and Terron Armstead can stay healthy, and McDaniel can consistently produce an effective running game without a star back, the top five is a little rich for the Dolphins.
Nevertheless, it's an incredibly fun offense that has the best receiving duo in the NFL and a scheme that fully maximizes Hill and Waddle. Miami can still be a Super Bowl threat even if they're closer to the eighth-best offense than the fifth as long as they're better about making timely big plays and the defense helps the offense more than they did in 2022.