The Miami Dolphins spent this offseason looking to improve a defense that disappointed in 2022. By hiring an elite defensive coordinator in Vic Fangio and trading for cornerback Jalen Ramsey, the expectations for Miami's defense have risen. We dive into whether the Dolphins can make a leap in 2023.
An Analytical Look at the Miami Dolphins' Defense
One of the biggest surprises of the 2022 season was how much the Dolphins' defense struggled to translate their talent into production. Miami was supposed to benefit from keeping defensive coordinator Josh Boyer from the previous regime's staff and from a mid-season trade for edge rusher Bradley Chubb. Instead, the Dolphins cratered to 24th in defensive EPA per play and were abysmal against the pass.
Miami dropped from finishing 16th in scoring allowed, 15th in yards allowed, and eighth in turnovers produced to much worse figures. The Dolphins fell to 24th, 18th, and 30th in those respective categories. Opposing offenses destroyed Miami's pass defense despite the Dolphins having a loaded group of pass rushers and a talented secondary.
Boyer's blitz-heavy approach simply didn't work. Miami ranked 15th in defensive DVOA; 25th against the pass and fourth against the run. Despite the strategy continuing to fall flat, Boyer continued to blitz in hopes of turning up the pressure on quarterbacks.
MORE: Miami Dolphins 2023 Season Preview
Miami's defense wasn't awful, but things always feel worse when an aggressive scheme backfires. They ranked 26th in third-down conversion rate, joining abysmal defenses like Arizona, Seattle, Detroit, Atlanta, and Chicago at the bottom of the league. At least Miami's run defense was elite, but some of that was because only one defense faced more passing attempts.
That shouldn't have been the case for a defense boasting cornerback Xavien Howard and pass rushers Jaelan Phillips, Melvin Ingram, Christian Wilkins, and Bradley Chubb, among others.
Dolphins 2023 Defensive Outlook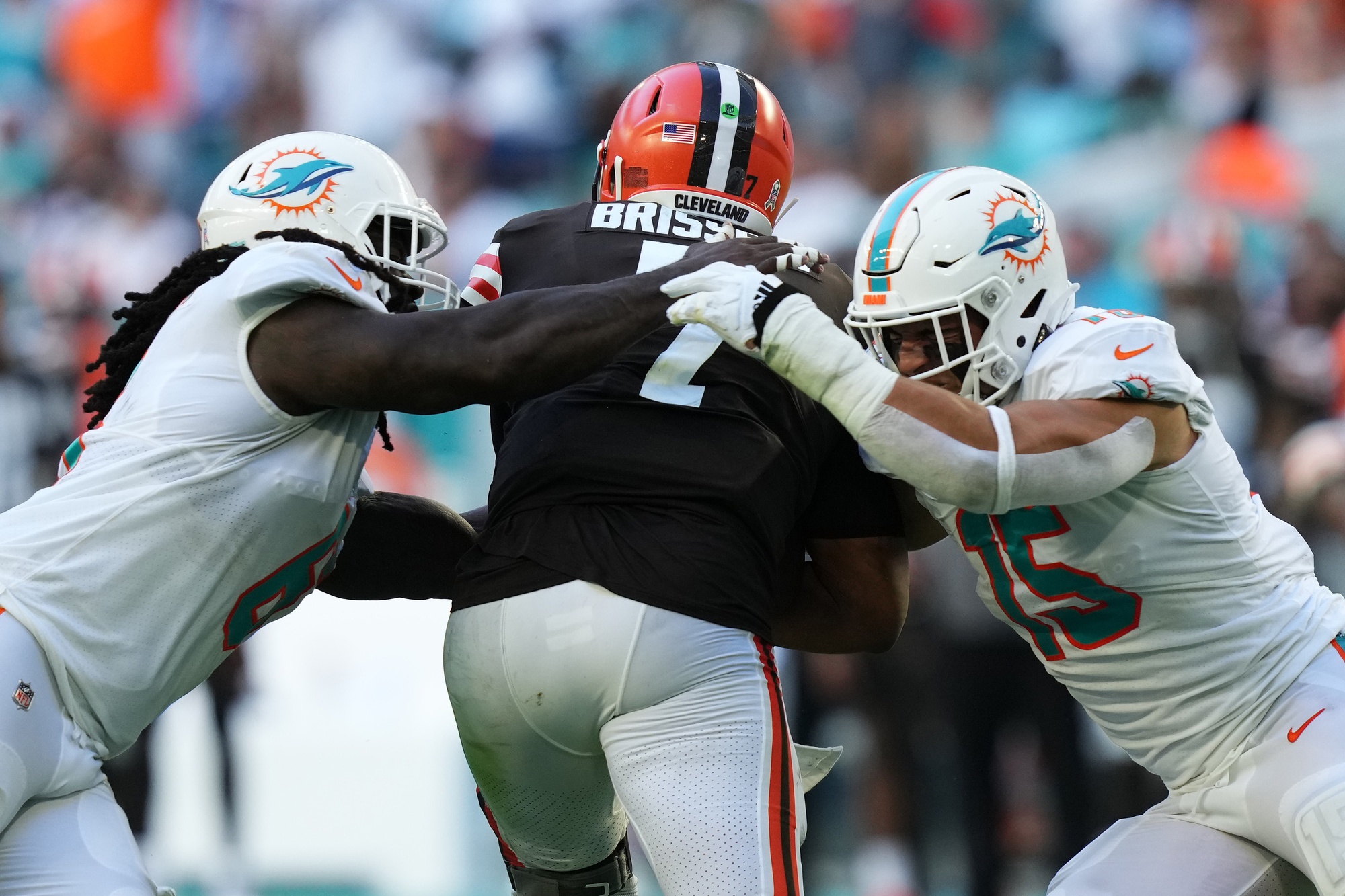 Despite being a below-average unit in 2022, PFN's own Arif Hasan ranked the Dolphins as the seventh-best defense heading into 2023.
Miami's defense will improve simply by adding a mastermind in Fangio. Fangio's defense has become a staple of many successful teams, forcing teams to methodically move the ball down the field before stiffening in the red zone. He described his philosophy as doing "anything and everything" to ensure offenses don't score.
Fangio's results speak for themselves. He produced some of the NFL's best defenses while he was Denver's head coach from 2019-2021, then helped the Eagles in 2022 as a consultant. Miami can expect their cornerbacks to be protected more with complex pre-snap looks and to receive more help in coverage from their safeties.
Adding Ramsey to a room with Howard and second-year CB Kader Kohou makes for a high-risk, high-reward group that needs to pay off. Both Ramsey and Howard are playmaking threats who aren't the stickiest defenders in coverage, so safeties Jevon Holland, Brandon Jones, and DeShon Elliott will need to give them over-the-top support. Fangio's past stops have been extremely fruitful for both corners and safeties alike, so it's fair to expect quality seasons from Ramsey and Howard.
MORE: Best Cornerbacks in the NFL 2023
There's an immense amount of front-seven talent to help the back end play better. The decisions to extend Chubb and add David Long and Malik Reed will help support Miami's upside.
Getting Emmanuel Ogbah back from a torn triceps injury that cost him eight games is also considerable. Along with a third-year jump from Phillips and Wilkins entering his prime years, Miami simply doesn't have an excuse to again struggle to pressure QBs.
Are the Dolphins a Top-5 Defense in 2023?
It's incredibly simplistic to say, but the Dolphins can play to their talent level in 2023 and see a massive jump without any remarkable efforts. Not only did Boyer fail the talent with his blind faith in non-stop blitzing, but the individual talent fell short in their opportunities.
That either means some positive regression will come or the collective talent has been misevaluated by the majority of onlookers.
Reaching the top five is a gigantic improvement, but the pieces are in place for Miami to get to that range. If Fangio is right that Ramsey is the best cornerback he's coached, and if he can get Chubb and Phillips to combine for 26.5 sacks as Chubb and Von Miller did under Fangio in 2020, the Dolphins' defense can be incredible. There's not an obvious talent weakness on the unit besides its defensive tackle depth.
However, the individuals have to hold up their end of the bargain. The Dolphins blitzed 349 times in 2022 but produced only 58 hurries and 40 sacks. Howard and Kohou both allowed over 59% of targets to be completed, and neither Holland nor Jones was impactful in coverage.
Fangio will put the players into better positions to succeed than Boyer did with his scheme and pre-snap looks. But they'll be tested early and often, as the AFC East brings a combined four matchups against Josh Allen and Aaron Rodgers. Week 1 features a trip to face Justin Herbert, and Miami later faces Jalen Hurts, Patrick Mahomes, and Lamar Jackson.
MORE: Miami Dolphins 2023 Schedule
Can the Dolphins' best players turn back the clock to their 2021 performances while also getting peak play from younger contributors? Fangio brings some promising improvement, but it's also possible Miami again struggles with a true alpha pass rusher, and their top two corners are past their primes.
Miami has top-five potential with its defense, and its floor is higher than last year's shocking result. Even if they land around 15th, the Dolphins' defense will be playoff-caliber, considering the strength of their offense. The range of outcomes is greater than most, however, due to Miami's uneven play throughout last year.