America's Team can't escape expectations. Jerry Jones is 80. Despite possessing the league's 10th-best EPA per play a season ago, even with Dak Prescott missing five games, the Dallas Cowboys allowed Kellen Moore to seek other opportunities as an offensive play-caller. Mike McCarthy will now take over those duties in Dallas.
And with what appears to be a top-five defense heading into 2023, a divisional showdown with the Philadelphia Eagles seems to be the cream of the NFC crop, depending on what happens with the San Francisco 49ers' defense.
But can the Cowboys' offense become more turnover averse once again while also maintaining a level of efficiency and explosiveness in the passing attack?
The Dallas Cowboys' 2023 Offense
Prescott, Tony Pollard, CeeDee Lamb, and Brandin Cooks are an upgrade from what Dallas fielded a season ago. But what might be even more exciting is the prospect of Michael Gallup being back to his old self, which would give the Cowboys three legitimate threats on the outside.
"(Last year) I was thinking too much," Gallup told 105.3 The Fan in Dallas. "My knee was feeling sore, and it was just different. Last year at this time I couldn't walk. It's different now. I feel springy again. It just feels different. It's kind of like in the air. I'm smiling every time I walk in that facility."
Cooks has been somewhat of a journeyman throughout his NFL career. At one point from 2016-2018, he posted three consecutive seasons of 1,000 yards… on three different teams!
MORE: NFC East QB Rankings 2023 — Jalen Hurts and Dak Prescott Battle for Divisional Supremacy
The veteran brings an element to the Cowboys' offense that didn't exist a season ago; speed. And if one thing has become clearer over the past few NFL seasons, it's that speed is the single greatest advantage a team can have on offense. Look no further than the Miami Dolphins with Tyreek Hill and Jaylen Waddle. In a world of two-high defenses trying to take away explosive plays, having the speed to threaten safeties vertically is a must.
And if Pollard remains as explosive as he was a season ago, the rushing attack should provide some splash plays for the offense as well.
Offensive Line Is Dallas' Biggest Unknown
The offensive line is the most significant unknown surrounding Dallas' offensive proficiency in 2023. In March, during the owner's meetings in Arizona, McCarthy discussed looking at Terence Steele at guard.
"I mean, we're talking about it," McCarthy told reporters. "Yeah, we're talking about it. We haven't got in there with those guys yet. [The] offseason program starts in April, but yeah, we'll definitely … we're looking at all those things."
Maybe McCarthy and the eldest Jones should have talked before the meetings, though, because it sounded like Jerry had other ideas.
"He's such a top tackle … as we have it right now, he should be the backup tackle on both sides as we would look at it right today," Jones said during the NFL owners' meetings.
"That's a lot of position flex right there. You say, 'Why don't you move Tyler [Smith] in (to guard)?' But we also know that Tyron [Smith] and Tyler both would make quite a tandem out there. The smart play would be to have outstanding depth there, and Steele gives you that."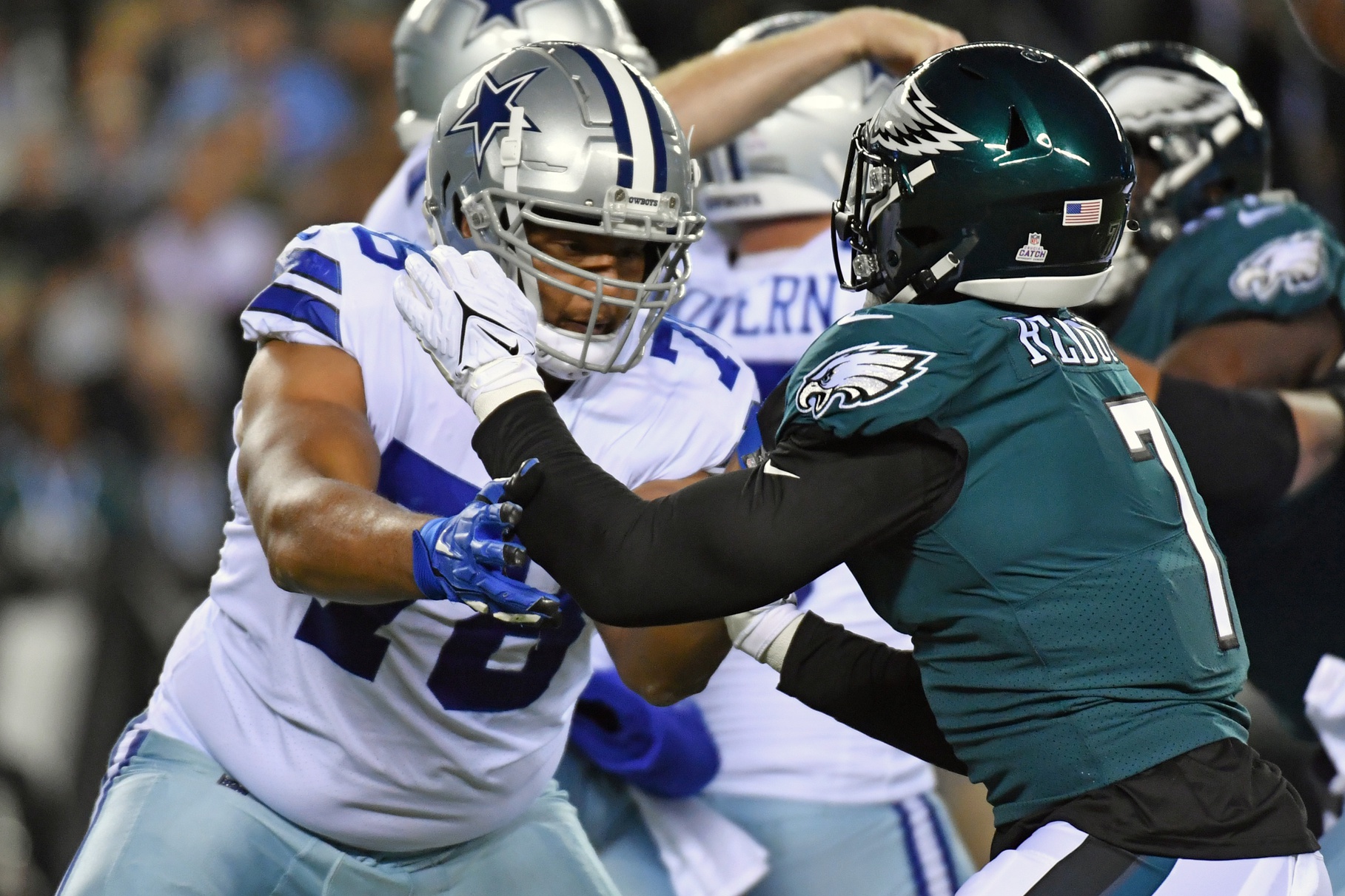 The thing is, Dallas didn't select a guard in the 2023 NFL Draft. Which, ironically, could be the best thing for the Cowboys' Week 1 OL rotation.
Tyron Smith – Tyler Smith – Tyler Biadasz – Zack Martin – Terence Steele
That's a unit that the Cowboys can win with on offense. The issue is their Week 1 line won't look the same all season, and that is simply an unwelcome inevitability at this point. Tyron is a fantastic LT, but he hasn't been dependable in well over half a decade at this point. He's only managed to play a 17-game season over the past three campaigns combined.
MORE: Dallas Cowboys Coaching Staff 2023
And that would move everything around. Tyler Smith would slide back to left tackle, while one of Asim Richards, Matt Waletzko, or Chuma Edoga would slide into the starting left guard spot.
But Steele is also coming off a serious knee injury. And although he's reportedly ahead of schedule, there's no guarantee that he'll come back as the same player he was becoming.
The Cowboys' 2022 Offense by the Numbers
The Cowboys' offense wasn't the most efficient offense at all times a season ago, but it had no problem scoring at a high level, particularly when Prescott was on the field.
Dallas finished sixth in points per drive and ranked 10th in offensive drive success rate. They also finished the year ninth in dropback EPA and 13th in rushing EPA. There's really nothing to suggest that the Cowboys weren't a top-10 offense a season ago when Prescott was on the field.
All of that is in spite of the fact that Prescott led the league in interceptions despite missing five games. His interception percentage went from always hovering below 1.9% to 3.8% in 2023. Prescott almost surely won't turn the ball over that much again this season because it was never an issue for him previously.
Are the Cowboys a Top-10 Offense in 2023?
According to PFN's own Arif Hasan, yes. However, they barely found a way to sneak into the meeting. Hasan ranked Dallas as having the 10th-best offense heading into the 2023 NFL season, with some serious competition around them.
The Jacksonville Jaguars — ranked just below Dallas — could have something to say. And although Hasan believes that the Detroit Lions are a likely regression candidate, they have a returning play-caller, QB, OL, and offensive weapons aside from D'Andre Swift, who they replaced with Jahmyr Gibbs.
MORE: Are the Dallas Cowboys a Top-3 Defense Heading Into 2023?
Although there's uncertainty surrounding the 49ers' QB situation at the moment, Kyle Shanahan has proven that as long as he's not down to his fourth option, the offense can remain efficient because of his schematic ingenuity and the team's talent.
It's hard to see how the Cowboys' offense can be much better than hovering around 10th in the league. Dallas will be a top-10 offense in 2023, but they likely won't be able to crack the top five. And in the end, it will be their defense that carries them.
As long as Prescott remains healthy, the team should have regular-season success. But neither the Cowboys' organization nor the fans care about a division title or a Wild Card win.
If Dallas doesn't reach the NFC Championship Game, the season was a failure.