Thanks to his prowess as a rusher, Justin Fields was a must-watch player nearly every Sunday last season. But as a unit, the Chicago Bears' offensive attack was severely underwhelming. As the Bears continue their rebuilding process, can their offense improve in 2023, or will it remain at the bottom of NFL rankings?
The Chicago Bears' Offense Needs To Take a Step Forward in 2023
Pro Football Network's Arif Hasan ranked the Bears' offense as the No. 27 unit heading into next season, with only the Steelers, Titans, Commanders, Falcons, and Rams projected to perform worse in 2023.
By nearly any metric, Chicago's offense was among the league's worst last year. Let's start with the 10,000-foot view. The Bears scored the 20th-most points in the NFL and ranked 21st in yards per play (5.3), finished 23rd in expected points added (EPA) per play, and landed 25th in Football Outsiders' DVOA.
From a points-per-drive perspective, Chicago ranked near the middle of the pack. But they struggled with turnovers, throwing an interception or losing a fumble on 12.7% of their drives, the seventh-worst rate in the league. And the Bears finished second-to-last in drive success rate, managing a first down or touchdown on 67% of their drives.
The Bears' Passing Offense Was Their Primary Issue
Not every faction of the Bears' offense was poor in 2022. Chicago's ground game ranked sixth in EPA per play and 12th in DVOA while gaining a first down on 27.5% of rushing attempts, good for seventh in the NFL.
Running backs David Montgomery and Khalil Herbert each posted more than 700 rushing yards, but Fields' prowess on the ground set the Bears' rushing attack apart. Fields gained 1,143 yards as a runner, the second-highest total for a quarterback in league history.
MORE: How Was the Chicago Bears' Roster Built?
Chicago's run game and Fields' gravity as a rushing threat provided a functional basis for the Bears' offense, and even a league-average passing attack might have been enough to project Chicago as a mid-tier offense as a whole. But Fields wasn't anywhere near league-average as a pure thrower in 2022.
Among 33 qualifying quarterbacks, Fields finished last with just 4.63 adjusted net yards per attempt last season. That was the eighth-lowest ANY/A mark of the past five years. Meanwhile, quarterbacks tend to be responsible for their own sack rates (not offensive lines), and Fields ranked last — by a wide margin — with a 14.7% sack rate.
The Bears' passing offense gained a first down on only 28.9% of their passing attempts, 30th in the NFL. Elite offenses like the Chiefs, Lions, and Bills managed first downs on more than 36% of their dropbacks. Meanwhile, Chicago also struggled to create chunk plays, posting just 38 pass compilations of 20+ yards, fourth-worst in the league.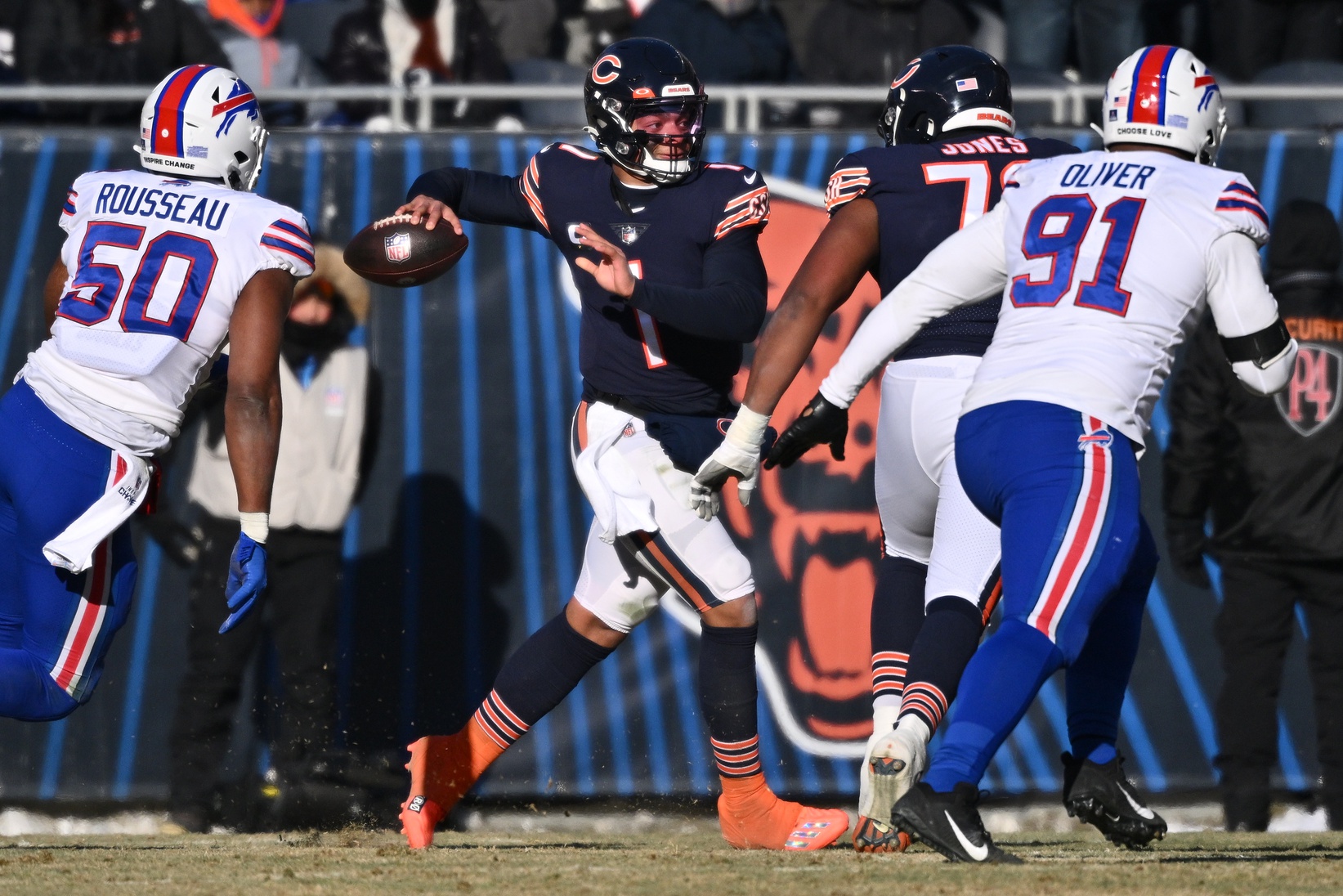 Why the Bears Offense Could Improve Next Season
The 2023 campaign is make-or-break for Fields. As he enters his third NFL season, Fields must show a Ryan Poles and Matt Eberflus-led regime — which didn't draft him — that he's the long-term answer in Chicago. If not, the Bears have the future draft capital to find his replacement as soon as the 2024 draft.
However, there are reasons to believe Fields and Chicago's offense could post a better showing in 2023. First, Fields will be entering his second season in offensive coordinator Luke Getsy's offensive scheme. That added level of familiarity should give Fields the ability to process more quickly and potentially avoid the sacks and other pitfalls that affected the Bears' passing game.
"It's the first season I'm going into where it's my second year knowing the offense," Fields said during the Bears' organized team activities (OTAs). "So [I] definitely feel more comfortable in it, just with my reads and stuff like that, just seeing what the defense is doing and stuff like that.
"It's truly amazing when you have that feeling going in, knowing where your guys are going to be, (being) more comfortable with the footwork stuff. It's been great. I've got to work on stuff in the offseason, (but) having that second-year experience with the same offense is great."
Additionally, Chicago didn't stand pat this offseason. As part of their trade down from the No. 1 overall pick, the Bears acquired former Panthers receiver DJ Moore, who will become the best pass catcher Fields has worked with at the NFL level. Moore consistently delivered production in Carolina despite regularly catching passes from subpar quarterbacks.
Poles' midseason trade for ex-Steelers receiver Chase Claypool — which eventually forced Chicago to sacrifice the 32nd pick in the draft — may not have led to immediate results, as Claypool managed just 140 yards in seven games after joining the Bears.
MORE: 2023 NFL Defense Rankings
But in the aggregate, Chicago's receiving corps is in a much better place than it was when Fields made his first start of the 2022 season. At the start of last year, Fields' top three receivers were Darnell Mooney, Equanimeous St. Brown, and Byron Pringle. Shifting from that group to Moore, Claypool, and Darnell Mooney represents a significant upgrade.
The Bears also signed free agent guard Nate Davis and used the 10th overall pick in the draft to add tackle Darnell Wright, filling their remaining offensive line voids. Chicago is seemingly committed to getting its five best offensive linemen on the field, which likely means that Teven Jenkins will move to left guard while Cody Whitehair will shift to center.
Fields will benefit from an improved receiving corps and front five, but the Bears' offensive potential is mostly tied up in his development. If the former Ohio State star can't progress from the pocket, Chicago's offense will probably be among the NFL's worst again in 2023, regardless of the additions they've made.
But if Fields can grow as a thrower while retaining his electricity as a runner, the Bears' offense has far more upside than any other unit that struggled a year ago.