Monday night's game features a matchup between Justin Fields and Ben Roethlisberger, two players representing entirely different quarterback eras. Let's take a look back at how they have performed so far in 2021.
Justin Fields has had a tough rookie year as a passer
Between the two quarterbacks, the box scores suggest that neither player has been spectacular. However, Roethlisberger has clearly been the better passer. The veteran has thrown for 1,781 yards, 8 touchdowns, and 4 interceptions so far in 2021.
Those aren't great numbers, but they far outpace what Fields has done, with 991 passing yards, 3 touchdowns, and 7 interceptions. Fields has started one fewer game than Roethlisberger, but his numbers are still worse than you would expect, even accounting for that.
The advanced metrics tell a slightly different story
Despite the gulf in their box score statistics, the advanced metrics suggest that the passing performances of the two quarterbacks are closer than you might expect.
As evidence, let's look at the Offensive Value Metric. The OVM is a grading system created by the (Bx) Movement to evaluate players based on how much they contributed to the production of their statistics rather than the statistics themselves.
Fields and Roethlisberger have surprisingly similar OVM grades. In fact, Fields is slightly outperforming Roethlisberger, earning a grade of 22.31, which ranked 22nd out of 35 qualifying quarterbacks before Week 9. Roethlisberger ranks three spots behind him with a grade of 21.04.
As with their box scores, neither of those grades is spectacular. However, the fact that Fields has the advantage suggests that, despite his unimpressive statistics, he is having a higher impact as a passer for his offense than Roethlisberger is for his.
The advanced metrics behind Justin Fields' and Ben Roethlisberger's OVM grades
To explain why Fields and Roethlisberger have had such similar OVM grades so far in 2021, we need to examine the advanced metrics behind those grades. What the two quarterbacks had in common were awful completion statistics, ranking among the worst in the NFL.
Roethlisberger is currently completing just 65.1% of his pass attempts, while Fields is performing even worse, with a completion percentage of 59.5%. According to the NFL's projections, Roethlisberger's percentage was 2.9% lower than it should have been, and Fields' was 3.5% lower.
Naturally, it isn't easy to be an effective quarterback if you can't complete your passes. However, what sets Fields apart from Roethlisberger is that he is attempting significantly more difficult throws. His passes have traveled an average of 8.9 yards through the air on all of his attempts and 6.2 yards on his completions. He is also throwing into tight windows on 20.3% of his throws.
On the other hand, Roethlisberger is averaging 6.8 air yards on his pass attempts and 4.4 yards on his completions. Furthermore, he's throwing into tight windows on 17.8% of those throws. So, while Fields is completing passes at a worse rate, the passes Roethlisberger is throwing are far less difficult.
Comparing Fields' and Roethlisberger's weekly performances
Although Fields and Roethlisberger's overall OVM grades are somewhat similar, a closer look at their week-to-week performances reveals a more nuanced picture. You can see the two quarterbacks' weekly grades in the charts below, marked by the black dots. For comparison, the average grade for quarterbacks so far this season is represented by the yellow line.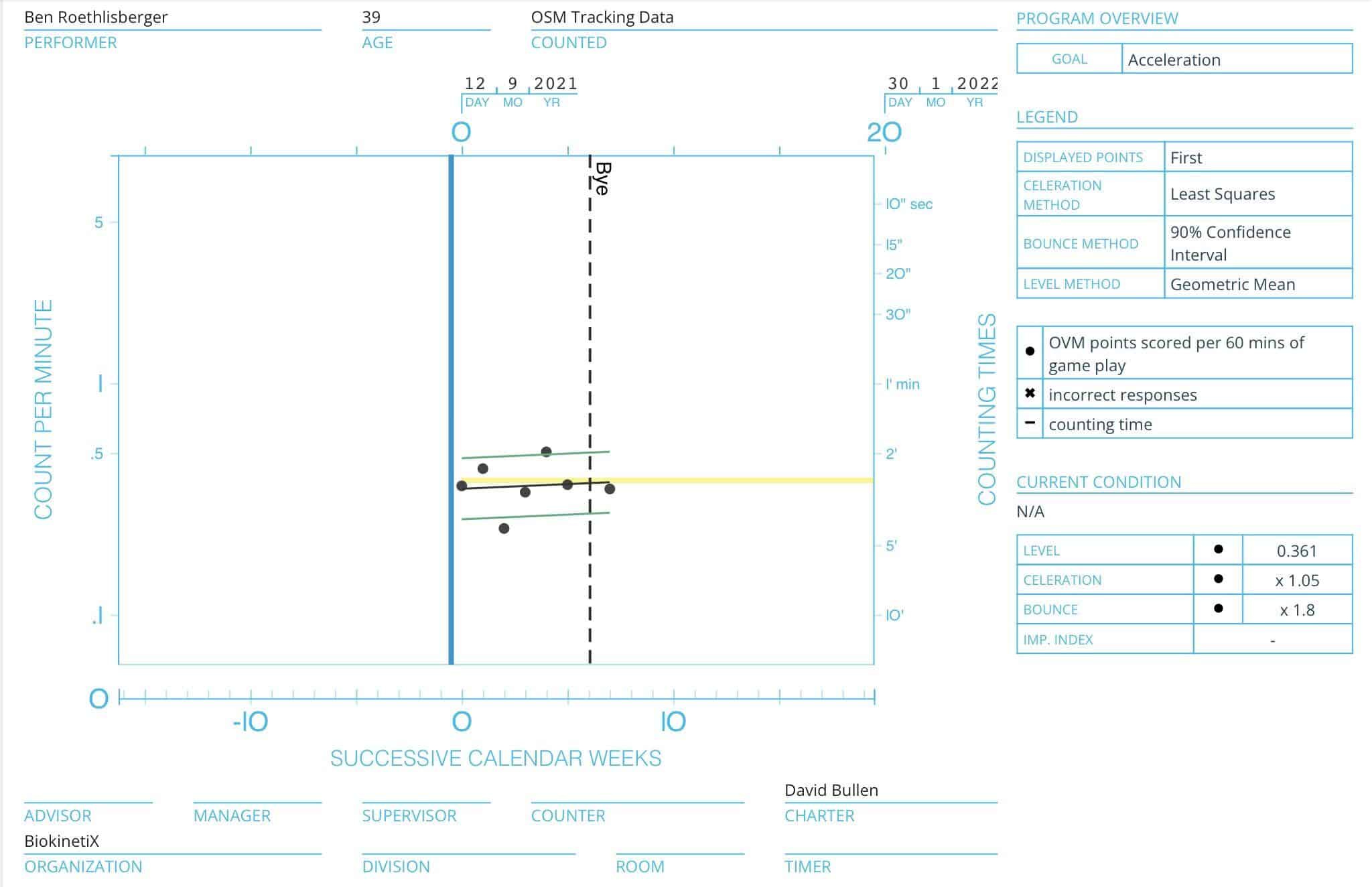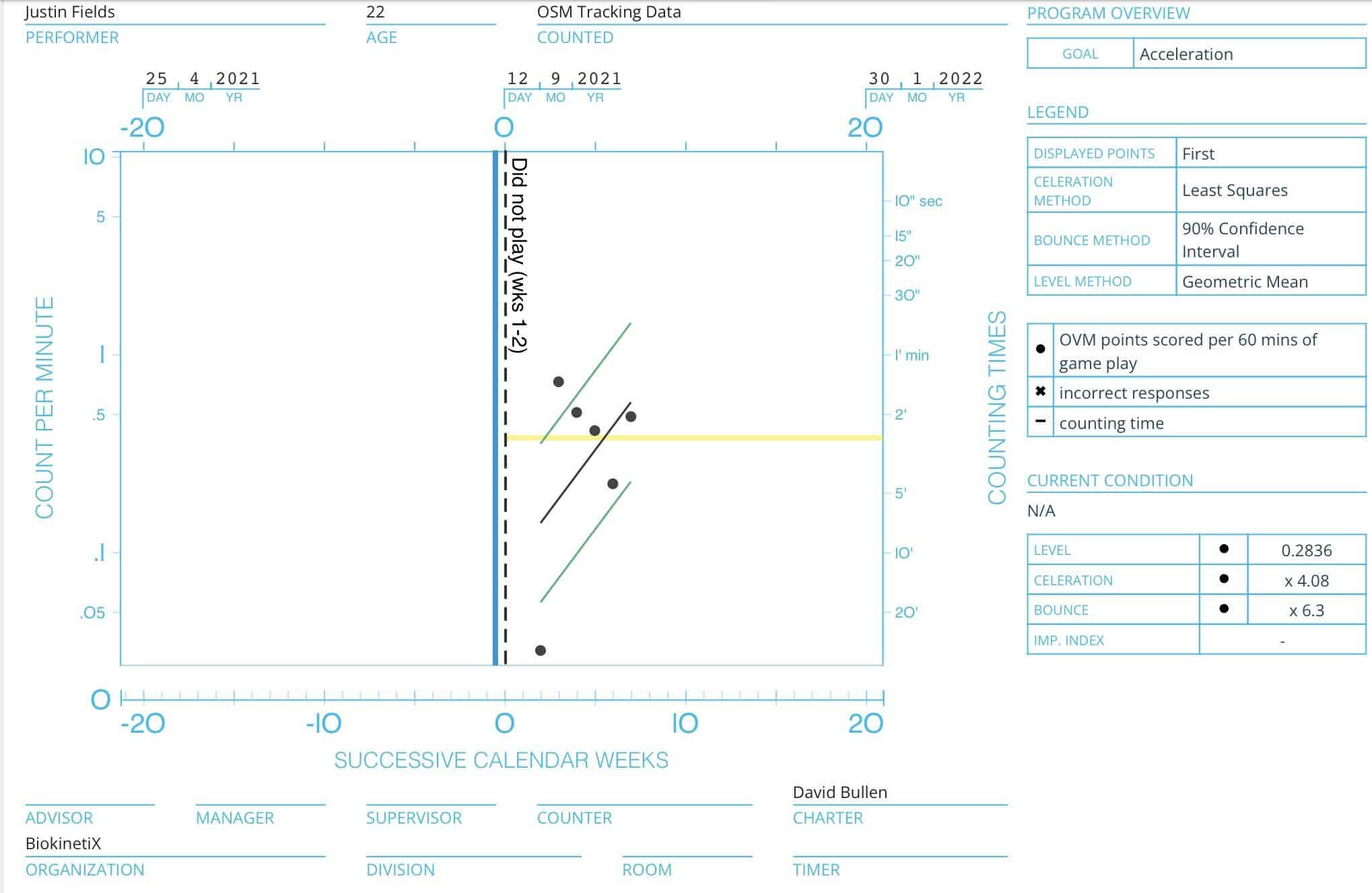 Overall, Roethlisberger's grades have been relatively stable. Outside of his highest and lowest performances — grades of 30.34 in Week 5 and 14.16 in Week 3 — his grades cover a spread of just over five points.
Fields, on the other hand, hasn't been quite so consistent. His first start in Week 3 was disastrous; He completed just 30% of his pass attempts, 27.8% lower than expected. Those are the worst performances on either metric by any quarterback through Week 8. As a result, Fields earned a grade of just 1.91 that week. That is the worst received by any quarterback so far in 2021.
However, he bounced back quickly, earning a grade of 43.6 the following week. And while there has been some variation in his grades since then, they haven't fallen nearly as low as in his first start. If Fields can continue to perform at this level, his grade will rise as the season progresses, creating further distance between himself and Roethlisberger.
Justin Fields' legs give him a significant advantage
As Chicago fans have likely been shouting since the start of this article, we have yet to address the area where Fields outperforms Roethlisberger by the most significant margin: his ability to run the football.
Justin Fields is an elite athlete. He ran a 4.44-second 40-yard dash at his pro day, which is faster than some wide receivers. Roethlisberger, on the other hand, wasn't exactly a speedster even in his prime. At this point in his career, he isn't going to be outrunning anyone.
Related | NFL Power Rankings Week 10: Jaguars, Giants, and Broncos prove "Any Given Sunday" is real
Going into Week 9, Fields ranked fourth in the NFL among quarterbacks with 243 rushing yards. Roethlisberger is just a touch behind, with a grand total of 6.
Of course, while the quarterback position has focused more on running in the last decade, they still need to be able to pass the ball well to be considered a top-tier quarterback. Still, Fields' success in this area is a mark in his favor when comparing him to Roethlisberger. He adds a dimension to the Bears' offense that the Steelers simply don't have access to.
These two quarterbacks are at completely different stages in their careers
Fields and Roethlisberger are playing at an oddly similar level right now. However, they are likely headed in different directions. Roethlisberger's prime is long behind him, while Chicago hopes Fields' best days are still to come.
And while Roethlisberger's performance on Monday night should be fairly predictable, for Fields, it is another step in his development. We'll see if he can outperform his veteran counterpart and continue on the path towards becoming an elite quarterback, much like Roethlisberger once was.