There is no skirting around the fact that the 2023 NFL Draft's crop of wide receivers is underwhelming. We've been spoiled rotten over the past few seasons. And while that doesn't mean we won't see successful names from the class in their own niche in good situations, it simply means that seeing four or more in Round 1 of a mock draft is less likely than we probably think, even in a draft class as awkwardly proportioned as it is.
Stacking the 2023 NFL Draft Class Among Past Classes
There is absolutely no argument that the current class bests any dating back to at least 2019. However, 2018 is a more likely candidate for comparison. In 2019, names like Deebo Samuel, A.J. Brown, and DK Metcalf were all better prospects than any of the players being touted in the 2023 class not named Jaxon Smith-Njigba. Meanwhile, N'Keal Harry and Marquise Brown both went in Round 1 of the 2019 NFL Draft.
2018 saw DJ Moore and Calvin Ridley go in the first round, but the class as a whole felt akin to 2023. Courtland Sutton was a raw player with good size from one of the smaller Texas schools, and names like Christian Kirk, DJ Chark, and Michael Gallup were solid prospects but with flaws that kept them from being so highly regarded.
MORE: 100% FREE NFL Mock Draft Simulator
Reese's Senior Bowl Executive Director Jim Nagy reiterated earlier in April that the NFL is not seeing the class the way mock drafters are.
"NFL isn't nearly as high on this year's WR class as media," Nagy tweeted. "Frequently seeing 4-5 wideouts in mocks. Have spoken to numerous teams that have only one first-round grade at the position. That guy is JSN (Jaxon Smith-Njigba)."
The biggest knock surrounding the class isn't necessarily a question about talent but about size, deployment, or specificity. Breaking the class down into buckets so we can sift through their NFL projections is the only way to feel good about its future.
'True' No. 1 WRs
The old heads would tell you there isn't a single "true" No. 1 WR in this class.
"Ones are few and far between," analyst Michael Lombardi told 105.3 The Fan. "I mean, Justin Jefferson is a one. You're worried that guy's going to take over the game because you can't roll the coverage to him and take him out of the game. He still gets open."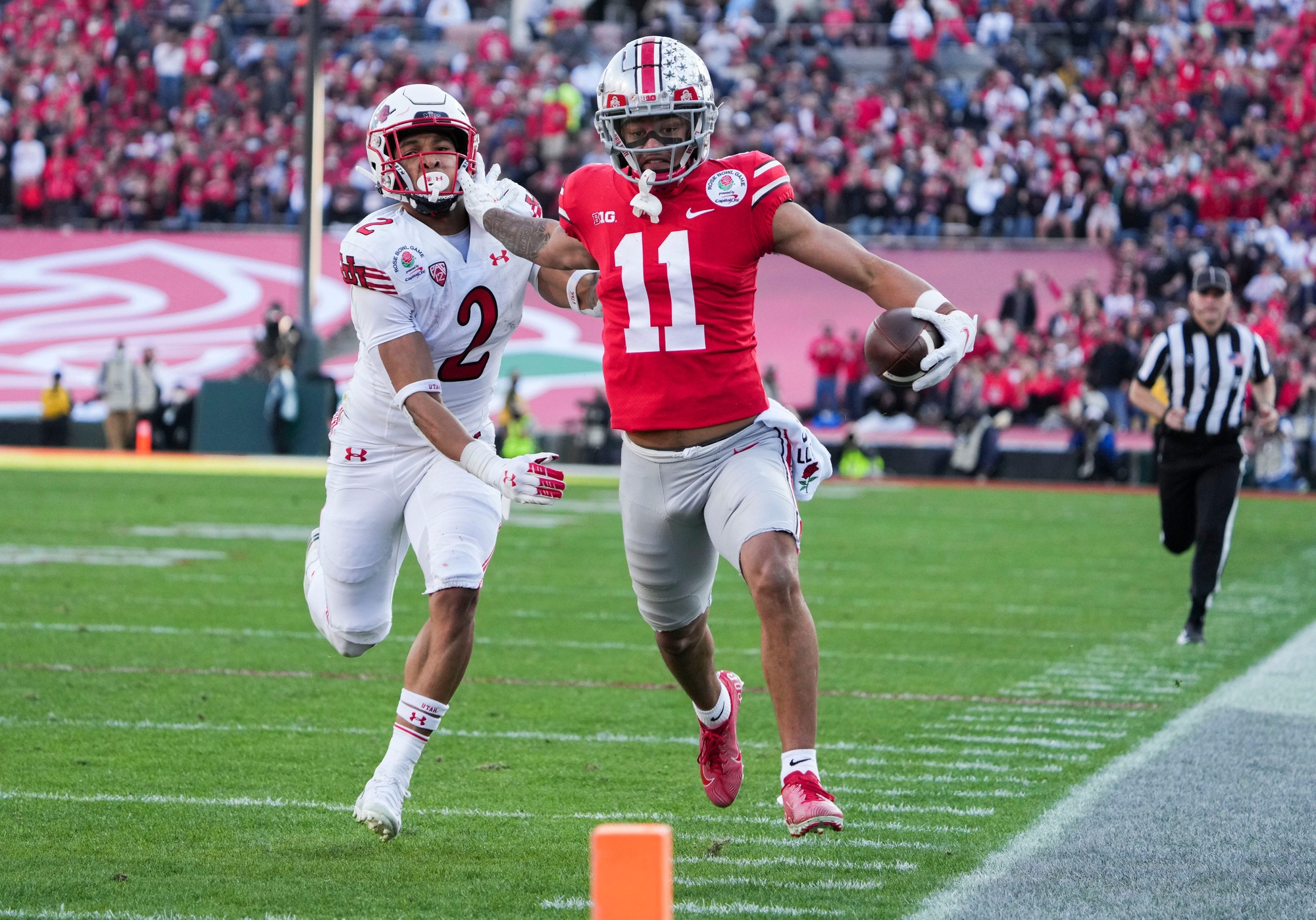 It's obviously a subjective exercise, like the Hall of Fame. How exclusive do we want to make the categorization? Personally, if you're commanding 150 targets and going for 1,400 yards, you're a No. 1. It doesn't matter if you're playing on the outside of the line of scrimmage as the "X." It doesn't matter if you're 5-foot-10, or if you're not the most explosive athlete. It doesn't matter if you play a majority of your snaps in the slot, as JSN did at Ohio State.
Good offensive coordinators create matchup problems, and JSN is a guy who can catch 100+ passes a year, starting as a rookie. His time at Ohio State molded him into a professional receiver. And while it's understandable that the league would be apprehensive of his inability to stay on the field in 2022, Smith-Njigba's 2021 tape answers every question one could ask.
The Wild Cards
For the sake of brevity, we'll only be looking at receivers who fall inside the PFN Industry Big Board's top 128, which I admit is a completely arbitrary cutoff that allows me to include Jonathan Mingo. His name has become more and more common on mock drafts and in links to teams recently.
Mingo is the definition of a wild card. He isn't the same caliber of NFL Draft prospect that former Rebel receiver A.J. Brown was, but they are similar archetypes. Mingo is stocky, possessing a build more akin to an RB at 6-foot-2, 220 pounds. He has massive paws and is about as explosive an athlete as you'll find at that size.
But, like Brown, there's a lack of polish to Mingo's game that makes him less desirable as a prospect. However, it's difficult to truly gauge the physical potential Mingo has as a professional route runner because the Ole Miss offense is so one-dimensional in the passing attack.
Benjamin Solak from the Ringer used to do "this or that" on Twitter, where he'd ask his audience whether they'd rather have Player A in Round 2 or Player B in Round 3. Mingo is the 2023 valedictorian in that class because his perceived draft value compared to his tantalizing upside feels like an offer that's too good to be true.
But Mingo isn't the only wild card. Quentin Johnston has seen a slide recently, but the consensus board still has him as the top receiver in the class. But that's likely not a good fit for the TCU playmaker because of the expectations that come with it.
MORE: Top 10 Wide Receivers in the 2023 NFL Draft
Johnston is far from a finished product. Like Mingo, he needs to sure up his route-running ability, although he was afforded more opportunities to flash his potential in that area. Ultimately though, he feels a bit like Laviska Shenault Jr., who was drafted No. 42 overall in the vaunted 2020 class.
Johnston is slick around the line of scrimmage. He possesses outstanding lateral agility for his size, which allows him to make defenders miss while his size allows him to shake off glancing blows from would-be tacklers. He's a candidate to receive manufactured touches because of that.
However, top targets must command the ball down in and down out, and Johnston doesn't currently possess that skill set. It will likely take him a few years to sharpen things to the point of consistent productivity.
Meanwhile, Kayshon Boutte may be the biggest unknown we've seen in recent draft history. He's flashed outrageous receiving ability throughout his time at LSU. However, he's also looked as disinterested in the game as anybody on the field far too often.
Drops have been an issue, an ankle injury shortened a strong start to 2021, and according to Dane Brugler, most scouts view Boutte as a slot prospect. His highs match anybody in the class, but his lows are excruciatingly low, making him a complete wild card as well for NFL franchises.
The Vertical Threats
This is a very specific sub-group. The final — and most abundant group that we'll discuss — have speed threats as well but are packaged differently enough to warrant their own category.
Admittedly, A.T. Perry isn't necessarily a pure speed threat, but he's a vertical threat because of his height, length, and overall route-running ability. He tracks the ball well downfield and is a strong finisher. Perry is a surprisingly adept route runner, particularly for someone with his size. That ability makes him a true three-level threat from Day 1, as long as his lean frame can provide the physicality necessary to survive in the NFL.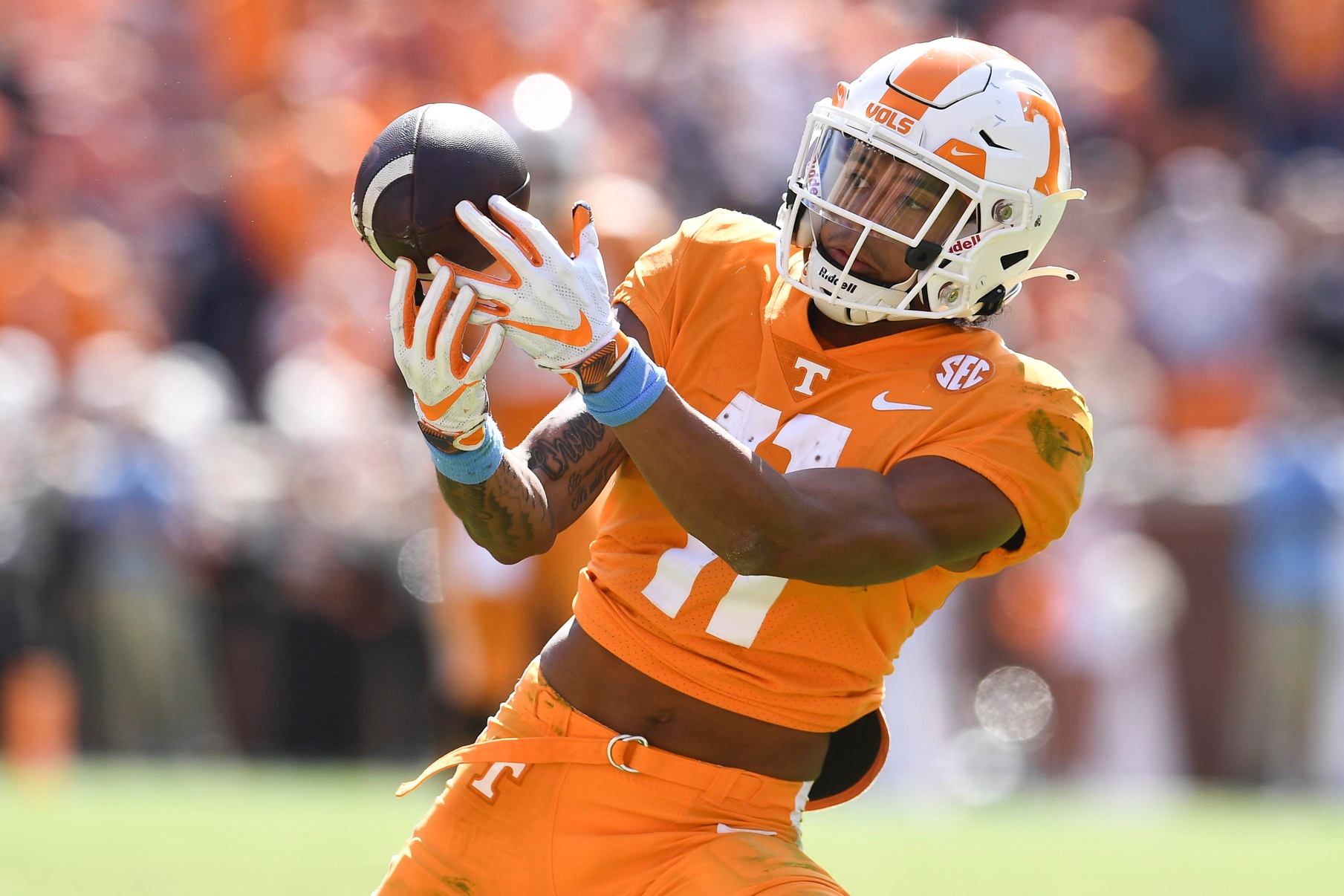 Jalin Hyatt is the one true threat. The Tennessee receiver isn't as polished as his teammate Cedric Tillman, but Hyatt produces game-breaking speed effortlessly. For teams that don't immediately need a target-rich player, Hyatt provides value immediately without filling up the stat sheet.
His speed creates space offensively. That speed, along with college hashes, gave Tennessee a wide-open offense in 2022, and his 15 touchdowns and 18.9 yards per catch average led him to the Biletnikoff Award.
The Potential Complements
Tillman is the chief member of the complement bucket, as a player who could be a good No. 3 target on a team and potentially be a No. 2 depending on their own progression and the team's situation.
The Tennessee receiver's story isn't carved in stone by any means. At 6-foot-3, 213 pounds Tillman has more than enough to entice teams. He needs to improve his efficiency getting in and out of breaks, but there's a clear path toward Tillman being a solid contributor on the outside on a team that moves their No. 1 about the formation finding matchups to exploit.
SMU receiver Rashee Rice is in a similar boat. He may not possess the freaky athletic traits to ever become a true No. 1, but he has enticing attributes that make him a candidate to play in the slot or the outside at the next level as a second or third option. He must become more consistent to realize that potential, but it's there along with NFL size.
Which leads us to the bucket overflowing.
The 'Smol' Receivers
Jordan Addison, Zay Flowers, Josh Downs, Tyler Scott, Marvin Mims, Tank Dell, and Jayden Reed are all receivers deserving of our respect. Each has attributes that make them enticing prospects. Unfortunately, they all share a lack of size that is likely troubling for many.
Addison was 2021's Biletnikoff winner, amassing just shy of 1,600 receiving yards with Kenny Pickett throwing him the football. While Addison isn't necessarily short at 5-foot-11, he lacks the density in his frame that many are used to seeing from NFL players. He weighed in at 173 pounds at the NFL Combine and then struggled a bit relative to expectation in testing.
Addison's 5.93 Relative Athletic Score is underwhelming for someone competing for top marks in the class. But his tape is outstanding.
Like most of the smaller receivers in the class, Addison has everything you'd like to see in a route runner, including explosiveness and fluidity alongside technical prowess. He's a fantastic natural separator, and he showed he can be a threat downfield as well.
Flowers is similar, albeit a bit shorter, and with a bit more muscle mass throughout his frame. But size alone won't preclude him from working on the outside. He played more snaps outside than in the slot at Boston College, and if Flowers can beat press coverage with his quickness and technique, there's no reason to believe he can't play outside at the next level.
MORE: When Is the 2023 NFL Draft?
Both of those receivers have the talent to hog targets and make a No. 1 WR-like difference on a roster, but it likely looks like Marquise Brown's production in Baltimore. They're both likely better suited as part of a high-end complement.
Downs has the ability to be one of the better pure slots in the NFL. Despite his diminutive stature, he plays big and is a true three-level threat because of his leaping and tracking ability. The same can be said for Scott, who has a similar stature to Downs but is more of a vertical threat than a true three-level threat at the moment.
Aside from Hyatt, Mims might be the best deep threat in the draft. He averaged 22 yards in 2021 and 20.1 in 2022.
Mims likely will only be relegated to the slot if he proves unable to beat press coverage, but that would be a departure from his deployment at Oklahoma as an outside receiver. If he continues to progress as a route runner, you could squint and see a Tyler Lockett-type player.
Dell is the smallest of the bunch at 5-foot-8, 165 pounds. Although we've seen a share of smaller slots throughout the years, few have found success at the NFL level at that size. Dell likely won't be anything more than a third or fourth option in an offense, but his separation quickness could make him a QB-favorite on shorter third downs where man coverage and a blitz are the likelihood.
Listen to the PFN Scouting Podcast
List to the PFN Scouting Podcast! Click the embedded player below to listen, or you can find the PFN Scouting Podcast on iTunes, Spotify, and all major podcast platforms.  Be sure to subscribe and leave us a five-star review! Rather watch instead? Check out the PFN Scouting Podcast on our Scouting YouTube channel.