It was your typical Week 1 in the NFL.
The defenses, for the most part, were ahead of the offenses (save the Dolphins-Chargers 70-point thriller).
But there were some very interesting outcomes, and we'll go inside them via PFN's latest NFL news and rumors roundup.
Week 1 NFL News and Rumors
Baltimore Ravens
The Baltimore Ravens had an impressive 25-9 victory over the visiting Houston Texans, but unfortunately, they lost starting RB J.K. Dobbins (torn Achilles tendon) for the season during the game.
Baltimore lists sixth-year RB Gus Edwards as the backup to Dobbins, and a personnel source said what gives him an advantage over fifth-year RB Justice Hill is that Edwards possesses way better size and the ability to handle a volume of carries.
Edwards has 11 games in his career with at least 15 carries or more, and Hill only has one game with 10+ carries.
Gus Edwards is just different.

Prayers up for JK, hopefully it's nothing too serious! #RavensFlock pic.twitter.com/2Z90WlYPBL

— Nic Mason (@British_Raven19) September 10, 2023
Another source said Edwards was seen as a potential fullback by some teams due to his size (6'1", 235) when he was signed as an undrafted free agent by the Ravens in 2018.
Hill, a fourth-round pick by Baltimore out of the 2019 NFL Draft, clearly looks more explosive on tape than Edwards, but due to his smaller frame (5'10", 197), he hasn't shown the ability to handle a large carry total over his career.
On the positive side, first-round pick WR Zay Flowers showed the team why he was worth selecting No. 22 overall.
Flowers is expected to line up mostly in the slot, but a veteran wide receivers coach from another team said, "he's pretty fearless over the middle despite being small (5'9", 182)."
The coach said he gave Flowers a first-round grade due to his toughness, hands, football character, and quickness. The coach also added that Flowers — who led all Ravens pass catchers in the game with nine receptions for 78 yards on 10 targets — could possibly play on the outside as his career progresses and he puts on more muscle.
Cleveland Browns
One of the more surprising results in Week 1 was the Browns' commanding 24-3 victory over the visiting divisional rival Cincinnati Bengals.
How did the Browns hold the high-powered Bengals offense to just 142 total yards?
They played quite a bit of zone defense (Cover 3, Cover 2, Inverted Cover 2) on first and second down, a league source said. And because the coverage was so tight and the pass rush was so strong, that made QB Joe Burrow hold onto the ball a bit longer than normal, which could help to explain why Cleveland's defense was credited with 10 QB hits.
"Week 1 doesn't define anyone's season." Joe Burrow pic.twitter.com/GARB9v4M68

— Mike Petraglia (@Trags) September 10, 2023
When they played man coverage, second-year CB Martin Emerson did an "outstanding job" when he was matched up against fourth-year WR Tee Higgins, the source added.
Higgins had eight targets in the game but did not record a single reception.
As for their pass rush, the source added that four-time Pro Bowl DE Myles Garrett was nearly double teamed all game but still had four QB hits and a sack.
Veteran DE Za'Darius Smith, who was acquired from the Minnesota Vikings earlier this year, lined up inside in obvious passing situations and also had four QB hits.
Detroit Lions
While rookie RB Jahmyr Gibbs is known in scouting circles for his blazing speed, what the Detroit Lions didn't know when they drafted him is how physical of a runner he was.
Gibbs, who isn't blessed with a big frame (5'9", 200), ran through would-be tacklers during last Thursday's 21-20 win over the host Kansas City Chiefs.
A source with knowledge of the situation said that Gibbs' college tape didn't show the physical nature that the coaches and front office saw at times during training camp and during the Week 1 game, which was a welcome surprise. And he carried that over against the Chiefs.
Veteran RB David Montgomery is the clear starter, and Gibbs only saw 19 of 70 offensive snaps, but the first-year pro is headed for a bigger role going forward.
MORE: Where Do the Chiefs Land in the Week 2 Power Rankings After Their Opening Loss?
"No, I would say that was what we talked about with him. First game out of the gate, there again man, and we really didn't want to overload any of those guys," Lions head coach Dan Campbell said when asked about whether Gibbs' snaps were planned or game dictated by the game.
"I think it's important you go in and let them get a feel of what it's going to be like. It's the first one, let's go in and make sure that the guys that have been around here, the guys who have taken a load for us that we've been in games with, that they take on a bigger load and we work these rookies in and get them a feel of it. And now they've got that one under their belt, so for Gibbs, he'll begin to get more touches now. So, that was just the beginning last night," Campbell added.
Montgomery is seen as a very physical type of player, but the fact that Gibbs ran with such velocity and power through the hole has to give the offensive coaches confidence that he's more than just a speed back.
Los Angeles Rams
There are always players who come out of nowhere in Week 1 and do well. Then there are players who do well in training camp but have not gotten the recognition that star players receive but also do well in the first game.
WR Puka Nacua, a fifth-round pick out of BYU, would fit in with the latter description.
Nacua, known in scouting circles for his route running and run-after-the-catch ability, put up huge numbers in his first game with the Rams in their surprising 30-13 victory over the host Seattle Seahawks.
The 23-year-old rookie pass catcher hauled in 10 receptions for 119 yards on 15 targets.
PUKA ARE YOU KIDDING!

1️⃣7️⃣ @AsapPuka | 📺 @NFLonFOX pic.twitter.com/oAg7kvFpaR

— Los Angeles Rams (@RamsNFL) September 10, 2023
"What a grown man he was today," Rams head coach Sean McVay said after the game about Nacua. McVay would later add that Nacua is about "as a mature rookie as I've been around."
A source said Nacua's ability to play multiple WR positions got him noticed early in camp. Not only was he pretty much a lock to make their roster, but Nacua was likely going to be in the rotation even if veteran WR Cooper Kupp didn't suffer his hamstring injury. Kupp will miss at least three more games as he was placed on injured reserve (IR) last week.
Nacua started the game along with third-year WRs Ben Skowronek and Tutu Atwell.
Atwell, who some scouting sources felt was overdrafted due to his diminutive size (5'9", 165), also had his first 100-yard game, finishing with six receptions for 119 yards on eight targets.
Atwell, a former second-round pick, has outstanding quickness, a personnel source said, but "coaches have to understand how to free him up if he's going to be a factor at this level."
Philadelphia Eagles
One of the surprises leading up to Sunday's 25-20 win over the host New England Patriots was Philadelphia's decision to have veteran RB Rashaad Penny as one of their seven pre-game inactives.
Third-year RB Kenneth Gainwell, who became one of the NFL's best short-yardage backs last season, was the clear starter coming out of training camp and the preseason.
Gainwell, who was known as an explosive playmaker coming out of Memphis, has become more of a grinding, decisive downhill runner with the Eagles, which is somewhat of a departure from how scouting sources viewed his college tape.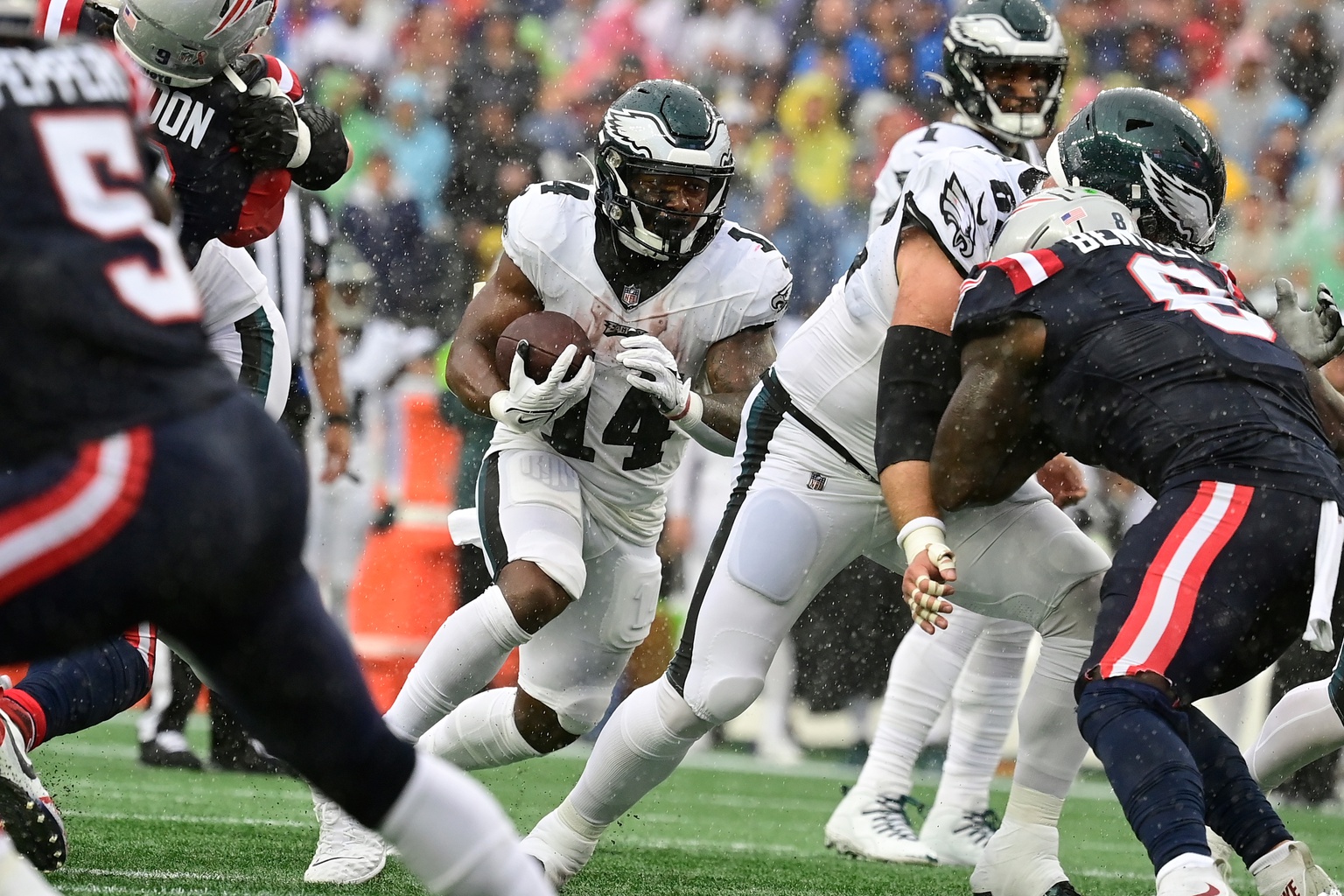 During his two seasons of play at Memphis, Gainwell averaged 6.6 yards per carry on 235 carries and 11.6 yards per catch on 57 receptions.
Some Eagles offensive coaches, who sources said were pushing for Gainwell to be selected in 2021, clearly have a lot of trust in him. He's not only their starter at the position, but he handles several situational roles (short-yardage, third down, two-minute, four-minute offense).
As for Penny being inactive, Philadelphia chose to dress just three backs for the game.
"There was just a number count. You saw that — I don't ever want to come out of a game where (RB) D'Andre Swift has only two touches, either," Eagles head coach Nick Sirianni said after the game when asked why Penny was inactive.
"Where we were with numbers and some of the things, you know, our first three guys and through camp are those three guys, they dressed. So, like I said with (RB) Boston (Scott), to have four backs up, Boston and D'Andre both only had one carry, we have to play that number game."
Swift's role certainly could grow going forward, particularly because they gave up draft compensation, and he's seen as the most explosive player on the roster at the position.
He was very active in the passing game during training camp, and it has been expected Swift would have a role in that area this season with his new team. Swift caught 156 passes during the first three seasons of his career with the Lions.
Defensively, a source said starting ILB Nakobe Dean (right foot) was expected to have an MRI to determine the extent of his injury. He suffered his injury during the third quarter and did not return to the game.
The Eagles only had three inside linebackers active for the game, and Dean was replaced by second-year pro Christian Elliss.