New York Jets QB Aaron Rodgers delved into a lot of intimate, previously undiscussed details of his sometimes-messy split from the Green Bay Packers during a recent interview with The Athletic's Matt Schneidman.
There's a lot to unpack (pun unintended, but appreciated after the fact) in Schneidman's fantastic effort, but the headline is probably just how long this breakup had been brewing for.
Aaron Rodgers vs. Brian Gutekunst: A 3-Year Long Staring Contest
Rodgers was traded to the Jets on April 24. Almost three years to the day (April 23, 2020) that Green Bay drafted — and traded up for — his successor, Jordan Love. That move signified the beginning of the end for Rodgers in Titletown.
Rodgers being miffed by the Love selection is understandable. He was coming off a career-best, MVP-winning 2020 season. In fact, he set career highs in passing touchdowns (48) and completion percentage (70.7%).
His Packers came up just short of the Super Bowl in a 31-26 NFC Conference Championship loss to the eventual champion Tampa Bay Buccaneers. Rodgers doubtlessly thought that a first-round draft pick could be better spent elsewhere.
Team brass, anticipating their quarterback's disappointment, told him the Love selection was all on general manager Brian Gutekunst in an effort to salvage his relationship with head coach Matt LaFleur.
MORE: Tom Brady, Travis Scott, and Michael Rubin Mentoring Bryce Young, C.J. Stroud, and Others
Nonetheless, when Rodgers speaks on it now he sounds disenchanted with every member of Green Bay's decision-makers that had a hand in the Love selection.
"I had friends who said, 'Hey, Matt looked super excited when they made the draft pick,'" Rodgers said. "And I said, 'I don't care, honestly.' Like, they made the pick. They all signed off on it."
Rodgers stewed on the Love pick for quite a while. Reportedly, he even had his agent, David Dunn, deliver an ultimatum to the Packers: trade Rodgers or fire Gutekunst.
But when the team reconvened for training camp in 2021, he had a Festivus in July, extrapolating on some of his numerous grievances with Green Bay brass (per another Schneidman piece).
Rodgers Wanted More of a Say in Green Bay's Personnel Decisions
Rodgers wanted team brass to consider his input on personnel matters. He specifically lamented their decision to cut a receiver (Jake Kumerow), who he'd taken a liking to. Rodgers also spoke of numerous instances where he felt the team had maybe disrespected a prominent outgoing veteran, mentioning beloved Packers like Charles Woodson, Clay Matthews, and Jordy Nelson by name.
Rodgers expressed an unmet request to be more involved in personnel matters, specifically as it pertained to incoming free agents.
"People come here to play with me, to play with our team and know they can win a championship here," Rodgers said. "The fact I haven't been used in those discussions is something I wanted to change moving forward."
(Sidebar: The Jets have definitely catered to Rodgers in free agency, landing two of his favorite former targets in Randall Cobb and Allen Lazard.)
As it pertained to his relationship with the aforementioned Gutekunst, Rodgers called it "professional." An assessment the GM would later echo.
MORE: How the Packers' Offensive Revamp Will Help Jordan Love
This song and dance continued until football season rolled around and, predictably, Rodgers went scorched Earth. The future first-ballot Hall of Famer locked up another MVP award for the 2021 season, his fourth overall, while leading Green Bay to a 13-3 finish.
Rodgers was rewarded for his efforts with a three-year, $150 million extension. That's the headline anyway.
Packers Trade Davante Adams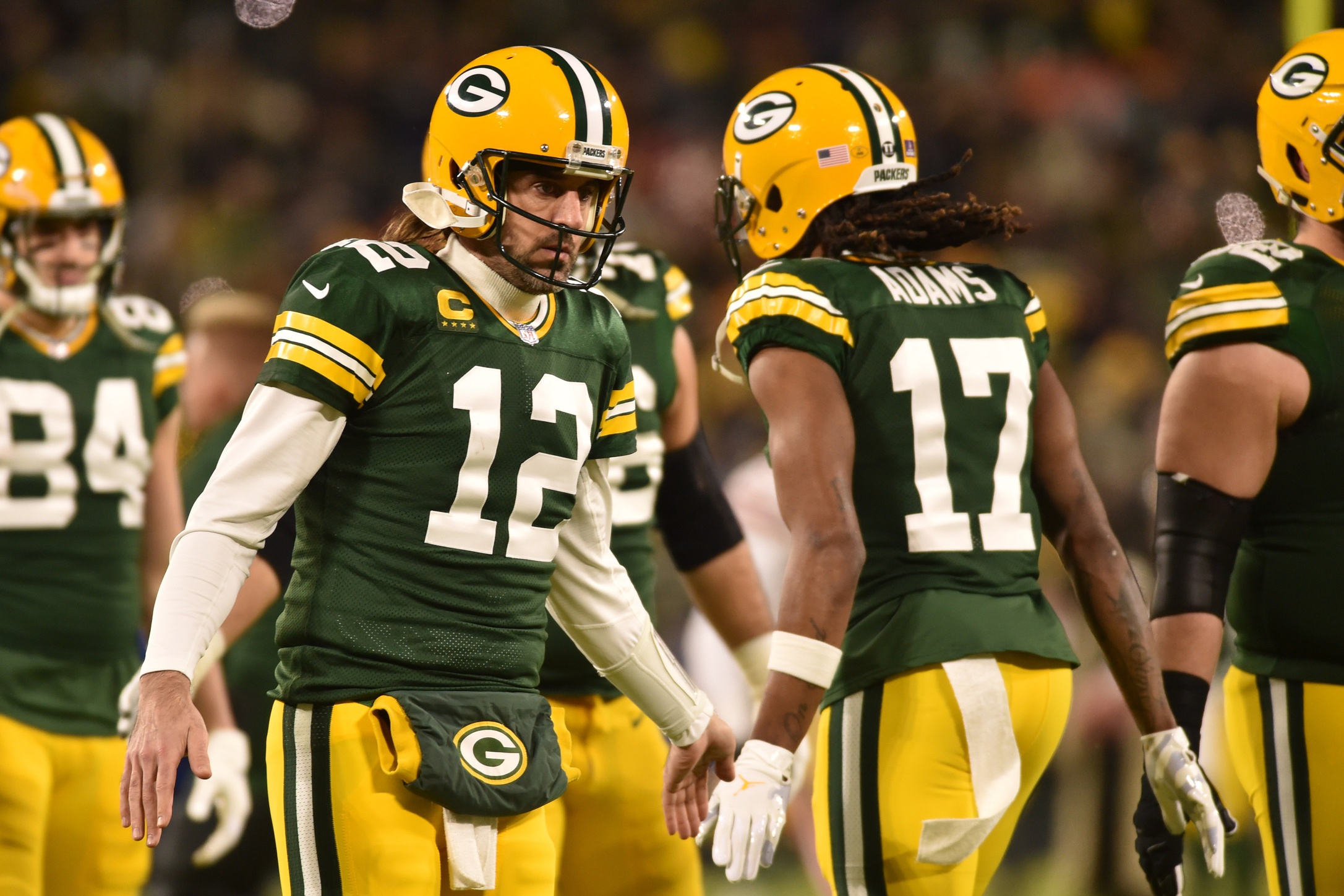 A $50 million/per year headline is eye-catching no matter who you are. But the reality is it was essentially a one-year extension with maneuverability in Years 2 and 3.
The Packers soon traded Rodgers' favorite target away — Davante Adams. And then Rodgers no-showed (voluntary) OTAs in 2022, something the team reportedly took exception to. And we're back to square one.
"I won MVP without doing offseason workouts," Rodgers said. "Like, was my commitment any less then? I'd say not at all."
And yet, through all this thinly veiled animosity, both sides said everything was right as rain. Gutekunst said he expected Rodgers under center in Green Bay through the life of his contract. Rodgers envisioned himself retiring as a Packer.
Rodgers and Gutekunst Were Ready To Part Ways
The offseason was relatively quiet. So too, was 2022 for the Packers. After three consecutive 13-win seasons, Green Bay fell off and finished under .500 in 2022. The team reportedly encouraged Rodgers, then contemplating retirement, to take whatever time he needed to mull over his future in the offseason.
Rodgers and Gutekunst had supposedly planned on a meetup while the latter was out west on a scouting expedition. It'd never come to fruition. Call it a missed connection, if you will, but the introverts among us can read through Rodgers' explanation.
"It was like, 'Hey, I'm coming out west. I'm driving, whatever, you wanna get together?,' Rodgers explained. "I said, 'Yeah, I got a busy schedule. I'm working out, I got things going on, I got appearances, but I'd like to make it work, too.'"
Not much later, Rodgers was traded to the Jets. At his request. Gutekunst told reporters at the NFL's annual league meetings that, despite his efforts to smooth things over with his QB, Rodgers was a difficult man to reach. Rodgers found his version of events inauthentic.
"Just tell the truth, you wanted to move on," Rodgers said. "You didn't like the fact that we didn't communicate all the time. Like, listen, I talk to the people that I like."
MORE: Troy Aikman Suggests Tom Brady Could Suit Up for Las Vegas Raiders in 2023
If it's not readily apparent by now, both sides of this melodrama were ready to break up. Rodgers had his fill of (perceived) disrespect. Gutekunst was tired of catering to his malcontent (not to mention handsomely compensated) quarterback.
And there's no shame in that. Most relationships don't make it the 18 years that this one did. Perhaps the most noteworthy thing to emerge from this whole saga is how life has come full circle for Rodgers.
Rodgers was once the highly touted first-rounder looking to succeed a beloved and accomplished (albeit mercurial) veteran in Brett Favre. Much, of course, has been made of their dynamic over the years.
Now Rodgers will quarterback the same team his Green Bay predecessor wound up getting shipped off to. Time will tell how that unfolds, but to Rodgers's credit, he expressed unabashed support and even a kind of kinship for his successor.
"(Love) gets a chance to blaze his own trails, be his own man and lead in the way he best sees fit," Rodgers said. "Take the good things he learned from me; things he would do differently, do 'em differently. That's what I did when I took over."