The dynasty fantasy football season is all about knowing when players' values are at their max and working the lines to cash out before someone tapers off before you can react. While knowing where your roster sits between competing and rebuilding is something only you know, here are seven sell-high candidates heading into the 2023 dynasty fantasy football season.
Dynasty Fantasy Football Players To Sell High Ahead of the 2023 Season
Deebo Samuel, WR, San Francisco 49ers
One thing I stress when writing these articles is there is no one-size-fits-all approach to dynasty. Moves you might make if competing for a championship vs. being at the beginning of a rebuild will vastly differ as topics like age, production, and future projections factor into a player's overall value.
So, while I certainly have players tagged as sell-highs, in the case of making trades, no one knows your team better than you.
MORE: 2023 Dynasty Player Profiles
That said, I am listing San Francisco 49ers wide receiver Deebo Samuel as a dynasty sell-high candidate heading into 2023. I wouldn't say I like it because Samuel is one of my favorite football players to watch on Sundays.
That's the case for many dynasty managers, but unfortunately, Samuel feels like one of those players who is being valued off something they did in the past that will likely not repeat itself.
You have to travel back to Week 6 for the last time he had 60+ receiving yards, not including the playoffs. In his 2021 breakout season, Samuel averaged 18.2 yards per reception, which was nearly seven yards higher than what he averaged in 2020 or 2022.
We also have to look at the impact Christian McCaffrey had on Samuel. He dropped from 16.4 PPR with approximately 90 yards a game down to just 11.3 PPR points on 52 total yards and just under 6.4 touches a game. That's going from the WR10 overall and 15th in points to 41st behind Zay Jones, Rondale Moore, Darius Slayton, and Isaiah Hodgins.
Samuel still drew a substantial share of the 49ers' passing offense with a 25.4% target share (19th), but his aDOT was 4.2 (102nd), averaged a career-low 48.6 receiving yards per game, and he only saw five deep targets (108th) with 12 red-zone looks (36th) last season.
Given the questions surrounding Brock Purdy and Trey Lance, the fact Samuel is turning 28 this season, and his decreased role in the rushing game due to McCaffrey, I would consider working the trade lines to find a league-mate who remains bullish on Samuel and attempt to sell high on one of the leagues best overall players.
Calvin Ridley, WR, Jacksonville Jaguars
Is there a more polarizing player in dynasty — or the fantasy football landscape in general — coming into this year than Calvin Ridley?
Last we saw, Ridley was on the cusp of joining the elite ranks. Between 2018 and 2019, he saw 185 targets, hauling in 127 receptions for 1,687 yards and 27 touchdowns.
He truly flourished in 2020, when he became the No. 1 option for the Atlanta Falcons and saw a target volume that matched. Out of the shadow of Julio Jones, Ridley was the WR5 in 2021, averaging 18.8 PPR/game, catching 90 of his 143 targets for 1,374 yards and nine touchdowns. Not bad for a player who saw the 73rd-highest catchable ball rate.
But the fact that I have to go back and reference 2020 stats to talk about Ridley and make a case for him in 2023 is the problem. After playing five games in the 2021 season, Ridley stepped away from football to focus on his mental health. During that same timeframe, he was suspended by the NFL due to a violation surrounding the league's policies on sports gambling.
What does Ridley even look like now? This is not the same as Jameson Williams, who will still be one of the younger players in the league when he comes back from his suspension. Ridley will be closing in on 29 years old, and he hasn't stepped on the football field since Oct. 24, 2021.
It's not like he won't have competition either, and Ridley can't afford a slow start — not with Christian Kirk already having established a rapport with Trevor Lawerence, Evan Engram having a monster season, and some solid input from Zay Jones.
It's not that I don't believe Ridley can still play; it's just that I don't see the gargantuan disparity between him and Kirk that others in dynasty do. If you picked him up for next to nothing or held on to him over the years, I would see what trades are out there, as reality might be disappointing.
Stefon Diggs, WR, Buffalo Bills
This is where knowing where you are with your team's trajectory is crucial. As a receiver in fantasy, Stefon Diggs is about as good as it gets and has been for quite some time.
With a 27.3% target share (10th), 34.3% air-yard share, and 23 red-zone targets (fourth), Diggs was excellent once again in 2022. The WR4 overall and WR5 in points per game (18.6 PPR), Diggs was fifth in targets (149) and one of only seven players to record over 100 receptions (108).
He finished fifth in receiving yards (1,429) and was one of just three WRs with double-digit touchdowns (11), joining Davante Adams (14) and A.J. Brown (11). Diggs was also tied for seventh in YPRR at 2.40 and had a 34% slot snap rate as Buffalo created mismatches.
Over the last three seasons, Diggs has averaged 161.7 targets, 112.7 receptions, 1,396.3 yards, and 9.7 touchdowns per season. During that stretch, he finished as the WR3, WR7, and WR4.
Yet Diggs will turn 30 this season, which is a significant number in fantasy football, as there is a decent correlation between a downward turn in production and a player reaching 30 years old. I know rules are meant to be broken, but Father Time is undefeated. The falloff might not hit in 2023.
That said, we can realistically expect maybe one or two more seasons — if we are lucky — of this level of play from Diggs before he tapers off. Diggs is a player better served on competing teams and would be someone I would sell for a high-end WR2 along with draft capital in 2024.
Josh Jacobs, RB, Las Vegas Raiders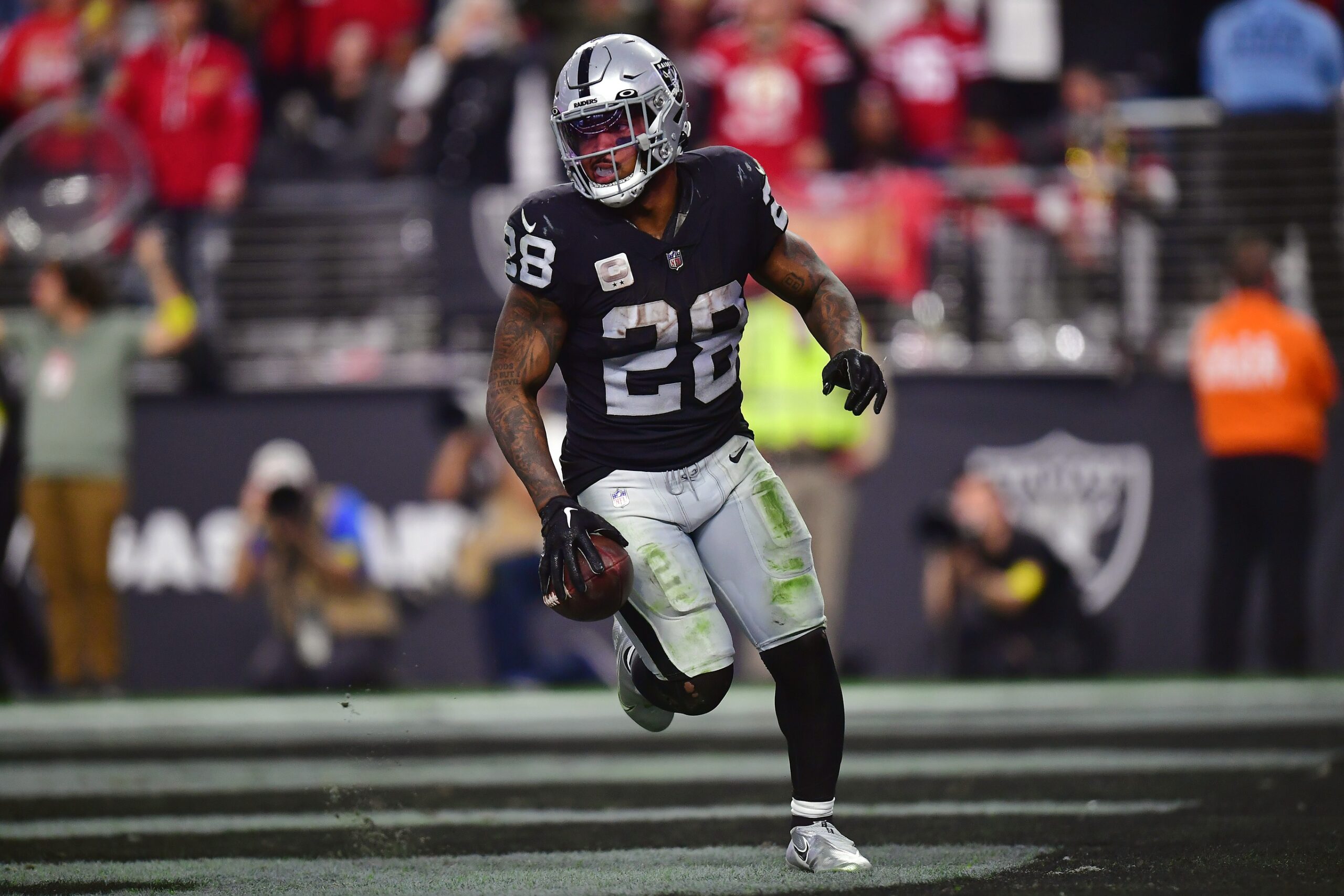 Josh Jacobs ended the season as the RB3 overall and fourth in points per game at 17.8 half-PPR. The fears of Zamir White turning this into a "running back by committee" were unfounded, as Jacobs led the league with 1,653 rushing yards on 340 carries (No. 2) with 12 touchdowns. He was also a significant factor in the receiving game, finishing 11th in targets (64) and catching 53 passes for 400 yards.
He was the dealing of many managers last year and likely one of the key contributors if you had a successful season. But we need to consider the situation Jacobs is surrounded by in Las Vegas.
MORE: PFN's FREE Fantasy Football Trade Analyzer
Last season, the Raiders benched Derek Carr at the end of the year, and Jacobs was impacted in games the Raiders were trailing more than we might like. In games with a negative game script or outright losses, Jacobs averaged just 12 points — a nearly six-point differential.
Las Vegas is projected to sit around six wins in 2023 and finish last in their division, and Jimmy Garoppolo is, at best, a lateral move from Derek Carr. While Jacobs certainly has three-down upside, as we saw, he is more game-script dependant than managers might initially realize compared to others around him, especially the upper echelon.
With the Raiders trailing most of the time this year, concerns of Jacobs losing his volume on the ground would have me looking to sell high before his value slips into the mid-RB2 territory.
Kenneth Walker III, RB, Seattle Seahawks
The selection of Zach Charbonnet is such a weird one. I get Pete Carroll wants to establish the run and insulate himself from injuries that have plagued the position in the past, and some of Kenneth Walker III's metrics weren't great, but he was, for fantasy purposes, great.
Walker III was the RB8 from Weeks 6-17 after Rashaad Penny was placed on IR and finished as the RB9 in points per game. Take away the two games he missed due to injury, and Walker averaged 16.4 PPR points per game.
Carroll has already noted Charbonnet's skills to the media, especially his work as a pass catcher, as he caught 60 of 69 targets at UCLA for 501 yards.
He's a brutal assignment for a would-be tackler at 6'1″ and 220 pounds. He runs behind his pads and will lay the wood, averaging 4.15 yards after contact per attempt, with 26.8% of his attempts generating a missed tackle and over 22% of his carries going for 10+ yards.
Truth be told, the damage to Walker III's dynasty stock has already happened, but the question is, how far down does the slide go? I still believe Walker III is a good running back. On the 13th-most carries, he had the 12th-most forced missed tackles, the 12th-most carries of 10 or more yards, and was the only RB to receive 100% of his team's carries inside the 5-yard line. But on those 10 carries, Walker III rushed for one yard with only two scores.
Now that he is sharing the rushing volume and will seed passing and goal-line work to one of the best "nose down and hit the hole" rushers in this class, it has me concerned about where Walker III's value will be in four months from now. You can still get top-10 RB/low-end RB1 value right now out of Walker III. I would try to take advantage of that and sell high on him before the 2023 dynasty season kicks off in just over three months.
Isiah Pacheco, RB, Kansas City Chiefs
Dynasty fantasy football managers were rightfully skeptical about the prospects of Isiah Pacheco after watching the disaster that was Clyde Edwards-Helaire, especially given that he was a seventh-round pick. Clearly, Pacheco was unlikely to do anything on the field. As Lee Corso says, "Not so fast, my friend."
Rushing 170 times, Pacheco totaled 830 rushing yards with five touchdowns and caught 13 of his 14 targets for 130 additional yards to finish as the RB36 half-PPR scoring and was 46th in per game scoring at 7.6 fantasy points.
But from Weeks 10-17, when Pacheco solidified his role as the starting running back, he was the RB18 in points per game and was sixth in rushing yards with 487. Pacheco averaged 65 yards on 13 touches a game, despite teammate Jerick McKinnon sitting as the RB4 overall, thanks to his receiving utilization.
Pacheco even had some solid moments in the postseason, including rushing for 76 yards and a touchdown on 15 carries to help the Chiefs win the Super Bowl. However, Pacheco sat 16th in yards per touch at 5.2, 46th in yards created per touch at 2.08, and 53rd in points per opportunity. Despite Pacheco running a 4.37 40-yard dash, the chunk plays didn't come all that often.
It's also worth noting that Pacheco will be dealing with McKinnon again, as he re-signed in free agency. Edwards-Helaire is receiving the coveted "camp hype," which I am taking with a grain of salt, though you can't completely write him off.
I would also note there's a potential Pacheco 2.0 already sitting on the roster. At 216 pounds, Pacheco was No. 1 in weight-adjusted 40-time, and, go figure, Kansas City did it again, drafting the No. 1 RB in weight-adjusted 40 in 2023 with Tulsa RB Deneric Prince topping the speed score metrics of this year's class with 114.22 thanks to a 4.41 40-yard dash at 216 pounds.
I am not going to sit here and say Pierce is the next Pacheco by any means, but he is a name we need to remember, at least until the 53-man rosters are set. After all, we saw what could happen last year with this same franchise, even though Pacheco is the better prospect and more refined downhill rusher.
Pacheco is in the low-end RB2 range, which I think is fair, but I don't see the upside in his trajectory compared to some around him, like Alexander Mattison, Devon Achane, Roschon Johnson, or James Cook. His ceiling is further reduced in full-PPR formats. A seventh-rounder that made his mark, unlike the vast majority, Pacheco is an easy sell-high candidate as dynasty managers can flip him after spending next to nothing a year ago.
T.J. Hockenson, TE, Minnesota Vikings
The tight end position for fantasy football is the hardest to find consistent weekly production. Outside of Travis Kelce, everyone else can be hit or miss on a given week.
Hockenson was off to a decent start in 2022. In his seven games with the Lions, he caught 26 of 43 targets for 395 yards and three touchdowns as the TE5 overall and TE3 in points per game at 12.4 PPR.
MORE: Dynasty Rankings 2023 — Top Superflex Fantasy Options
Yet, Detroit made a rare in-division trade with Minnesota, and in his new home, Hockenson flourished. In his 10 games, including a minimal workload in Week 18, Hockenson saw 86 targets, recording 60 receptions for 519 yards and three scores.
Including a 13-reception, 109-yard, and two-touchdown performance in Week 16, Hockenson's splits with Minnesota were nearly identical with Detroit as he finished as the TE3 overall and third in points per game at 12.8 PPR.
From a utilization and efficiency standpoint, he was among the elite with a top-five target share (20.5%) and snap share while sitting second in targets (129) and routes (542), posting the third-highest amount of air yards (985) and red-zone targets (19), and finishing fifth in deep targets (10), fourth in yards after the catch, and third in expected fantasy points per game.
Yet, unlike Kelce and even Mark Andrews, Hockenson will never be the No. 1 target on his team when everyone is healthy. That's going to Justin Jefferson and then to Jordan Addison, who might have the best season of any rookie wide receiver in 2023.
We have seen in recent years, even with Andrews, George Kittle, and Darren Waller, that repeating those breakout years generally doesn't happen unless your last name is Kelce.
It's easier to get worse at tight end than it is to get better, but if you can get top-three positional value from Hockenson while trading down a perceived tier and adding draft capital plus a shot at Brock Bowers in 2024, that is a path worth exploring in dynasty leagues this summer.
Listen to the PFN Fantasy Podcast
Listen to the PFN Fantasy Podcast! Click the embedded player below to listen, or you can find the PFN Fantasy Podcast on iTunes, Spotify, and all major podcast platforms.  Be sure to subscribe and leave us a five-star review! Rather watch instead? Check out the PFN Fantasy Podcast on our Fantasy YouTube channel.