The Minnesota Vikings are a team that has constantly been in a state of uncertainty. Though there has been stability at quarterback, and the stars have stayed consistent throughout the years, the outcomes and expectations have been wild.
Since 2017, the Vikings have oscillated between the heights of the NFC and mediocre disappointments — highs and lows that almost occurred in alternating seasons. Coming off of a successful season in 2022, Minnesota still has questions to answer about the sustainability of their style of play and the talent attrition they took in the trade market and free agency.
The Vikings had the opportunity to begin answering some of those questions coming out of the veterans' mandatory minicamp, though in doing so, they created some new ones. Let's take a look at the most important questions the Vikings have yet to fully answer after the conclusion of minicamp.
Will Danielle Hunter Play for the Minnesota Vikings in 2023?
The Vikings had an awful defense last year but had a few bright spots that they could count on. One of them, Za'Darius Smith, was traded to the Cleveland Browns. His partner in crime, Danielle Hunter, was another one — and without him, it's difficult to envision what a Vikings pass rush would look like in the upcoming season.
Hunter has decided to hold out of minicamp, willingly incurring fines that Minnesota, by rule, cannot forgive or reimburse him for. Even after accounting for his injury — missing a season and a half after signing his five-year extension with the team in 2018 — Hunter's been underpaid for his production and is scheduled to earn just over $5 million in 2023 without a further extension looking likely at the moment.
The Vikings have signaled a willingness to compete in a wide-open NFC North but won't be able to do so without Hunter on the team or an equivalently talented player that they could trade for. Right now, Minnesota doesn't seem intent on trading him, but they also haven't made much progress on contract talks.
Multiple teams have called the Vikings to gauge Hunter's availability. If one of them comes in with an enticing offer, Minnesota will have to question their commitment to a genuine run at the playoffs.
How Will the Vikings Replace Dalvin Cook's Production?
Though the Vikings have a commitment to "winning now" instead of sacrificing assets to secure future wins, they still saw fit to let go of key parts of their successful 2022 offense, with star running back Dalvin Cook no longer on the team.
The Vikings might be of the school of thought that running backs don't have much control over their production, but it nevertheless remains clear that a downgrade at that position from Pro Bowl starter to career backup will nevertheless mean a higher likelihood of negative run plays and fewer explosives. Alexander Mattison is the presumed starter, but it's unlikely that he adopts the primary role that Cook played.
Instead, he'll be on a committee with some combination of Ty Chandler, Kene Nwangwu, and DeWayne McBride. Because they all have different skill sets, it might be difficult to cleanly project the share of touches among them. On top of that, Mattison could lose the primary role to someone like Chandler or McBride.
Will the Minnesota Vikings Extend Justin Jefferson to a Long-Term Deal??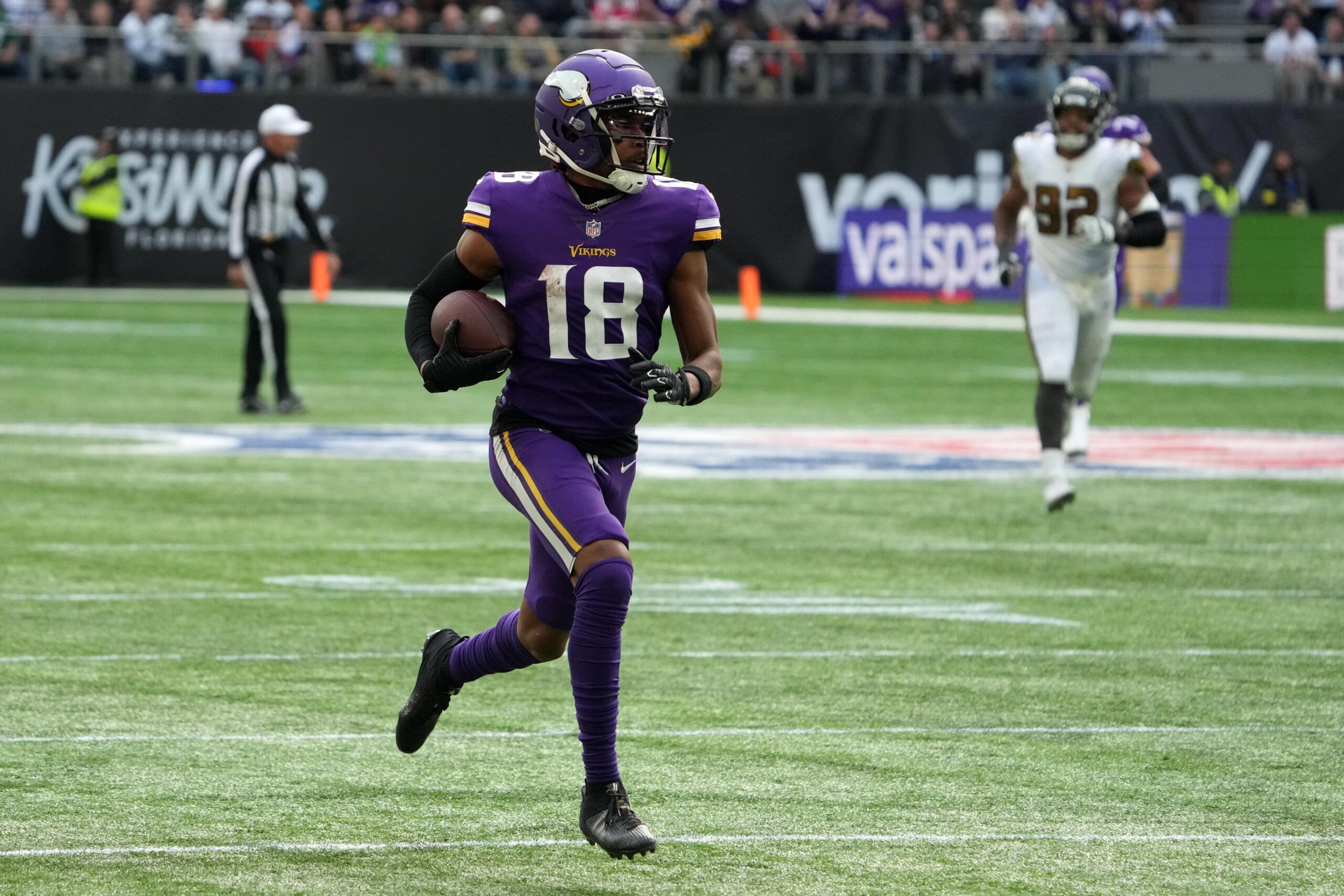 The Vikings' best player told reporters right away that he wasn't going to hold out of minicamp or training camp in order to secure a contract extension. Justin Jefferson's confident that one is coming and has said over the years that he's not too worried about his financial situation.
Nevertheless, it behooves the Vikings to move sooner rather than later to prevent Jefferson from entering his option year or playing the season with a cloud of uncertainty over his head. There haven't been any reports on progress made for any extension, and Minnesota has leverage in the form of their fifth-year option. However, they don't want to exercise their leverage too harshly lest they repeat the Hunter situation with Jefferson a few years down the road.
Jefferson will likely exit negotiations with the highest average annual value for his contract in the history of the position, a natural consequence of being the top receiver in the NFL and entering a new cap environment. That would mean a commitment of over $30 million a year from the team.
Though that could still result in relatively minuscule cap hits in the first two years of the deal — like those with A.J. Brown and Tyreek Hill, who average $8.3 million in cap charge over the first two years of their new deals, it still means a lot of accounting and is a big reason why the Vikings have been so constrained in their free agency moves.
Will Brian Flores Actually Improve the Outlook of the Vikings' Defense?
Minnesota's defense was disappointing last year in part because of the talent — one reason they turned over their DL, LB, and CB groups this offseason — but also because they ran the least diverse defense in the NFL.
The plays were easy for opposing offenses to predict, and the style was reminiscent of the old Tampa-2 teams from the mid-2000s despite promising the innovative Staley/Fangio defense that was meant to be all the rage over the past few years.
Instead, the Vikings signed the hottest name on the defensive coordinator market, former Miami Dolphins head coach Brian Flores. Though Flores' head coaching stint in Miami didn't work out, ending in a lawsuit, he's well-regarded for his ability to craft an aggressive and innovative defense.
In style, it's a complete tone shift for the unit. There will be less rigidity among positions, more diverse personnel groupings and a much more aggressive tenor marked by voluminous blitz packages and back-end man coverage principles.
The risk-averse, rigid zone defense that the Vikings ran last year was ineffective, transition creates its own challenges. The defenders who are coming over from last year's system will have to learn new techniques, terminology and fundamental principles before they can be comfortable that the system will provide an upgrade.
The early reports coming out of minicamp tell us that the defense is well ahead of schedule in terms of install – the Vikings have already deployed complex blitz packages and diverse personnel deployments despite limited time with the playbook.
Will the 2022 Vikings Rookie Class Meaningfully Contribute?
The Vikings' rookie class from 2022 was an enormous disappointment. Only one player saw substantial player time, Ed Ingram, and he underperformed throughout the season. Ingram was the biggest liability in pass protection on a line that has struggled for years and has had issues remaining consistent in the running game.
First-round pick Lewis Cine had lost the camp competition to Camryn Bynum to become the starting safety next to Harrison Smith and couldn't see the field before an early-season injury cut his rookie year short. At the moment, Cine seems to be behind Bynum and Josh Metellus on the depth chart.
Second-round pick Andrew Booth and fourth-round pick Akayleb Evans both had their moments as starters at corner, but neither played well enough or long enough to be considered reliable prospects at that position. They also both suffered injury problems.
Right now, Minnesota has been starting Evans alongside free agent addition Byron Murphy and rookie Mekhi Blackmon, with Booth as the fourth cornerback on the depth chart.
Third-round pick Brian Asamoah, a linebacker, did see some playing time and was perhaps more promising than any other rookie in his limited time on the field, but he'll still have to demonstrate that his promise is actually meaningful. Besides Ingram, Asamoah seems to be the only 2022 rookie guaranteed a starting spot this year.
There may be some more time on the field for players like Chandler or defensive lineman Esezi Otomewo in the coming season. However, the only player out of the late rounds that really looked like a steal thus far has been Jalen Nailor, who seems to have slotted himself as the fourth receiver in minicamp.