The Minnesota Vikings are in the midst of one of the biggest teardowns we've seen from a team that won 13 games and made the playoffs the previous season. Vikings general manager Kwesi Adofo-Mensah has been busy this offseason after making 2022 a "competitive rebuild" season. Gone are veterans Adam Thielen, Dalvin Tomlinson, Za'Darius Smith, Eric Kendricks, and Patrick Peterson, and Dalvin Cook could be next.
The focus for Minnesota is clearly shifting to the future despite having Kirk Cousins and Justin Jefferson still anchoring the offense. We're diving into the five young, less-heralded Vikings who must develop as the team enters a new era on both sides of the ball.
5 Players To Develop Ahead of Minnesota Vikings Rebuild
Four of the most important players Minnesota needs to develop land on the defensive side of the ball. New Vikings defensive coordinator Brian Flores named three of them as players he's "most excited" to develop, and we'll dive into why these individuals will play such critical roles for the franchise moving forward.
EDGE Patrick Jones II
With Smith now in Cleveland and Danielle Hunter in a contract year, the Vikings don't have an accomplished pass rusher on the roster beyond this season. Hunter and Smith combined for 20.5 of the unit's 38 sacks, opening the door for the tandem of Patrick Jones II and D.J. Wonnum to take on much larger roles. Each player had four sacks in 2022.
Jones is the more intriguing player of the two. He's one year younger than Wonnum but barely played in his rookie campaign in 2021. Jones' role last year grew in the final month of the season, seeing his snap count increase to 43% and 71%, respectively, in the last two weeks of the regular season before playing only 13 snaps against the New York Giants in the Wild Card round.
MORE: 2024 FREE NFL Mock Draft Simulator With Trades
With the team transitioning to a different phase, helping Jones become a starting-caliber player has to become a priority. If he fails, then Minnesota will need to invest heavily into the position next offseason. But if Jones can become a steady sack presence without being a sieve in the run game, the Vikings may only need to add one starter or a rotational option if Wonnum is also showing promise.
Considering how much a mediocre starting edge player costs in terms of draft assets or free agency dollars, Jones not becoming a useful player would be incredibly costly.
CB Andrew Booth Jr.
The Vikings have been searching for long-term answers at the cornerback position for years, including dedicating two picks in 2022 to the position. That included first-round pick Andrew Booth Jr. and fourth-round pick Akayleb Evans.
Evans was the better of the two corners as rookies, allowing only 2.5 receptions for 40.3 yards per game in 10 games.
He may end up being a decent starter, but there's a reason why Flores named Booth.
Injuries limited Booth to only six games, and head coach Kevin O'Connell said he's "on track" to be back for training camp after a knee injury ended his rookie campaign. Vikings fans are hoping Booth can simply be available at this point after a rash of injuries hit him, but he has to be more than just on the field.
Booth projects as an excellent fit for Flores' defensive scheme because of his stellar ball skills and physical mindset in coverage. He can be a tone-setter in zone coverages and the mixed-man looks Flores will utilize.
There's actual star-upside with Booth's physical profile and mindset, unlike Evans and Mekhi Blackmon.
LB Brian Asamoah II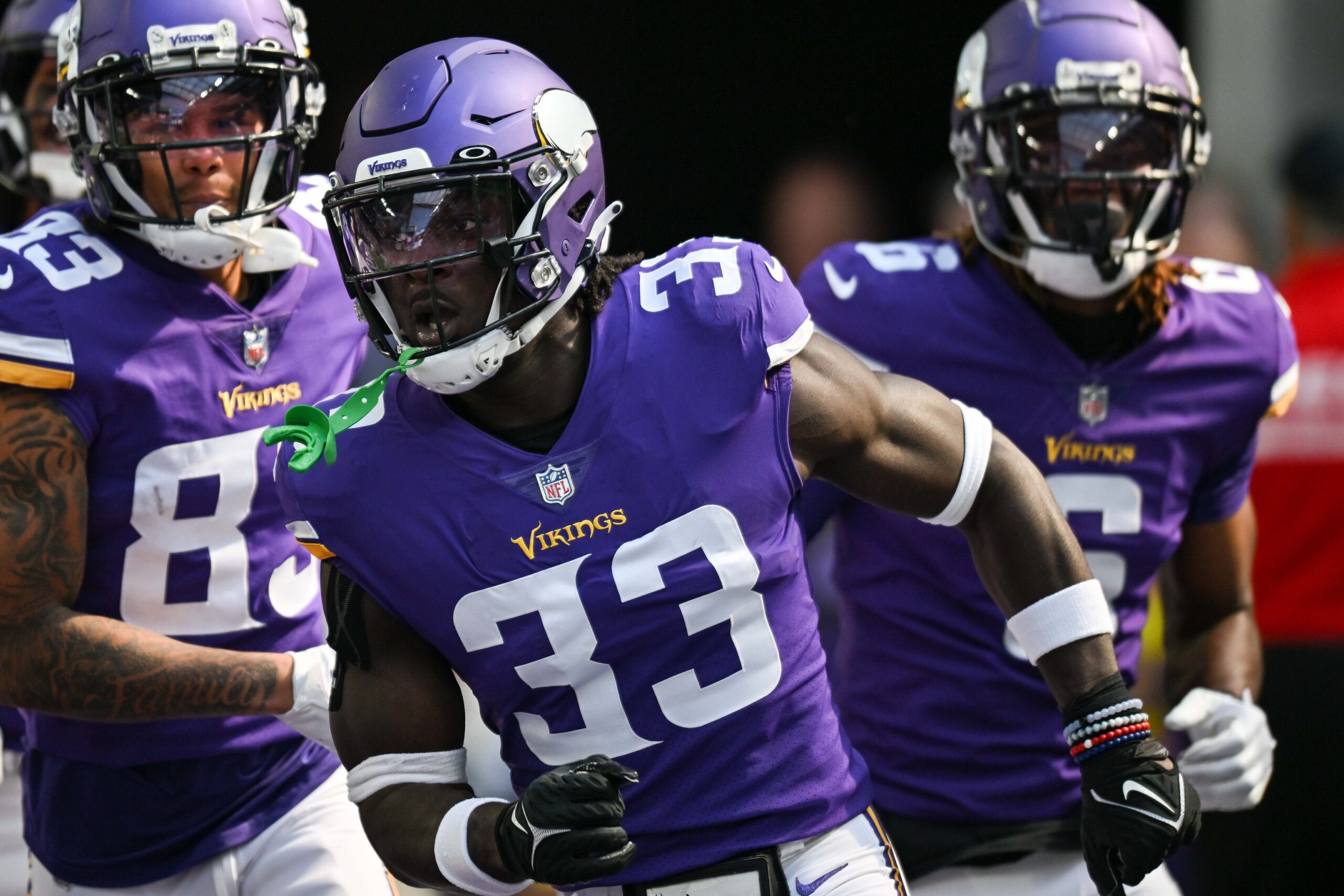 Considering the high level of play at linebacker the Vikings have seen from Kendricks and Anthony Barr over the last decade, Brian Asamoah might be the most important player on this list needing development. Asamoah will take over the middle linebacker role from Kendricks this coming season after the veteran moved on to the Chargers.
Asamoah had only 17 tackles in 16 games last year. The good news for him is that he'll play next to Jordan Hicks, who totaled 129 tackles next to Kendricks in 2022. Flores will need Asamoah to bring what Kendricks couldn't as he aged, which is turnovers and impact plays. Kendricks was a tackling machine but failed to force an interception or fumble last year.
Expect Flores to utilize Asamoah as he did Jerome Baker in Miami. Under Flores, Baker enjoyed the three most productive seasons in his career, notching at least 92 tackles, and totaling 12.5 sacks in 2020 and 2021. Both Asamoah and Baker have great speed and move quickly downfield once they diagnose the play.
RB DeWayne McBride
It might seem strange to consider a seventh-round rookie an important player to develop, but Minnesota is entering a critical period of their offensive overhaul. They only added one other significant playmaker to the offense this offseason — first-round WR Jordan Addison. But with Cook looking like a trade or release candidate after June 1, DeWayne McBride can quickly challenge Alexander Mattison and Ty Chandler for a role in 2023.
Mattison signed a two-year, $7 million deal this offseason but has always been more of a tease than an effective player. Often thought to be an ideal handcuff to Cook in fantasy football, Mattison hasn't produced more than 3.8 yards per carry since 2020, instead looking like a decent receiving threat and more of a red-zone option than a starting-caliber producer.
MORE: Should the Chiefs Explore a Potential Dalvin Cook Trade?
McBride, meanwhile, projects as a better fit for Minnesota's offense with a bigger volume of touches. He operated out of shotgun and pistol formations throughout his collegiate career and is a great fit in power and inside zone concepts because of his toughness and balance through the tackles.
What McBride has to develop is his receiving polish and prove that he's more than just a power back. His agility took a noticeable dip after he made cuts, and the UAB offense rarely fed him targets out of the backfield. If he can make defenders miss more effectively or contribute on third down, McBride can at least be a solid second back.
S Lewis Cine
Featuring a former first-round pick isn't a great sign of how the pick has worked out thus far, but Lewis Cine has a golden opportunity. With franchise icon Harrison Smith in his waning days with the team, Cine was drafted to eventually take over the mantle. The problem is, however, that his rookie season in 2022 was lost due to a compound fracture in his leg.
O'Connell said he's "doing very well in recovery" and could be back later in OTAs. That's a long recovery period, so Cine may not be back to full speed for quite some time. Nevertheless, it's important he still gets an opportunity once he's ready.
Cine was a dynamic athlete prior to his injury. The former Georgia Bulldog flew around the field, showing the ability to be an effective run supporter as well as a coverage option in the slot. Ideally, he and Camryn Bynum will be the future of the position for the Vikings.