It sounds a bit silly to claim that New York Jets sophomores Garrett Wilson and Breece Hall could be breakout candidates when they're both so obviously talented and productive. But as Daniel Cormier once said, "There are levels to this game." Wilson and Hall are about to level up, proving the two 2022 selections could be one of the most productive duos in the league. Meanwhile, up-front rookie Joe Tippmann has every opportunity to succeed.
New York Jets Breakout Candidates
The Jets are an interesting roster. Sauce Gardner casn't be labeled as a breakout candidate because, at most, he can only climb one or two spots in the NFL's CB hierarchy. He may already be the best. Otherwise, New York has several established veterans or role players who will never become stars.
But two second-year players, one rookie, and two players of the same name all have a chance to explode in 2023.
CB Michael Carter II
Not many people would have believed that the Jets' defensive Michael Carter would be the breakout star over the offensive one, but here we are. The "other" Michael Carter has to deal with Hall, Zonovan Knight, and Israel Abanikanda creeping up on him and stealing the ever-fleeting offensive snaps he could receive.
MORE: New York Jets — How Was Their Roster Built?
Meanwhile, much like Lil' Wayne, Carter II is proving to be the better product. Despite not having the reputation to ward off targets compared to his counterparts, Carter II dominated the middle of the field from the slot. Just like how Hustler Musik and Receipt did on Tha Carter II back in 2005.
The addition of Chuck Clark, arguably the most reliable defensive player in the NFL, should only strengthen the middle of New York's defense, allowing Carter to shine and jump routes even more in 2023.
RB Michael Carter
Carter will likely never be a 1,000-yard rusher in the NFL, at least not as a Jet. However, there's a reason why he was New York's leading rusher as a rookie, and he can be a very good rotational piece for the team's rushing attack.
With Nathaniel Hackett and Aaron Rodgers entering the fold, the zone run game isn't going anywhere. In fact, the zone run game should only become more prevalent with Hackett calling the shots.
Carter was an outstanding runner at North Carolina, and he shined his brightest running outside zone. He had an unfortunate sophomore season, but Carter will be in a more advantageous situation in New York.
WR Garrett Wilson
Coming off an 83-catch, 1,103-yard season as a rookie is tough to improve upon. But for as talented as Wilson is, he's not Inspector Gadget. He can only catch passes that are thrown in his area code. So Although Wilson caught 83 passes a season ago, he was targeted 147 times.
Wilson was a professional receiver before he ever stepped foot on an NFL field. Brian Hartline and the Ohio State Buckeyes are the best talent producers in college football. They are WR U at this point, and nobody produces better at any position right now.
MORE: Best Wide Receivers in the NFL 2023
Adding Rodgers to the equation is key. Even if he's regressing with age, Rodgers is almost unimaginably better than everything that the Jets rolled out at quarterback last year. Even if Wilson sees a few less targets in 2023, the efficiency of his targets should skyrocket enough to where he ends up far more productive than he was in 2022.
RB Breece Hall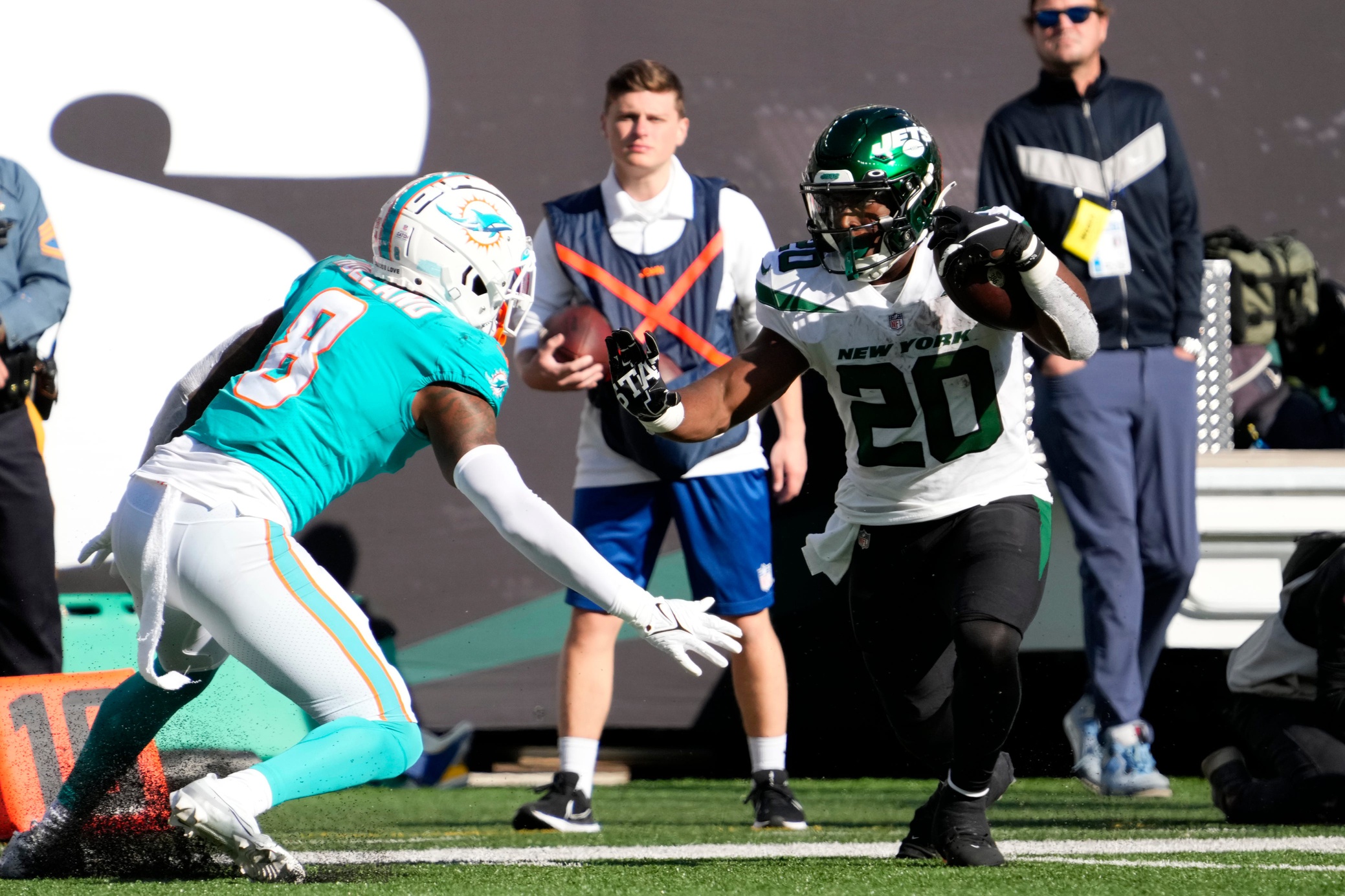 Hall was on his way to being the Offensive Rookie of the Year himself before tearing his ACL on Oct. 23. He scored five times in seven games and was a big-play threat on the ground and as a receiver out of the backfield.
Before his injury in Week 7, Hall was on his way toward an RB1 role, but we saw very little of him. He only averaged 11.4 rushing attempts and 2.7 receptions per game.
As for his current status, Hall's left knee is healing well. "Breece looks fantastic," coach Robert Saleh said in April.
Furthermore, Hall won't have to carry a massive burden in 2023. The RB room is strong with four potential contributors, even with a completely healthy stable, although it may take Abanikanda time to develop into the NFL.
"Everybody — myself, the coaches, my teammates — everybody wants me to be ready for Week 1, but at the end of the day, you've got to come back when you feel like you're ready," Hall said. "So until I feel like I'm ready, then I'll just know."
C Joe Tippmann
It's a pretty simple concept. A great college center is going to a similar scheme and gets to play between two outstanding guards in Laken Tomlinson and Alijah Vera-Tucker. Tippmann also gets to learn a thing or two from veteran center Connor McGovern.
MORE: Are the New York Jets a Top-10 Offense Heading Into 2023?
But Tippmann possesses the size (height/weight/length) and athleticism that coaches dream of at the center position. Players with his measurables rarely end up remaining in the very center of an offensive line.
He also has the benefit of Rodgers behind him pre-snap and will undoubtedly take some of the protection responsibility from the rookie if he must.