The 2024 East-West Shrine Bowl continues to hit the road this fall as the college football season enters Week 3. Shrine Game Director Eric Galko was kind enough to sit with the PFN Scouting Team and delve into which 2024 NFL Draft prospects he and the Shrine Bowl scouts will focus on in Week 3.
There are four games the Shrine Bowl is focused on more than the rest, and we're diving into our thoughts on the key senior prospects in each matchup.
Shrine Bowl CFB Week 3 Game Preview
Western Kentucky vs. Ohio State
We're in for a potential barn burner as the Ohio State Buckeyes host the Western Kentucky Hilltoppers on Saturday. The Buckeyes offense has a ton of undergraduate talent to look for, but while the Buckeyes have been slow to get the unit off the ground in the first two weeks, expect the veteran Hilltoppers to bring their best game.
The Shrine Bowl will look at Ohio State senior receiver Julian Fleming, right guard Matthew Jones, and tight ends Cade Stover and Gee Scott while the Buckeyes have the ball. Jones is incredibly experienced, leading the team in career snaps. Fleming and Stover are also Day 3 draftable talents who can continue to boost their stock throughout 2023.
The Buckeyes defense has a couple of other Shrine Bowl 1000 additions, including star linebackers Tommy Eichenberg and Steele Chambers. Both are solid players, with Chambers looking like someone who could be better at the next level than in college. It's also been great to see senior safety Josh Proctor regain his perch in the secondary after struggling with injuries since 2020.
MORE: Top 100 Prospect Watchlist
But the senior stars are actually on the other sideline. Western Kentucky quarterback Austin Reed and Malachi Corley have draftable grades, with Corley often landing at the end of the first round in our mock drafts. This is the nation's most explosive passing game because of the duo.
Reed is a gamer with a quick release and good accuracy on short and intermediate passes. He's physically limited but makes the best of his talent. Expect him to challenge just how sharp the Buckeyes secondary is with a solid peppering of targets.
Corley has no such physical limitations. An incredibly gifted player with the ball in his hands, Corley wreaks havoc on screens and crossers. His contact balance is staggering for a receiver, and he can take this game over alone.
South Carolina vs. Georgia
Galko left no doubt about his optimism around South Carolina passer Spencer Rattler, saying he has the natural talent to rise as high as QB3 in this year's quarterback class. It's hard to disagree, as Rattler has great athleticism, a strong arm, and flashes great accuracy while under duress.
Of course, as Galko mentioned, Rattler has to harness his abilities, but he's improved over the last few years.
The rest of the Gamecocks offense is also looking to distinguish themselves against Georgia.
Star receiver Antwane Wells Jr. is one of our favorites in the class, as he boasts a great blend of deep speed and the ability to create after the catch. He's been dealing with a lower-body injury, though, and will hopefully be able to contribute this week. Tight end Trey Knox and receiver Xavier Legette are also on our radar for potential risers.
On defense, South Carolina relies on senior defensive lineman Tonka Hemingway to create opportunities for his peers. Some fringe prospects need to step up with this big opportunity to shine, including linebacker Debo Williams and edge rusher Jordan Strachan.
Georgia, like Ohio State, has more underclassmen headlining their talent pool. But it's worth watching seniors who could find their way in the all-star circuit. It starts with the Bulldogs' backfield of Carson Beck and Kendall Milton.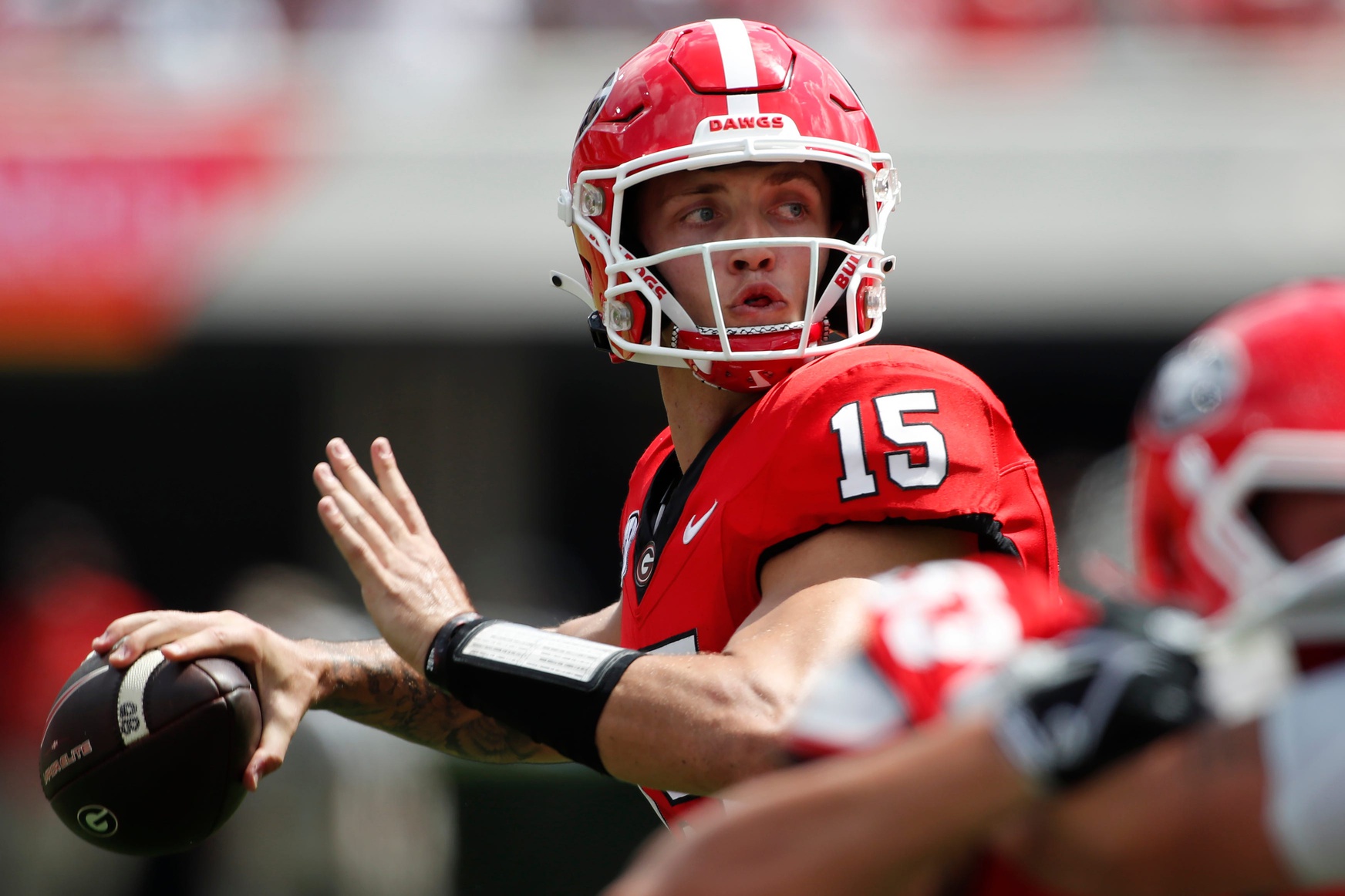 Beck is an intriguing first-year starter who has eligibility left for 2024. He has a good arm and the tools to be a real prospect even this year eventually, but his inexperience also shows. Milton is looking to solidify himself as a backup at the next level and should be drafted on Day 3.
Of course, the trench talent on Georgia is outstanding. Center Sedrick Van Pran and guards Xavier Truss and Tate Ratledge will be drafted. Van Pran is especially good and profiles as our top center in this class.
Look for nose tackle Nazir Stackhouse on the defensive side, as he's one of only three seniors who regularly play on the unit.
Tennessee vs. Florida
A classic rivalry, Tennessee and Florida headlines Week 3 for most fans. It's not a game with high-level prospects, but scouts will be happy to see senior-laden rosters go against each other.
All eyes will be on Volunteers passer Joe Milton III. With his mesmerizing cannon for an arm and good athleticism, he's looking to prove he can be more than just a sideshow for an NFL team. He's flanked by nine other seniors along the offense, including receiver Bru McCoy and running back Jabari Small.
Tennessee's defense also has mostly seniors starting, but none have firm, draftable grades yet. Defensive end Tyler Baron already has three sacks, and linebacker Aaron Beasley has six tackles for loss, so those two have the best chance of setting themselves apart in this matchup.
We can't discount Florida's talent, but most of their best players are underclassmen. The headlining senior is speedy receiver Ricky Pearsall. Pearsall has struggled with drops and durability but is an explosive presence who deserves Day 3 consideration with his unique deep speed.
BYU vs. Arkansas
BYU brought in a slew of transfers this offseason, making them a bit of an unknown entity entering the fall. Thus far, some transfers have been impactful, while others haven't been.
The offense has brought a mixed bag of results. Quarterback Kedon Slovis is a tough, unique prospect because he's played at three schools and hasn't really been good since his freshman season. But he has enough physical talent to be in the NFL and compete for a roster spot, and he has experience across different situations to quickly adjust to the league.
Despite optimism that fellow newcomer Aidan Robbins would be an effective backfield companion, the former UNLV back has been relegated to a short-yardage player. Robbins is a powerful downhill threat, but the BYU offensive line isn't good beyond star left tackle Kingsley Suamataia, so freshman LJ Martin has taken the starting job.
It's worth watching how Slovis performs against a fast and physical Arkansas defense. His best senior playmaker is tight end Isaac Rex, who has six catches for 127 yards and one touchdown on the season.
BYU's defense has a tall task to withstand the massive Arkansas backfield of KJ Jefferson and Raheim Sanders. Linebacker Ben Bywater is a Day 3 prospect thanks to his quickness and nose for the ball but is undersized. Playing well in this matchup will help his stock significantly.
Jefferson is by far the star of the game for Arkansas. He's still yet to prove himself as an NFL-level passer, possessing a strong arm but not being a smooth thrower who can layer the ball to all levels effectively.
MORE: FREE Mock Draft Simulator With Trades
It'll be interesting to see if Jefferson and senior receiver Isaac TeSlaa continue to torture defenses, as TeSlaa averages 19.5 yards per catch this year.
Arkansas' defense has two notable seniors in this matchup. Linebacker Jaheim Thomas has been a standout since transferring from Cincinnati. The 6'4″, 240-pounder is a hammer downfield, leading the team with 20 tackles and 1.5 sacks already.
We're also looking to see how defensive lineman Taurean Carter plays against Suamataia, as the 6'3″, 303-pounder has to show the right blend of power and quickness to win consistently.
Listen to the PFN Scouting Podcast
Listen to the PFN Scouting Podcast! Click the embedded player below to listen, or you can find the PFN Scouting Podcast on iTunes, Spotify, and all major podcast platforms.  Be sure to subscribe and leave us a five-star review! Rather watch instead? Check out the PFN Scouting Podcast on our Scouting YouTube channel.