The 2023 college football season will be the closing chapter for countless 2024 NFL Draft prospects, leading to numerous NFL Draft projection changes. Already, the 2024 class appears to be very deep at impact positions, and it also has the blue-chip talent necessary to reward the teams at the top of the order.
Looking for our big board with more than 650 players? Click here for our 2024 NFL Draft Big Board.
2024 NFL Draft Prospects To Watch
The 2023 college football season is underway, meaning the 2024 NFL Draft cycle is well into focus. As the season approaches, here's a look at the top prospects across the college football landscape. The 2024 NFL Draft is already rich with storylines — an elite QB duel, droves of tackle talent — but receivers ultimately dominate it at the top of the board.
1) Marvin Harrison Jr., WR, Ohio State
Marvin Harrison Jr. has a lot of expectations to live up to as the son of a Hall of Famer, but he has already shown that he can handle the pressure. He has already become a top NFL prospect, similar to A.J. Green, due to his impressive size and athleticism.
At 6'4″ and 205 pounds, Harrison makes difficult tasks like sinking, separating, and catching the ball look effortless. He excels in all aspects of the game, from outmaneuvering defensive backs and finding space to making explosive plays that can change the game.
Harrison reminded us of his dominant physical traits against Youngstown State in Week 2, totaling 160 yards and two touchdowns on seven catches. His straight-line speed was on full display, running away from defenders just as you'd expect a top NFL talent would from lower competition.
2) Caleb Williams, QB, USC
Caleb Williams has picked up from where he left off in his Heisman Trophy-winning 2022 season. He's completing just under 80% of his passes this year with 12 touchdowns and zero interceptions.
Standing 6'1″ and 215 pounds, Williams is an exceptional off-platform player with remarkable creativity and a strong arm.
His ability to improvise and make plays is matched only by his exceptional skill in decision-making, making him a top prospect comparable to Trevor Lawrence if he improves in that area.
3) Drake Maye, QB, North Carolina
In 2022, Drake Maye completed 342 out of 517 passes for 4,321 yards, 38 touchdowns, and only seven interceptions. His 2023 season hasn't been quite as dynamic so far, seeing a dip in his yards per attempt from 8.4 to 7.7, and having as many touchdowns (two) as interceptions (two). A new supporting cast is surely part of the reason why.
He is a talented quarterback who makes the game look easy with his athleticism and passing abilities. Despite what the consensus may suggest, he is similar to Williams, and it could be a close call regarding their skills.
Maye has a fluid and effortless throwing motion and can avoid oncoming defenders and maintain a high level of performance despite his large build of 6'4″ and 220 pounds. His ability to perform off-platform is a highly underrated aspect of his game and makes him an ideal fit for the modern NFL.
4) Olumuyiwa Fashanu, OT, Penn State
It's unusual for offensive tackle prospects to have the physical attributes that Penn State's Olumuyiwa Fashanu possesses following his redshirt sophomore season.
Fashanu meets all the size requirements and is an excellent athlete with exceptional mobility and flexibility. Additionally, he's a composed pass protector who uses a combination of patience, discipline, and strong hands to neutralize opposing rushers effectively.
5) Brock Bowers, TE, Georgia
Brock Bowers has made an impressive start to his career with 119 catches for 1,824 yards and 20 touchdowns in his first two seasons. He is expected to be a top pick in the draft's early rounds.
The Georgia offense has successfully created opportunities for Bowers, and he capitalizes on them with his quick acceleration, zone awareness, ability to maintain balance under contact, impressive catching ability, and strong grip when reaching high for the ball.
6) Jared Verse, EDGE, Florida State
We believe that Jared Verse, who recorded nine sacks and 17 tackles for loss in 2022, could have been selected in the first round of the 2023 NFL Draft. However, he decided to return to college.
This year, he is considered a top-10 prospect on our board. Verse possesses impressive skills, including speed, reach, strength, flexibility, agility, and quick reflexes. He also demonstrates remarkable hand-eye coordination during contact.
7) JC Latham, OT, Alabama
Despite being a potential first-round pick, JC Latham is often overlooked. However, as an Alabama offensive tackle, he can follow in the footsteps of other Crimson Tide first-rounders who came before him.
At 6'6″ and 335 pounds, he is incredibly explosive and agile on his feet. He also maintains his balance in pass sets, which is surprising for someone his size. His physicality is unmatched, and he effectively channels his elite physical tools.
Even as the Tide fell to Texas, the right tackle was very impressive against an experienced defensive line. His mobility for his size and length usage kept his quarterback as clean as Latham could control.
8) Emeka Egbuka, WR, Ohio State
While Harrison is an impressive talent, Emeka Egbuka also has the potential to be a top-10 player. Egbuka is 6'1″ and 205 pounds, combining explosiveness, agility, contact balance, and long speed. What sets him apart is his skill in navigating zones as a route runner and his natural ability to catch the ball while turning upfield for a run after the catch.
9) Kool-Aid McKinstry, CB, Alabama
It's early in the 2024 NFL Draft, but it's a lock that Alabama has a promising first-round CB prospect in Kool-Aid McKinstry. In his sophomore year, he had an impressive 15 pass deflections while in coverage.
Although he has a good height and weight at 6'1″ and 188 pounds, what sets him apart is his exceptional short-range technique, quick reflexes, explosive movements, and accurate physicality. His showdown against Xavier Worthy and Adonai Mitchell of Texas brought mixed results, highlighting that McKinstry could improve when he's isolated on an island in coverage.
10) Joe Alt, OT, Notre Dame
Normally, offensive tackles hit a point of diminishing returns once they reach 6'7″ or 6'8″. It may be too tall at a position where leverage is paramount, but Notre Dame's Joe Alt is an anomaly.
At 6'8″, 315 pounds, the former tight end is absurdly flexible, well-leveraged, quick out of his stance, and his recovery athleticism is a formidable failsafe.
11) Dallas Turner, EDGE, Alabama
The next player up for the Crimson Tide, Dallas Turner, has a tough task ahead of him, as he must fill the shoes of the departed Will Anderson Jr. While Turner still has some work to do to reach Anderson's level as a prospect, he has the potential to get there.
Standing at 6'4″ and weighing 240 pounds, Turner boasts impressive length and a frightening burst and bend around the edge. Additionally, his speed-to-power transition is shockingly impactful. His run defense might be the best part of his game on Day 1 despite being a little underweight.
12) Malik Nabers, WR, LSU
Preseason hype can be misleading. LSU WR Kayshon Boutte is a recent example.
Malik Nabers is the next in line for the Tigers' wide receiver prospects. He is a promising choice to fulfill that potential. Nabers is a genuine speed threat when it comes to going downfield. He can effortlessly offset and stack defensive backs.
Moreover, he has exceptional contact balance after catching the ball, standing at 6'0″ and weighing 195 pounds. Furthermore, Nabers is adept at contorting himself to catch the ball.
13) Barrett Carter, LB, Clemson
Barrett Carter is a standout athlete, 6'1″ and weighing 225 pounds. In 2022, he achieved 10.5 tackles for loss, 5.5 sacks, two interceptions, and eight deflections.
In my opinion, he is a top-10 prospect and could be a highly sought-after linebacker. His athleticism is exceptional for his position, possessing a safety's quickness, agility, and coverage range. This makes him versatile and a threat in all areas of the game.
14) Andrew Mukuba, S, Clemson
Andrew Mukuba's production took a slight dip in 2022, but the Clemson defender still has the profile to be a coveted NFL Draft prospect in 2024. Mukuba, at 5'11", 185 pounds, is an incredibly versatile piece for the Tigers' defense.
He can play single-high or two-high and has slot capabilities. His elastic, high-energy athleticism and rare fluidity can be a trump card against offensive weapons wherever he lines up.
15) Cooper DeJean, CB, Iowa
In the 2023 NFL Draft Round 1, Lukas Van Ness represented Iowa, and Cooper DeJean seems to follow a similar path in 2024. DeJean stands at 6'1″ and weighs 209 pounds, displaying remarkable twitch and movement freedom.
In 2022, he recorded five interceptions, including three pick-sixes and eight PBUs. As expected, he is excellent in run support and shows high-IQ cover skills, allowing him to anticipate routes and shift the momentum.
16) Kalen King, CB, Penn State
Joey Porter Jr. was very effective in defending his side, so the quarterbacks had to try to pass the ball to other players. One of those players was Kalen King, who also proved to be a challenge for the QBs with his three interceptions and 16 deflections.
King is a talented defender with great speed, agility, and excellent ball skills, and is known for his competitive spirit as a support defender. Overall, he is a valuable asset to the team.
17) Jer'Zhan Newton, DT, Illinois
A top producer in 2022 with 5.5 sacks and 14 tackles for loss, Illinois' Jer'Zhan Newton returns to the fold as our preliminary top-rated DT prospect in the 2024 NFL Draft.
At 6'2″, 295 pounds, Newton fits the mold of the modern disruptor. While his length is a concern, Newton counteracts that easily with his explosiveness, agility, natural leverage, intentional hands, and strength. And his flexibility is a hyper-elite trait that allows him to peel through blocks and consistently squirm free in pursuit.
18) Bralen Trice, EDGE, Washington
Bralen Trice, a highly productive pass rusher in 2022, is a potential first-round pick in the 2024 NFL Draft. Trice's main advantage is his powerful physical profile, standing at 6'4″ and weighing 260 pounds. He can easily overpower blockers but also possesses exceptional lateral movement and explosiveness for his size.
19) Keon Coleman, WR, Florida State
Keon Coleman, who transferred from Michigan State, immediately became a star player in Florida State's talented offense. Standing at 6'4″ and weighing 215 pounds, he possesses one of the most impressive three-level frameworks amongst the 2024 NFL Draft class.
He has exceptional catching abilities and is known for his RAC skills, but he also has great speed and agility, allowing him to separate from defenders easily.
20) Kamren Kinchens, S, Miami (FL)
Having a wide range is a valuable asset as a safety, and it's even better when those safeties possess versatility in all areas. Kamren Kinchens from Miami meets both of these criteria.
He is among the top center-fielders in the 2024 NFL Draft class, and his six interceptions in 2022 showcase his exceptional ability to make plays. Moreover, he is an excellent support defender at 5'11" and 202 pounds, with the strength to stop runners.
21) Graham Barton, OL, Duke
Graham Barton plays tackle for the Blue Devils and is very good at what he does. His flashes of combative independent hand usage are extraordinary.
That said, with arm-length concerns hovering over his profile, Barton may project better to guard at the next level. He could be the best guard prospect in the 2024 NFL Draft. He has a well-proportioned 6'5″, 314-pound frame and is an explosive athlete with dominating leg churn and power drive at contact.
22) Maason Smith, DT, LSU
The question will be whether Maason Smith can return to 100% after missing most of the 2022 campaign with a torn ACL. If he can, he has early first-round potential with his dominating pallet of tools.
Smith is a dominant player, standing at 6'5″ and weighing 300 pounds. He demonstrated his strength by recording four sacks and five tackles for loss in 2021. Despite his size, he is also agile enough to play on the outside as a 5-tech. As a pass rusher, he can withstand strong hand counters and easily maneuver around blocks, thanks to his ankle flexibility.
23) Rome Odunze, WR, Washington
If Rome Odunze had decided to enter the 2023 NFL Draft, he would have been a contender for the first round. He had an impressive season with 75 receptions, 1,145 yards, and seven touchdowns.
At 6'3″ and 201 pounds, he is a versatile receiver who can excel at all three levels of the field. He has excellent athleticism and can create separation from defenders. Furthermore, he has a natural talent for catching contested passes and is a shifty runner after the catch.
24) Jeremiah Trotter Jr., LB, Clemson
Legacy prospects are becoming more common, and the 2024 NFL Draft has several in the early-round range. Jeremiah Trotter Jr., the son of an All-Pro linebacker of the same name, aims to carry the family torch in 2024.
Trotter has a stocky frame and good strength, but his most impressive trait is his ability to snake through congestion, evade and bend past blocks, and halt plays at the line.
25) TreVeyon Henderson, RB, Ohio State
The college football world has been eager to watch if TreVeyon Henderson has been healthy this season. Thus far, Henderson has shown his top-notch explosiveness despite dealing with a mediocre offensive line.
Henderson has an instant trigger when accelerating upfield, and he owns the contact balance at 5'10", 214 pounds to bounce off solo tackle attempts. His versatility as a receiver is a bonus in the modern NFL.
26) Denzel Burke, CB, Ohio State
Denzel Burke had a less successful year in 2022 than his breakout performance in 2021, where he made a pick and 12 pass breakups. As a 6'1″, 190-pound cornerback, Burke has the potential to improve his technique and fluidity.
However, he possesses impressive explosiveness, quick reflexes, and excellent ball-handling skills, making him a formidable opponent on the field. He can readily disrupt and slow down opposing receivers at the line with his long reach and physicality.
27) Rod Moore, S, Michigan
Versatility is a common theme among many of the 2024 NFL Draft's top safeties, and that theme is carried further with Michigan's Rod Moore.
Moore is 6'0″ and 185 pounds, making him lighter and more slender than his peers. However, he possesses excellent speed and agility, enabling him to close gaps and tackle ball carriers quickly. He is versatile and can play in different positions, including two-high, single-high, or the slot. Moore is known for his fierce and relentless play style.
28) Xavier Worthy, WR, Texas
Xavier Worthy may fall outside the desired weight threshold for WRs at 6'1″ and 163 pounds, but he is a unique player in this class. Despite his lack of mass, Worthy has a powerful impact on defenses with his exceptional speed, ability to stretch the field, and pinpoint attacks on weak spots.
He also possesses high-level instincts and body control, allowing him to excel beyond his physical limitations.
29) Bo Nix, QB, Oregon
There's a big gap between the top two passers in the 2024 NFL Draft and the next candidates, but as it stands, Oregon's Bo Nix holds our QB3 spot. Nix reached new marks in 2022 with his efficiency and decision-making.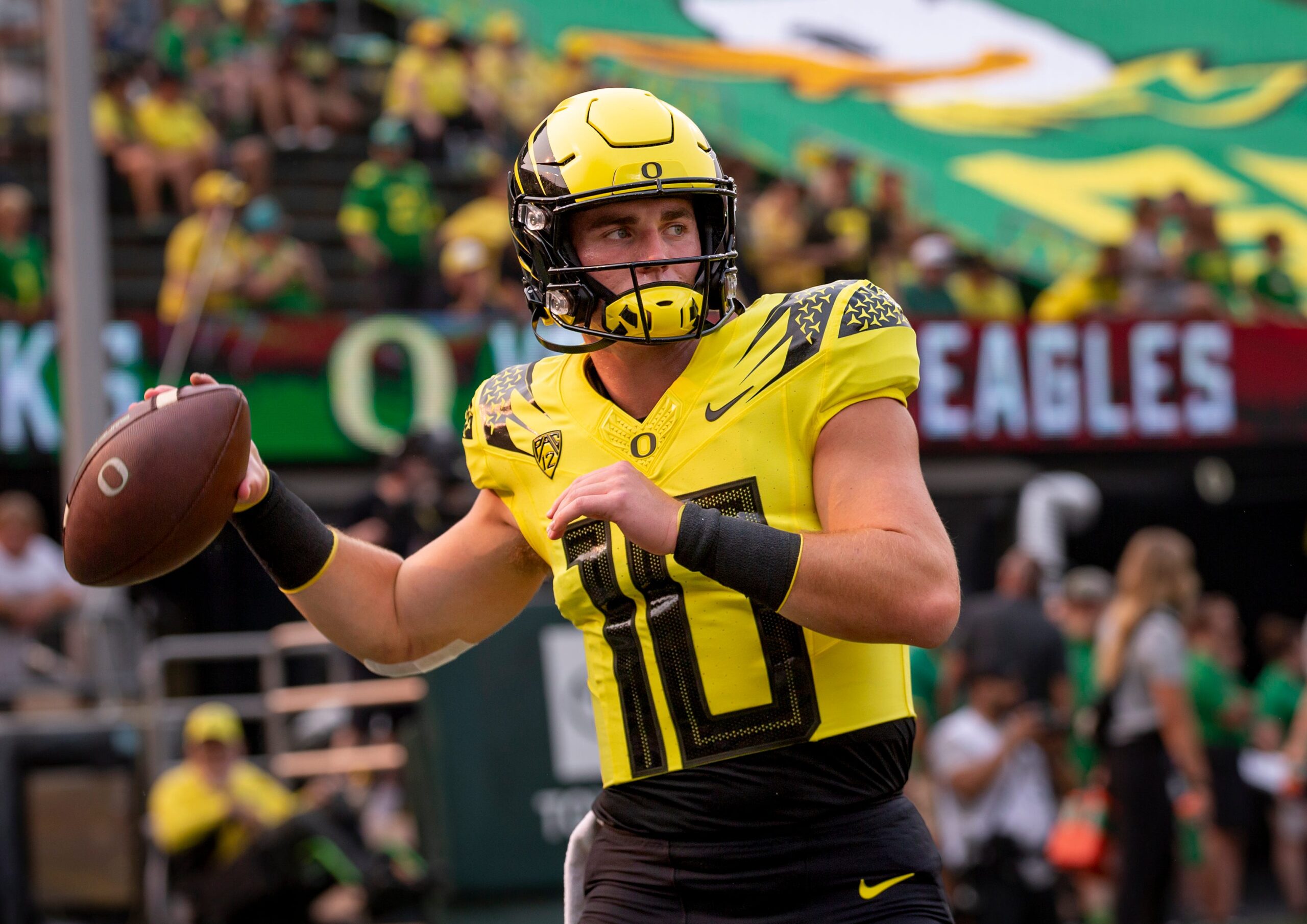 Few are better equipped than the Ducks' passer regarding short-area athleticism, natural creation capacity, and off-platform comfort and flexibility. His early play in 2023 has him on the brink of potentially losing grip on the QB3 spot, showing a little less confidence and poise against Texas Tech, but Nix can recover in the coming weeks.
30) Kingsley Suamataia, OT, BYU
While Blake Freeland was highly anticipated in some circles during the 2023 NFL Draft cycle, Kingsley Suamataia should be regarded even more highly. At 6'6″ and 315 pounds, this former Oregon commit has greater flexibility than his predecessor, allowing him to gain leverage.
In a class filled with dynamic athletes, Suamataia is one of the best with his initial burst, and he enjoys overpowering defenders in the open field.
31) Ruke Orhorhoro, DT, Clemson
Ruke Orhorhoro was an early-round prospect on my 2023 NFL Draft board, but he returned to school and continued honing his craft. Orhorhoro was born in Nigeria and didn't start playing football until his junior year of high school.
As young as he is, Orhorhoro's an exciting talent with an elite burst, power capacity, and alignment flexibility at 6'4″, 303 pounds. As he continues to refine his hands, those natural tools will only become more overwhelming.
32) Princely Umanmielen, EDGE, Florida
Looking beyond the top prospects, the 2024 NFL Draft EDGE class is unclear. However, Florida's Princely Umanmielen is a promising prospect who could rise.
Standing at 6'5″ and weighing 245 pounds, Umanmielen is an explosive athlete who has yet to develop his pass-rushing skills fully. Nevertheless, he shows remarkable ankle flexibility for his size and is already an excellent pursuit player. With plenty of untapped potential, Umanmielen is a prospect to keep an eye on.
33) Leonard Taylor III, DT, Miami (FL)
Having produced five sacks and 19 TFLs over the past two seasons, Leonard Taylor III's production alone has him penciled in as a potential early-round pick.
At 6'3″ and 305 pounds, Taylor's build is impressive. Despite his size, he remains lean and athletic. He can generate speed from his momentum and power through opponents. Additionally, he has quick reflexes and can easily evade blocks with his swift swimming technique.
34) J.T. Tuimoloau, EDGE, Ohio State
J.T. Tuimoloau has dropped on our board after two quiet games in 2023.
At 6'4″, 277, he has a rare blend of size, burst, and power capacity, and he doubles as a playmaker who's always around the ball. He doesn't quite have a game-breaking bend, but he's a high-motor rusher with explosiveness, strong and nuanced hands, and finishing ability. Despite this, he's been barely noticeable in his critical junior season, opening the doors for others to leapfrog him.
35) McKinnley Jackson, DT, Texas A&M
McKinnley Jackson had a fantastic season in 2022, achieving two sacks and seven tackles for loss. As a result, he is considered one of the top-nose tackle prospects in the 2024 NFL Draft class due to his impressive abilities.
Jackson stands out because he is not just a large presence on the field but also quick and explosive despite his 6'2″, 325-pound frame. He can easily overcome blocks and double teams and uses violent swims and double swipes to win. Additionally, his relentless motor is a key asset.
36) Raheim Sanders, RB, Arkansas
Raheim Sanders, also known as "Rocket," is a running back who has proven himself on the field. In his last season at Arkansas, he carried the ball 222 times, gained 1,443 yards, and scored 10 touchdowns.
Sanders is a powerful runner who quickly accelerates and can cover ground rapidly at his 6'2″, 227-pound frame. He is also tough and determined, and opponents struggle to tackle him due to his aggressive response to contact.
37) Matt Goncalves, OT, Pittsburgh
There are many promising offensive tackles in the 2024 NFL Draft, including Matt Goncalves. While the group's top is strong, noteworthy players are also in the first-round and early-round range.
Goncalves stands out at 6'6″ and 330 pounds, with impressive foot speed and burst, excellent strength in pass protection, and the ability to displace defenders in the ground game.
38) James Williams, S, Miami (FL)
You're in luck if you missed the size/speed freak mold at safety. The 2024 NFL Draft class has another mold-breaker in tow with Miami's James Williams.
Listed at 6'5″, 224 pounds, Williams challenges convention with his size and length at the safety position. He also has legitimate playmaking chops and is a banshee coming downhill with his physicality.
39) Tahveon Nicholson, CB, Illinois
Tahveon Nicholson can potentially become Illinois' next early-round prospect at CB, in place of Devon Witherspoon. Although Nicholson will be an older rookie, and his size is average, he compensates with his feisty cover skills, hyper-explosive mobility, and searing foot speed. He has demonstrated his ability to compete with his opponents at the catch point.
40) Will Shipley, RB, Clemson
Will Shipley, who has played for the Clemson Tigers for two seasons, has accumulated over 2,000 yards from scrimmage and 26 touchdowns.
Despite being 5'11" and weighing 205 pounds, he has the potential to become a top running back. Shipley's exceptional finesse and hip flexibility as a runner are remarkable, and he possesses the creative instincts to take full advantage of these abilities.
41) Sedrick Van Pran, C, Georgia
Georgia's offensive line has dominated for the better part of two seasons, and Sedrick Van Pran is a big reason why.
The 6'4″, 310-pound center is well-leveraged and physical throughout his reps, but Van Pran's most eye-catching trait is his searing explosiveness off the line. He reaches the second level instantly, and his range is a game-changer on zone runs.
42) Donovan Jackson, G, Ohio State
The 2024 NFL Draft should safely clear the 2023 NFL Draft class regarding early-round offensive guard talent, and Donovan Jackson is a part of that. He's a former five-star recruit with a dense 6'4″, 320-pound frame and elite proportional length.
Jackson's hands explode into contact, he brings overwhelming core strength, and he has the lateral mobility and vision to handle stunts.
43) Michael Hall Jr., DT, Ohio State
Michael Hall Jr. still has a ways to go before he locks in his status as a potential early first-round pick. But all the necessary upside is there to fuel such an ascent.
At 6'2″, 295 pounds, Hall is an energized wrecking ball on the interior with a phenomenal burst, agility, proportional length, closing speed, and torquing power capacity, and he's flashed the ability to win quickly with violent swims and clubs. He can be dangerous if he stays consistent with his balance and fluidity through rush moves.
44) Kris Jenkins, DT, Michigan
In 2022, Kris Jenkins didn't have a significant statistical breakthrough, but the 6'3″, 285-pound defender demonstrated his explosive potential, especially toward the end of the year.
Michigan has always successfully recruited defensive tackles with impressive physical abilities, and Jenkins is the next one in line. He possesses incredible speed, agility, and strength, making him a formidable opponent when rushing the passer in one-on-one situations.
45) Shedeur Sanders, QB, Colorado
There hasn't been a bigger winner from the first few weeks of action than Shedeur Sanders. A great athlete who had to prove he could replicate his FCS success at Colorado, Sanders clearly has not been bothered by the jump in competition.
Sanders has shown off elite playmaking, deep passing prowess, an improved passing motion, and the ability to make full-field reads. He's continuing to climb our rankings.
46) Trey Benson, RB, Florida State
If you're looking for a back who can churn through early-down attempts and keep the chains moving late in games, there aren't many better options than Trey Benson in the 2024 NFL Draft.
Benson, at 6'1′, 215 pounds, has a workhorse frame, hits holes with explosive energy, and can plow his way through successive tackle attempts with a mix of contact balance and relentless energy.
47) Cooper Beebe, G, Kansas State
If Cooper Beebe had made himself available for the 2023 NFL Draft, he would have been a strong contender for the top guard prospect. Beebe has been recognized as an All-Big 12 player for multiple years and has played at both tackle and guard positions.
However, his skills are best suited for the guard position. Beebe, who stands at 6'4″ and weighs 332 pounds, is a well-trained and powerful blocker, and his excellent understanding of angles makes him highly dependable.
48) Quinn Ewers, QB, Texas
Quinn Ewers entered the season needing to show improved consistency, not only from a production side but also from a process side. He doesn't have the strongest arm and is not much of a threat to leave the pocket, meaning he has to be great operationally and with his mechanics.
Through his first few games, Ewers has clearly worked to address his weaknesses. He was superb against Alabama, peppering their defense with excellent passes to all levels. There's still room for Ewers' footwork and play under pressure to improve, but he's continuing to rise.
49) Amarius Mims, OT, Georgia
Georgia's Amarius Mims played sparingly as a reserve in 2022, but the results were incredibly promising. His blend of size (6'7″, 330 pounds) and athleticism would give a team a budget version of Trent Williams to develop.
50) Will Sheppard, WR, Vanderbilt
Vandy's Will Sheppard is a standout route-runner who can create with the ball, which is unusual for a 6'3″, 200-pounder. He continues to rise up our big boards thanks to his natural playmaking and blend of athletic traits.
51) Jordan Travis, QB, Florida State
Starting in Week 8 of 2022, Jordan Travis was the best quarterback in the nation. He's a unique playmaker who is incredibly dangerous outside of the pocket. His strong arm, underrated mental processing ability, and accuracy all looked much improved as he gained confidence last season.
His early play in 2023 has shown much of the same principles. Outside of two bizarre passes against LSU, Travis has been a force for defenses to account for.
52) Troy Franklin, WR, Oregon
Oregon speedster Troy Franklin is a particularly interesting prospect because of his fluidity and speed throughout routes. Able to gain easy separation as an outside and slot receiver, he's versatile and experienced enough to expect Day 1 contributions. His large 6'2″ frame also provides quarterbacks with a big catch radius.
53) Adonai Mitchell, WR, Texas
Adonai Mitchell has enjoyed a breakout at Texas while catching passes from Quinn Ewers. He flashed promise at Georgia in a limited sample size and has the well-rounded profile to generate appeal on the 2024 NFL Draft circuit. At 6'4", 196 pounds, Mitchell has size-defying throttle control and sink as a route runner, boasts excellent catching instincts, and doubles as an elite run blocker.
54) Chop Robinson, EDGE, Penn State
Chop Robinson is undersized but makes up for it with quickness and finishing ability. He can immediately enter the NFL as a rotational edge defender on passing downs. Robinson can be a good complementary rusher to a star if he becomes more well-rounded.
55) Tyler Guyton, OT, Oklahoma
It's possible that Oklahoma could produce another early-round draft pick for the right tackle position, as they did in 2023 with Wanya Morris going to the Chiefs in Round 3.
Tyler Guyton, who transferred from TCU, started five games for the Sooners in 2022 and impressed in his performances toward the end of the season. Standing at 6'7″ and weighing 320 pounds, Guyton can effectively block rushers upon contact while also possessing agile athleticism and efficient footwork.
56) Laiatu Latu, EDGE, UCLA
A highly productive and versatile pass rusher who can be effective as a pure edge and as a delayed blitzer, Laiatu Latu has started 2023 with style. He's shown off improved power at the point of attack, opening room to use his deep array of pass-rush moves. While I was concerned with Latu's speed entering the season, he's looking a little quicker and more refined as a pass rusher thus far.
57) Jason Marshall Jr., CB, Florida
Length, physicality, and pedigree are always eye-catching traits on the NFL Draft circuit, and few cornerbacks have more of each than Florida's Jason Marshall Jr.
Marshall is still growing as a technician and doesn't quite have the elite deep speed to compensate for early losses. But with his length and short-area twitch, he can match and dictate receivers easily at the line, and he flashes great playmaking instincts.
58) Jordan Morgan, OT, Arizona
The nation might not have a more athletic tackle than Jordan Morgan. He was likely set to be a first-round pick in the 2023 class before tearing his ACL in November. He returned to school to prove he's healthy.
If Morgan is healthy, he's a fantastic prospect. Morgan takes initiative when blocking and owns most reps because he's so in control of his body. He has great lateral agility and timing with his hands. There's room to improve the angles he'll take in pass protection and handling bull rushes, but those are more technical tweaks than any overhauls.
59) Omar Speights, LB, LSU
Omar Speights logged over 300 tackles in his career at Oregon State before transferring to LSU. He's been underrated across that entire span and is one of the 2024 NFL Draft's biggest sleepers.
At 6'1″, 237 pounds, Speights is a rocked-up second-level defender with impressive mass. That mass amounts to great play strength both as a block destructor and a tackler. But Speights also brings quality burst, range, and short-area agility as a coverage defender, and he's very instinctive when managing the middle of the field.
60) Ty'Ron Hopper, LB, Missouri
Remember Nick Bolton? Same, but different. Aside from sharing college colors, Ty'Ron Hopper is a similar player stylistically. He isn't the most explosive player in college football. He is not the biggest linebacker on the field. But he has a military-grade homing beacon for the football.
Although there were shades of Bolton, at the surface, David Long seems an apt comp for Hopper. Nobody tackles ball carriers closer to the line than Long, but Hopper's ability to know what the offense is doing at the snap of the ball — along with his knack for slipping blocks — makes him an absolute menace in the backfield.
61) Tyleik Williams, DT, Ohio State
A strong run defender who boasts surprising speed at 6'3″ and 320 pounds, Tyleik Williams has the makeup of a solid long-term starter in the NFL. He's difficult for blockers to deal with one-on-one because of his mass.
62) Oronde Gadsden II, WR/TE, Syracuse
Depending on who you talk to, Oronde Gadsden is a potential first-round candidate in the 2024 NFL Draft cycle. At 6'5", 216 pounds, he blends the positional line between wide receiver and tight end. He has the size, length, and vice-grip hands to win one-on-one, but he's also a fleet-footed athlete who can separate on slants, posts, digs, and fades.
63) Nate Wiggins, CB, Clemson
A long cornerback at 6'2″, Nate Wiggins fits the Seattle mold of guys who can make up for their lack of elite 40-yard speed with his length. Wiggins does well to make up for his upright build thanks to sharp footwork, good instincts, and excellent timing when he's playing the ball.
64) Trey Benson, RB, Florida State
As a projected volume back, Benson brings plenty to like. He has a strong, compact build at 6'1″, 223 pounds, with a powerful lower body. He's an explosive vertical runner with constant leg churn who uses forward-pressing physicality, tenacity, and elite contact balance to withstand tackles and routinely glean maximum potential from runs.
65) Jaylan Ford, LB, Texas
Explosiveness and athleticism remain common themes for the NFL's best linebackers, and Jaylan Ford brings plenty of those. The 6'3", 242-pound defender stood out for Texas in 2022 and offers rare disruptive range and proactivity as an enforcer. Also built-in with Ford's physical skill set is exciting projected versatility – whether he's tracking run plays, gliding in coverage, or blitzing downhill.
66) Caelen Carson, CB, Wake Forest
Caelon Carson has the length and physicality to bully wide receivers in man coverage. Still, he also has the fleet-footed athleticism, corrective twitch, technical prowess, and ball-tracking ability to hold strong through reps.
67) Javon Bullard, CB, Georgia
Like many future NFL safeties these days, Javon Bullard aligns in the slot most often at the college level. He displays crystal-clear distinctiveness in zone coverage that should seamlessly transition to the back end of an NFL defense in a split-safety role.
68) Riley Leonard, QB, Duke
Leonard still has room to develop as a processor like most young passers. There are flashes of anticipation and progression work, but he can be more consistent. Additionally, working against pressure has proven to be a tumultuous endeavor — both mentally and mechanically.
Interestingly, Leonard is a very instinctive pocket navigator in space management, but maintaining mechanical congruence amidst pressure has proven challenging. Leonard's mechanics in closing pockets can be volatile, and by extension, so can his accuracy and precision. More experience may help strengthen his composure.
69) D.J. James, CB, Auburn
The days of caring about whether or not a cornerback meets some arbitrary weight threshold are over. D.J. James may be a long, lanky cornerback at 6'1″, 175 pounds, but it doesn't matter because he can cover his tail off.
He's feisty, but like Washington Commanders CB Emmanuel Forbes, his physical limitations show up in a general lack of physicality. It is most noticeable for James at the top of routes and while attacking the football.
Although his game translates well at the NFL level as a man or zone-coverage cornerback, he must run well at the Combine to command significant draft capital.
70) Johnny Wilson, WR, Florida State
From high school — when a 6'6″ Johnny Wilson ran a 40-yard dash in the 4.5 range — to the 2023 offseason — when Bruce Feldman documented Wilson as having 36″ arms, a 35.5″ vertical, a 10'5″ broad jump, and a max speed over 21 MPH.
Wilson's combination of size and speed shouldn't be legal. After toiling for two years at Arizona State, the former four-star recruit got a chance to put it on display in Florida State's offense in 2022. Emerging as a top receiving threat for Jordan Travis, Wilson caught 43 passes for 897 yards and five touchdowns, averaging over 20 yards per catch and earning second-team All-ACC honors.
71) Brandon Dorlus, EDGE, Oregon
Built like a combination of a defensive tackle and edge defender, Brandon Dorlus uses every bit of his 6'3″, 278-pound frame. His strength at the point of attack is excellent, already capable of handling his own at the next level. But the surprising part of Dorlus' game is his agility and well-rounded nature as a technician.
Dorlus is patient in his attack and will exploit his blocker's weaknesses, whether splitting blockers with a sidestep, moving down the line and keeping his gap integrity, or winning with an inside swim move. He brings a high activity level, and his power should help him see time as a 3-4 end early in his career.
72) Ja'Tavion Sanders, TE, Texas
The best pass-catching prospect on Texas is tight end Ja'Tavion Sanders. He moves extremely well for a 6'4″, 255-pounder, showing off great comfort as he releases off the line of scrimmage and even as defenders drape his body in coverage.
Sanders is a natural receiver in the mold of Gerald Everett, thanks to his quickness and willingness to get physical to finish the catch. He won't be confused for an especially effective blocker, but Sanders makes an effort. Sanders should be valued as a strong Day 2 prospect with another quality year in 2023.
73) Ja'quan Sheppard, CB, Maryland
Ja'Quan Sheppard has solid straight-line speed and great length at 6'2″, 200 pounds. Most corners in this class are much smaller, so he has the opportunity to stand out amongst his peers.
74) Donovan Edwards, RB, Michigan
Donovan Edwards is a perfect fit for the modern NFL with his brand of versatility. As a runner, he assuredly has enough creative instincts and reaction quickness to recognize lanes and capitalize, and he has the instant explosiveness to get upfield with efficiency. He can also offset defenders and adjust attack angles at the second level with his lateral twitch and ability to constrict while keeping speed.
75) Cole Bishop, S, Utah
Cole Bishop is one of the best safeties in the nation. He's a do-it-all talent who will line up everywhere, from single-high to two-high to the line of scrimmage. His production reflects the fact that he's often everywhere the ball is.
He has good size at 6'2″ and 205 pounds and fits the modern NFL very well. He's fast to react and able to handle his own in the slot against receivers and tight ends. Bishop has a firm Day 2 grade and should be a starter in the NFL.
76) Josh Newton, CB, TCU
One of the best senior prospects in the Big 12 this fall is cornerback Josh Newton. At 5'11" and 195 pounds, Newton has the physical tools and build to fit in perfectly against modern NFL receivers who are quicker than fast and aren't as dense.
His lone weakness is not having top-notch speed, but the rest of his game is impressive.
Newton shows good patience in press and off alignments, never panicking in his drops and continuing to mirror until he has to flip his hips and run. He hunts the ball effectively, using his length to swat at passes. Most importantly, he has the necessary change-of-direction ability to stay in the hip pocket of receivers on difficult whip routes.
77) Calen Bullock, S, USC
One of the top safeties in the 2024 class is Calen Bullock. Experienced as both a deep free safety and as part of a two-high tandem, Bullock is just really solid. He's effective coming downhill and delivering hard hits, but he'll also get the ball if quarterbacks leave passes hanging.
He's not the most explosive presence and isn't supremely experienced in man coverage, but Bullock projects extremely well to the modern NFL defenses that have embraced Vic Fangio's scheme. Bullock has a solid second-round grade entering the fall.
78) Blake Corum, RB, Michigan
As a pure runner, Blake Corum's profile is impressively well-rounded. He might not be quantifiably elite in any area, but he has excellent burst, speed, lateral agility, vision, and creative instincts when approaching and off-setting defenders. He's also a hyper-dense, well-leveraged runner at 5'8″, 213 pounds who can bounce off of solo tackles and use his constant leg churn to maximize his finishing output.
79) Beau Brade, S, Maryland
The 2024 NFL Draft is stacked at the safety position, and Beau Brade is one of the unsung options. At 6'1", 205 pounds, he has good size and carries it effortlessly. As an athlete, he's explosive, twitchy, and rangy coming downhill, and he can enforce his physicality or manage space and make plays in coverage.
80) Layden Robinson, OG, Texas A&M
There's no denying the struggles Layden Robinson went through at Texas A&M a season ago. However, the situation around him dissolved into thin air. Everyone on the offensive line was being lost to injury, and the lack of continuity caught up to the young blocker.
But from 2019 to 2021, we'd seen steady and serious improvements in the former three-star recruit. A healthy situation around him should get him back on his feet for 2023.
81) Malachi Corley, WR, Western Kentucky
Corley is the most unique playmaker in the country. The 5'10", 211-pounder has been nicknamed the "YAC God" for good reason — he's incredibly gifted with the ball in his hands to a degree we've rarely seen. Corley has excellent contact balance, toughness, and open-field agility, making him a nightmare to tackle.
Used as a slot player who caught a high volume of screen passes, Corley's overall game could be highlighted better. He showed off good focus and strong hands-on downfield routes. But we didn't see it a ton, and his route exposure and polish may be limited in the Hilltoppers' offense.
Nevertheless, Corley's value remains high — look at Deebo Samuel's impact on the San Francisco 49ers' offense. His acceleration and traits project well to the next level, earning him a solid Day 2 grade entering the fall.
82) Antwane Wells Jr., WR, South Carolina
Thanks to his tremendous speed, Antwane Wells Jr. fits any offense perfectly as a vertical threat. But he also has some Deebo Samuel to him as a ball carrier, making him a unique weapon. Wells should show out well at the combine and continue to rise through the year.
83) Tommy Eichenberg, LB, Ohio State
Tommy Eichenberg exploded in 2022 with 120 tackles, 12 tackles for loss, 2.5 sacks, a pick, and three pass deflections. Now, he's projected as one of the top LB prospects in the 2024 NFL Draft.
Similarly to his statistical ascent, Eichenberg is just as explosive on the field. At 6'2″, 235 pounds, he can easily erupt through gaps and close ground in pursuit, and he plays with a red-hot motor from snap to whistle.
84) Zion Tupuola-Fetui, EDGE, Washington
Despite inconsistent production and availability throughout his career, Zion Tupuola-Fetui has a skill set that jumps out on film. He's a sudden mover with fleet feet and a good burst off the line of scrimmage. His high activity level in the passing lanes also helps as he chases batted passes to disrupt the offense.
He'll have to stay durable again in 2023 after playing in 13 games last year. His quickness alone makes him a possible late-round draft pick and rotational rusher in the NFL.
85) Jalen McMillan, WR, Washington
Able to play both in the slot and as an outside receiver due to his 6'0″, 200-pound frame, McMillan is a move-the-sticks glue guy who makes the right play at the right moment. He's not overly twitchy or fast, but he has enough juice to create space and continue upfield for extra yards. McMillan is also a natural hands catcher who can contort his body for wayward passes.
He profiles as a solid role player at the next level but not someone who will define an offense or be more than a complementary piece. He has a Day 2 grade with the ability to help in Year 1.
86) J.J. McCarthy, QB, Michigan
A tremendous physical foundation buoys J.J. McCarthy's profile in the early-round range. Though he sports a leaner build, he's a high-level athlete and creator with an extremely loose and elastic arm.
His combined evasive ability, flexibility, and off-platform torque expand the possibilities with him on the field. As a thrower, he has the ease of velocity and angle freedom to make all the throws.
For all his talent, many of the trademark flaws of a young QB were visible on McCarthy's 2022 tape. He sometimes lacks poise in the pocket and can be spooked out of his rhythm by pressure threats. His decision-making is streaky, and he can be culpable for turnover-worthy passes when he stares down targets and forces throws. He also has room to keep refining his mechanics and mental game.
That said, McCarthy provides glimpses of solid progression work and is more mechanically sound than most for his age. That natural mechanical feel also culminates in good general accuracy—all traits emboldened by McCarthy's NFL starter-grade tools.
Early in 2023, he's made incredible throws with his layering ability and arm velocity, and he's also flashed incredible anticipation and defensive manipulation for a young QB. As long as he keeps following this upward trend, McCarthy has the high-level physical tools to be a first-round pick and a franchise QB candidate.
87) Kris Abrams-Draine, CB, Missouri
Kris Abrams-Draine is one of the most productive cornerback prospects in the 2024 NFL Draft. He's coming off a 2022 campaign in which he amassed 14 pass deflections.
At 5'11", 179 pounds, Abrams-Draine is a bit light. Still, as a former WR, he brings excellent ball skills with twitchy, explosive athleticism, a chippy competitive mentality, and versatility between the slot and the boundary.
88) Tyler Nubin, S, Minnesota
Tyler Nubin has the perfect build for a two-high safety, standing at 6'2″ and weighing 205 pounds. He possesses the intelligence needed to excel as a support player and his ball skills are impressive, making him a possible standout player in a class that lacks skilled defenders. Nubin is also known for his strong tackling ability and quick reactions to the ball.
89) Christian Haynes, OG, UConn
Christian Haynes is an absolute refrigerator at 6'2", 313 pounds, who can pummel opponents at contact with his power output and breach the second level with an eye-catching burst.
90) Quinyon Mitchell, CB, Toledo
Quinton Mitchell is one of the most exciting Group of Five prospects on the 2024 NFL Draft circuit. At around 6'0", 200 pounds, he has a strong frame, enough length, and physicality to disrupt WRs in man. But he also has near-4.3 recovery speed and sharp route identification skills, which he used to amass five picks and 19 deflections in 2022.
91) Ben Sinnott, TE, Kansas State
A move tight end at 6'4″ and 245 pounds, Ben Sinnott has experience both inline and in the slot as a receiver. He's not a speedy threat who can get vertical like some recent top tight-end prospects, but he's comfortable making catches through traffic.
Sinnott has good coordination and power with the ball in his hands, giving him value on short and intermediate targets. His reliability as a pass catcher and blocker give him TE2 value in the NFL.
92) Bucky Irving, RB, Oregon
Bucky Irving is Oregon's most explosive and dynamic back. Without a doubt, Irving has a breakaway speed that can cover up significant flaws or mistakes. Sometimes, that's an issue, as Irving will bounce outside the tackle box when he doesn't need to, but it can still pay off.
Irving is competitive and works to keep plays alive effectively. He keeps his eyes up, scanning for a rushing lane when one isn't obvious. Though Irving has trouble slowing down quickly to change direction and will sometimes run into a blocker, he's decisive and won't take many tackles for loss.
A strong inside-zone or outside-zone team should love Irving's ability to hit big plays and stress defenses. He could become a starter on a pass-heavy team that also wants a variance back who is a major receiving threat.
93) Zak Zinter, OG, Michigan
Zak Zinter has the profile of an NFL starter out of Michigan. At around 6'6", 315 pounds, Zinter is a bit high-cut, but he's a good athlete with excellent angle awareness, vision in pass protection, force in his hands, and resolve.
94) Tony Grimes, CB, Texas A&M
Tony Grimes has all the potential in the world. His outrageous athleticism and natural movement skills could make him an outside-in candidate. His leaping ability disrespects receivers, and he's shown some exceptional instincts in zone coverage.
95) Decorian Patterson, CB, UCF
Decorian Patterson is one of the most impressive seniors I saw on tape this summer. Leading the country in interceptions is impressive, but how Patterson accomplished this, along with his physical traits, is more encouraging for his NFL outlook. It wasn't an accident he was the best player on the field, even against Miami (FL) in 2022.
However, since Patterson transferred from Middle Tennessee State to UCF, he's only played sparingly. He has first-round talent but has dropped significantly on our board as he fights for a starting job.
96) Adisa Isaac, EDGE, Penn State
Adisa Isaac has athleticism worth developing at the next level. He's a long, quick body who needs to improve his array of pass-rush moves and plan how to beat his blocker throughout a game.
97) Blake Fisher, OT, Notre Dame
Blake Fisher is an explosive athlete with good length, power, and tenacity at 6'6", 312 pounds, and he flashed improved balance and leverage maintenance in Notre Dame's season-opening win against Navy.
98) Fabian Lovett, DT, Florida State
At 6'4", 318 pounds, Lovett has the size, strength, and leverage acquisition ability to line up at 1-tech alongside a disruptive 3-technique defensive tackle – but Lovett also has the explosiveness and length to sow discord as a pass-rusher himself.
99) Braden Fiske, DT, Florida State
Florida State's Braden Fiske, who stands at 6'5", 297 pounds and racked up six sacks and 12 tackles behind the line of scrimmage in 2022, is an absolute destroyer with wicked lateral twitch and violent hands, as well as the size profile to hold up on the interior in the NFL.
100) Mekhi Wingo, DT, LSU
An undersized defensive lineman at 6'1″, 275 pounds, Mekhi Wingo makes up for the lack of length with quickness. He's rising as this 2023 season continues, showing off a more refined skill set than we saw last year.
Beyond the Top 100 2024 Prospects
Michael Penix Jr., QB, Washington
Jalon Daniels, QB, Kansas
Will Howard, QB, Kansas State
Spencer Rattler, QB, South Carolina
Blake Watson, RB, Memphis
MarShawn Lloyd, RB, USC
Carson Steele, RB, UCLA
Devin Neal, RB, Kansas
Tory Horton, WR, Colorado State
Mario Williams, WR, USC
Ladd McConkey, WR, Georgia
Brevyn Spann-Ford, TE, Minnesota
Jaheim Bell, TE, Florida State
Seydou Traore, TE, Mississippi State
Jasheen Davis, EDGE, Wake Forest
Jack Sawyer, EDGE, Ohio State
Zy Alexander, CB, LSU
Cam Hart, CB, Notre Dame
Tyreek Chappell, CB, Texas A&M
Jaden Hicks, S, Washington State
Malik Mustapha, S, Wake Forest
Hudson Clark, S, Arkansas
Listen to the PFN Scouting Podcast
List to the PFN Scouting Podcast! Click the embedded player below to listen, or you can find the PFN Scouting Podcast on iTunes, Spotify, and all major podcast platforms.  Be sure to subscribe and leave us a five-star review! Rather watch instead? Check out the PFN Scouting Podcast on our Scouting YouTube channel.