Minnesota Vikings training camp will set up the rest of the season, in part by resolving a number of position battles. The resolution of those battles will guide the direction of the Vikings' season, but they may also set up some Minnesota 2024 free agents for big paydays.
Having players earn those kinds of contracts would be big for the Vikings and their long-term prospects as a franchise. It would also help define what the franchise might look like going forward and give fans a signal about whether or not 2024 is a year they can expect a playoff run or a rebuilding project.
With that in mind, it's important to take a look at which players will hit free agency for the Vikings in 2024 and who they need to turn in an extension-worthy season.
Who Are the Minnesota Vikings' 2024 Free Agents?
QB Kirk Cousins (Void)
WR K.J. Osborn
WR Jalen Reagor
WR Blake Proehl
WR Trishton Jackson
WR Brandon Powell
TE T.J. Hockenson
TE Johnny Mundt
TE Nick Muse
OT Oli Udoh
OT Blake Brandel
OT Sam Schlueter
G Ezra Cleveland
G Austin Schlottmann
G Chris Reed
C Josh Sokol
EDGE Danielle Hunter (Void)
EDGE Marcus Davenport (Void)
EDGE D.J. Wonnum
EDGE Benton Whitley
EDGE Curtis Weaver
DT Khyiris Tonga
DT Jonathan Bullard
DT Ross Blacklock
DT Sheldon Day
DT James Lynch
DT T.J. Smith
LB Jordan Hicks
LB Troy Dye
LB Troy Reeder
CB Joejuan Williams
CB John Reid
CB Tay Gowan
S Josh Metellus
S Theo Jackson
K Greg Joseph
This includes three players whose contracts void, as well as restricted free agents and exclusive rights free agents.
That means a good chunk of the team — including nine starters – won't be under contract. The most impactful ones include the starting quarterback, the star edge rusher, and the Pro Bowl tight end, though losing a kicker or the other starting edge rusher also has a big impact.
Which Minnesota Vikings 2024 Free Agents Need To Have a Big Year
There are a few players who will likely be extended or have their contract situations otherwise resolved before the end of the 2024 league year. Danielle Hunter and T.J. Hockenson are almost certainly going to find some resolution for their contracts before the year is up, and the Vikings are in talks with both in order to make that happen.
Kirk Cousins
The Vikings haven't extended Kirk Cousins despite an offer from the QB's camp. He's since indicated that the negotiations between the two have been put on pause, making this a bit of a make-or-break year for him. He's always been on the cusp of becoming great but is more of a high-floor, low-ceiling quarterback.
The Vikings are in the uncomfortable position of being just good enough to make the playoffs but not good enough to do anything once they're there. A big part of that is Cousins, who is a good enough quarterback to keep them out of contention for drafting a high pick at the position. That might be enough to part ways, though if Cousins has a big year — potentially with playoff wins — they could choose to extend him.
Marcus Davenport
The Vikings signed Marcus Davenport to a one-year deal. It's a bit of an expensive deal, but some of the cap accounting has been offloaded to 2024 through a void year. Davenport has good underlying numbers — he has a high career pass-rush win rate and pressure rate — but hasn't put together a high-level season as a pass rusher and finished 2022 with half a sack.
His availability issues and fluctuating playing weight also provide concerns, and Davenport won't come out of 2024 with a good contract unless he produces at a high level.
K.J. Osborn
Osborn has had a great trajectory. He went from a player who didn't even see offensive snaps his rookie year to a regular contributor as a third wide receiver for the team. His production didn't improve in his third year by a meaningful margin, but it could be the case that while his skills developed, the yards weren't there because it's not difficult for players to hit cliffs while their improvement looks invisible in the box score.
Still, if the Vikings want to field a team with three quality receivers, they'll want to hold on to a player like Osborn. If Osborn doesn't perform well, the two might just part ways as he seeks a better environment for production, and they look for a more reliable third receiver. His story has been great, but contracts are about more than that.
Ezra Cleveland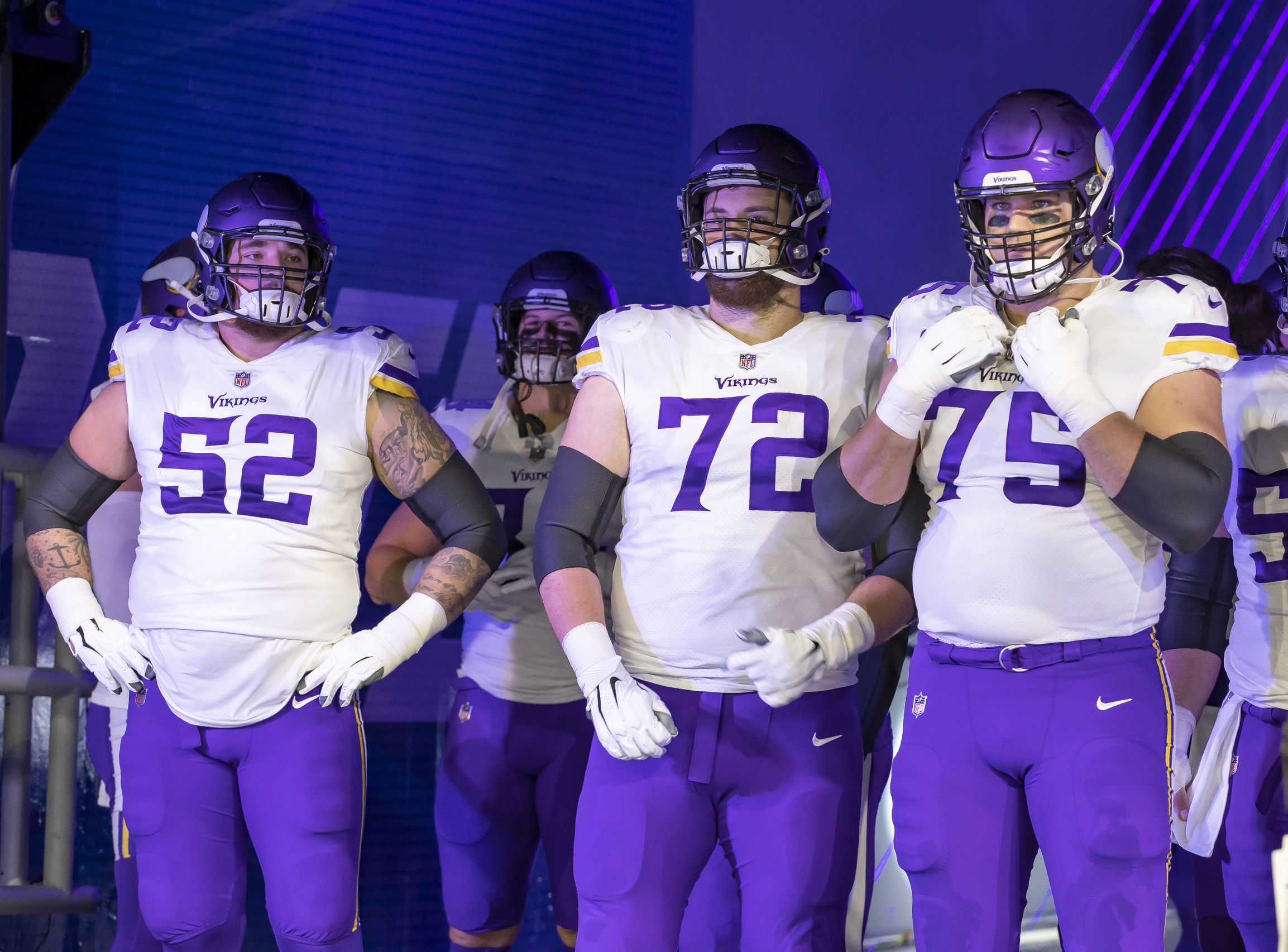 The Vikings might see Cleveland as valuable enough to extend without seeing the extent of the 2023 season. They value chemistry, and Cleveland is an above-average guard in a league where it's been increasingly difficult to find talent at the position. But he's not a natural fit there as a former tackle.
The Vikings have had issues across the interior, and they may look to upgrade at the position, especially as Cleveland is not as good of a pass protector as he is a run blocker.
But if he breaks out and has a high-level season as a pass-blocking guard, he could secure a nice payday and help the Vikings establish their offensive line.
Jordan Hicks
The Vikings haven't seen good play from Jordan Hicks and might not have good linebacker play at all. It's not a critical position generally, but given the emphasis the Vikings have put on nickel and dime personnel, linebacker might be more important than it usually is. Hicks has had excellent seasons in the NFL, but they're a bit further back in his past than anything else.
If he can turn his tremendous athleticism into high-level linebacker play, the Vikings could solve the problems they have at this position without having to spend draft capital or expensive free agent dollars at linebacker. Hicks could turn things around in the new Brian Flores defense and become an asset worthy of an extension.
D.J. Wonnum
Barring a surprise year from one of the backups, the Vikings do not have a lot of potential along the edge. D.J. Wonnum has been with the team for four years but hasn't impressed. Though he has had some good raw statistics, his day-to-day capability has been a question mark for the team.
He could turn into a viable third pass rusher — a critical component to many modern defenses — and be a big part of their third-down package. That alone would produce near-immediate dividends for the Vikings, and it would allow them to make any edge rusher acquisition in 2024 even more valuable.
Khyiris Tonga
The Vikings have made some investments along the interior defensive line, but outside of Harrison Phillips, they haven't made big moves. Late-round picks like Esezi Otomewo and Jaquelin Roy have paired with flier free agents like Dean Lowry and Jonathan Bullard to fill out the unit. Interestingly, it was a signing from another team's practice squad that might hold the most promise.
Khyiris Tonga has flashed in games for the Vikings at nose tackle and is scheduled to be a restricted free agent. As a result, Tonga won't be due for a payday, but if he plays well enough for the Vikings to offer a second-round tender in order to keep him, that would be a signal that they have something in him. Given the lack of impressive depth at the position, this would be big for the franchise.